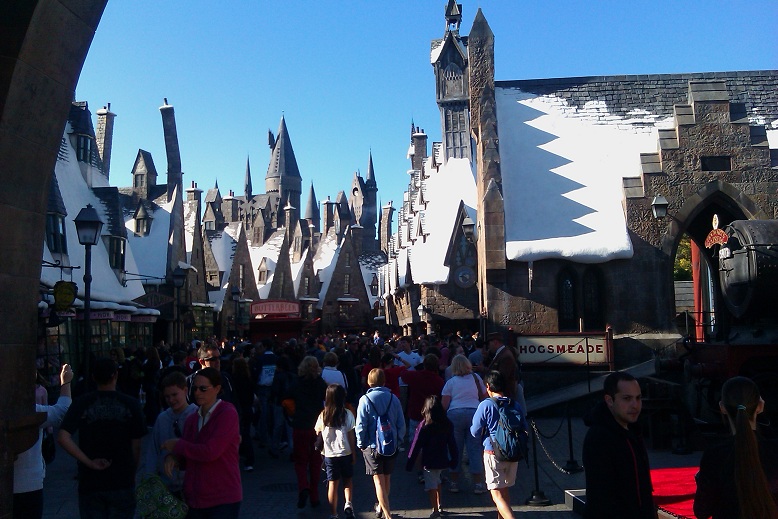 Nordling here.
A couple of weeks ago, I was invited by Warner Brothers to attend the cast party for the Blu-Ray and DVD release of HARRY POTTER AND THE DEATHL HALLOWS PART 2 in Orlando, Florida at the Wizarding World Of Harry Potter exhibit. I love the Potter films; always have, and so I didn't wish to turn down an opportunity to see much of the cast reminisce about the making of this amazing series and their thoughts on everything that has happened these past ten years. Not the entire cast came for this event, but people like Rupert Grint, Warwick Davis, Jason Isaacs, Evanna Lynch, James and Oliver Phelps, producers David Heyman and David Barron, and director David Yates came to talk about those final days working on what is most likely the generational equivalent of STAR WARS to many filmgoers.
Granted, for many of these people, the POTTER films have been over for quite some time now. They've found new projects and films, and many have moved on. But none of them can deny that this particular series has affected them all in unique ways, and have changed them forever. Warwick Davis said, "I kinda stand back from it, and I can't believe how fortunate I've been to manage to be in all of these great movies. I really wanted a part in the first movie, auditioned for it, got the part, but I didn't know it was going to lead on t0 the eight movies, and this has become a phenomenon. And here we are, at the Wizarding World, a place dedicated to these films, and these books. It's unbelievable."
Evanna Lynch, who played Luna Lovegood, adored her character very much, and found much of Luna very admirable: "The fact that she doesn't judge anyone, that is so rare. Most people have all these insecurities that make them put up their defenses, and make them judge other people. And because Luna doesn't have insecurities, she's so at one with herself. She doesn't immediately criticize anyone else."
Jessie Cave (Lavender Brown) speculated that since her character didn't end up with Ron Weasley, Lavender may have decided to go with Hogwart's staff - "I don't know, Professor Flitwick, maybe? She's probably going to have an affair with somebody and just be neurotic." So in Lavender we get the Wizarding World's Annie Hall, and Ms. Cave on the red carpet actually reminded me a bit of Diane Keaton.
David Bradley, who played Argus Filch, had an idea in case J. K. Rowling ever decided to pick up the story from Filch's point of view - "I want to see where he falls in love with Penelope Cruz, and she just goes nuts over him. Do you think that's a credible story?"
Rupert Grint's life has been defined by Harry Potter for much of his life, and he seemed ready to change it up a bit actingwise - "I'd like to play someone a little bit mentally unstable, a bit psychoish, would definitely be cool."
James and Oliver Phelps, in playing the Weasley twins, drew from real life when it came to the scene in ORDER OF THE PHOENIX when they quit Hogwarts in spectacular fashion: "I kinda did that in real life with my drama teacher," said Oliver Phelps. "I didn't throw a firework at him or anything, but essentially it was 'Hey, see ya later!'" James Phelps said, "We actually filmed that sequence separately from when Dan and Rupert and everyone else filmed it. And I caught myself listening to Rage Against The Machine and things like that, really anti-establishment music like that." For James, the most difficult scene that didn't make it on screen was his death scene - "That was a bit disappointing. But it worked more with Oliver and Rupert, seeing their emotion that way, so the fans saw it in that sense, and it worked."
David Heyman knew early on when reading J. K. Rowling's books that he needed to make these books into films. "When I read the first chapter I was immediately sucked into a world that was something I had never seen before. It made me laugh - it reminded me, in some ways, of the humor of those Roald Dahl books, witty, kind of wry. The characters were characters that I knew - we all feel in some ways like outsiders, and I think Jo's books are a celebration of outsiders. They're very human stories. We've all been to school. I knew a Ron, I knew a Hermione, I knew a Dumbledore, I knew a McGonagall, I knew a Snape. So for me it was all very relatable, and that relatability was very obvious for me early on."
David Yates had the difficult job of introducing Snape's backstory in the final film, and he found that he was very fortunate in working with Alan Rickman in getting that story across onscreen - "With Alan, I'm such a fan of him as an actor. There's something really beautiful about the way he works. He generates things from up here, but he never shows anything, he just feels it. His face has such an enigmatic holding pattern, which is so intriguing. So my approach with Alan was just to be very tender and very enthusiastic about the character. And we both love the character. We both love Snape, we both feel that he's trapped and troubled, and that enthusiasm for the character makes us connect, I guess, around him."
If you haven't experienced the Wizarding World of Harry Potter yet, I must say it's fairly amazing to see. The buildings all look like Hogsmeade, the butterbeer is delicious, even for a raging diabetic like myself - I must warn you, they are very sweet, but really worth it - and Hogwart's Castle looks impressive in the park. The rides are terrific, and I've never been to a park where people lined up just to go into the souvenir shops. And even as the films end, many will cherish this world that Rowling has created for many years to come. Thanks to Warner Brothers, My-Lan Beauford, and Universal Studios Orlando for hosting the event. HARRY POTTER AND THE DEATHLY HALLOWS PART 2 is available on Blu-Ray and DVD now.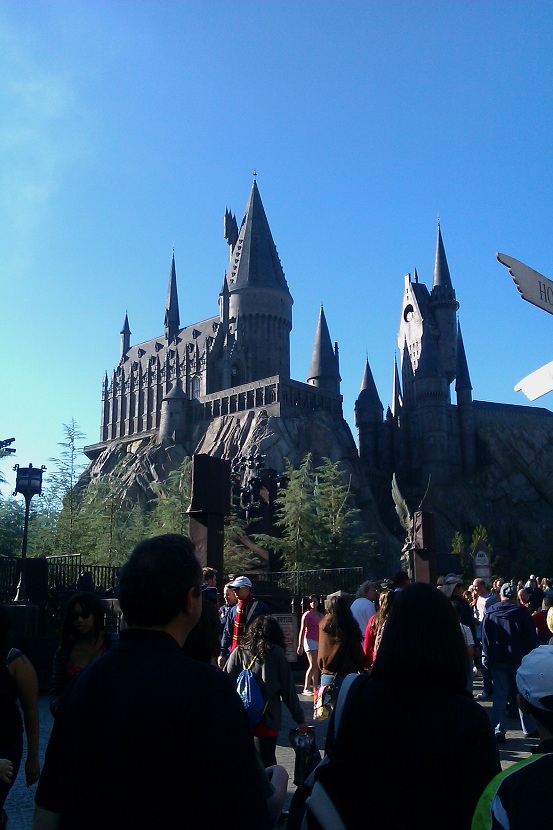 Nordling, out.