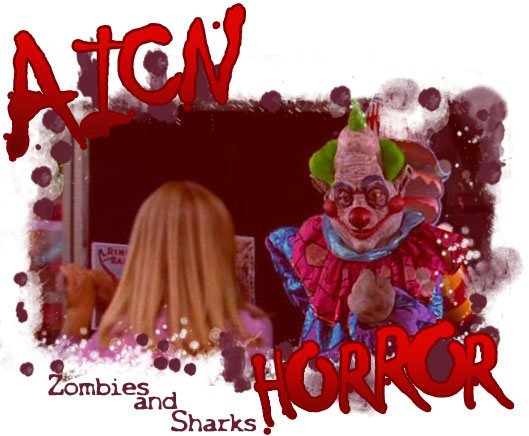 Logo by Kristian Horn
What the &#$% is ZOMBIES & SHARKS?
---
Greetings, all. Ambush Bug here with another AICN HORROR: ZOMBIES & SHARKS column. But first, here are a few news tidbits you might be interested in.
---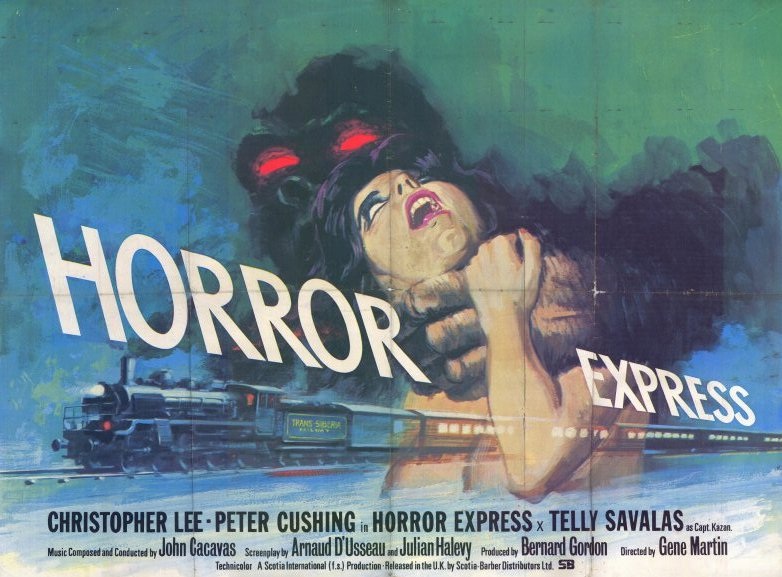 First off, here are the winners of
Severin Films'
HORROR EXPRESS Contest from earlier in the week.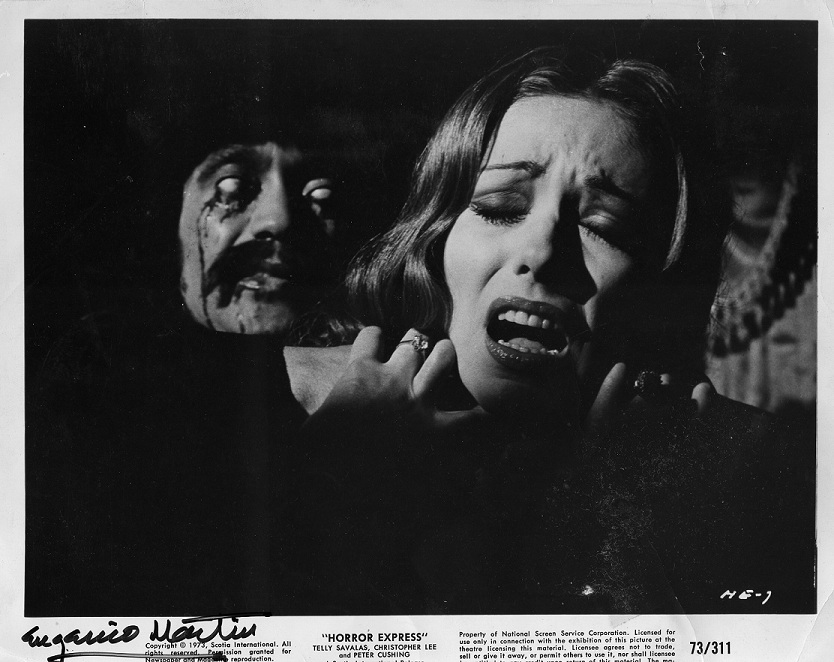 Jeremy Thompson is the proud recipient of an official still from the movie signed by Eugenio Martin, the director of HORROR EXPRESS and a copy of the new Blu-Ray/DVD of HORROR EXPRESS.
Miguel F. Garcia and Patrick O'Leary will be receiving copies of the Blu-Ray/DVD. Congratulations to the winners and thanks to all who participated in the contest. Be sure to look for a review of the new HORROR EXPRESS Blu-Ray/DVD in an upcoming AICN HORROR Column. HORROR EXPRESS is available through
Severin Films
on November 22nd!
---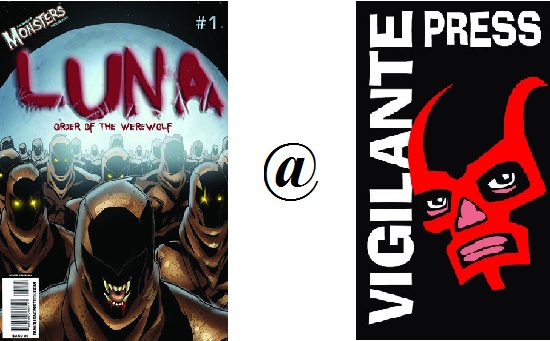 If you're a fan or even a casual reader of AICN COMICS and AICN HORROR and live in the Chicago area, be sure to stop in to
Vigilante Press comic store
Saturday (tomorrow!) between 1-4pm where I'll be signing copies of my new comic book, FAMOUS MONSTERS PRESENTS LUNA: ORDER OF THE WEREWOLF! Vigilante Press can be found at 1931 W. Chicago Ave (between Damen Ave & Winchester) in the Ukranian Village. I'll be there talking comics and horror, so be sure to stop in, say "Hi!", and pick up a copy of
LUNA
!!!
---
Last Easter I reviewed BUNNYMAN (check out the review here).
Looks like the demented filmmakers have been working overtime and it looks like a sequel will be coming our way soon. Check out this twisted trailer to BUNNYMAN 2!
---
This week, 7 NIGHTS OF DARKNESS was released. I'll be reviewing the film in a future column, but until then, check out this exclusive clip from Midnight Releases.
---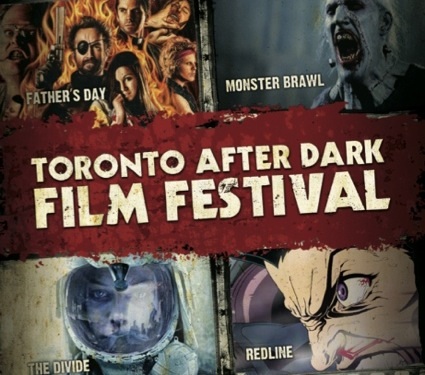 I'll be doing post-
Toronto After Dark 2011
coverage over the next few weeks. The big winners of the festival were announced this week with Troma and Astron-6's FATHER'S DAY taking away top honors winning the Gold Audience prize. Silver was given to THE DIVIDE from Xavier Gens, director of FRONTIERS. The Bronze went to DEADHEADS, the undead buddy comedy. In the specialty categories, fans gave suburban horror film THE WOMAN a number of key awards including BEST DIRECTOR (Lucky McKee), BEST ACTOR (Sean Bridges) and BEST ACTRESS (Pollyanna McIntosh). The other major winner was British mountain-set thriller A LONELY PLACE TO DIE which took home the Fans Choice Awards for BEST ACTION FILM, BEST CINEMATOGRAPHY and MOST THRILLING FILM. For a complete listing of all the awards given out at Toronto After Dark 2011, including Best Short Film, visit this page
at the festival website here.
I've already reviewed a lot of the films that played the festival (follow the links to the reviews);
THE WOMAN
,
THE CORRIDOR
,
DEADHEADS
,
FATHER'S DAY
,
ABSENTIA
, &
A LONELY PLACE TO DIE
. I'm reviewing two more films featured at TADFF today, SOME GUY WHO KILLS PEOPLE and EXIT HUMANITY and plan on checking out a few more in the coming weeks. Looks as if, if you missed TADFF, you missed some great films and a great time!
And now, let's get on with the reviews!
Today on AICN HORROR
(Click title to go directly to the feature)
TALES FROM BEYOND THE PALE Season 1 V2
KLOWN KAMP MASSACRE (2010)
GUT (2011)
SOME GUY WHO KILLS PEOPLE (2011)
EXIT HUMANITY (2011)
And finally…T IS FOR TEMPTATION!
---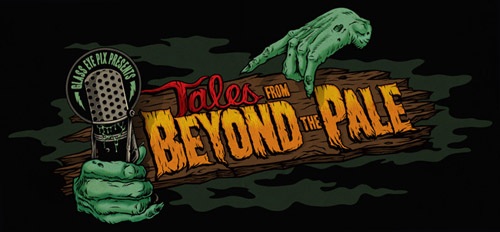 TALES FROM BEYOND THE PALE CD Radio Play Season 1 Vol.2
BRITISH & PROUD
Written & Directed by Simon Rumley
Starring the voices of Gareth Bennet-Ryan, Jenny Wambaa, Zack Momon, Toyin Alase, & Jonathan Hansler
THE CONFORMATION
Written & Directed by Paul Solet
Starring the voices of Jay Lewis, Will Boddington, Tajana Prka
Find out more about TALES FROM BEYOND THE PALE here!
Reviewed by Ambush Bug
Larry Fessenden is the mastermind behind TALES FROM BEYOND THE PALE, a throwback to the artform of radio play shows. Though I was a bit young to enjoy such shows, I have recently been digging up some great ones to play at the end of this column. If you're a fan of sitting close by the radio for a fearful story announced by an ominous and creepy host, TALES FROM BEYOND THE PALE is for you. Fessenden hosts each segment, available as double disks or as a full season of ten stories
from the website here
and he does so with fiendish glee. I'll be checking out each of the disks, two per disk over the next few weeks. So here goes…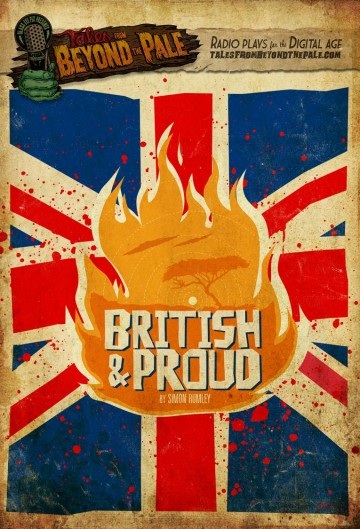 BRITISH & PROUD is a story by Simon Rumley, the force behind the powerful RED, WHITE & BLUE from last year. Though this one is somewhat more trite than that cinematic gut punch, it still is a potent tale about a British man who weds an African woman. When the woman brings the man home to meet her parents, things go awry very quickly. This is a sexually horrific tale that takes a lot of unexpected zigs and zags and despite the fact that this is an audio story, it vividly spikes its way into your mind with vivid imagery and sound effects. The story ends with an image scrawled roughly into my mind that I surely won't forget.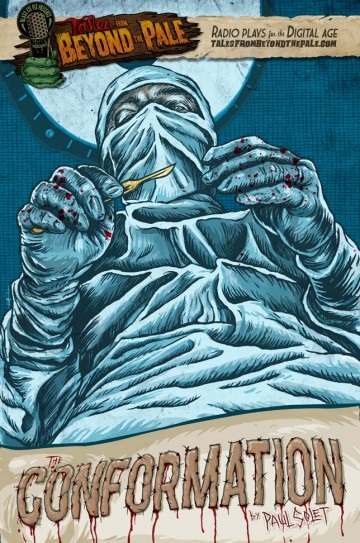 THE CONFORMATION is another vividly graphic tale about an apathetic plastic surgeon and his dream project in the form of an extremely flawed woman. Hippocratic morality is thrown out of the window when this jaded surgeon, tired of the same tummy tucks, boob jobs, and nose jobs, finds the perfect mate in a woman who delights in the doctor's imagination and feels none of the pain involved in the surgery. This is a truly twisted tale, sort of a NIP/TUCK as seen through the lens of Eli Roth, and not for the squeamish.
I found Volume Two of TALES FROM BEYOND THE PALE to be better and more terrifying than the first volume. I quite enjoyed sitting in the dark and listening to these two half hour stories of terror. Each episode is available for download, so if you're looking for the timeless scares that feel like a trip to yesteryear, TALES FROM BEYOND THE PALE most definitely delivers.
---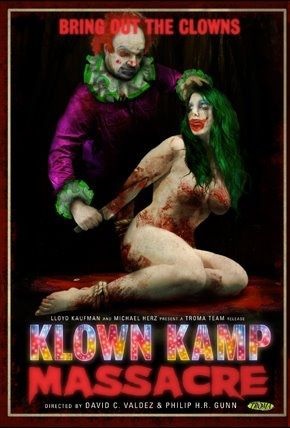 New on DVD from Troma!
KLOWN KAMP MASSACRE (2010)
Directed by Phillip Gunn & David Valdez
Written by Phillip Gunn & David Valdez
Starring Jared Herholtz, Ross Kelly, Ashley Bryce, Isaac Kappy, Miguel Martinez, Lloyd Kaufman
Find out more about this film here and on Facebook here!
Reviewed by Ambush Bug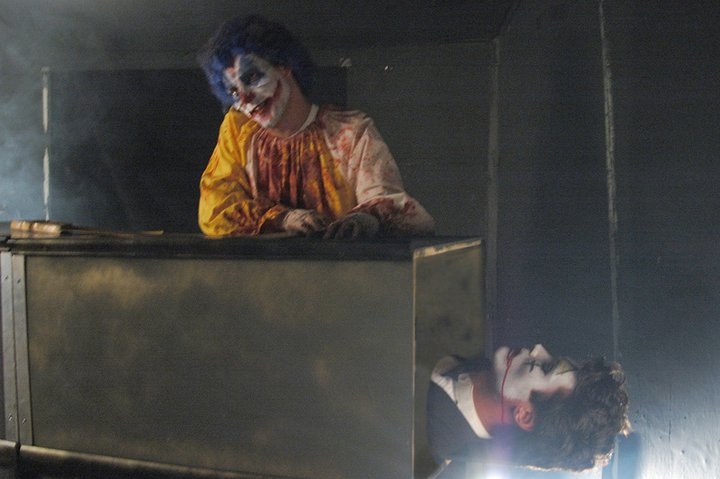 This movie frightened me. I've never really had a fear of clowns. I know a lot of folks do have the phobia and I always found the fear to be pretty irrational. But after sitting through KLOWN KAMP MASSACRE, I kind of understand where the fear comes from. I'm not going to leap up and down screaming that this is a good film, but it does contain some scenes of utter depravity and damn creepy clowning around. Though amateur, there's something maniacally off kilter about this film, as if the minds behind it were off kilter themselves, or maybe they're just really good at depicting off kilter things. Either way, the experience wasn't necessarily a great one, but KLOWN KAMP MASSACRE leaves an impact.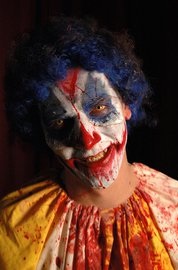 The story follows a failed clown named Edwin who was humiliated on the day of his graduation from Clown Camp. In retaliation, he returned and killed his entire graduating class in various clowny ways. The thing that makes this film stand out among other gimmicky serial killer yarns is that it is an almost line by line homage to the original FRIDAY THE 13TH. Fans of the original slasher opus will be able to recite lines almost exactly in the early moments of the film. Unfortunately, like a lot of Troma films, things derail at the end into a chaotic hodge podge of the weird, the depraved, and the odd, in the end chucking conventional storytelling in favor of the over the top showmanship that often goes hand in hand with a film produced by the age-old company.
So if you're a fan of Troma, you'll find KLOWN KAMP MASSACRE right up your alley. Had they continued to follow the original format of doing a shot for shot remake of FRIDAY THE 13th with the only distinction that it's filmed at a clown camp, I would have liked this film better. As is, it's entertaining, but ends rather limply--but the clowns, especially Edwin, are creepy as hell.
---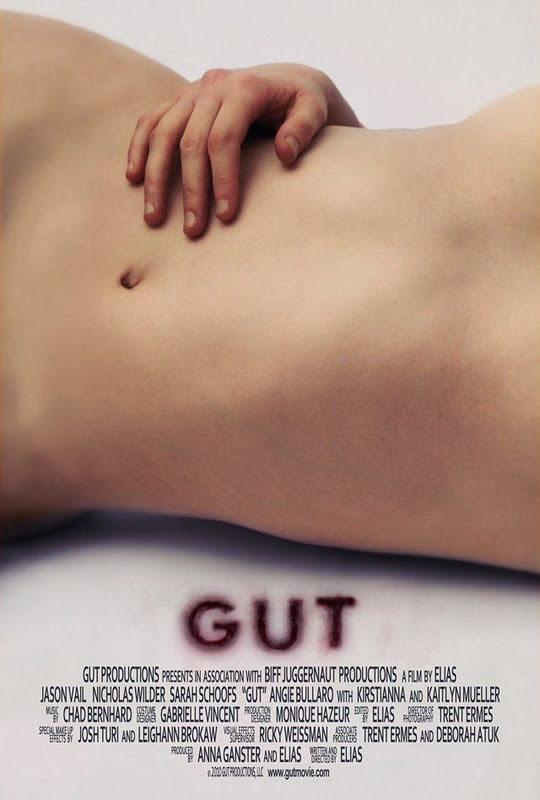 GUT (2011)
Directed by Elias
Written by Elias
Starring Jason Vail, Nicholas Wilder, Sarah Schoofs, & Angie Bullaro
Find out more about the film here on Facebook
Reviewed by Ambush Bug
This subtle film will definitely creep up on you. GUT is about a pair of childhood friends and the strain that friendship must face upon growing up. Tom is kind of sleepwalking through life and is in need of a change. His equally adolescent adult friend Dan is concerned that the freewheeling friend he once new is becoming too much like an adult. Dan tries everything the get Tom to continued his extended adolescence, but Tom's wife and child force him to go in the other direction. Still, Tom is unhappy. When Dan shows Tom a digital film he received in the mail depicting what looks like a woman being killed by a man with a large knife, both Dan and Tom are fascinated by this film and both of their lives begin to unravel because of this unhealthy fixation.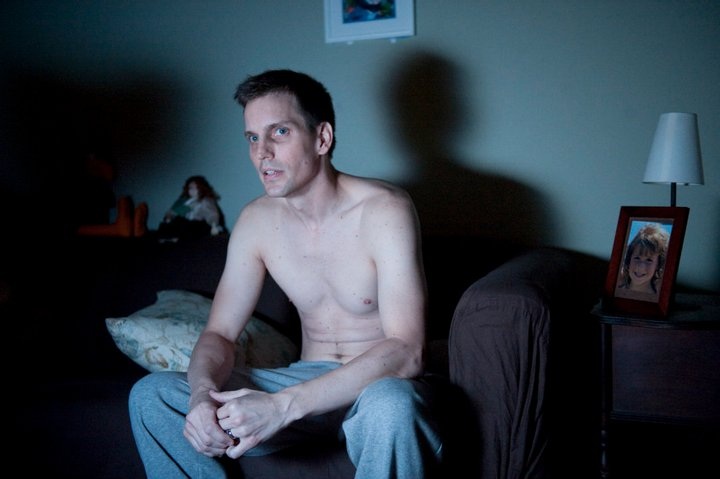 On the one hand, GUT is a powerful and sublime film that relies on patience and slow builds to be effective. You'll need a healthy dose of patience to get to the good stuff in this film--not a knock. This low budgeter is worth getting behind because of the deft use of silence and patience letting the character unfold without a lot of forced dialog. Most filmmakers lack this much restraint and you end up caring more about these characters because of it.
On the other hand, I found the resolution in this film to be somewhat misleading. I found myself wanting it to go into another, craftier direction than what actually transpires. I guess the way the two main characters fixate on the film somewhat unhealthily lead me to believe that more was going on under the surface and that possibly these two characters had more to do with the murder on tape than they were letting on. As is, GUT is a nice straight up thriller, but I couldn't help but want a little more substance in the resolution.
GUT - trailer from Gut Productions, LLC on Vimeo.
---
Advance Review: Recently played at the 2011 Toronto After Dark Film Festival!
SOME GUY WHO KILLS PEOPLE (2011)
Directed by Jack Perez
Written by Ryan A. Levin
Starring Kevin Corrigan, Leo Fitzpatrick, Ariel Gade, Lucy Davis, Barry Bostwick, and Karen Black
Find out more about the film here and on Facebook
Reviewed by Ambush Bug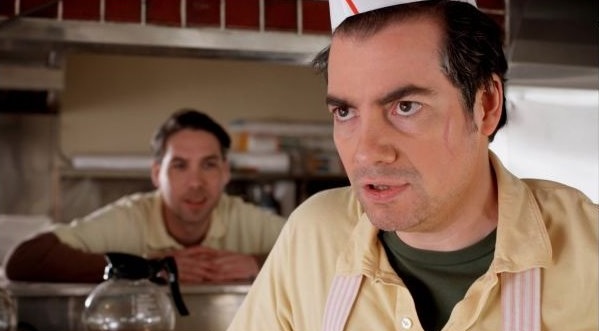 Can't believe I'm saying this but this is a pretty sweet little film. And I'm not tossing up the devil horns when I say sweet, I mean it is one of those films that is downright charming. Now I know charming and horror rarely mix, but there's a nice little beating heart to this film that was so refreshing that despite its flaws, I have to recommend it to anyone looking for a horror film that breaks away from the norm.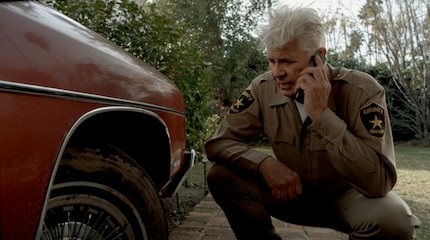 SOME GUY WHO KILLS PEOPLE is a comedy horror that leans more into the comedy territory. But as I said above, it's a light hearted horror comedy centering on Ken Boyd, a man recently released from a mental institution (played by a restrained Kevin Corrigan) who is somehow connected to a series of murders going on in the city. As Ken's childhood tormentors begin to drop like flies, he finds out that while he was away in the institution, his one-time fling had his baby. Now the child, played by plucky newcomer Ariel Gade, decides to track down her father and start a relationship. Is Ken killing bullies from his past? And if he is, will his new found responsibility for his daughter stop him from doing so? Those are the questions asked and answered in this offbeat little number.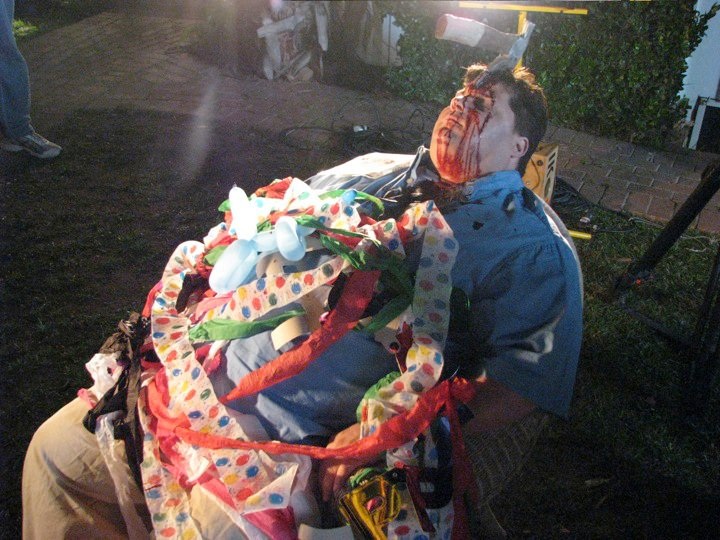 Though there's a lot of sentimental stuff going on, there's also a whole lotta splatter. Blood by the buckets is shed here, but most of the gore is played for laughs. You'll end up laughing more than wincing at the tone of the horror, though the comedy is closer to the chuckle variety than full on guffaw territory.
Appearances by ROCKY HORROR's Barry Bostwick as a bumbling sheriff and Karen Black as an apathetic mom make this cast better than average. The appearance of THE OFFICE's Lucy Davis is always welcome and she does well here with what little is given to her. SOME GUY WHO KILLS PEOPLE ended up surprising me in that it was gorier than expected given the tone, though less funny as I hoped. This film was produced by John Landis and the tone is reminiscent of his comedy horror mash ups like AMERICAN WEREWOLF IN LONDON and INNOCENT BLOOD rather than VAMPIRE IN BROOKLYN. As is, you'll feel surprisingly saccharinated after experiencing SOME GUY WHO KILLS PEOPLE and since you don't often feel that way with horror films, it's a welcome change.
---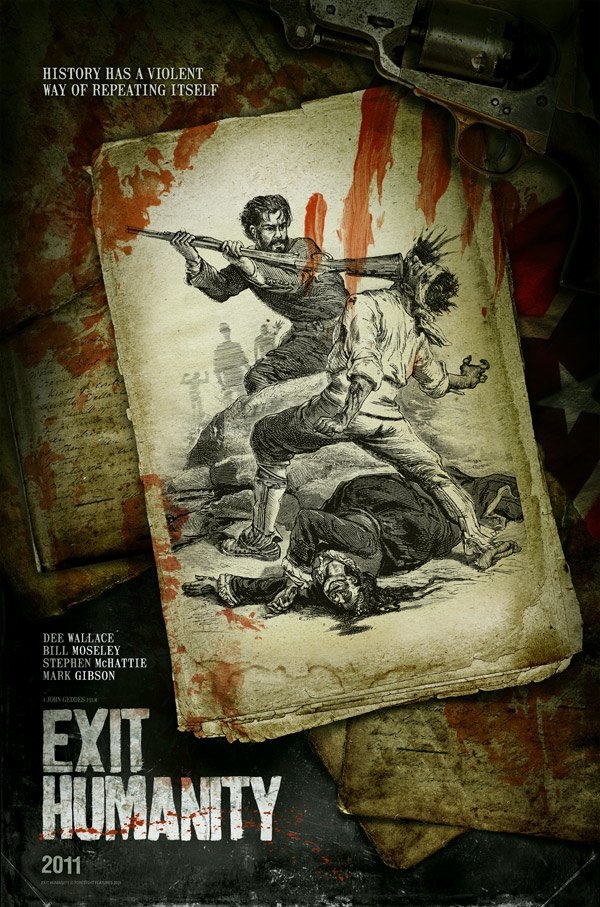 Advance Review: Recently played at the 2011 Toronto After Dark Film Festival!
EXIT HUMANITY (2011)
Directed by John Geddes
Written by John Geddes
Starring Mark Gibson, Jordan Hayes, Brian Cox, Dee Wallace, Bill Moseley, and Stephen McHattie
Find out more about the film here and on Facebook
Reviewed by Ambush Bug
EXIT HUMANITY is an ambitious film which does a good job of keeping within its parameters without showing the stretch marks often associated with lower budget fare when stretched beyond its reach. You know the films. They're usually on SyFy: flicks that want to be blockbuster films, but lack the tech, talent, and money to do so, so instead they settle for doing things on the cheap without adapting the script accordingly. The result is usually disappointing. EXIT HUMANITY doesn't suffer from that problem. It's obviously a low budgeter, but writer/director John Geddes is conservative with the range of this film. Just when the seams are starting to show, Geddes reels the scope in to keep the illusion of the story going.
EXIT HUMANITY takes place on the heels of the Civil War. The country is in turmoil already and all of a sudden the dead begin to rise up and walk around. Heading home from the war, Edward Young (played by newcomer Mark Gibson) returns to his home to find his wife zombiefied and his son missing. With his life torn asunder, Young begins an epic odyssey across a decimated land killing every zombie that shambles across his path. Soon his journey crosses paths with another survivor, Isaac (Adam Seybold), and a delusional General played to perfection by Bill DEVIL'S REJECTS Moseley who believes a cure to the zombie plague lies in the blood of Isaac's sister. Along the way, classic horror actress Dee Wallace and PONTYPOOL's Stephen McHattie pop up, but for the most part are somewhat wasted in lesser roles. Talkback favorite Brian Cox narrates this film as if it were being read from Young's journal. Cox gruffs up his voice nicely and amps up a thick Southern accent which makes his voice almost unrecognizable to me until I saw his name in the credits.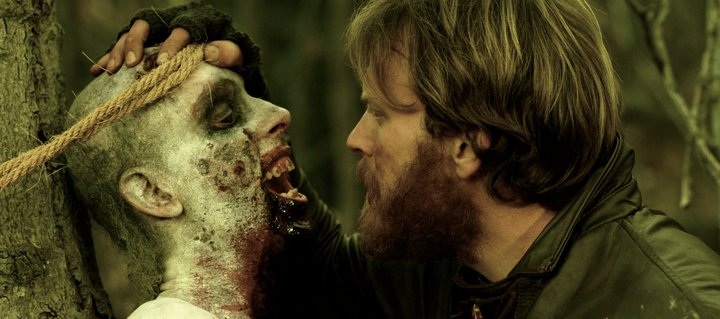 As I said above, writer/director John Geddes lives within the budget, focusing mainly on photographing the beautiful landscapes and forests his characters are wandering around in. Geddes keeps things close and clean, making the threat of the zombies feel more intimate. The tone is dead serious throughout and if it's guilty of anything, it's of making the reader feel pretty morose about the way things were back then. Geddes also smartly uses some animation sequences to fill in the gaps where budget might have been a problem. This is an extremely smart move by a director who seems to know how to make a great film despite lack of funds.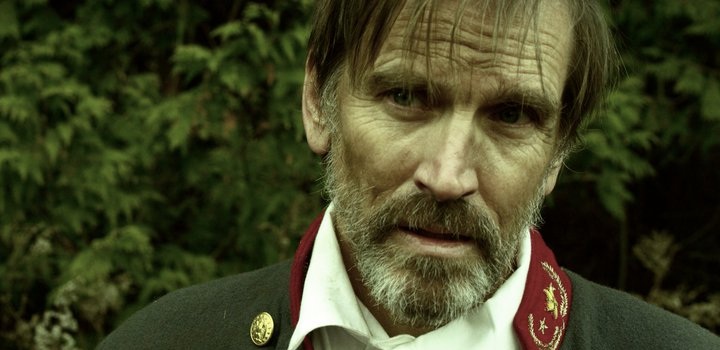 The acting is pretty top notch with the genre cast shining in roles they usually don't get to play. Moseley does the best work with his role. He seems to have a lot of fun with his twisted and misguided General character. Mark Gibson is capable in the lead role, though he seems to scream quite a bit (something all survivors of the zombie apocalypse knows only brings more zombies). Here Gibson's screams are used to an advantage in the final act, but having heard his gravelly bellow throughout the entire film, it's something that gets rather tedious after the tenth or so time you hear it.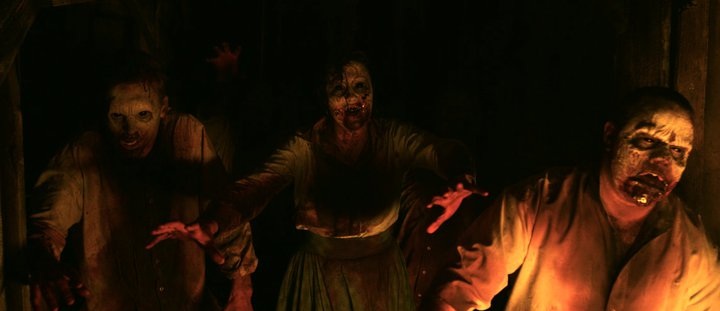 Though there are a lot of zombie films out there, EXIT HUMANITY deserves to be recognized for its unique angle on the zombie mythos and its creative use of telling an epic story. The effects are fantastic and the animated sequences are kinetically charged and action packed. Reminiscent of PRIDE & PREJUDICE & ZOMBIES, this historical zeek is definitely a cut above most zombie films. One might call it DANCES WITH ZOMBIES. Geddes has a Terence Malick-like zen style of filmmaking going on that absorbs the environment and amplifies the beauty and ugliness often as the same time. See EXIT HUMANITY when you get a chance. It's not your typical zombie fare.
---
And finally…wrapping up this column we have a fun short from the ABC's OF DEATH competition, T IS FOR TEMPTATION. This one's from Michael Foulke and stars Daniel Roebuck & Ashley Lynn Switzerz. Enjoy this devlish little short!
T is for Temptation from Travis Gates on Vimeo.
See ya, next week, folks!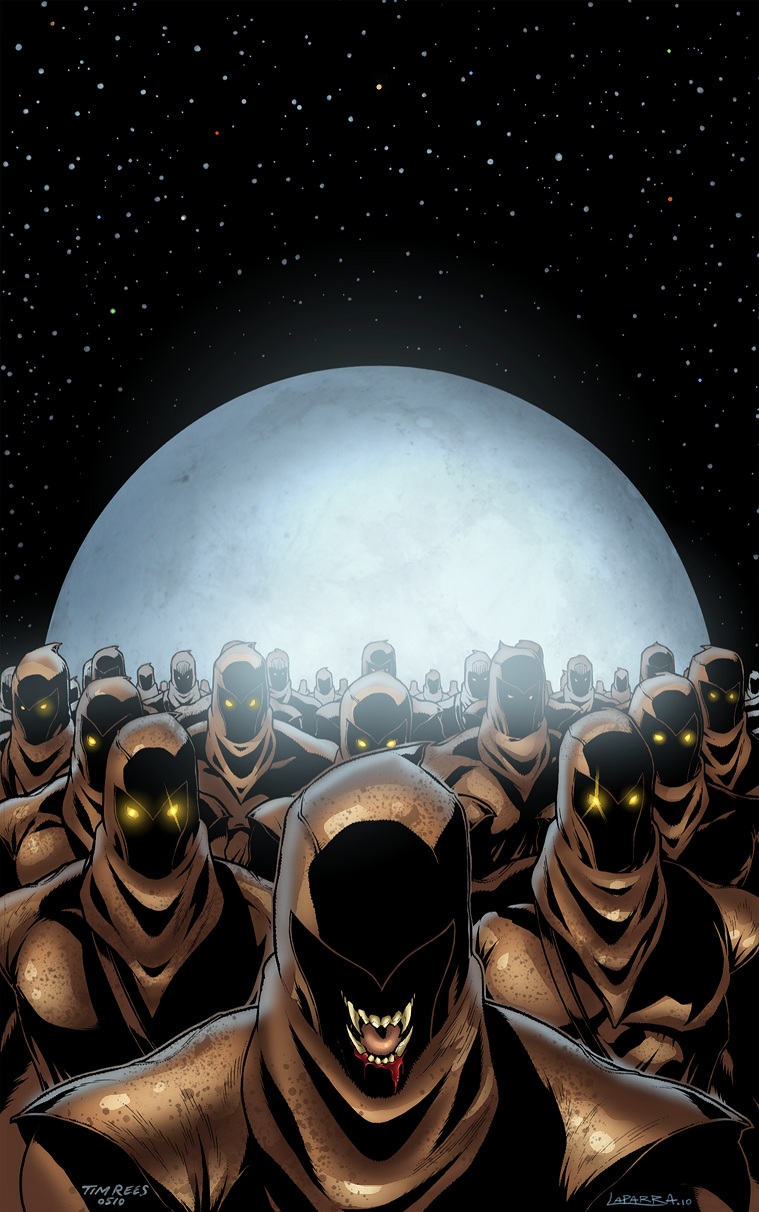 Ambush Bug is Mark L. Miller, original @$$Hole / wordslinger / reviewer / co-editor of AICN Comics for over nine years. Mark is also a regular writer for FAMOUS MONSTERS OF FILMLAND and will be releasing FAMOUS MONSTERS first ever comic book miniseries LUNA in October (co-written by Martin Fisher with art by Tim Rees) You can pre-order it here! Support a Bug by checking out his comics (click on the covers to purchase)!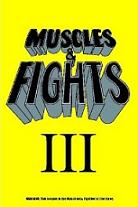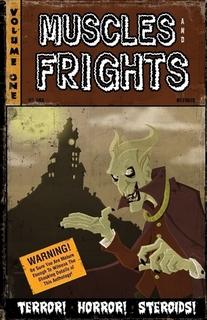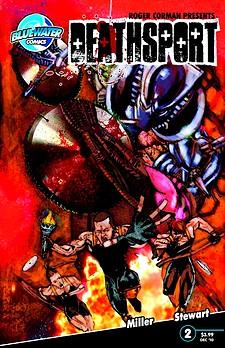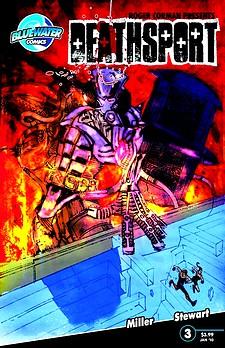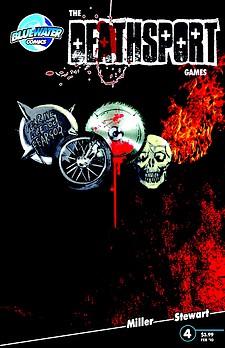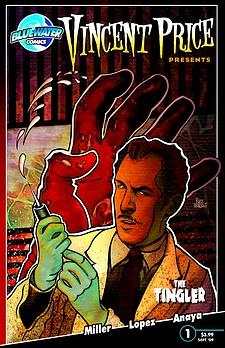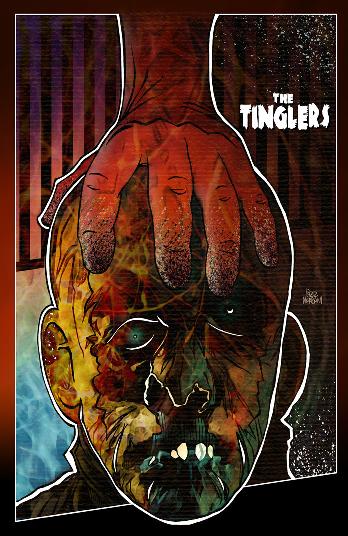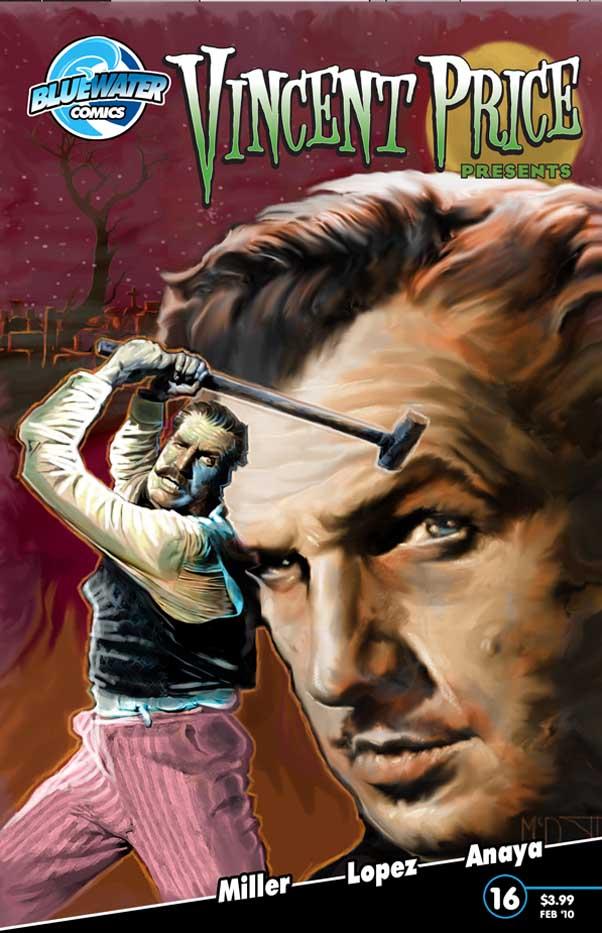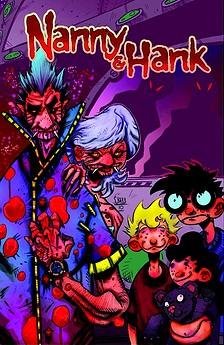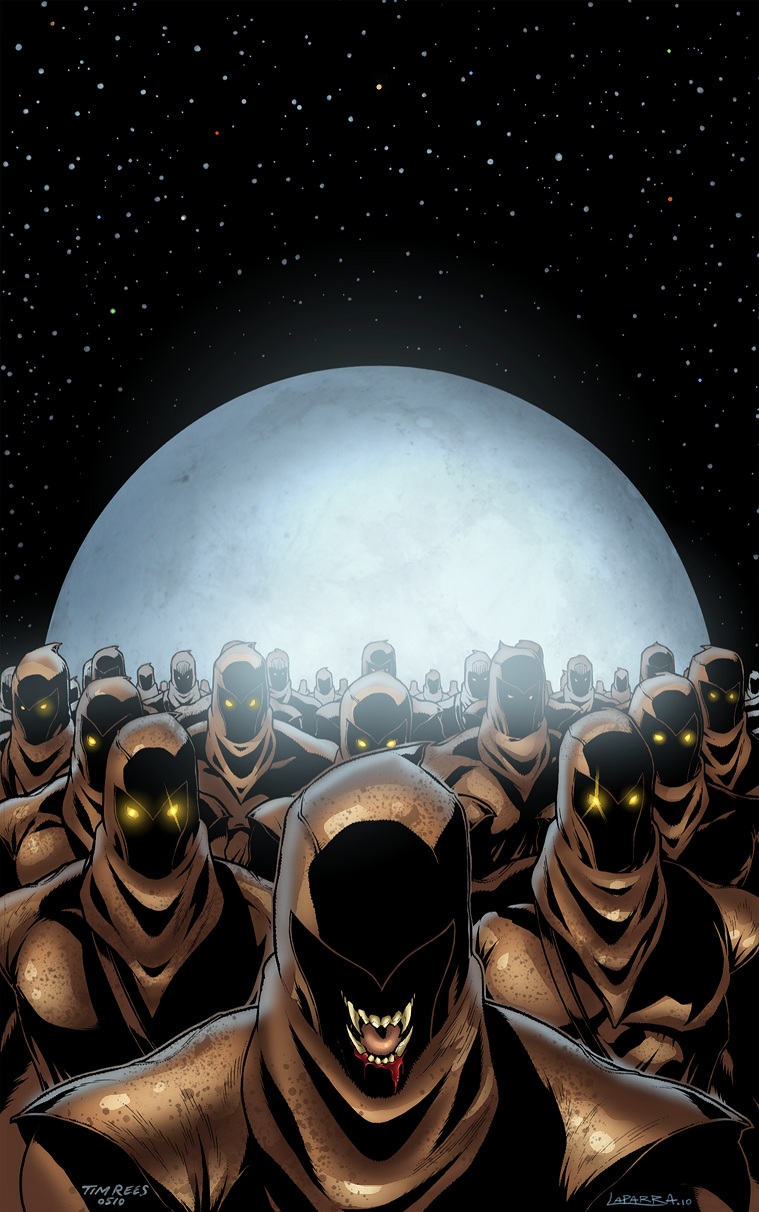 NANNY & HANK's Facebook Page
THE DEATHSPORT GAMES' Facebook Page
FAMOUS MONSTERS PRESENTS LUNA: ORDER OF THE WEREWOLF's Facebook Page
---
Check out FAMOUS MONSTERS' website here!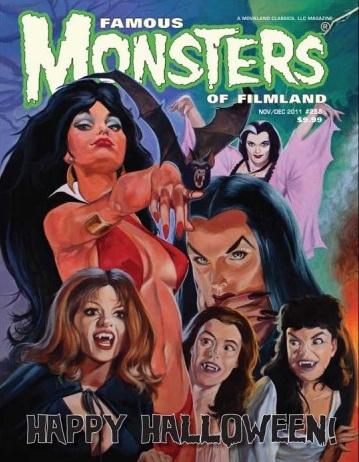 ---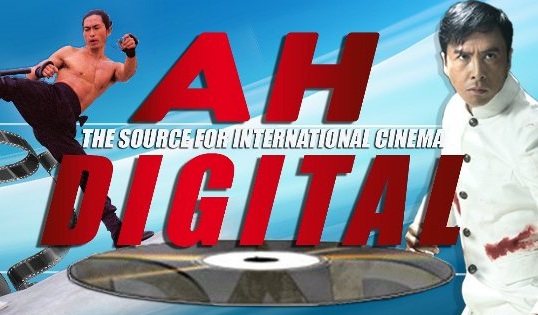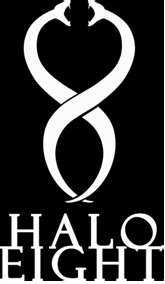 Looking for obscure, foreign, or hard to find DVDs & BluRays?
Check out AH Digital: the source for international cinema!


Interested in illustrated films, fringe cinema, and other oddities?
Check out Halo-8 and challenge everything!
---
Find more AICN HORROR including an archive of previous columns
on AICN HORROR's Facebook page!