@@@ What the &#$% is AICN COMICS Q&@? @@@
---
Q's by Ambush Bug!

@'s by JUSTICE LEAGUE INTERNATIONAL
Writer Dan Jurgens!!!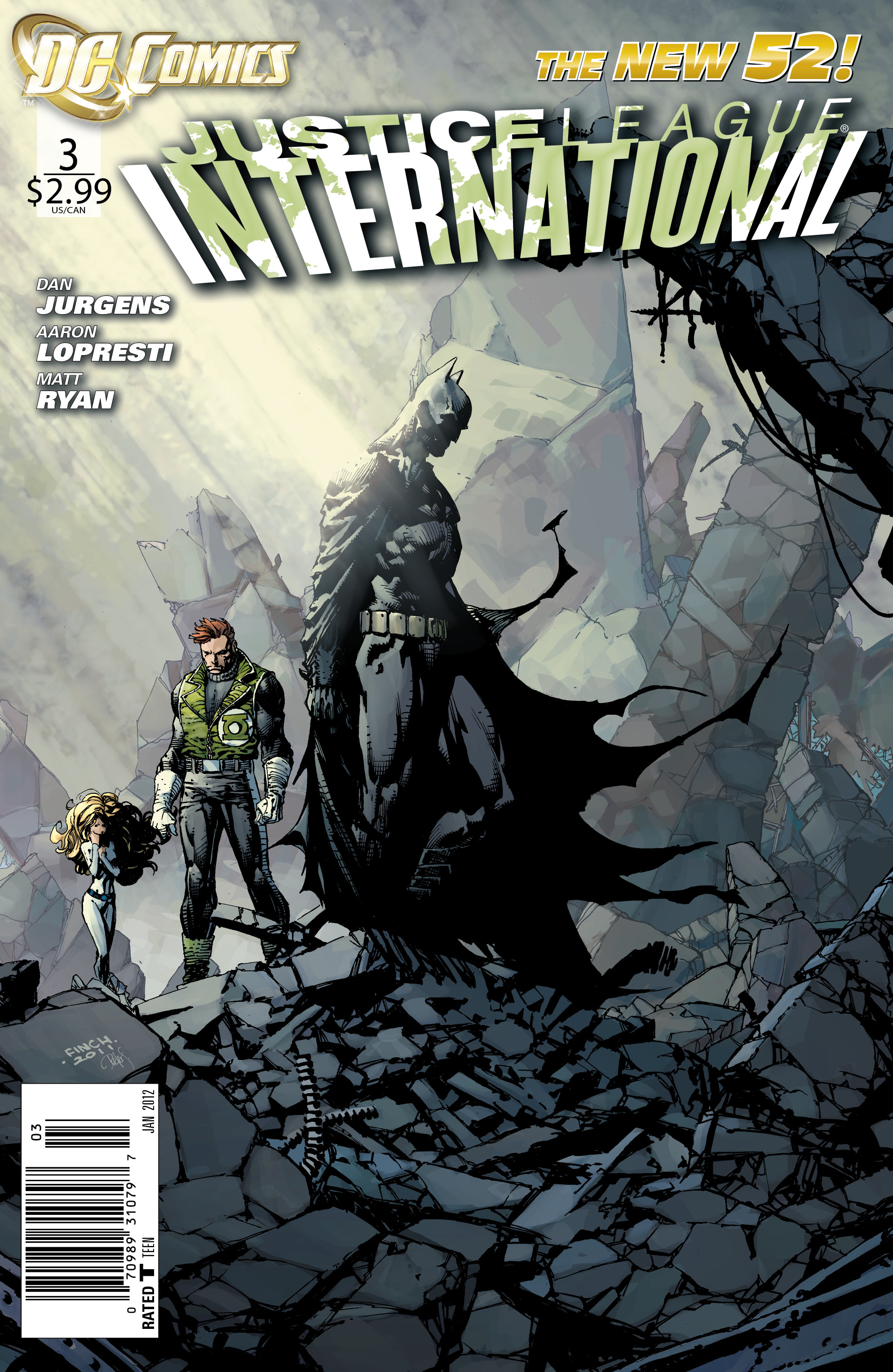 Hey folks, Ambush Bug here with another interview. This time I had a chance to catch up with JUSTICE LEAGUE INTERNATIONAL writer Dan Jurgens. Interspersed in this conversation are a few preview pages from the third issue of the series which will be hitting the stands on Wednesday. Enjoy!
AMBUSH BUG (BUG): So given the international roster of JLI, it appears this group has become sort of like the Global Guardians of the new 52. Would that be a safe assumption?
DAN JURGENS (DJ): On the surface, perhaps. Our JLI will enjoy both the curses and benefits of greater United Nations funding and involvement. When you combine the fact that much of the UN's reasoning is simply PR, rather than actually getting something done, it's a recipe for problems.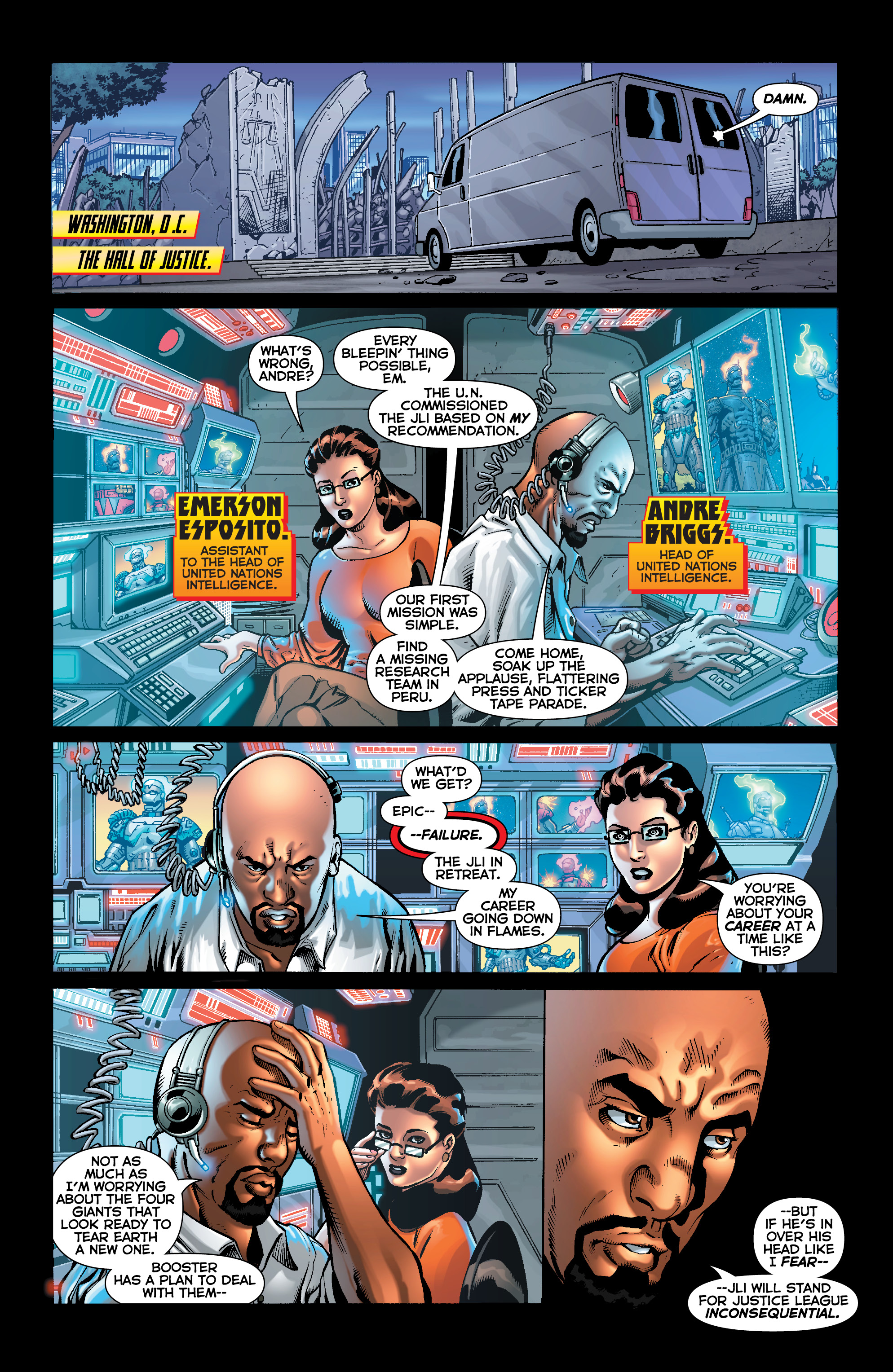 BUG: With your history with Booster Gold in his own title, what parts of Booster's old series carries over into the new 52 and what doesn't?
DJ: I'd love to break that down in detail, but that is something that will unfold over time in the pages of JLI. Booster was outside the timestream when time reset itself so we certainly have some good points to make.
BUG: Did the JLI Giffen/DeMatteis years happen in the New 52?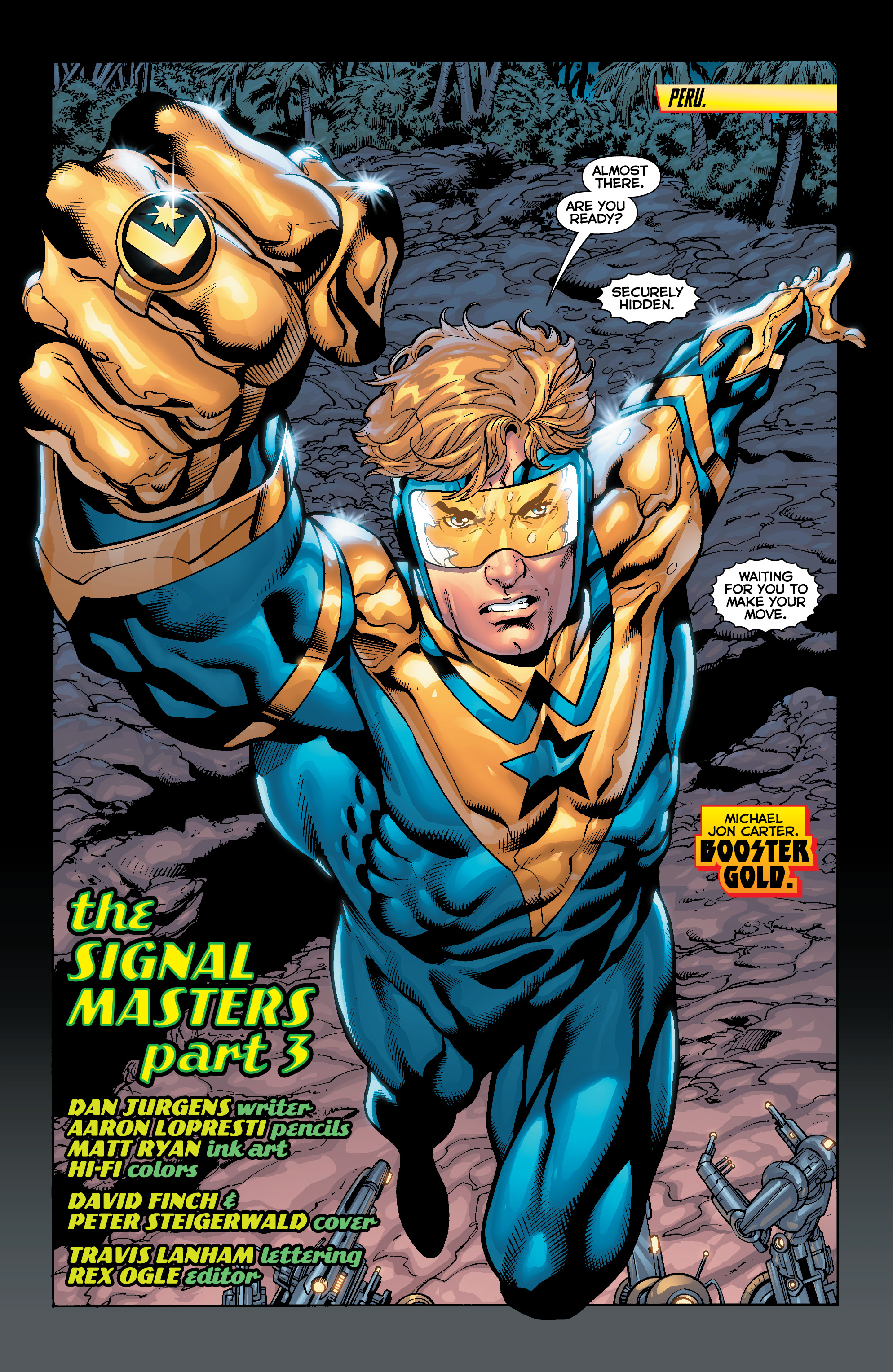 DJ: Not as you might think of them. In terms of the current JLI, many of them have know each other, though not in the way you might think. There wasn't a previous JLI. As much as anything, they encountered one another when answering a general "call to arms" in an effort to stop a particular threat, or something similar.
BUG: This cast of characters, Booster, Guy, Ice, Fire, Rocket Red, especially, have often been best known for being a group of 2nd tier heroes who can't seem to get along with one another. In recent years, there's been a bit more serious take on them. What's your take on this team of extreme personalities?
DJ: You're right, we're probably doing a more serious take on the stories and characters. And I do believe that in most groups, individual characters tend to be pushed to differences that seem a bit more extreme in order to set them apart from one another. However, I also think that, so far, these characters get along pretty well. Except for Guy Gardner. He tends to be more acerbic and is definitely the one to light a fuse in a lot of situations.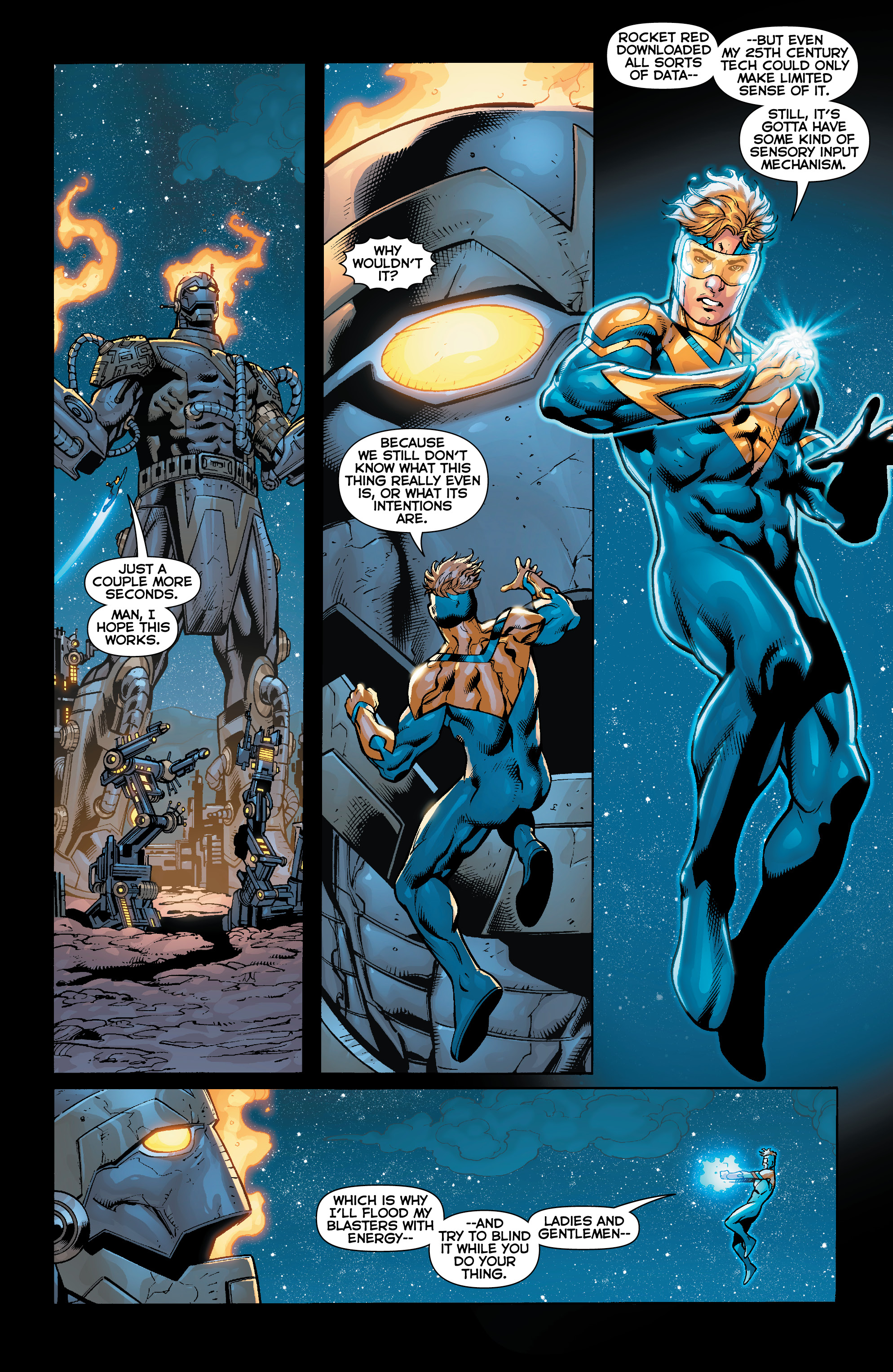 BUG: How does being an accomplished writer and artist help you in creating a story? Do you prefer one job over the other?
DJ: That's a bit of a long answer. I'll apologize in advance!
When I both write and draw a story, I don't see it as two different jobs at all. When I do both it's more like basic storytelling, where the process of writing and drawing a particular story overlap and revolve around one another. It's one process, not two different jobs. When I write, I try to come up with an intriguing, visual story that leaves room for the artist to strut his stuff. In the case of JLI, that's Aaron Lopresti, and he's more than capable of taking whatever setup I give up and turning it into something magnificent.
Drawing something that someone else has written requires me to think purely visually-- how to I convey what the writer wants? How can I make it visually interesting? is there an opportunity to make the story better?
As for preference, it's all about storytelling, and that's what I enjoy.
BUG: Do you have a favorite character in the group? Why is he/she your favorite?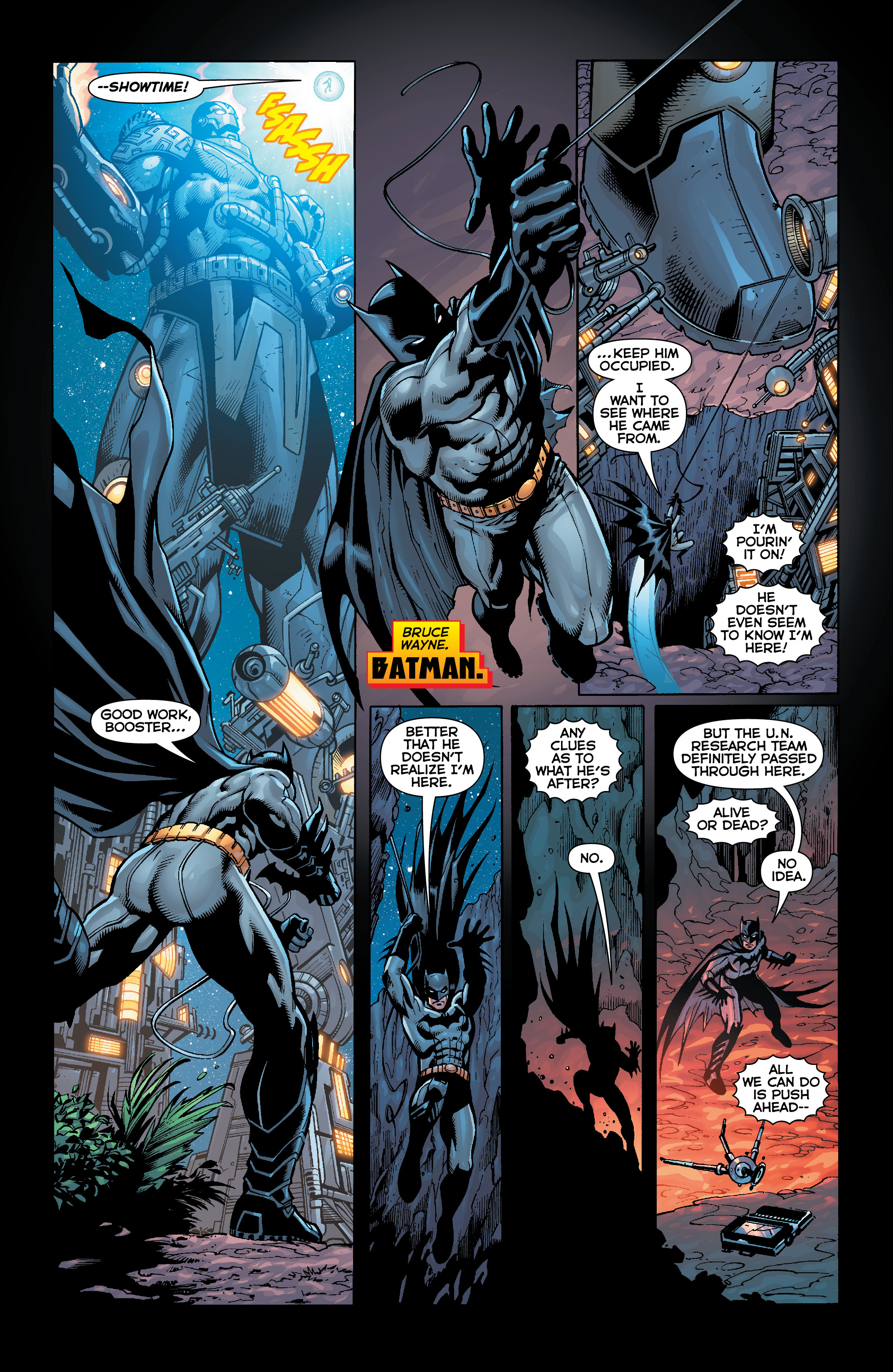 DJ: August General in Iron has really turned into a favorite. I didn't see that coming at all, but the more I did into him, I find him to be a really noble character with sort of a tragic past, in that he's trapped in the armor he wears, unable to enjoy the aspects of human life he so loved at one point.
BUG: Batman seems to play a major part in the first two issues, is he going to be a fixed member of the cast or just a guest star?
DJ: Batman will continue to be a member. However, the UN will never recognize him as such. They have no control over Batman and that unnerves them.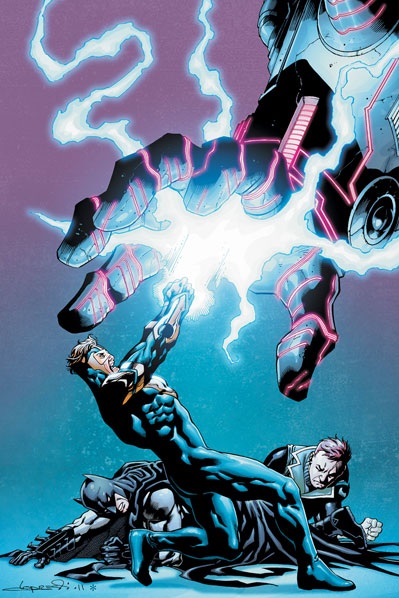 BUG: This is Ain't It Cool News. What can you tell us that you haven't told any of the other news sites about what's coming up for JUSTICE LEAGUE INTERNATIONAL?
DJ: The Booster Cave! We alluded to it in issue #2 and we'll reveal it in issue #7, if all goes as planned. And it's not what you think!
BUG: Why no Blue Beetle on the team?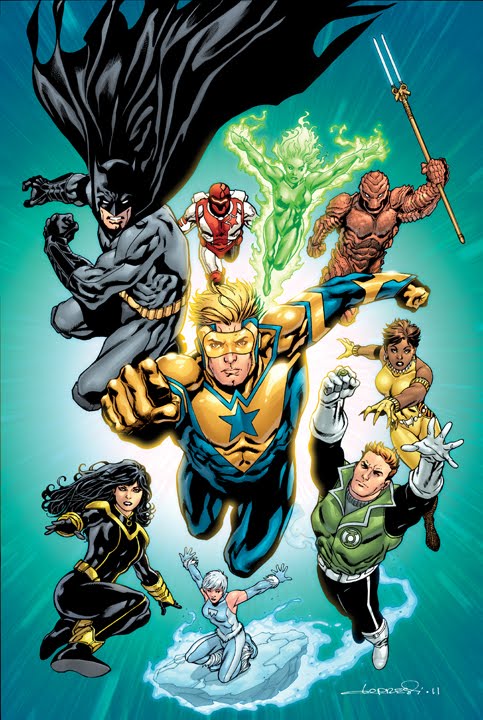 DJ: We're dealing with characters who have public identities and personas. Blue Beetle doesn't qualify.
BUG: Who's going to be the big bad for this series?
DJ: We have several, mostly new. I'd say Peraxxus, who was revealed on the final page of JLI #2, definitely makes the grade.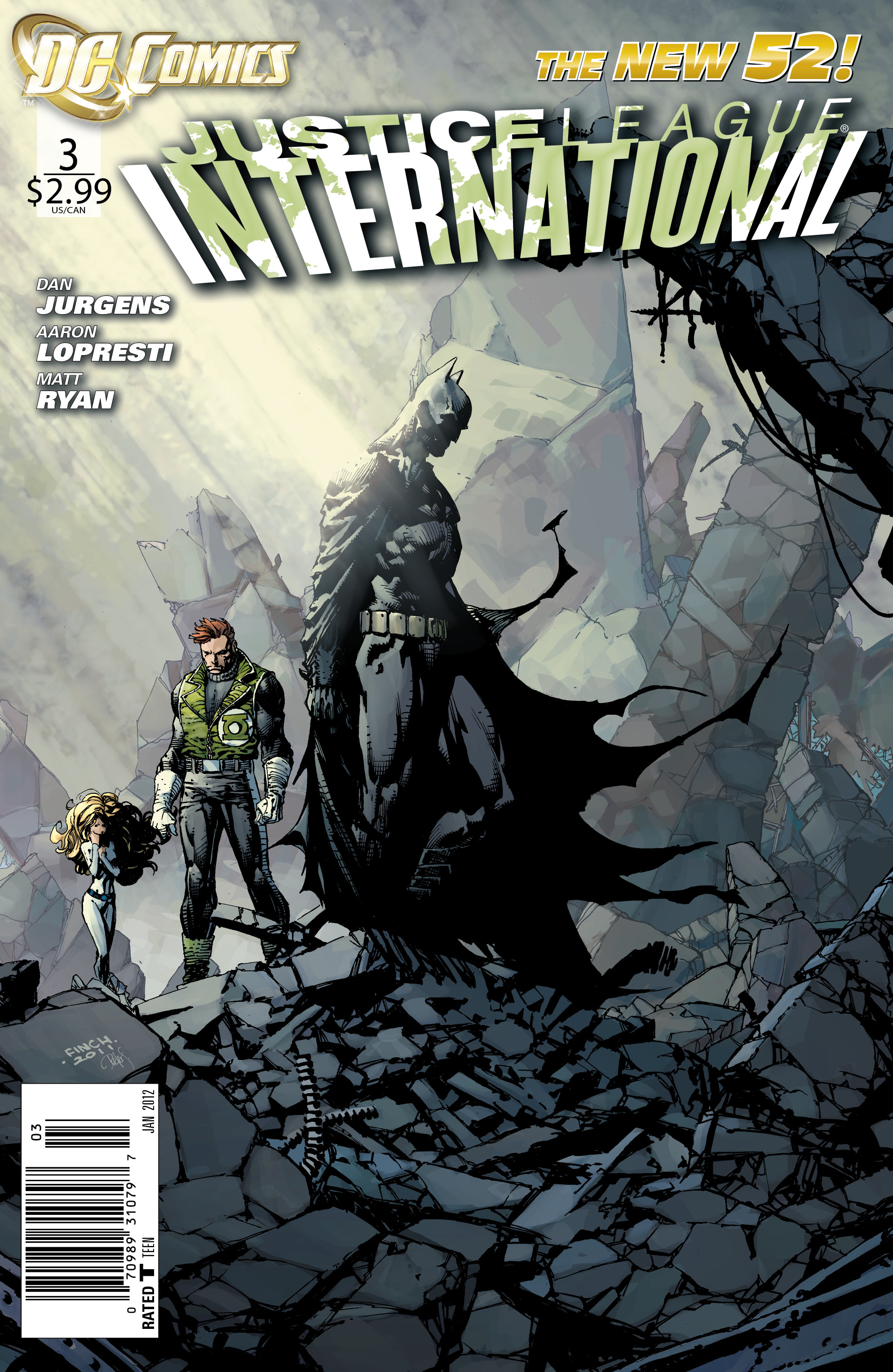 BUG: Out of all 52 new DC titles, why should folks check out JUSTICE LEAGUE INTERNATIONAL?
DJ: Well, I'd have to say that readers should definitely check out each and everyone of the new 52 titles. But JLI is all about fun character interaction set in the context of big scope, wide open action and adventure. We have a fun mix of characters who, as the series progresses, will start to walk down some very interesting paths. We have a good story to tell and are having lots of fun doing so.
BUG: JUSTICE LEAGUE INTERNATIONAL #3 is on sale this Wednesday from DC Comics.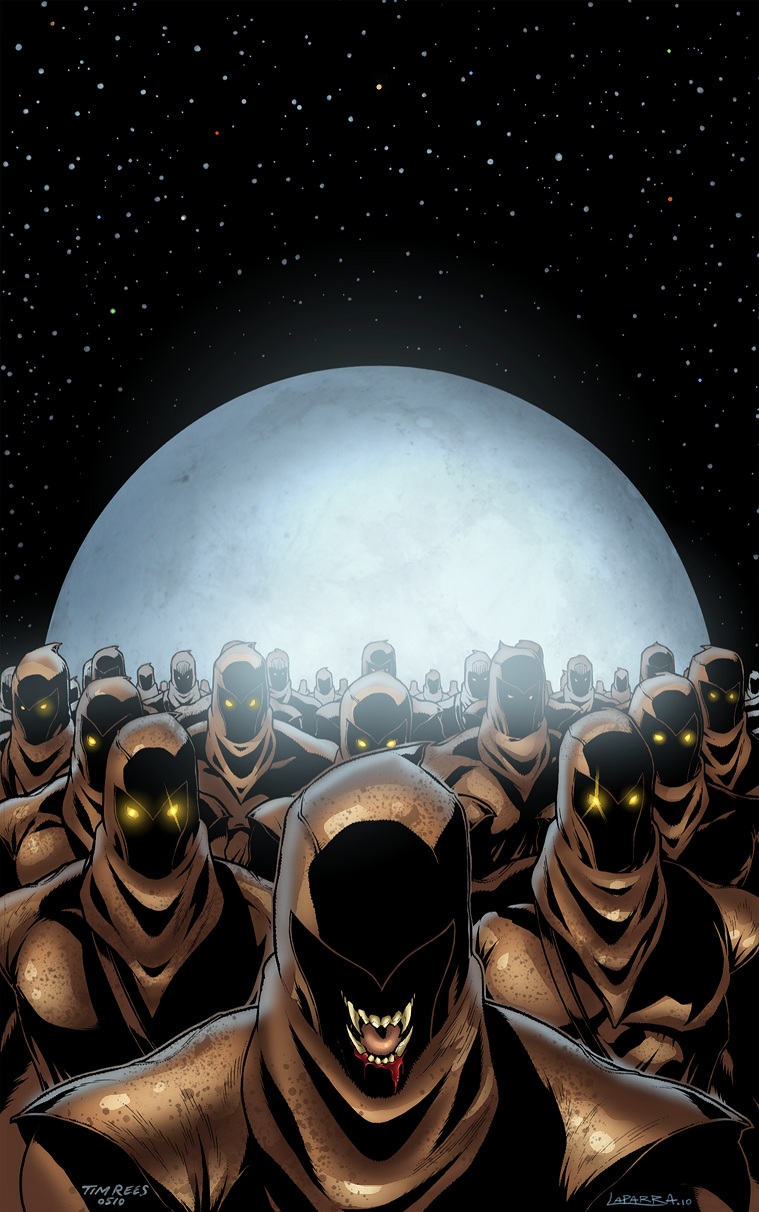 Ambush Bug is Mark L. Miller, original @$$Hole / wordslinger / reviewer / co-editor of AICN Comics for over nine years. Mark is also a regular writer for FAMOUS MONSTERS OF FILMLAND and will be releasing FAMOUS MONSTERS first ever comic book miniseries LUNA in October (co-written by Martin Fisher with art by Tim Rees) You can pre-order it here! Support a Bug by checking out his comics (click on the covers to purchase)!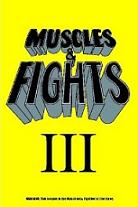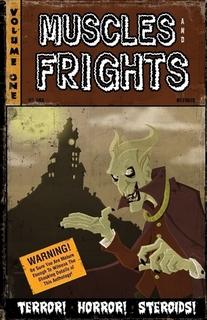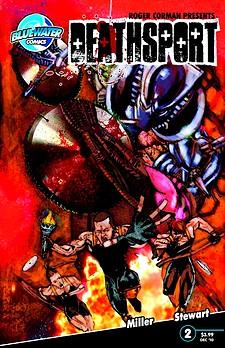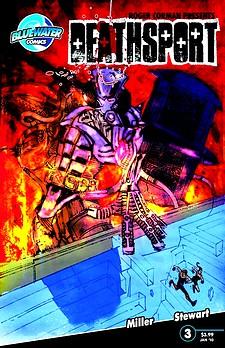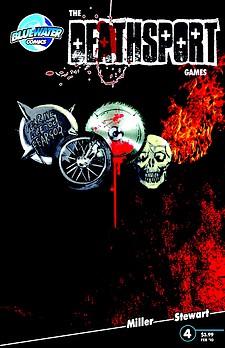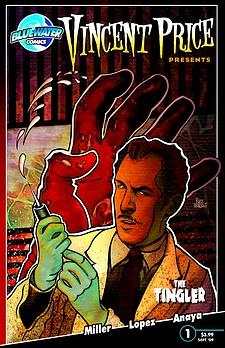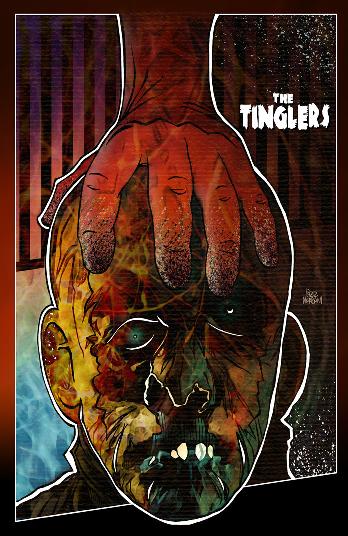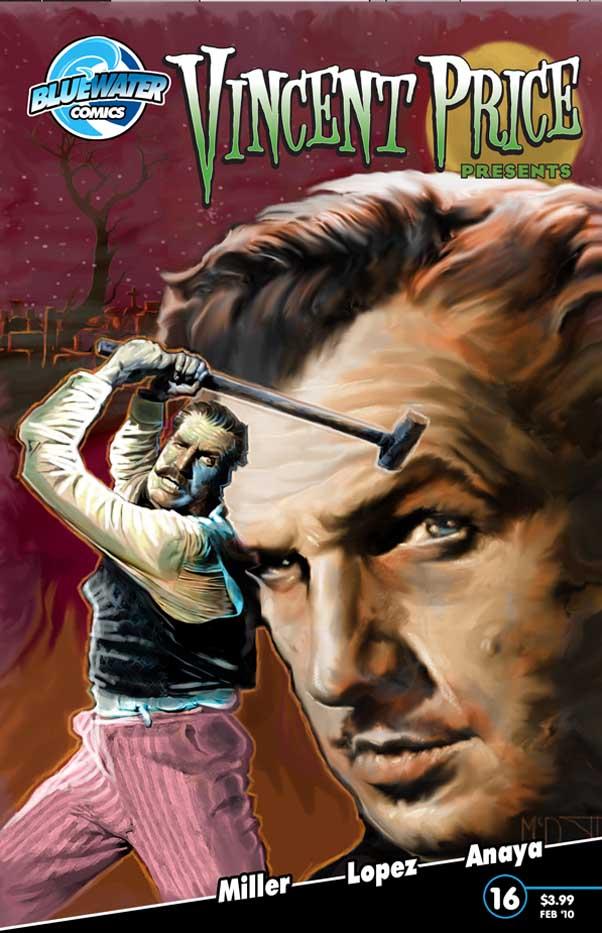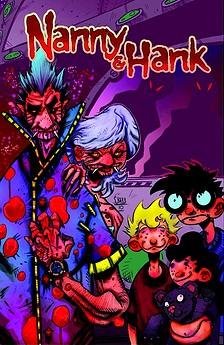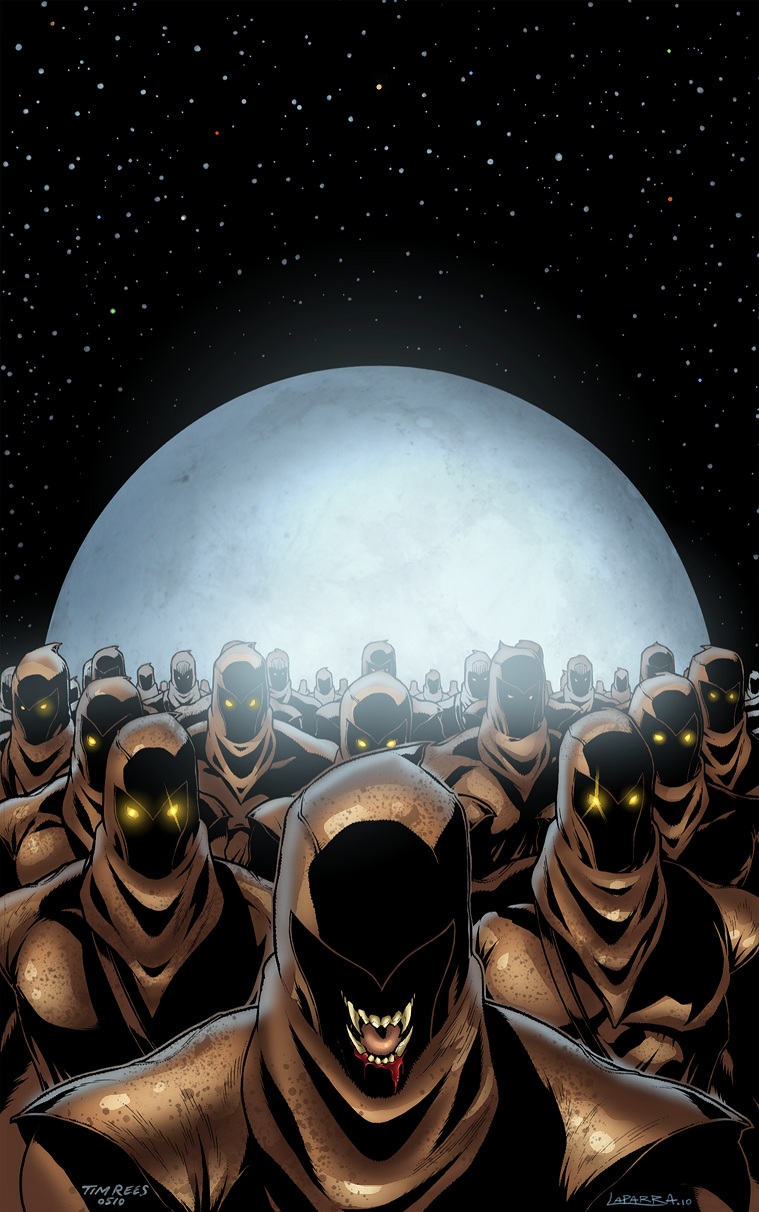 NANNY & HANK's Facebook Page
THE DEATHSPORT GAMES' Facebook Page
FAMOUS MONSTERS PRESENTS LUNA: ORDER OF THE WEREWOLF's Facebook Page
---
Editing, compiling, imaging, coding, logos & cat-wrangling by Ambush Bug
Proofs, co-edits & common sense provided by Sleazy G
Check out AICN COMICS on Facebook and Comixpedia.org!