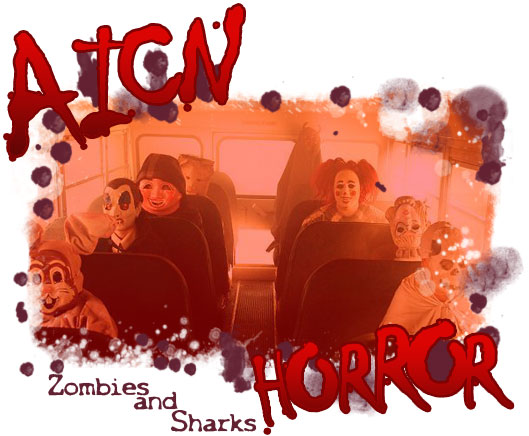 Logo by Kristian Horn
What the $% is ZOMBIES & SHARKS?
---
Greetings, all. Ambush Bug here with another AICN HORROR: ZOMBIES & SHARKS column. Happy Halloween! To celebrate All Hallows Eve, I've got a couple of fun new treats and a fun look back on two Halloween treasures!

But before we do that, here are a few news bits to snack on…
---
This weekend, if you're looking for stuff to do and are in the New York area, the Scary Movies 5 film festival will be showing fright features old and new including Ben Wheatly's KILL LIST, Ty West's THE INNKEEPERS, THEATRE BIZARRE, Corman's HOUSE OF USHER, a special presentation of Jeffrey Combs' NEVERMORE Live and much more!
Find times and location info for the Scary Movies 5 film fest here!
---
What am I doing this Hallow's Eve Weekend? Well, I'll be heading to the Portage Theater in my home town of Chicago for the Vincentennial! Vincent Price's daughter Victoria will be there honoring her horror icon father and playing host and special guest for screenings of THE HOUSE ON HAUNTED HILL and THE LAST MAN ON EARTH. Doors open at 1:00pm on Sunday and you can bet this Vincent Price fan will be there.
Get tickets and find out more about the event here!
And now let's get this Halloween celebration underway with some things older and some things new…enjoy!
Today on AICN HORROR
(Click title to go directly to the feature)
TALES FROM BEYOND THE PALE: MAN ON THE LEDGE & THE HOLE DIGGER Radio Play
SLIME CITY MASSACRE (2010)
A HAUNTING IN SALEM (2011)
FARM (2011)
Make/Remake: NIGHT OF THE DEMONS (1988 & 2010)
And finally… SCOOBY DOO AND THE HEADLESS HORSEMAN OF HALLOWEEN!
---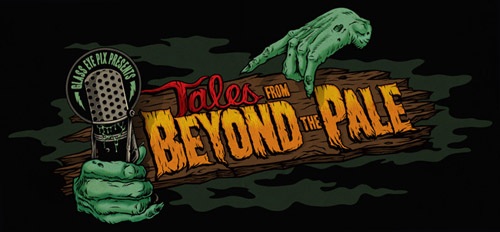 TALES FROM BEYOND THE PALE CD Radio Play Season 1 Vol.1
MAN ON THE LEDGE
Written by Joe Maggio
Starring the voices of Vincent D'Onofrio & Larry Fessenden
THE HOLE DIGGER
Written by Larry Fessenden
Starring the voices of James LeGros, Owen & Tobias Campbell, Kevin Corrigan, Heather Robb, & Joel Garland
Find out more about TALES FROM BEYOND THE PALE here!
Reviewed by Ambush Bug
Larry Fessenden is the mastermind behind TALES FROM BEYOND THE PALE, a throwback to the art form of radio play shows. Though I was a bit young to enjoy such shows, I have recently been digging up some great ones to play at the end of this column. And if you're a fan of sitting close by the radio for a fearful story announced by an ominous and creepy host, TALES FROM BEYOND THE PALE is for you. Fessenden hosts each segment, available as double disks or as a full season of ten stories
from the website here
and he does so with fiendish glee. I'll be checking out each of the disks, two per disk over the next few weeks. So here goes…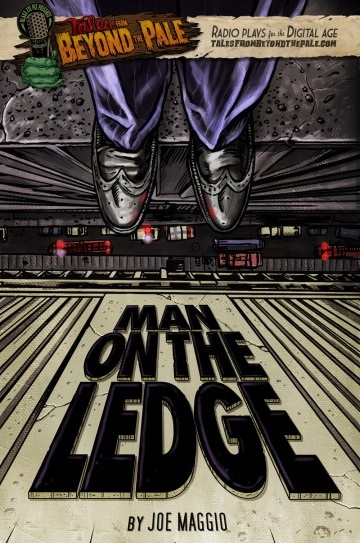 MAN ON THE LEDGE is a fun little short that twists perceptions numerous times throughout the narrative. The story is written by Joe Maggi,o who brought us BITTER FEAST last year. Maggio serves up a dark drama of a man standing on a ledge (played by FULL METAL JACKET's VINCENT D'Onofrio) and Larry Fessenden as a cop trying to talk him down. This is a story about a build-up and the tension is most assuredly there. Halfway through I kind of guessed where this story was heading, but Maggio makes the ending moments fun with a few unexpected twists. All in all, MAN ON THE LEDGE is well acted and well paced with an ending that crescendos highly.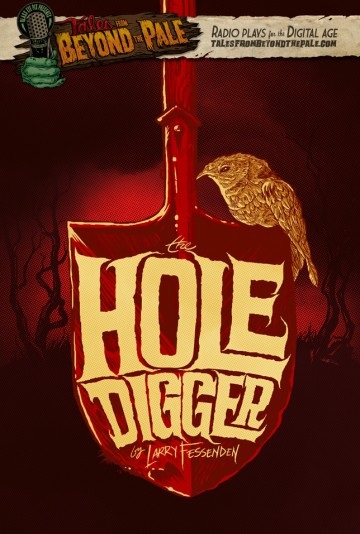 THE HOLEDIGGER springs from the twisted mind of Fessenden himself. As he explains in the opening, this is a story inspired by his childhood which most likely didn't occur the way he remembered it and after hearing the tale, I hope the terrifying events of the story didn't happen to him. This is a story starring two brothers who, after a drowning scare, spend the night camping only to be haunted by what appears to be a spectre of death. As the older brother scares the younger with a tale reminiscent of FINAL DESTINATION where the child eluded death and now it's coming for his soul, strange events occur which indicate that this childhood taunt might actually be true. This one has an ending that is impactful and truly scary.
I quite enjoyed sitting in the dark and listening to these two half hour stories of terror. Each episode is available for download, so if you're looking for audio scares this Halloween, TALES FROM BEYOND THE PALE most definitely delivers.
---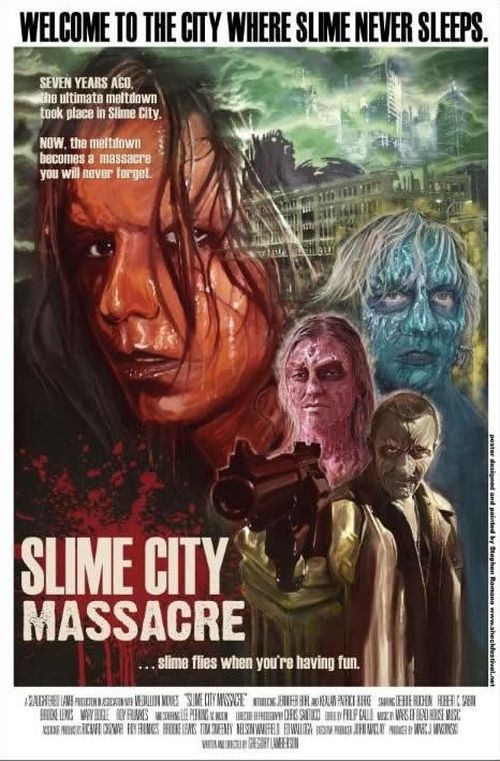 New on DVD!
SLIME CITY MASSACRE (2010)
Directed by Greg Lamberson
Written by Greg Lamberson
Starring Jennifer Bihl, Kealan Patrick Burke, Debbie Rochon, Robert C. Sabin, Brooke Lewis, Mary Bogle, Roy Frumkes, & Lee Perkins
Find out more about this film here!
Reviewed by Ambush Bug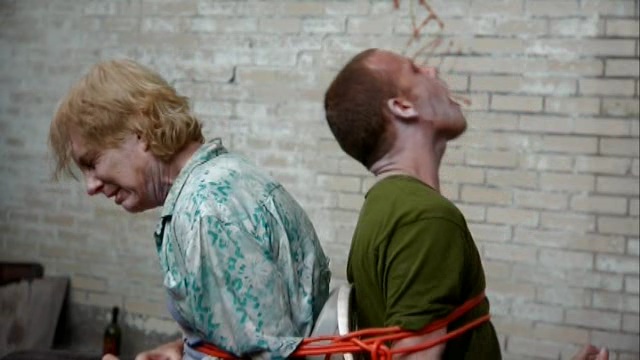 They say you can't go home again, but writer/director Greg Lamberson doesn't seem to know this. Lamberson is the creative madman who brought us the gory cult classic SLIME CITY waaaaaay back in 1988. Recently, Lamberson revisited Slime City and put modern twist to it. SLIME CITY 1988 (
which I reviewed here
) was a gory and surprisingly metaphorical story about addiction. In SLIME CITY MASSACRE, Lamberson continues to explore this topic with amplified gore and even more insightful metaphor.
A dirty bomb is dropped in New York City, turning it into a post-apocalyptic wasteland. Now folks are desperate for food, shelter, and safety. One couple attempts to make it through the apocalypse and happen upon another couple, in hopes to survive by sharing food and amenities. Soon the quartet happen upon a secret room untouched by the dirty bomb which fans of the original film will recognize. In the room are bottles of elixir and what looks to be some kind of yogurt paste. Hungry, the couples dig in, but soon they realize that something is off. They act more impulsively and savagely and their bodies begin to lose their consistency. As slime begins to ooze from their pores, the survivors realize that in order to stop from becoming a puddle of slime, they must kill.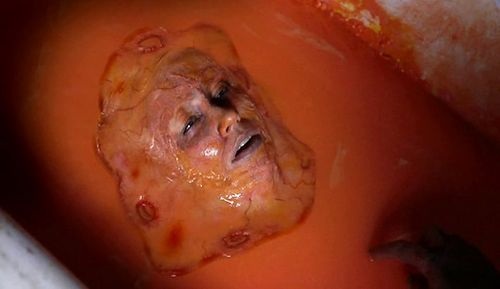 The science behind this film is wack-a-doodle, so if you like your horror sci fi on the realistic side, this may not be the film for you. But SLIME CITY MASSACRE excels at being inventive with its gore and expanding on the themes of addiction. Some of the effects are inspired. One man has bottles shoved into his eyes and when he leans forward, ooze and blood pour out the tops. One of the survivors decomposes into a puddle of ooze in a bathtub and urges her husband to kill in order for her to get her consistency back. The effects work is over the top, more reminiscent of early Troma, but still toe-curlingly gory.
The themes of addiction to both drugs and cults are also touched upon as the origins of the slime concoction are explained and the couples struggle to overcome their addiction to the elixir. In both cases, Lamberson shows that more than just a gorefest is going on with SLIME CITY MASSACRE. With more than impressive scenes of practical effects and a pretty sophisticated handling of complex themes, SLIME CITY MASSACRE proves to be a thinking man's gross-out horror film. It's a whole lot of fun, too.
---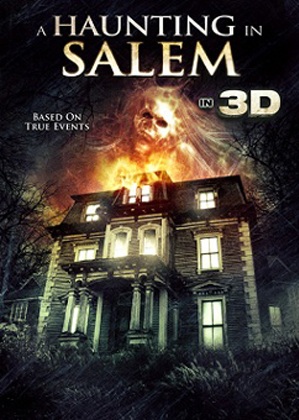 New on DVD from the Asylum!
A HAUNTING IN SALEM (2011)
Directed by Shane Van Dyke
Written by H. Perry Horton
Starring Bill Oberst Jr., Courtney Abbiati, Jenna Stone, Nicholas Harson, Carey Van Dyke
Reviewed by Ambush Bug
Oh, god. I haven't seen the other A HAUNTING IN… films, but if this one is any indication, I don't think I'll be seeking them out. Though there are some decent scares and some impressive effects shots, everything else in this one shows that if this series of films goes forward, it's in dire need of renovation.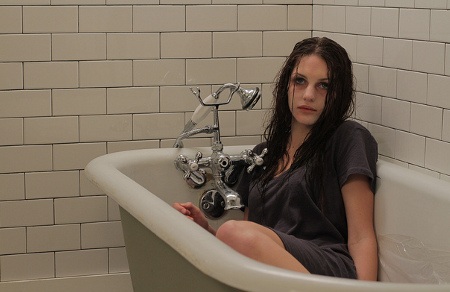 Bill Oberst Jr. plays a sheriff new to town and newly moved into a home that appears to be haunted. Oberst is miscast in this one, looking more like a Barney Fife deputy than an actual sheriff and lacking in the dynamicism to carry the lead role. His wife (played by Courtney Abbiati) is also miscast since the gorgeous actress is waaaaaay out of his league and does not look like she is old enough to have two teenage kids (played by Jenna Stone & Nicholas Harson). This miscast family do the usual thing that happens in haunted house films: they're so dysfunctional that none of them talk about the weird shit that is occurring to each of them when they are alone in the house.
In your usual haunted house films, the threat to the family brings them all together, conveying the strength of the family with a lovey dovey ending of the unit hugging themselves as they leave the house behind. Props to A HAUNTING IN SALEM for not going that route. This one's got a more macabre ending and one I actually think is quite ballsy.
There are some well placed scares throughout and the makeup effects are nice (reminiscent of some of the ghosts from the classic A GHOST STORY) and with a stronger cast, A HAUNTING IN SALEM might have been a better film. The film I saw lacked the punch in both acting and directing departments.
---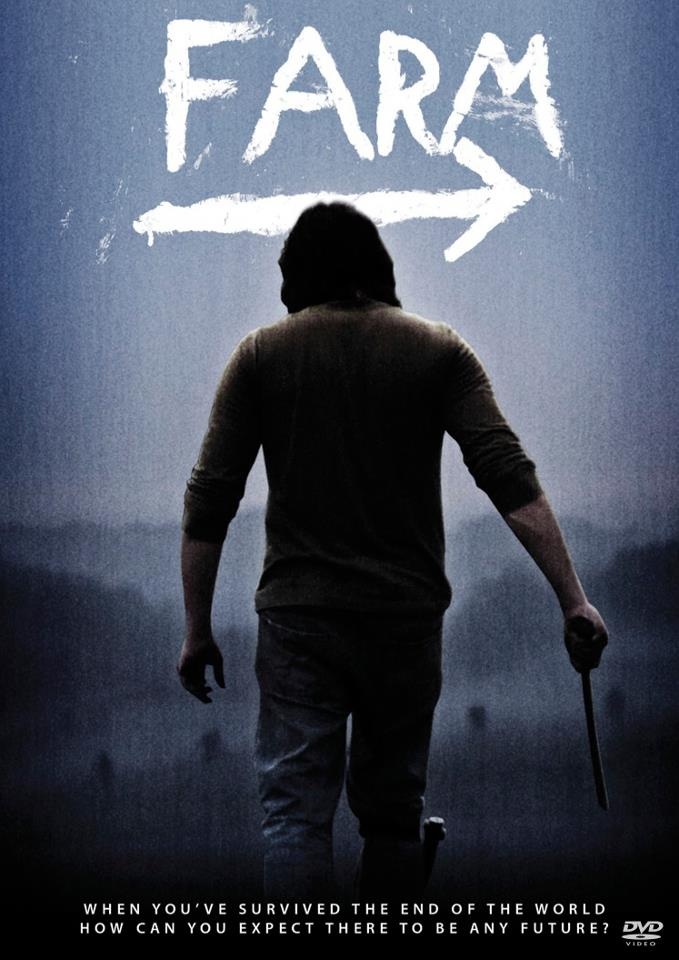 New on DVD!
FARM (2010)
Directed by Hank Bausch & Andrew M. Jackson
Written by Paul Farrell
Starring Michael Hotop, Ashley Salazar & Freddie Meyer
Find out more about this film here and on Facebook here!
Reviewed by Ambush Bug
I really loved this moody little film about a trio of survivors trying to live together in an abandoned farm amidst the zombie apocalypse. Taking a page from THE WALKING DEAD, FARM focuses on the survivors more than the zombies themselves. Unlike most recent zombie films which seem to want to go bigger and focus on swarming masses of the undead, the shambling deceased don't even show up in this one until halfway through the film. In fact, I almost hate to let you guys know this is a zombie film because though the signs were all there, the film doesn't really let on that there are zombies afoot for quite a while.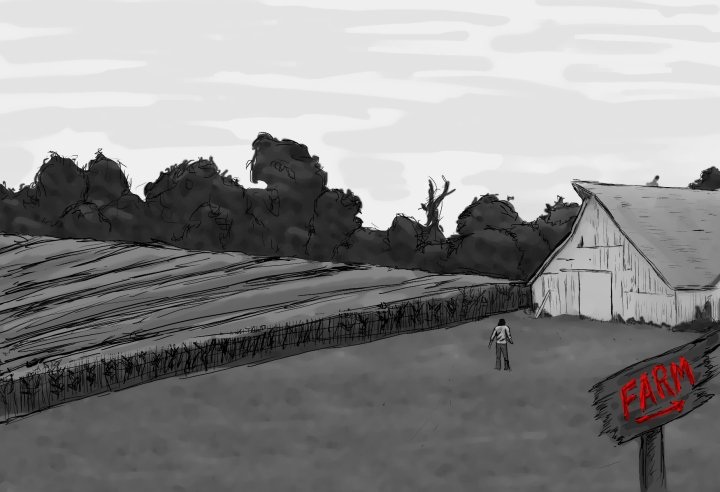 Directors Hank Bausch & Andrew M. Jackson show an excessive amount of patience, focusing on Charlie (played by Michael Hotop), a country boy with a knife sheathed on his leg who goes about his day to day routine of keeping up the farm, providing for his brother Simon (played by Freddie Meyer) and protecting his farm from outsiders. When a young girl (Ashley Salazar) shows up, she threatens to shatter the peaceful existence Charlie and his brother have made for themselves, zombies soon follow and the farm proves to be unsafe.
As I mentioned above, the fact that I didn't know this was a zombie film until half an hour in is a testament to the subtle directing and writing going on. Much of this film is without dialog, reminiscent of a David Lynch film (think THE STRAIGHT STORY) where a quiet man lives a quiet life of order until chaos is injected. The acting is up a notch from your usual indie film and the makeup effects of the zombies are damn fine too.
FARM isn't an in your face and extreme zombie film following well tread paths. It's a patient and meticulous film about survival and how fragile order often is. Not your typical zombie film, FARM is something special and full of that indie horror spirit you don't see haunting big budget fright flicks.
---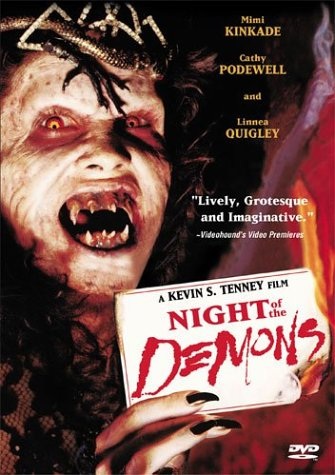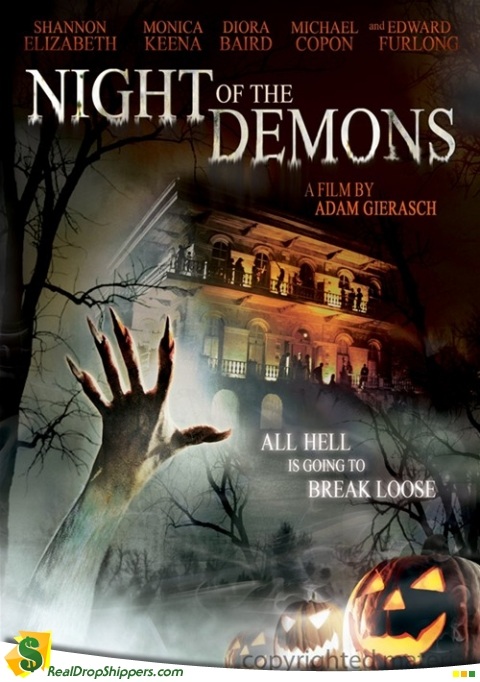 A Make/Remake Halloween Special!
NIGHT OF THE DEMONS (1988)
Directed by Kevin Tenney
Written by Joe Augustyn
Starring Amelia Kinkdale, Linnea Quigley, Billy Gallo, Lance Fenton, Cathy Podewell, Hal Havins
NIGHT OF THE DEMONS (2010)
Directed by Adam Gierasch
Written by Jace Anderson & Adam Gierasch (screenplay), Joe Augustyn (original screenplay)
Starring Monica Keena, Shannon Elizabeth, Edward Furlong, Diora Baird, Bobby Sue Luther, Tiffany Shepis
Reviewed by Ambush Bug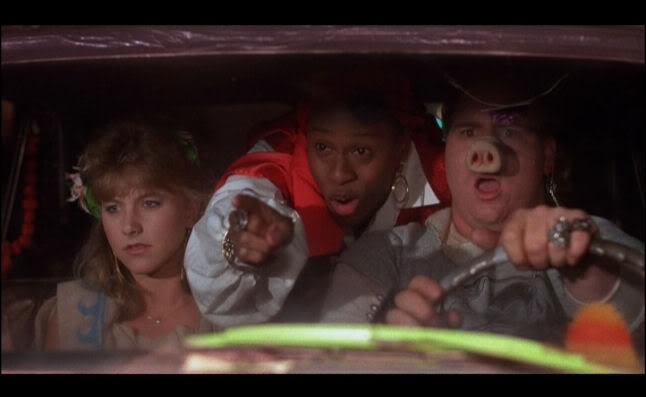 For the last few weeks I could've done a HALLOWEEN retrospective or something and maybe in the coming years I'll do so, but I figured I'd check out some other films occurring on Halloween. Check out IDLE HANDS and the 80's rock slasher opus TRICK OR TREAT reviews for more. TO finish off this festival of the All Hallows eve, I thought I'd blow the dust off of one of the most fun Halloween movies ever made…NIGHT OF THE DEMONS.
"Eat a bowl of fuck!"
Some films aren't meant to be fine art. Some are just meant to be plain fun. NIGHT OF THE DEMONS is such a film. Filled with sick sights and sounds and depraved kids doing awful things to one another all in the name of Halloween, this little film from the 80's was quite the phenomenon in the late eighties.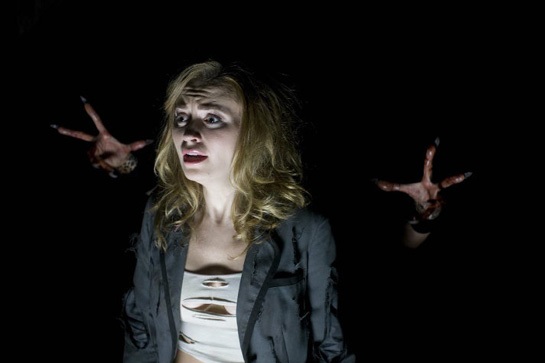 I remember seeing NIGHT OF THE DEMONS in an old theater in my home town. They didn't give a shit that my brother and I were under age and were happy to sit our still infantile asses in the theater seats while my mom shopped around the surrounding mall. Even back then, my brother and I knew we were seeing something special. Taking place on Halloween, a group of kids gather in an old house for a party. Though the budget appeared to be low and the acting leaves a lot to be desired, what makes NIGHT OF THE DEMONS stand out are the special effects and truly twisted script.
"Enjoy your lipstick, dollface."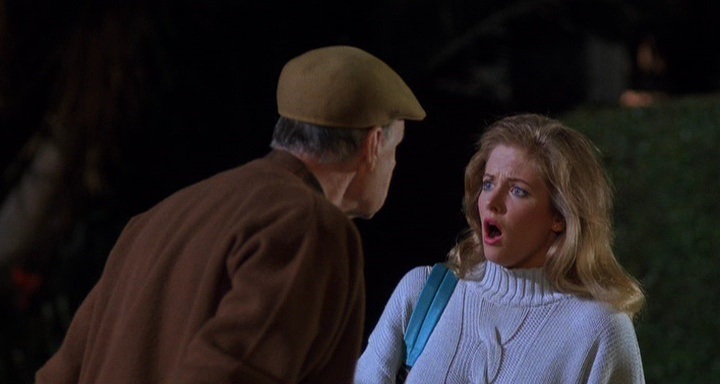 Effects wizard Steve Johnson really pulls out all of the stops here. This was the day and age of Fangoria, where effects wizards like Savini, Baker, and Bottin were worshipped as gods and a whole new generation of frightsters like Johnson and KNB Effects were just getting started. Johnson pulls off some amazing stuff in this film with full body appliances, full make-up demon faces, gory severed limbs, and burn sequences--all of which are captured on screen through the lens of Kevin Tenney, who lingers on each effect like highway drivers passing by a pileup. The scene that made NIGHT OF THE DEMONS most memorable, the scene where Scream Queen Linnea Quigley shoves lipstick into her boob while possessed, still remains as shocking as it was then and the imagery still is so good that you'll wonder how they got away with it and accomplished the task. If any film was made as a showcase reel for outstanding effects, it's NIGHT OF THE DEMONS.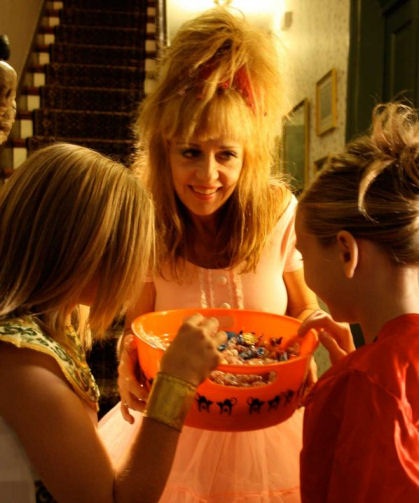 Aside from that, the late 80's film serves as a product of its time, reflecting the voice of youth for that generation. Though not the smartest of scripts and with acting that leaves a lot to be desired, there's something innocent about watching what these kids called partying in that time as they fire up the boom box, crack open cans of warm beer and dance in a circle in front of a fireplace. That's not to say that the script doesn't have its share of doozy lines (some of which I've incorporated into this review).
Mention must be made of the film's stars: Amelia Kinkdale and Linnea Quigley, who play the hosts of the party. Kinkdale may not have the over the top role Quigley does with the lipstick boob and the eye gouging, but her performance as Angela is definitely awesome. Playing to the goth standard of today's Twilighters, Kinkdale's Angela is pure evil when she has to be. Both Kinkdale and Quigley soak in the horror proudly and wallow in it to the delight of all who view the film.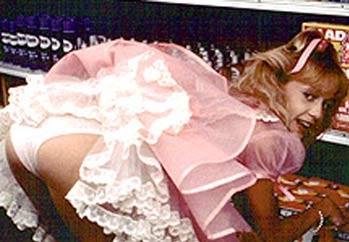 "How about an orgy? I'm sure if we try, we can get Jay hard again."
This is a perverse film with copious amounts of sex and violence, often incorporated together in the same scene (one couple even has sex in a coffin before being offed). Though its definitely not the first to pair pair with death, it does so with reckless abandon as if it did come up with the concept. This is no by the numbers film, but a dark one which has a lot of fun scaring the piss out of its viewers while at the same time not pulling punches. The especially wicked ending involving a crotchety old man who fall victim to his own Halloween prank is deviously delicious. With the barrage of remakes hitting theaters these days, it's no wonder the film was remade. Thankfully, the film was remade with someone with balls and what looks to be a deep respect for the original.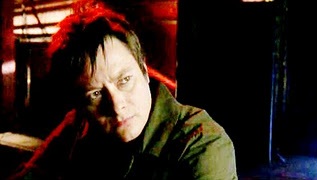 Though sinfully undermarketed, NIGHT OF THE DEMONS (2010) is one of the few films which captures the true spirit of the original while expanding on it to fit modern cinematic expectations and technology. Most of the same story is present. A party is being held by a "bad girl" named Angela (played this time by AMERICAN PIE's Shannon Elizabeth). Unlike the first film, relatively known stars are cast with Monica Keena (UNDECLARED, FREDDY VS JASON) playing the "good girl" with other party goers such as Diora Baird in the role inspired by Quigley and Bobby Sue Luther (the final girl in LAID TO REST) putting her gigantic pair of…ahem…acting talents on full display in a cat suit. Scream Queen Tiffany Shepis also makes an appearance in a minor role as well and even Linnea Quigley dons her little pink dress from the first film to make a cameo. Rounding out the cast is a puffy Edward Furlong who looks as if he's seen better days.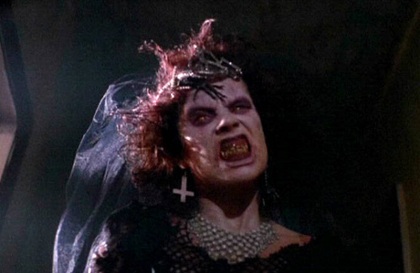 "No costume, no candy, motherfucker!"
Though at times director Adam Gierasch seems to rush through things (some of the takes seem to capture the lack of enthusiasm some of the actors—mostly Furlong—seemed to have in their performances), he does fill every single moment in this one with thrills, wild camera work and fantastic musical choices to set the mood. The Halloween party Gierasch sets up is the type of Halloween party I'd like to go to.
A lot of the elements of what made the original such a classic are present here. The lipstick sequence is repeated with Baird displaying her impressive chesticles, though with lesser cinematic "wow". The sequence is somewhat rushed through compared to the much more patient and jaw-dropping original sequence. Though in Gierasch's new version, Baird's boobs do have tentacles flapping about later on, a welcome addition to the perversity mixing of sex and death theme which was so prevalent. Baird seemed to be the highlight of the sex/death motif during a sex scene where she and her partner literally become the beast with two backs.
"She stuck a lipstick in her boob and it fell out of her pussy!"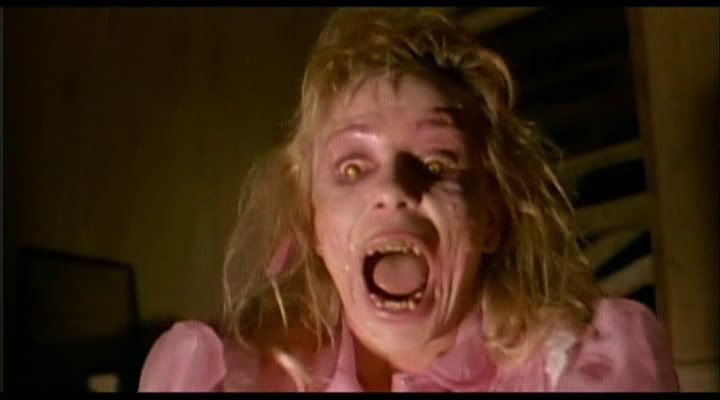 Gierasch and his wife/collaborator/writer Jace Anderson incorporate some goofy mythos toward the end regarding demons and rusted metal which only barely makes sense and requires explanation/discourse from teens who really shouldn't know the first thing about demon incantation. The same clueless kids also somehow immediately know how to write these incantations on walls in order to protect the room they're in from invading demon forces. All of this is goofy logic, but with the amount of fun and sheer glee Gierasch doles out the perverse horrors, I'm willing to forgive him for that. All in all, this remake builds on and honors the original, something you can't say for too many remakes these days. With walls dripping blood, boob tentacles, lesbian kissing resulting in a face being ripped off and all sorts of sordid and bloody antics, NIGHT OF THE DEMONS 2010 is one of the best remakes I've ever witnessed.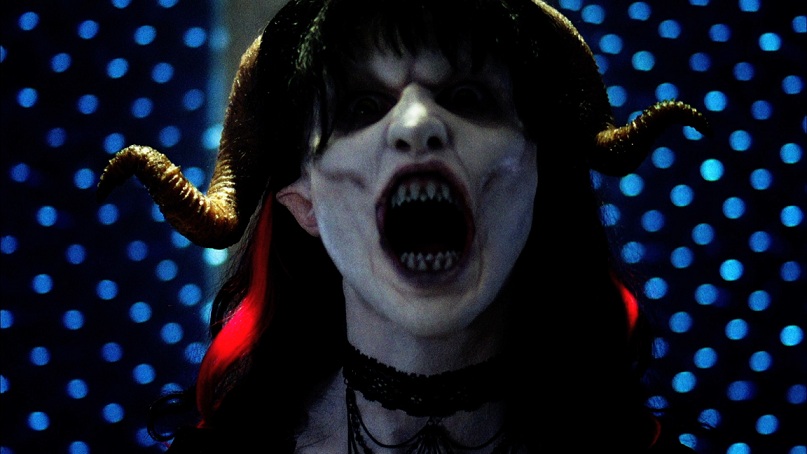 As with the original film, the remake of NIGHT OF THE DEMONS sports a fantastic soundtrack with everyone from Type O Negative to Concrete Blonde supplying creepy songs to help amp up the mood and chills. Again, with a soundtrack like this and the quality of the film, I am amazed that this film didn't get a theatrical release while pap like the WHEN A STRANGER CALLS and PROM NIGHT remakes had cross-country screentime.
If you're planning on having a Halloween party this weekend and want something to play in the background while the festivities are commencing, might I suggest NIGHT OF THE DEMONS or its remake? It's got enough eye candy and gore to make your trick or treat bags runneth over with blood, boobs, drugs, booze, demons, and music. What more could you ask for on Halloween?
---
And finally…probably one of my favorite cartoons as a kid! Let's celebrate Halloween with Shaggy, Scooby Doo, Scooby Dum, and the rest of the gang with SCOOBY DOO AND THE HEADLESS HORSEMAN OF HALLOWEEN presented here in two parts! Enjoy!
And part two, where he would've gotten away with it too if not for those crazy kids!
Hally Halloween, folks!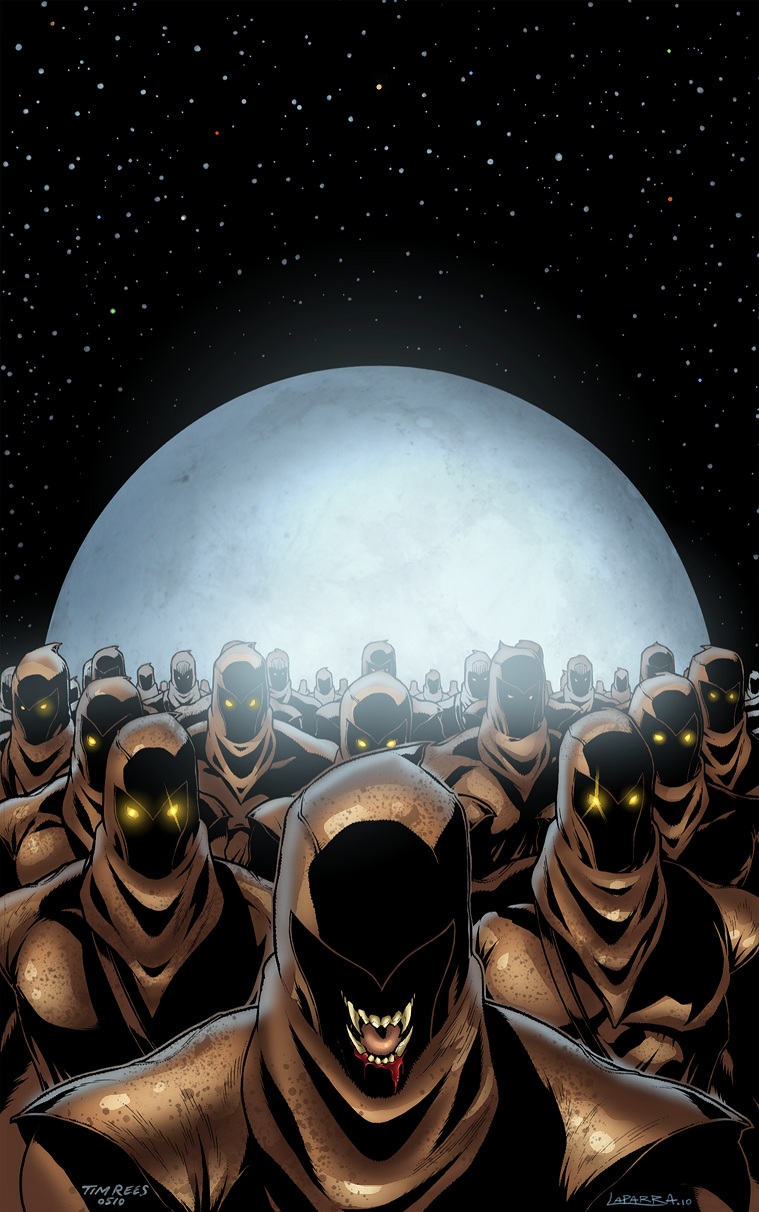 Ambush Bug is Mark L. Miller, original @$$Hole / wordslinger / reviewer / co-editor of AICN Comics for over nine years. Mark is also a regular writer for FAMOUS MONSTERS OF FILMLAND and will be releasing FAMOUS MONSTERS first ever comic book miniseries LUNA in October (co-written by Martin Fisher with art by Tim Rees) You can pre-order it here! Support a Bug by checking out his comics (click on the covers to purchase)!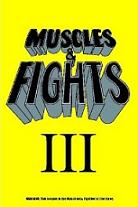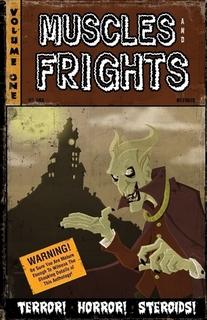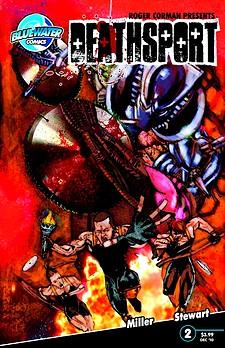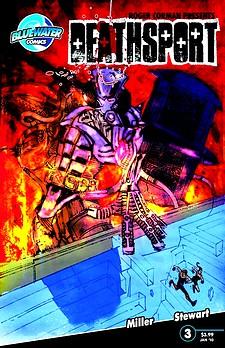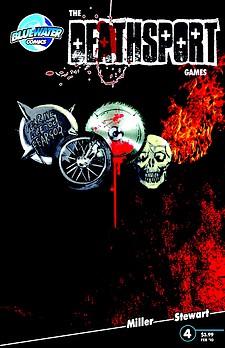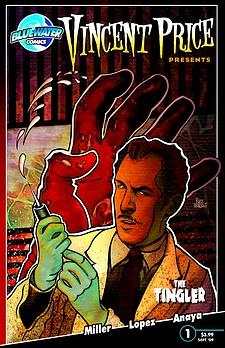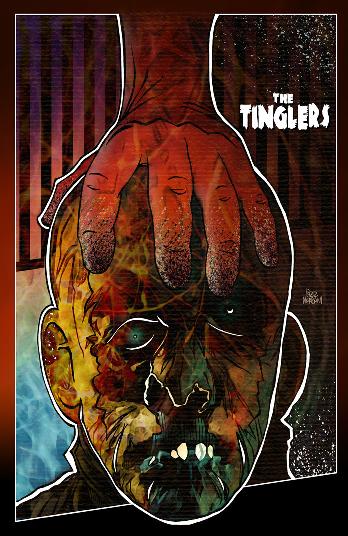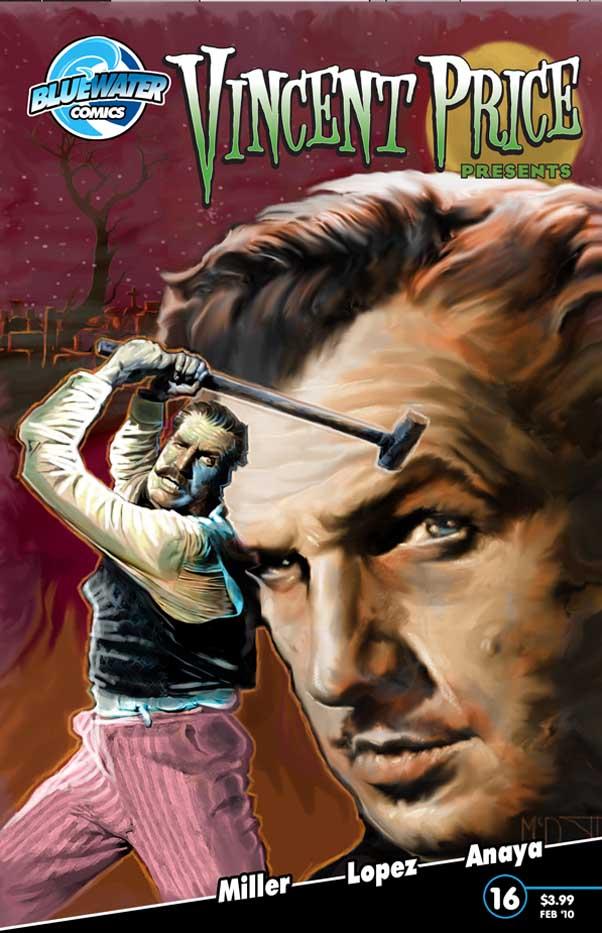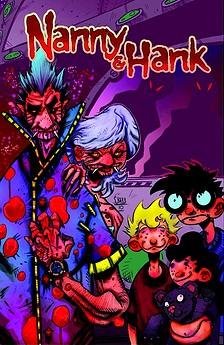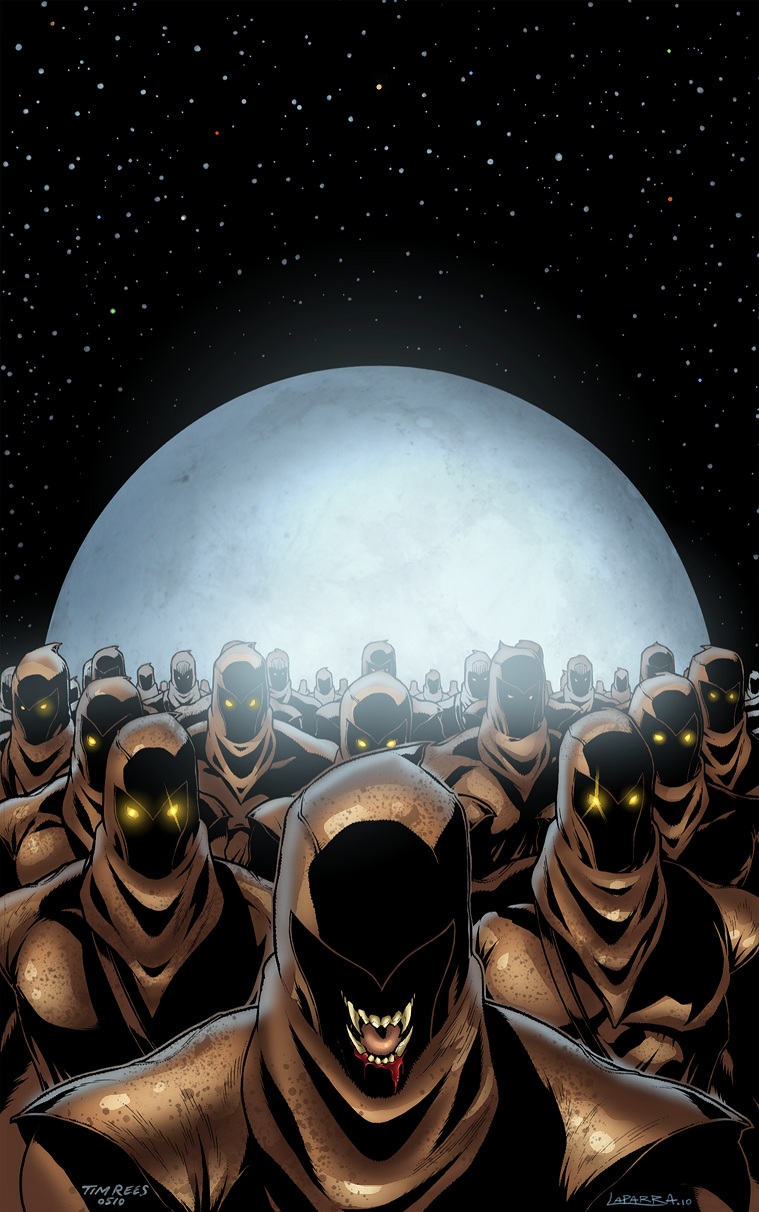 NANNY & HANK's Facebook Page
THE DEATHSPORT GAMES' Facebook Page
FAMOUS MONSTERS PRESENTS LUNA: ORDER OF THE WEREWOLF's Facebook Page
---
Check out FAMOUS MONSTERS' website here!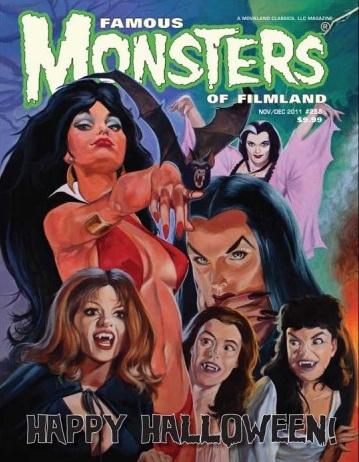 ---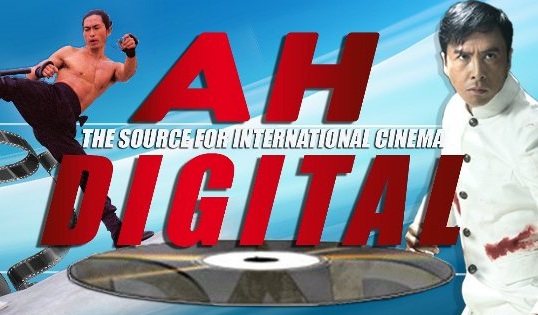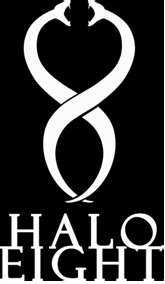 Looking for obscure, foreign, or hard to find DVDs & BluRays?
Check out AH Digital: the source for international cinema!


Interested in illustrated films, fringe cinema, and other oddities?
Check out Halo-8 and challenge everything!



---
Find more AICN HORROR including an archive of previous columns
on AICN HORROR's Facebook page!