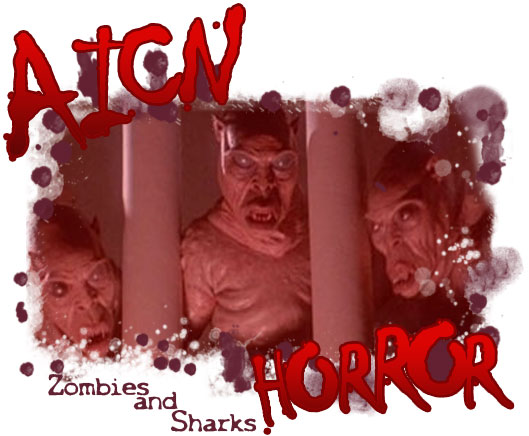 Logo by Kristian Horn
What the &#$% is ZOMBIES & SHARKS?
---
Greetings, all. Ambush Bug here with a special AICN HORROR: ZOMBIES & SHARKS column. One of my favorite parts of Halloween is the film festivals. I love sitting and watching one horror flick after another in a crowded and rowdy theater. In this column, we'll look at entries short and long playing at the Everybody Dies Film Festival in Orange County, CA this Friday and Saturday and the Creative Loafing Reel Terror Film Festival in Ybor City, Tampa Bay, FL. If you're near either one of those locations and like what you se here, go check out these film fests this weekend. The following are some short reviews of the stuff I had a chance to check out playing at the fests! Enjoy!
Today on AICN HORROR
(Click title to go directly to the feature)
Everybody Dies Film Festival!
Reel Terror Film Festival!
---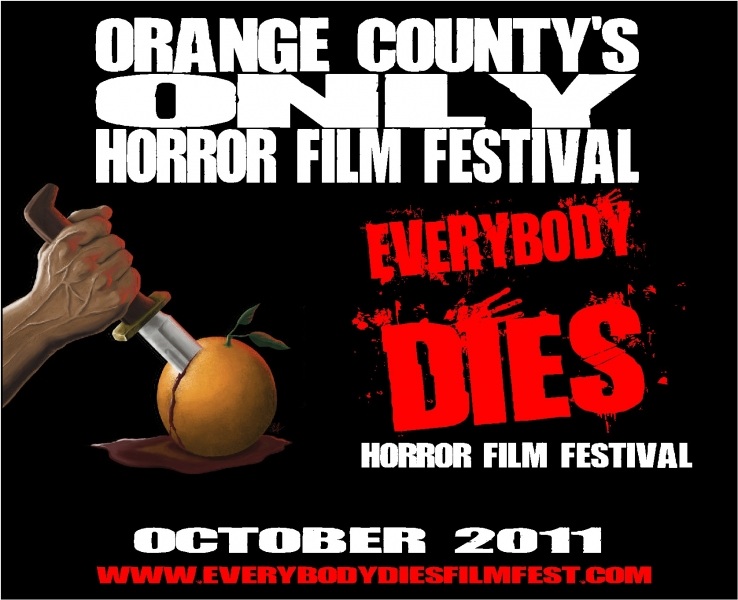 The Everybody Dies Film Festival takes place on Friday & Saturday (October 21-22) in Orange County, California and is hosted by the mistress of ceremony, the super sexy psychopath, Machete Betty. Below are some reviews of the short films and features playing the festival this weekend. When they were available, I provided the whole short films. When not, you can still check out the trailer. Enjoy!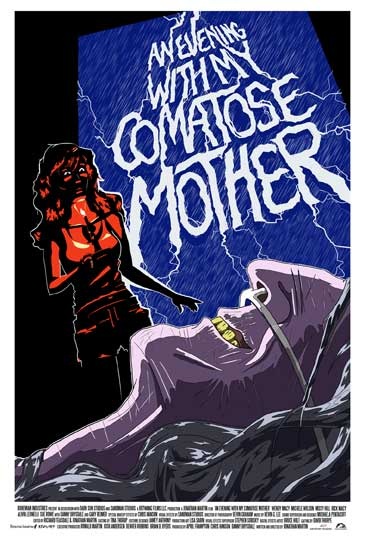 AN EVENING WITH MY COMATOSE MOTHER(short film)
Written/directed by Jonathan Martin
Starring Wendy Macy, Michele Wilson, Missy Hill, Rex Macy, Sue Rowe, Alivia Lionelli, & Gary Reimer
A cackling hag, a creepy limping child, and a bad toothed clown: one of those elements alone could make for a scary movie experience. This little half hour short sports all three. AN EVENING WITH MY COMATOSE MOTHER has all of the right elements of a great scary yarn: a teenage babysitter is told to housesit and check in on the ailing mother upstairs, seems like easy money for the teen, seems like the perfect set-up for horror to those watching. This shortie is high on camp, but the production values of this one make it view like a full scale production. Writer/director Jonathan Martin relies a lot on age-old creepy visuals here, but backs it up with a fantastically dramatic score and gorgeous lighting and camera shots. This is a professional looking flick and one that will make you wince in your chair more than once while watching. Preview below.
---
A DAY IN THE LIFE (short film)
Directed by Eon Song
Starring & written by Thomas J. Cox
Couldn't find a pic for this one, but it's a cool little ditty following a typical day in the life of a…well, I'll let you figure it out. I guffawed out loud numerous times at this one as an apathetic soul goes through his day in a nonplussed manner. Check it out below. Pretty fun stuff with some clever writing and a gory payoff.
View the entire short film below!
---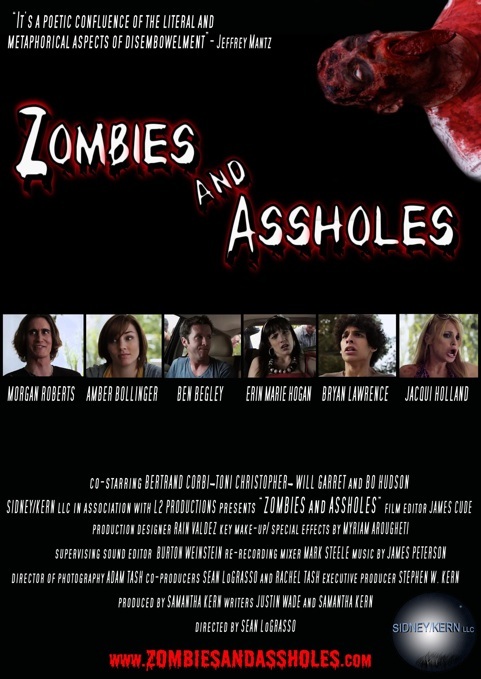 ZOMBIES & ASSHOLES (short film)
Directed by Sean LoGrasso
Written by Samantha Kern & Justin Wade
Starring Morgan Roberts, Amber Bollinger, Ben Begley, Erin Marie Hogan, Bryan Lawrence, Jacqui Holland
This short is freaking hilarious! Usually in horror films, you can't wait to see the annoying cast get nixed. In ZOMBIES & ASSHOLES, you're on your feet cheering for it, if not wanting to do it yourself. Though the acting is pretty good, you can't help but hate this cast of self absorbed, moronic assholes who pick each other off one by one while World War Z is going on around them. Though the premise is trite, the comedy is crisp and spot-on 90% of the time. ZOMBIES & ASSHOLES is one of the better zombie films I've seen in a while because it highlights what we already know about these films—that the humans are nothing but assholes and deserve to be killed…just in this film, it's moreso. Still laughing at some of the bits in this one. Damn funny preview is below.
---
T IS FOR TRASH CAN (short film)
Directed/written by

Rory Walsh

Starring Kevin Strom Andrew Hasman, Sarah Walsh, and DeeDee as Herself

THE ABC'S OF DEATH is bringing the filmmakers out of the woodwork. Focusing on the letter T, Kevin Strom has put together a damn funny and surprisingly scary little number about a guy who just wants to throw out his trash in peace. This being a horror short, things get really creepy really quick. T IS FOR TRASHCAN's got a great sense of humor and a hell of an ending.

Check out the whole thing below!
---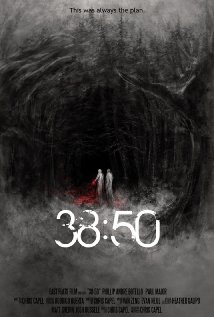 38:50 (short film)
Directed/written by Chris Capel
Starring Phillip Andre Botello, Paul Major
Though this film doesn't do a lot to fill in the blanks, it does exude an overwhelming sense of fear and dread. The story definitely has a slow crescendo that peaks with some really terrifically edited scenes for maximum scares. If you're looking for answers, this short doesn't really sport them. But writer/director Chris Capel does a great job of grabbing you by the nape of the neck and dragging you into this murky narrative about a pair of friends who unleash…something, resulting in a showdown in the middle of the woods. Even the name 38:50 is ambiguous, but you don't need to have all the answers to enjoy this snippet of macabre fun. Preview is below.
---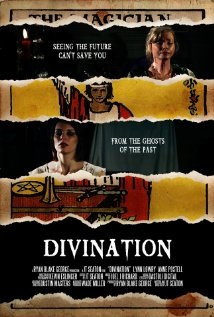 DIVINATION (short film)
Directed/written by JT Seaton
Starring Lynn Lowry & Anne Postell
This shortie centers on a hack fortune teller confronted by someone who actually talks with the dead. The highlight of this one is the creepy use of lighting and minimal special effects. The creeping ghosts and clever tricks of the camera by JT Seaton (who bought us GEORGE: A ZOMBIE INTERVENTION reviewed on AICN HORROR a few weeks ago) make this a short above the usual norm with a lot of scares in just a little time.
Preview below.
---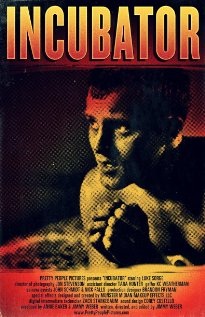 INCUBATOR (short film)
Directed/written by Jimmy Weber
Starring Luke Sorge
I loved this flip-the-script take on the old kidney stealing fable. Though short in length, every second oozes tension as a man wakes up in a bathtub of ice and frantically attempts to get out of the hotel room he's boarded into. Jimmy Weber zigs and zags through the small space of the hotel room, filling the viewer with a sense of claustrophobia and dread. Luke Sorge is only required to frantically dart around the room and scream bloody murder, but does so effectively. INCUBATOR is a damn cool short that will take you by surprise with its gory climax.
Preview below.
---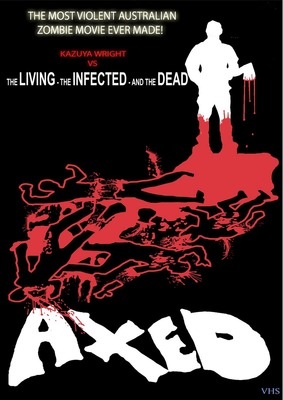 AXED (short film)
Directed/written by Joshua Long
Starring Kazuya Wright, Kathryn Marquet, Adam Fawns, Bridie Walsh, Karli McNamara
AXED boasts to be the most violent zombie film ever made and it may very will be. The half hour short begins with a group of armed men in hazmat uniforms seemingly testing (or infecting?) a pair of chained in a forest. After those two are disposed of, the scene changes to a family enjoying their dinner. This mundane scene is interrupted when the hazmat guys attack the home. Soon, the cast is whittled down to one man vs. a shit-ton of zombies and hazmat-wearing baddies. It's high on action and gore, low on dialog. AXED has taken a lot of notes on other kinetically gory films like EVIL DEAD II and even seems to seems to homage the film by having it's star wear Ash's non-traditional uniform of blue, blood splattered shirt. Even the hero's scars resemble the pattern of scars Ash gets in the film. AXED is an intense and blood splattered tribute to all that's red and sticky and should not be missed. If you can't check out the film at the show, I'd recommend
checking out the website
for this one for purchase for yourself or that gorehound that has everything. Check out the grindhouse-y preview below.
:
---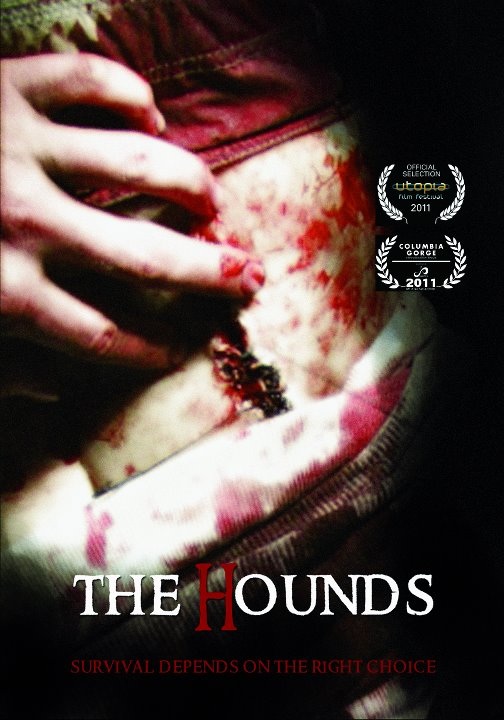 THE HOUNDS (feature film, 2010)
Directed/written by Roberti & Maurizio Del Piccolo
Starring Maddie Moate, David Drew, Paul Tonkin, John Doughty, Andy Callaghan
THE HOUNDS is a trippy little film that walks through well-tread territory when it comes to horror standbys and precautionary tales, but the most effective part of the film comes in the form of its handling of the gore and the creepy camera work by the brothers Del Piccolo. The cast is decent and the premise of a group of twenty-somethings going out into the middle of the woods is entertaining enough to make for an effective horror film. The lead up is a bit heavy handed and I was trying to get my bearings on this film in the first half hour and succeeding. Ironically, once the kids get to the forest, things sort of start to make sense, though there's a ghostly something in the woods stalking them and ripping pieces of them out one by one. This one's got a shockeroo ending that'll sting. All in all, this is a great feature that shows a lot of promise from its filmmakers. THE HOUNDS pays off after the half hour point, but might be tough to sit through in the beginning.
---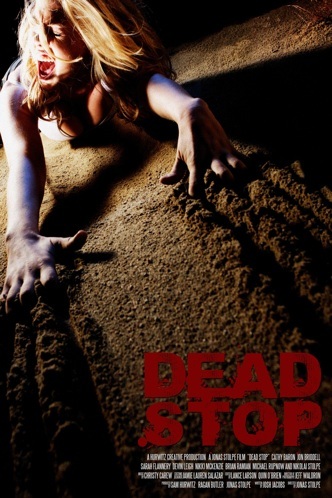 DEAD STOP (feature film, 2010)
Directed by Jonas Stolpe
Written by Josh Jacobs
Starring Cathy Baron, Jon Briddell, Sarah Flannery, Devin Leigh, Nikki McKenzie, Brian Ramian, Michael Rupnow, & Nikolai Stolpe
A while back there was a movie where a bunch of kids were trapped in a van with a rampaging bear trying to break in when they break down in the woods called BEAR. That movie was pretty uninspired and needs to take notes from this film. DEAD STOP is about a group of kids traveling across a desert when their van dies on them. Soon they find themselves trapped, but just when they think matters can't get any worse, a hairy creature that looks to be a cross between a werewolf and a Sasquatch is stalking and massacring them as they leave the vehicle. Director Jonas Stolpe takes his time at the beginning establishing these characters before shredding them to pieces when they get to the van. This film makes good use of the WOLFEN style POV shots of the monster bounding after them in the arid landscape. The filmmakers have a good eye for locale and did a great job of suggesting terror without really showing much of the creature. Some audiences won't like the fact that a clear shot of the creature isn't in this film, but DEAD STOP is full of subtle terrors and has an ending both haunting and satisfying.
Additionally the following films will be playing this weekend; SLASH (short), DANNY CALDWELL GOES TO HELL (short), THE MUMMY & THE BALLOON (short), HORROR MOVIES SUCK (short), NOWHERE ROAD (short), MACHETE BETTY (special screening from the mistress of ceremony), THE KILLING STRAIN (feature), & a film I'm dying to see but haven't yet, DAHMER VS GACY (feature). So if you're in the Orange County area and you love horror, you know where to go this weekend.
---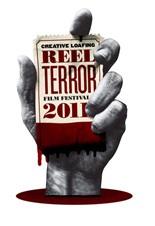 Creative Loafing Presents Reel Terror Film Festival takes place on Saturday October 22nd at the CL Space in Ybor City, Tampa Bay, FL with special appearances by Dimitri Coats ("Suck," OFF!, BURNING BRIDES), Brooke McCarter (LOST BOYS, THRASHIN), & Scream Queen Julie Anne. Below are a handful of shorts I had a chance to check out that will be playing at the fest and my brief reviews of them. Enjoy!
DICKHEAD (short film)
Directed/written by Brent Lorentson
Starring Steven Furrow, Marc Henry Lazarre, Patricai Perry, & Marissa Wells
Though a bit rough around the edges, DICKHEAD touches on a topic not many men are comfortable talking about. Though handled with a much more artistic and subtle tone by Cronenberg, there's something to be said about the stark horror of this film which has a man's penis turn into a rampaging monster after sleeping with the wrong girl. Not nearly as bloody as it is uncomfortable, this film will definitely make you cringe. The acting and editing may be a bit on the amateur side, the overarching themes are definitely something the shriek over.
Preview this one below…if you've got the balls, that is.
---
EXTRACTION (short film)
Directed/written by Robert Manrique
Starring Karl Pidhajny
If there's one thing I can't take it's tooth horror. I have an utter fear of dentists stemming from an incident where the doctor thought I was tough enough to have a tooth filled without Novocain. Turns out, I'm not. So while watching EXTRACTION, I definitely was thankful that it was only a short film. What's a guy do when he has a tooth in need of pulling and doesn't have insurance? Pull it yourself, of course. The film follows this poor schlub through numerous gore and toe-curling attempts to pull the tooth, resulting in my anus puckering on more than one occasion while watching. Filmed in stark black and white, this toothy short will definitely make you wince.
Watch the whole thing here.
Preview is below!
---
JustUs (short film)
Directed.written by Lori Bowen
Starring Sage Hall, Travis Garner, & Brinke Stevens
Director Lori Bowen shows restraint and patience in this pretty straightforward revenge snippet involving a rapist/murderer released on a technicality, a woman in white, and a room filled with plastic. The tone is pretty heavy and the camera work is done with a talented hand. Definitely a good and terrifying treat that only takes six minutes to unfold.
Preview below.
---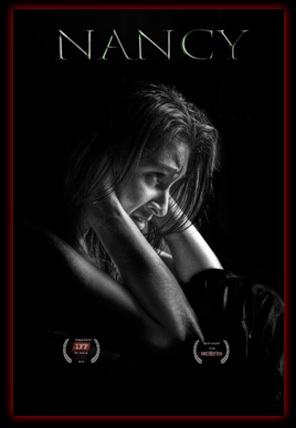 NANCY (short film)
Directed/written by David Melendez
Starring Stephanie Ceballos, Meagan Parker, BJ Parker, Pamela Liliana Fernandez
Reminiscent of Polanski's REPULSION by way of CARVIVAL OF SOULS, where a woman in an apartment slowly goes off the deep end, NANCY is a moody and nightmarish walk down into the darkest parts of one woman's mind. That doesn't mean it's boring, though. There are more than a few scares and director David Melendez sure knows how to set up a feeling of utter terror and tension. As Nancy tiptoes down a dark hallway, we are treated to a twisted labyrinth that is sometimes chilling and other times quite beautiful. The haunting music also sets a great tone.
Preview is below.
Watch the whole thing here.
---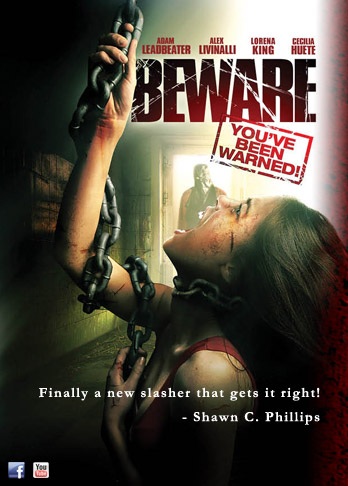 BEWARE (feature film)
Directed.written by Jason Daly
Starring Lorena King, Victor Gonzalez, Cecilia Huete, & Adam Leadbeater
This throwback slasher film is surprisingly well done. Sure the acting is downright amateurish, but BEWARE consists of a bunch of great kills and some stylish camera work from director/writer Jason Daly. The film focuses on a group of youngsters who have car trouble on the way to a concert. Of course, this happens right around the same place a ritualistic murder took place five years ago. Soon the partying teen bodies start dropping one by one in pretty brutally creative ways. Both the script and the acting leave a lot to be desired, but Daly shows talent in setting up a scary scene and amping up the chills in the slash and bash parts. The effects are also well done, especially with the feral killer's manacles growing into the skin of his arms which is sure to cause a wince or two. Fans of FRIDAY THE 13th films will most definitely get a kick out of this one with its pretty successful attempts to make both the killer and the kills iconic as well as gratuitous t&a. BEWARE doesn't blaze new trails, but it does skip down well tread paths in an energetic and stylish manner.
Preview is below.
The festival will also feature Herschel Gordon Lewis' THE UH-OH SHOW, BLOODY ENGLISH, DEMONIC ACTIVITY, NO MORE ROOM IN HELL, PURE EVIL, ROUND SIX, SWEET SWEET DEATH, TAPHOUSE, SEEING RED, WHITE LIE. So if you're in the Tampa Bay area, and are a fan of horror, the Reel Terror Film Festival sounds like a cool fest to check out.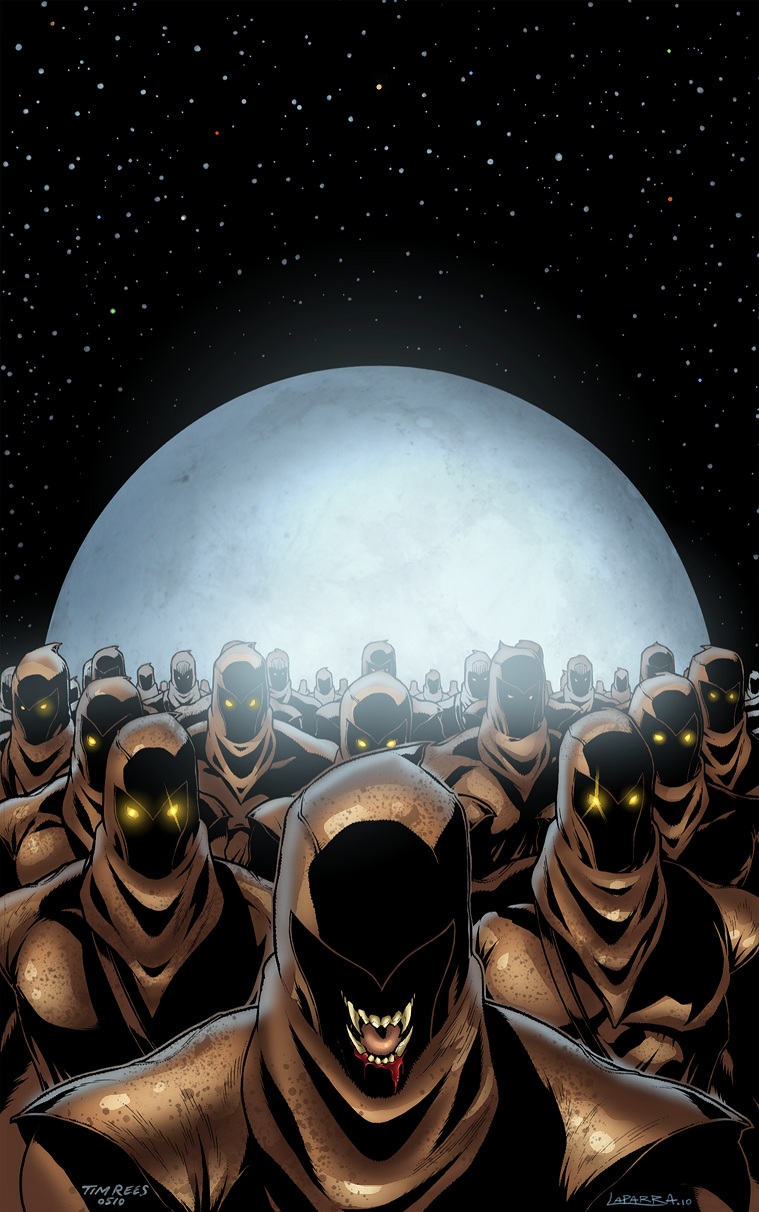 Ambush Bug is Mark L. Miller, original @$$Hole / wordslinger / reviewer / co-editor of AICN Comics for over nine years. Mark is also a regular writer for FAMOUS MONSTERS OF FILMLAND and will be releasing FAMOUS MONSTERS first ever comic book miniseries LUNA in October (co-written by Martin Fisher with art by Tim Rees) You can pre-order it here! Support a Bug by checking out his comics (click on the covers to purchase)!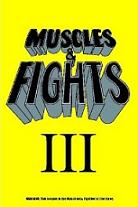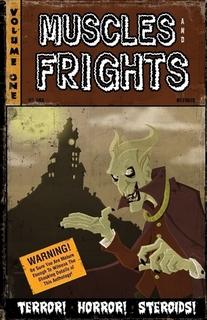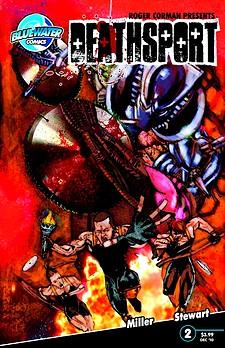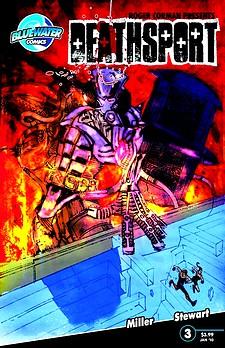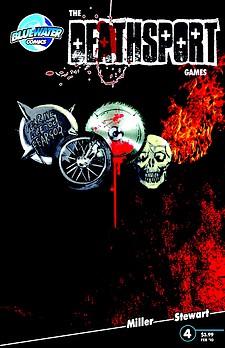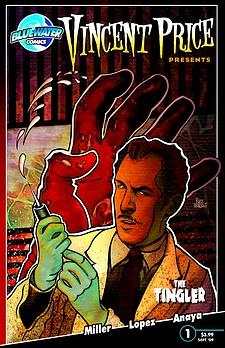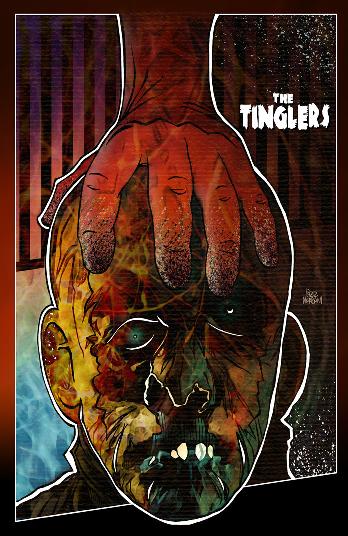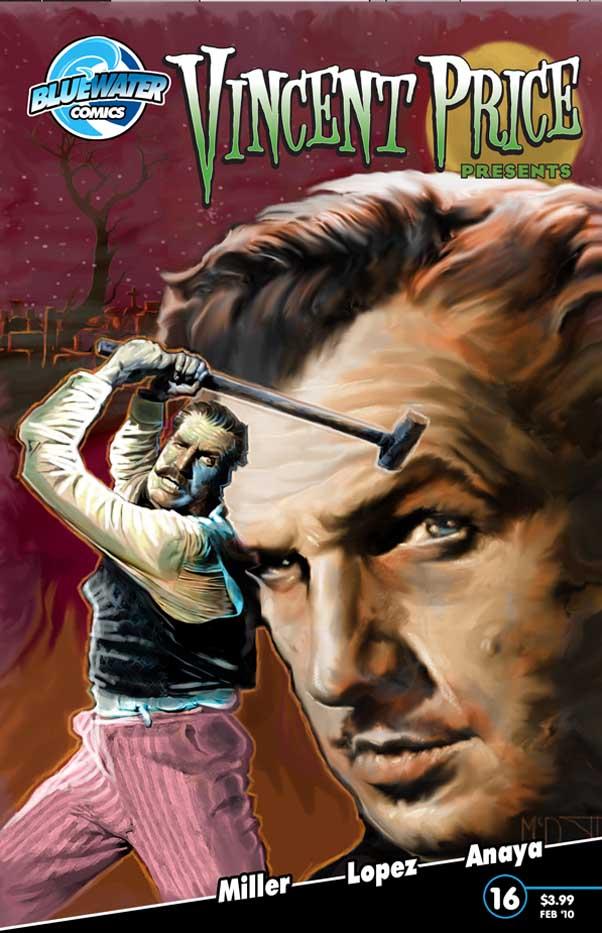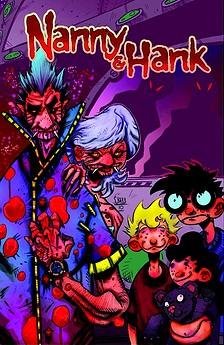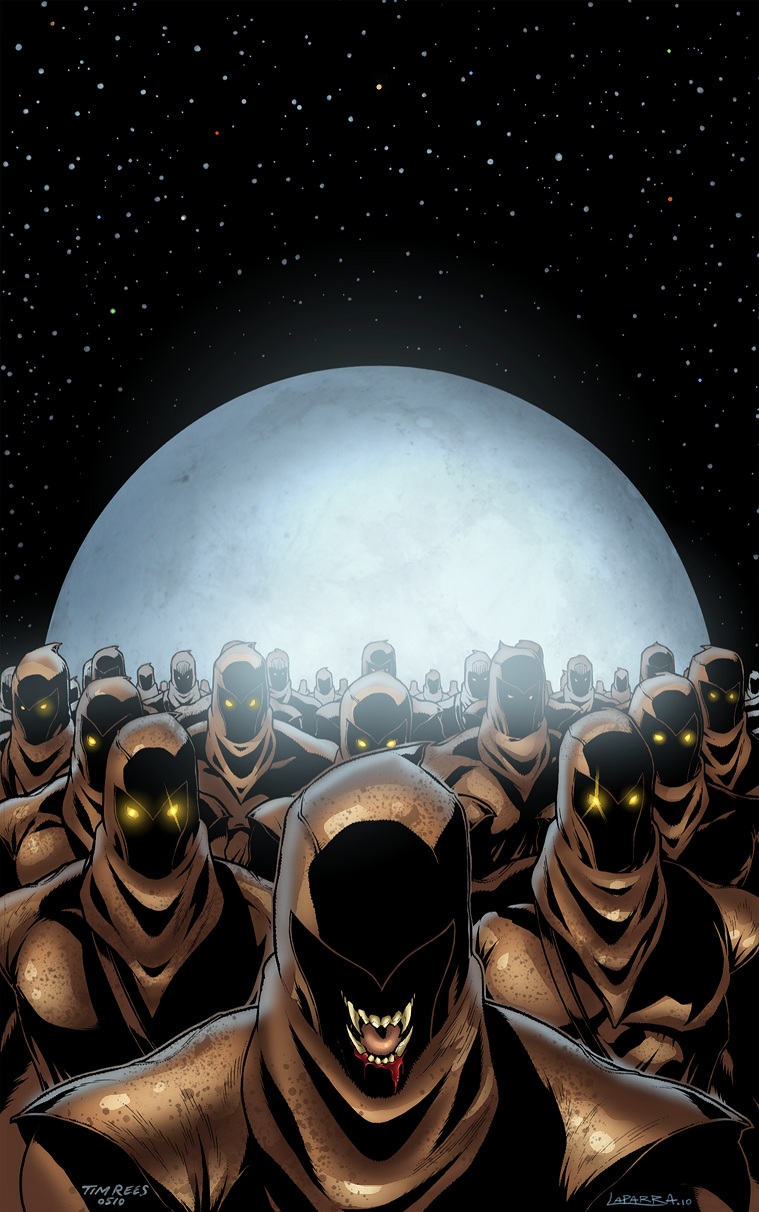 NANNY & HANK's Facebook Page
THE DEATHSPORT GAMES' Facebook Page
FAMOUS MONSTERS PRESENTS LUNA: ORDER OF THE WEREWOLF's Facebook Page
---
Check out FAMOUS MONSTERS' website here!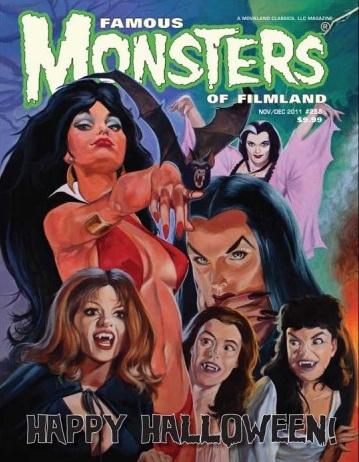 ---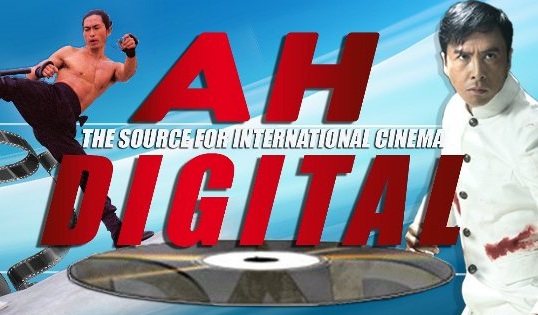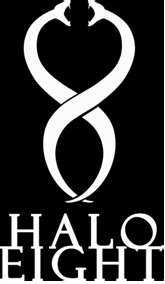 Looking for obscure, foreign, or hard to find DVDs & BluRays?
Check out AH Digital: the source for international cinema!


Interested in illustrated films, fringe cinema, and other oddities?
Check out Halo-8 and challenge everything!



---
Find more AICN HORROR including an archive of previous columns
on AICN HORROR's Facebook page!