@@@ What the &#$% is AICN COMICS Q&@? @@@
---
Q's by Matt Adler!

@'s by ALL STAR WESTERN writers
Jimmy Palmiotti & Justin Gray!!!
Hey folks, Matt Adler here. I recently had the opportunity to interview Jimmy Palmiotti and Justin Gray, the writing team of the brand new ALL-STAR WESTERN series. They reveal how this new series fits in with their critically-acclaimed run on JONAH HEX, what the Gotham City of the 1800s is like, and much more. Enjoy!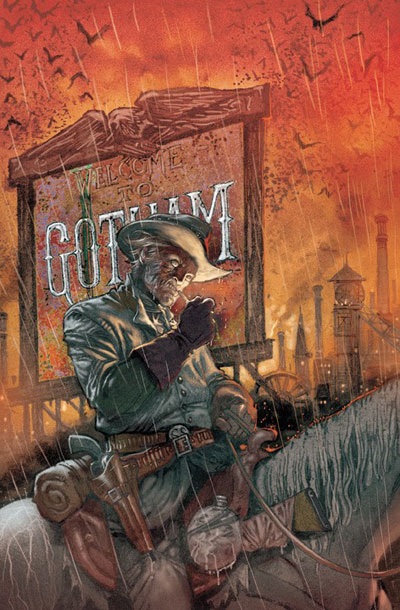 MATT ADLER (MA): Is ALL-STAR WESTERN a direct continuation of your JONAH HEX series?
JIMMY PALMIOTTI (JP): The HEX series took place at different time periods of Jonah's life and because of the done-in-one format, we were able to pick and choose the best place for the story…and a lot of the times the artist we had on board would dictate some of our decisions. With ALL STAR WESTERN, we have, for the first time, a continued story and the stories are taking place one after the other in the current time period. This format allows us to build up an adventure and really dig in with particular themes we couldn't otherwise do in 22 pages. For the fans of Jonah, they will simply enjoy the book, but for the new fans it's a great gateway introduction to the man and the world around him.
JUSTIN GRAY (JG): The beauty of what we did with JONAH HEX the series in the telling of short stories is that we can revisit those elements as part of the greater story of his life. By making ALL-STAR WESTERN a serialized comic we have the opportunity to explore more of the DC Universe effectively.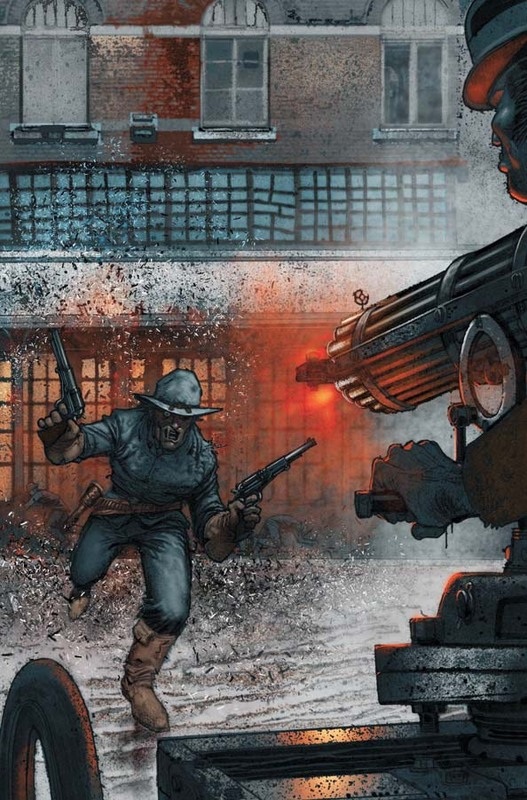 MA: The series opens in the Gotham City of the 19th century; how different is the city in this era? Is it recognizable at all?
JP: All great cities have their own history and Gotham is no different. Some of the main landmarks in the city will be and are featured in some of the new 52 books coming out and we are working closely with the crew to make sure we create an environment that reflects both ways the time period and the life of the city.
JG: We're trying to be consistent with similar architecture and resources from the same time period. Gotham has a Victorian/Gothic foundation. That's one of the elements that Moritat brought to the project – he researches and works very hard to make certain the book is visually accurate.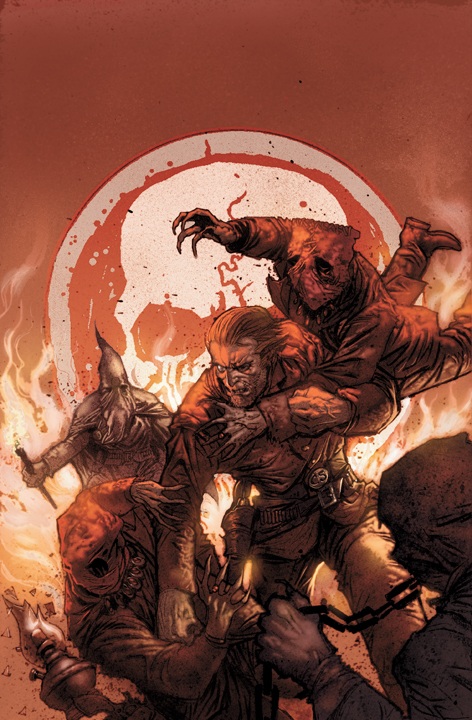 MA: Amadeus Arkham, the founder of Arkham Asylum, apparently plays an important role in the opening arc; are you drawing on Grant Morrison's portrayal of him from the ARKHAM ASYLUM graphic novel?
JG: We're approaching Arkham as a man ahead of his time, strange, eccentric and not entirely appreciated by those around him. Criminal psychology is basically viewed as a false science because it is only emerging in this time period.
MA: The Crime Bible, from Greg Rucka's work on BATWOMAN and THE QUESTION, also factors into the plot; what made the concept a good fit for this story?
JP: Giving us more room to tell a story means that we have to up the ante and the Crime Bible seemed like a really cool part of Gotham and its history. We have a very cool opportunity as well to introduce it to people that are not familiar with it here and the fun aspect to this particular story is watching what Jonah would do when confronted. It's the "what if" aspect that makes for some great stories.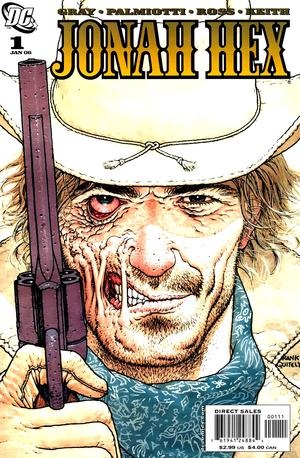 MA: You guys worked with a lot of great artists during your Jonah Hex run; how does Moritat, your ALL-STAR WESTERN artist, stack up?
JP: Honestly, he is one of the best and also one of the few that can pencil and ink a book a month, so it's win-win on all fronts. His work has been blowing us away page after page and I get the feeling he is just getting warmed up.
JG: His work and work ethic lends itself to this book in ways that will pull readers into another world, effectively a period piece. Moritat should win an Oscar for set design and costumes. After that he gives the stories such a visceral feel.
MA: You've also got a co-feature, with your JONAH HEX artist Jordi Bernet, starring El Diablo. Does this pick up from his appearances in the JONAH HEX series?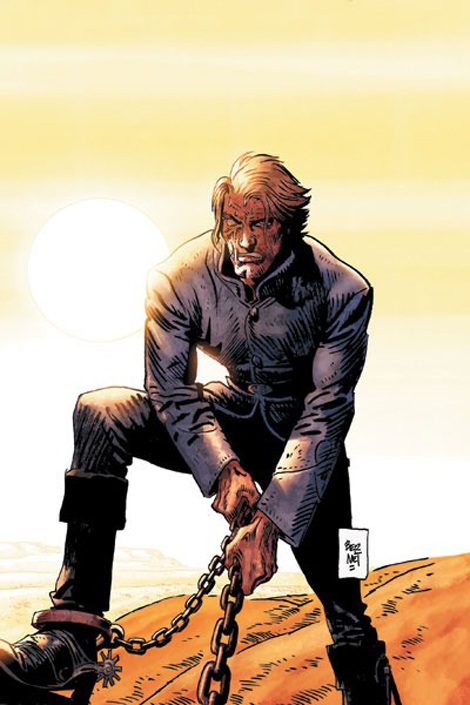 JP: This story is another adventure, not a continuation of a past one, because we would be doing a disservice to anyone that hasn't read the character before. It's a pretty cool introduction and we were lucky as always to get one of the true big names in comics, Jordi Bernet, to once again show us why he does what no one else can.
JG: Because we're taking a new approach to the DCU in terms of westerns, we're able to keep a much more supernatural feel for El Diablo and introduce him accordingly. Everything you need to know about who he is can be summed up in two pages so that's what we did as a primer for the 2 issue arc.
MA: In addition to ALL-STAR WESTERN, you have a new RAY miniseries coming out in December. You've worked on another version in your work on FREEDOM FIGHTERS; what attracts you to the character?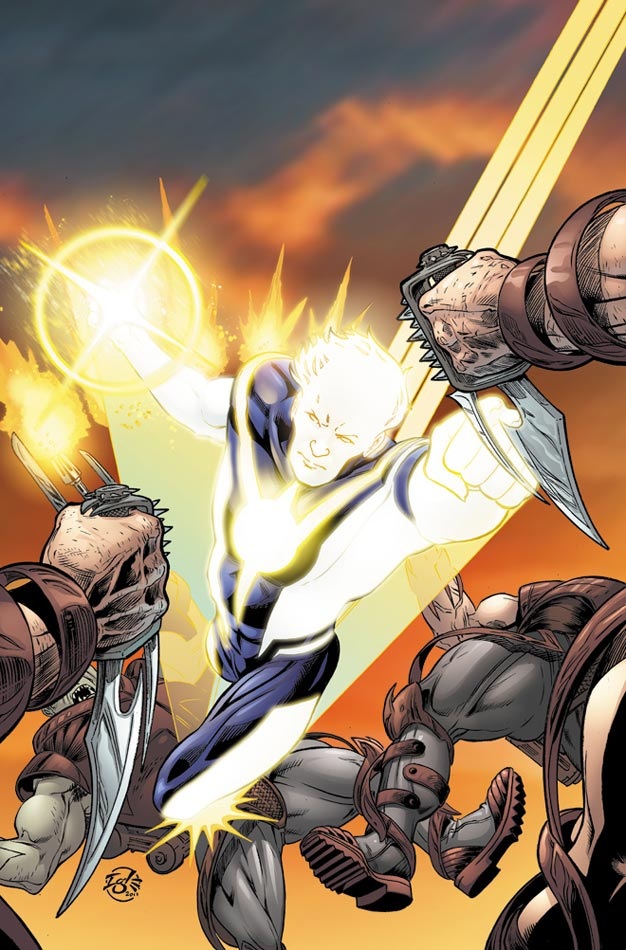 JP: The character has always been an interesting one to me. His powers are not limited at all…they force you to think and rethink how that can actually be used and with the new RAY series, I think we created something distinctive and unique and hopefully, will last the test of time.
JG: Absolutely, this is an opportunity to take an existing concept and attempt to do new things with it. The power of light our Ray possesses, I believe, expands on previous incarnations in some exciting ways.
MA: Look for ALL STAR WESTERN monthly from DC and the just announced THE RAY miniseries in December.
Matt Adler is a writer/journalist, currently writing for AICN among other outlets. He's been reading comics for 20 years, writing about them for 7, and spends way, way, too much time thinking about them, which means he really has no choice but to figure out how to make a living out of them. He welcomes all feedback.
---
Editing, compiling, imaging, coding, logos & cat-wrangling by Ambush Bug
Proofs, co-edits & common sense provided by Sleazy G
And check out AICN COMICS' New Facebook Page!!!