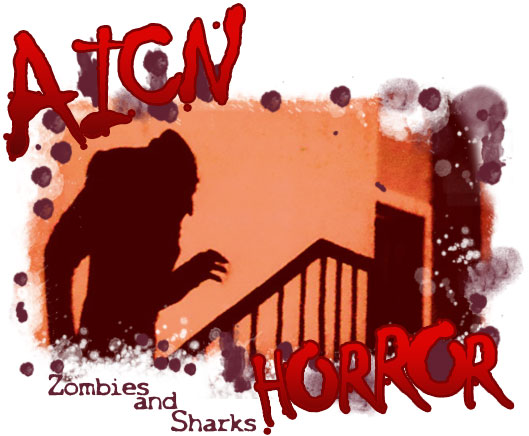 Logo by Kristian Horn
What the &#$% is ZOMBIES & SHARKS?
---
Greetings, all. Ambush Bug here with another AICN HORROR: ZOMBIES & SHARKS column. As I prepare for tonight's AICN COMICS: HORROR ON THE PANELED PAGE column at this year's New York Comic Con, how about you all enjoy this helping of new horrors. But before we dive in, here are a few news bits you may find of interest.
---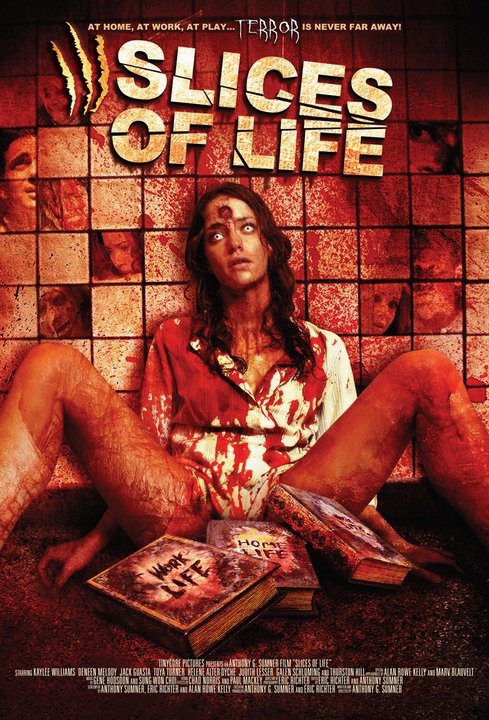 First up,
SLICES OF LIFE
, a film I covered here on AICN HORROR a while back will be available on October 15 on Netflix.
Listen to the creepy main theme song of the film here.
Friend of AICN, Daniel Crosier is making an appearance on the Travel Channel new original mini-series, "Making Monsters" premiering on Sunday, October 2 at 9:00 p.m. ET/PT. This four-part one-hour series introduces viewers to the innovators and masterminds of the monster and creature animatronics industry. Crosier, author and illustrator on the nationally published DISTORTIONS UNLIMITED Comic book, has used his distinctive illustration on wood technique to give the book an organic look that lends its self to the horror genre. Along with Crosiers' work in the comic books, he also sculpts. Crosier assisted Schell with the life-cast of The Engima to create a mask for the show.
Find out more about this on the website here.
Look for a special screening of "Making Monsters" will be held at the Denver Film Center/ Colfax located at 2510 East Colfax, Denver, Co 80206 on Oct. 27 at 7pm. Crosier and the team from Distortions will conduct a Q&A session after the screenings.
---
Next up, we're in the middle of horror festival season. Unfortunately I can't get to all of them, but here are a couple of note.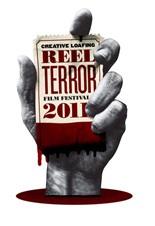 The British Horror Film Festival 2011 takes place today and tomorrow at The Empire, Leicester Square, in London.
Click on this link to see a lineup and how to get tix.
Looks to be some great original horror films playing.
The Reel Terror 2011 Film Festival is playing next week on Saturday, October 22, Noon – Midnight at the CL Space in Tampa, FL. Reel Terror will include panel discussions with area filmmakers, celebrity appearances, screenings of scary movies shot all over the Bay area and the state, an awards ceremony and much more.
Find out more about this event on the website here. I hope to be checking out CASSADAGA very soon (we premiered the trailer for the film last week), but it'll be making it's premiere at the Screamfest in LA on Saturday, Oct 22.
Be sure to check out this cool film and the rest of the lineup at Screamfest this year here.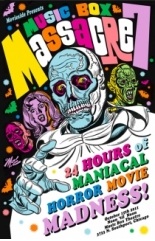 Finally, though I really wanted to go to NYCC this year, it means I'm going to miss The Music Box Massacre this weekend at the Music Box theater in Chicago. H.G.Lewis will be there to discuss all things gory and present his film WIZARD OF GORE.
Find out more info on tickets and lineup here.
OK, let's get started on the new horrors for review. Plus we celebrate Halloween again this week from a Halloween blast from the past at the end of the column with TRICK OR TREAT! Enjoy!
Today on AICN HORROR
(Click title to go directly to the feature)
BURIED ALIVE (1990)
VLOG (2008)
DEVIL'S PLAYGROUND (2011)
AICN HORROR Celebrates Halloween with TRICK OR TREAT (1986)
And finally… Charles Pieper's THE EARL OF BUREAUS
---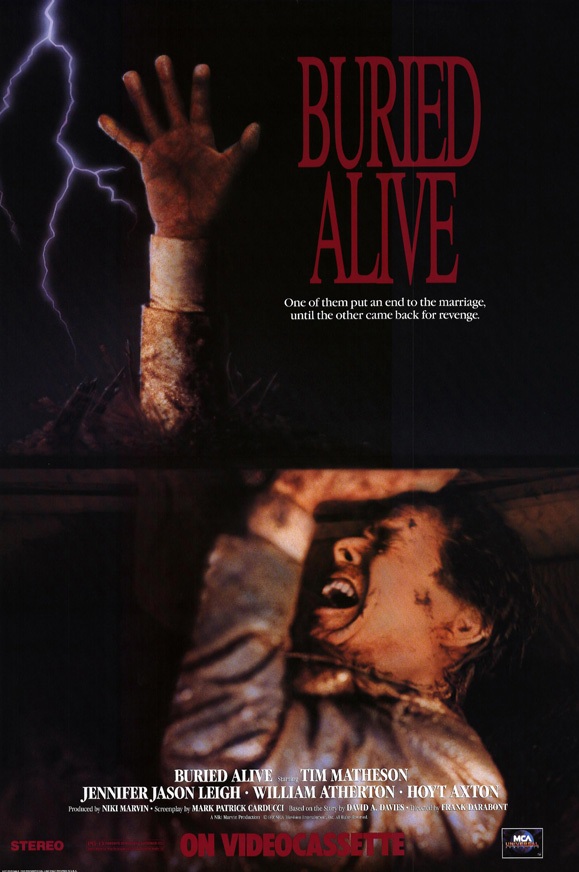 New on DVD Oct17th from Second Sight Films UK
BURIED ALIVE (1990)
AKA TILL DEATH DO US PART
Directed by Frank Darabont
Written by David A. Davies (story), Mark Patrick Carducci (teleplay)
Starring Tim Matheson, Jennifer Jason Leigh, William Atherton, Hoyt Axton
Reviewed by Ambush Bug
Well, hey. Everyone starts somewhere. Frank Darabont (best known for his genius adaptations of SHAWSHANK REDEMPTION, GREEN MILE, THE MIST, and most recently the first season of THE WALKING DEAD) helms this tepid made for TV movie from 1990. If anything it's a testament on how far Darabont has come as a director.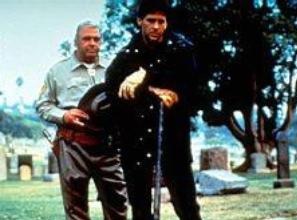 The story is thinly based on Edgar Allan Poe's A PREMATURE BURIAL as Tim Matheson (best known as ANIMAL HOUSE's fast talking Eric Stratton) plays an all around nice guy who fishes with the sheriff, builds a house for his wife, and is oblivious at how much she loathes him. Though Jennifer Jason Leigh has shown some powerful acting chops in many a film, here she projects bad acting as if it was all she knew. Rounding out the cast is Dickhead DIE HARD reporter William Atherton as Leigh's doctor boyfriend and good ol' boy Hoyt Axton (best known round these parts as the inventor dad in GREMLINS) as the sheriff who is equal parts inquisitive and dense whenever the plot requires him to be.
Leigh poisons Matheson with a toxin Atherton extracted from the ovaries of a tropical fish (the fuh?) and soon Matheson is six feet under before his time. Occasionally, shades of a future Darabont shine through as there are some effective scenes of tension as Matheson wakes up in his grave and comes home for vengeance against his wife and ex hubby, but there's nothing here that rings as especially original or interesting, unfortunately. In the past, there've been some TV movies that are the shit. DARK NIGHT OF THE SCARECROW comes to mind. This one is just shitty.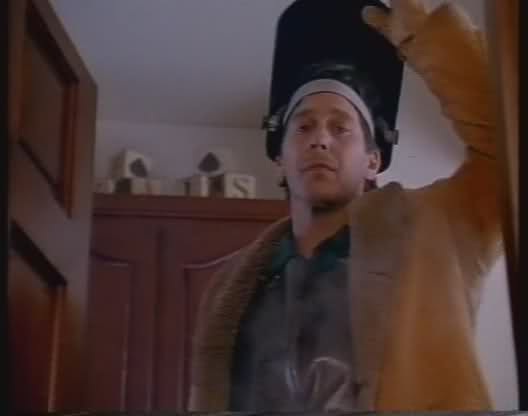 I found it fitting to check out BURIED ALIVE as we roll into Season Two of THE WALKING DEAD. And while TWD lost Darabont and my fingers are cramping at how hard I'm crossing them for the series to survive without it, I guess it could have been worse and the Darabont who brought to life this weak endeavor could have never evolved into the fantastic director he is today and this Darabont could be still doing the series.
BURIED ALIVE is recommended to the Darabont completist, and even then, it's bound to be pretty disappointing.
Kind of funny, all I could find was the Spanish trailer for this one…
---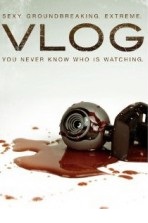 New on DVD this week from Twisted Films!
VLOG (2008)
Driected by Joshua Butler
Written by Joshua Butler
Starring Brooke Marks, Trevor Trout and Skyler Caleb
Reviewed by Ambush Bug
I guess I really am getting old. The way modern society thinks every second of their lives is interesting and worth sharing is a notion completely foreign to me. I guess some people need to think they are important in order to go on, as if they didn't get enough hugs and confirmation as a youth or something. VLOG addresses that very notion as its star Brooke Marks (who plays herself) documents every second of her live on her onlive video blog. At first, Marks comes off as a vapid airhead who has to tell us she's smart over and over and that she's so objectified because of her blonde hair and nice rack. Soon, though, you end up feeling sorry for this sad soul who basically has no real confidants at all except for the fans of her vlog.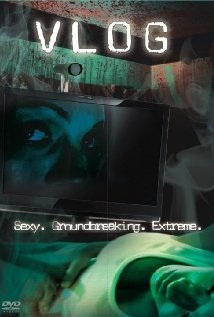 I wasn't expecting much from VLOG. As I said, the concept annoys the shit out of me (and yes, I understand the irony of this annoying someone who posts his thoughts on horror and comics on a weekly basis), but after a tease that something bad is going to happen in the first moments and a long build-up, VLOG turned out to be a pretty good thriller with pretty astounding practical special effects. At times, this feels almost too real as a killer sends videos to Brooke with his face pixelated hacking humans into pieces and blowing them to bits. There's an especially gruesome sequence where a bomb goes off that I honestly don't know how they did it. All I can say is, things get gory very quickly and the amount of said gore surprised me quite a bit.
I don't know if Marks does a good job of playing a vapid attention seeker or if she is one, but the performance is convincing either way. The film is presented in a multi-media format with some of it taking place on video, others on security cams, while others are regularly filmed. VLOG will definitely surprise you. Like CATFISH, though less subtle, VLOG does illustrate the dangers of living one's life online.
---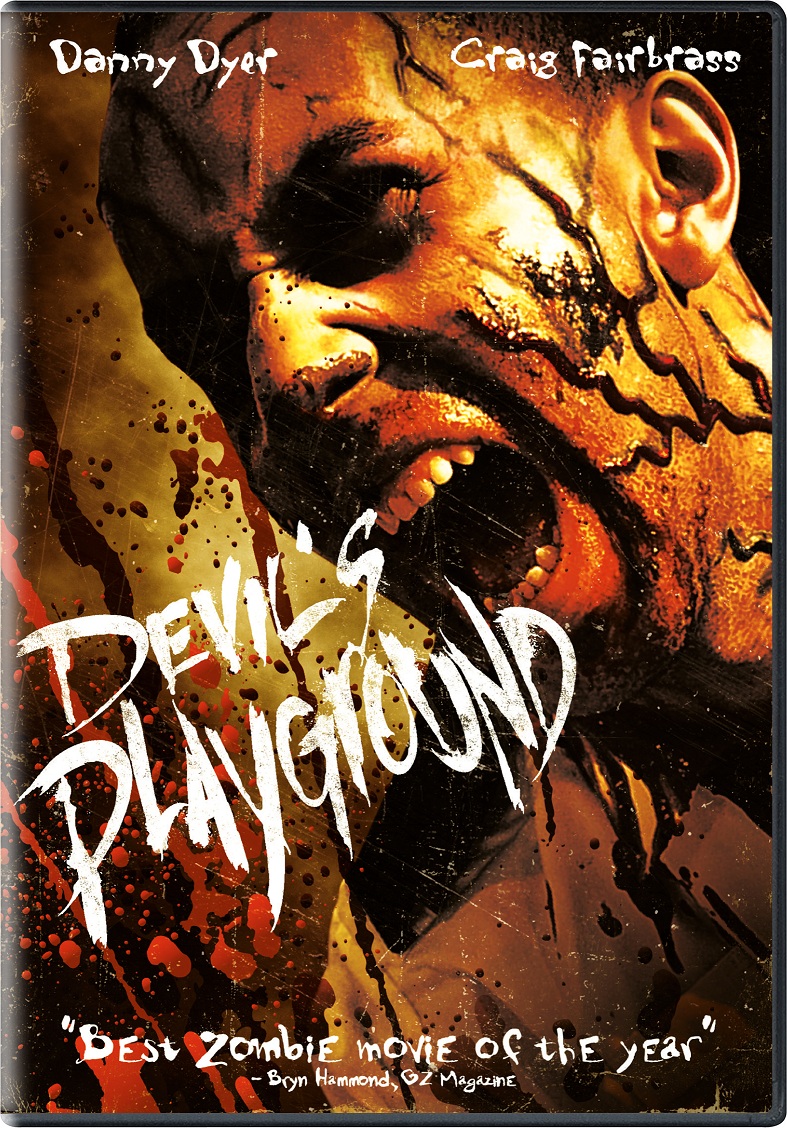 New on DVD this week!
DEVIL'S PLAYGROUND (2010)
Directed by Mark McQueen
Written by Bart Ruspoli
Starring Craig Fairbrass, Danny Dyer, Jaime Murray, and MyAnna Buring
Find out more about this film here and on Facebook here!
Reviewed by Ambush Bug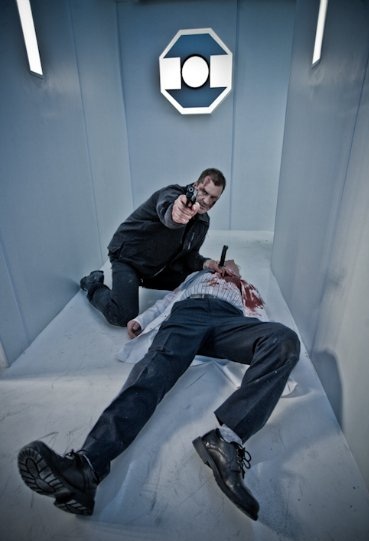 I went into DEVIL'S PLAYGROUND knowing nothing about it. I don't know who its star Danny Dyer is or why the preview of the film the other day sparked so much rancor in the Talkbacks. When I asked why folks disliked the actor so, I didn't get much of a response save "He's a cunt." Which really does nothing to explain things. So all I have is this film to go on and I have to say, I liked DEVIL'S PLAYGROUND quite a bit. Getting it out of the way, for those who were wondering, Dyer did a decent job here playing a cop accused of killing a child who is let out on bail by his less than reputable friend. It's not the biggest role in the film, so if you don't like the character, there are other characters to latch on to. Though he's given second billing, the real star of the film seems to be Craig Fairbrass who plays a clean up man for a corporation who administers an energy drug that proves to be fatal and then unfatal for its 3000 test subjects. The performance won't win any awards, but as a tough guy who is remorseful for his murderous past, he played to the part decently. That said, there's nothing really "cunt-y" to Dyer's performance in DEVIL'S PLAYGROUND, though he's one of the less sympathetic characters of this expansive story.
More rancor was frothed at the concept of this film. With the cause of the plague being an energy drug gone wrong, having hyperactive zombies seems fitting. As I always say, if a zombie film is either a) done well or b) brings something new to the table. This movie does both. Sure there are those who hate the fast moving zombie, but I'm one who can appreciate them (thought I am an appreciator of the classics) as a different kind of monster alltogether. This film's zombies know parkour. Yes, that's right. Parkour. Sure, it's a bit crazy, but it also turns out to be a lot of fun. This is a frantic film, jutting around to different locales showing these leaping zombies attacking en masse. I had a lot of fun with it, seeing the zombies leap through small spaces, walk up walls, and hurdle cars and other obstacles. Adding agility to the zombies is somewhat of a natural evolution to the running zombie, in my book.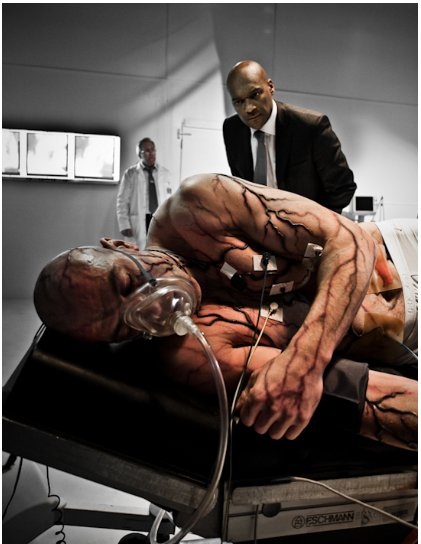 I also have to commend the filmmakers for giving this story a grande scope well beyond the budget. The broad story by Bart Ruspoli has multiple subplots all running at once and somehow the filmmakers were able to make it feel like this amped up zombie apocalypse was going on all over London. It's a far cry from Romero's small group trapped in a farmhouse motif, but the filmmakers somehow keep all of these threads together forming one cohesive story. The survivors prove to be monsters to (as is usually the case and point of these zombie films), so seeing these zigzagging zombies chomp down on them is satisfying to say the least. I was amazed that director Mark McQueen was able to make this seem like a multi-billion dollar film with what I'm betting was a budget a fraction of that. Most small budget films which reach for the stars sadly come up lacking. Here the producers were able to somehow make this feel like a big film. With the wide-spanning locales and clever use of scene, the filmmakers are able to make this look like a film so much bigger than the budget suggests.
All in all, DEVIL'S PLAYGROUND is a horror film that's heavy on action and surprisingly textured when it comes to story. Most of the performances are decent (DEXTER's psycho ex-girfriend Jaime Murray plays a desperate survivor) by a UK cast who I am not familiar with. I had a lot of fun with DEVIL'S PLAYGROUND and if approached with an open mind (shedding all preconceptions of Dyer and your feelings about fast zombies), I'll bet you do too.
>
---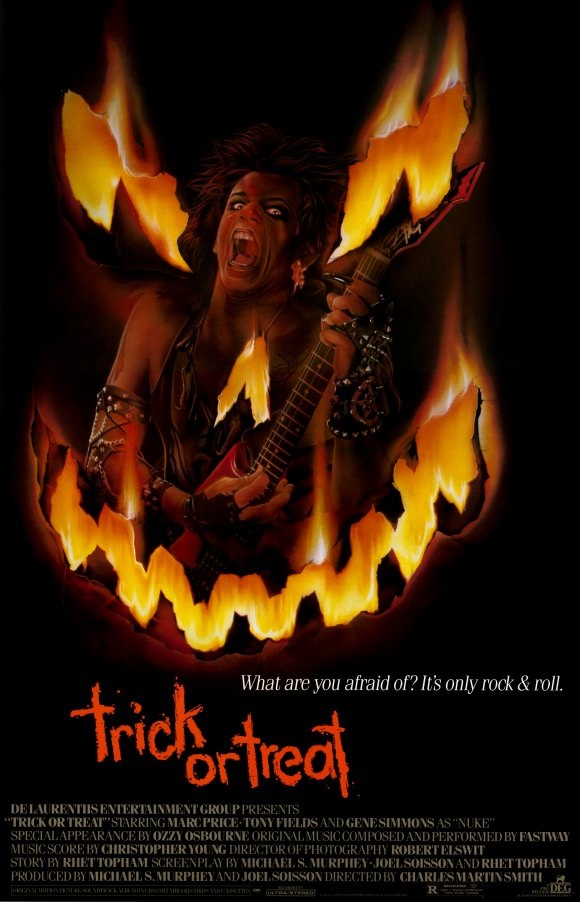 AICN HORROR celebrates Halloween with…
TRICK OR TREAT (1986)
Directed by Charles Martin Smith
Written by Rhet Topham (story), Michael S. Murphey & Joel Soisson (screenplay), James Wong & Glen Morgan (uncredited)
Starring Marc Price, Tony Fields, Lisa Orgolini, Doug Savant, Gene Simmons, Ozzy Osbourne
Reviewed by Ambush Bug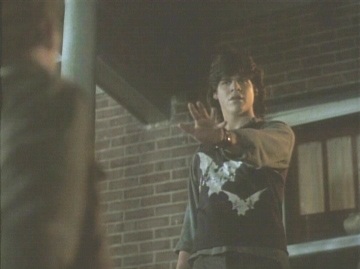 If you thought last week's Halloween treat was a blast from the past, get ready to be knocked on your ass if you remember this film. Nope, this isn't Michael Dougherty's recent horrific anthology TRICK R' TREAT. This TRICK OR TREAT is an often awesome, often hilarious film about a dead rock star who returns from the grave to unleash some rock and roll mayhem!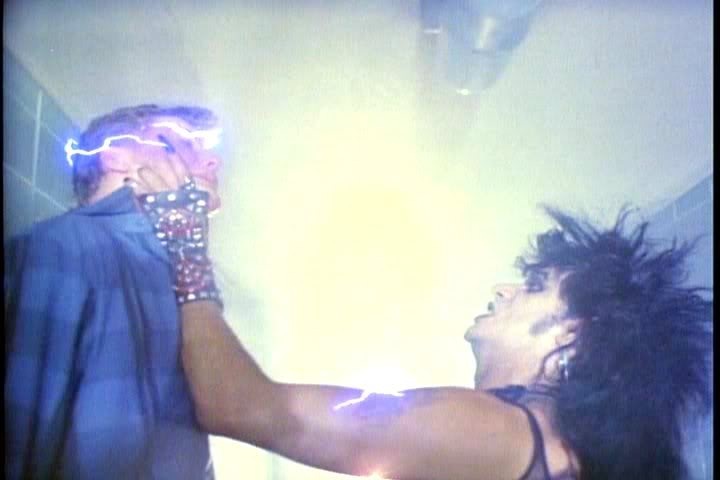 Director Charles Martin Smith (who many will remember as the nebbish teen from AMERICAN GRAFFITI and the loner scientist in NEVER CRY WOLF)puts together a film with the most eclectic cast I've seen in a while. First off, it stars Marc Price, best known as Skippy from FAMILY TIES as Eddie, a teenage outcast who worships the music of Sammi Curr, played by former SOLID GOLD dancer Tony Fields. When Curr dies in a mysterious fire, Eddie is devastated. But rock and roll never dies and when Eddie is given one of Sammi's final recordings, he finds out that the eternal soul of rock and roll isn't just talk. Soon, Sammi is an electric god, shooting bolts of lightning from his guitar and forcing Eddie to play his final tape at the school Halloween dance. Nope, Sammi doesn't want his songs to be played around the world. Nope. The school mixer will do. Shoot for the moon, Sammi!
Also in this cast is Glen Morgan who went on to pen some of the cooler X-FILES and FINAL DESTINATION. It turns out James Wong and him were uncredited script doctors on this film as well. Plus if you ever wanted to see Doug Savant from MELROSE PLACE and DESPERATE HOUSEWIVES' head go all 'splody, this is the movie for you. Plus we've got cameos by a slender and slightly less arrogant Gene Simmons as a radio DJ and Ozzy Osbourne playing a rock and roll protester.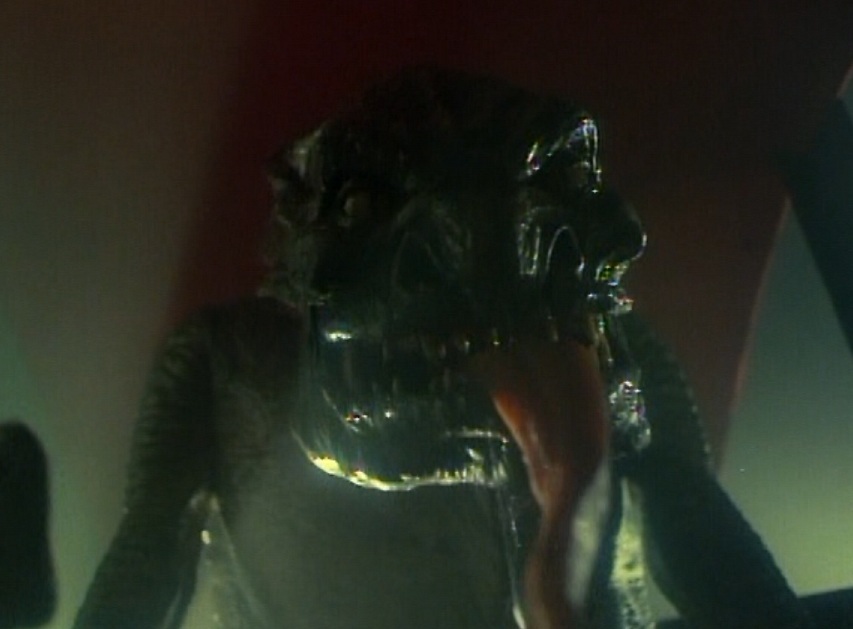 At times, there's a lot of imagination to this film. Smith pulls out all of the stops and brings to life all of the rock and roll myths your mother warned you about with satanic incantations heard when played backwards, speakers and amplifiers morphing into veiny monstrosities, and demonic rockers leaping out of the radio to steal your soul. Then again, there are some unintentionally hilarious moments as Sammi electrocutes himself in a toilet and a nubile young nymph get seduced by a rock and roll Pazuzu looking demon. The effects by Kevin Yeager (who created the Crypt Keeper and a lot of the effects for Freddy Krueger) are pretty phenomenal from the death scenes to Sammi's burn makeup.
The dated aspects of TRICK OR TREAT are what makes this film so hilarious. Eddie's friend talks about just getting call waiting. And music is played on cassette tapes is just so precious. The feathered and hair sprayed hairstyles are a riot as well. TRICK OR TREAT was made in a time when everyone was trying to make their own slasher franchise with FRIDAY THE 13TH and NIGHTMARE ON ELM STREET flicks hitting the screens on an annual basis. In no way is this film a good film, but it is a fun one to unearth if you're looking for an obscure Halloween treat by way of MTV's Hairbangers Ball.
---
And finally…here's surreal claymation treat called THE EARL OF BUREAUS by Charles Pieper. Check out more of Pieper's stop motion work on his website here. Enjoy!
The Earl of Bureaus from Charles Pieper on Vimeo.
See ya, next week, folks!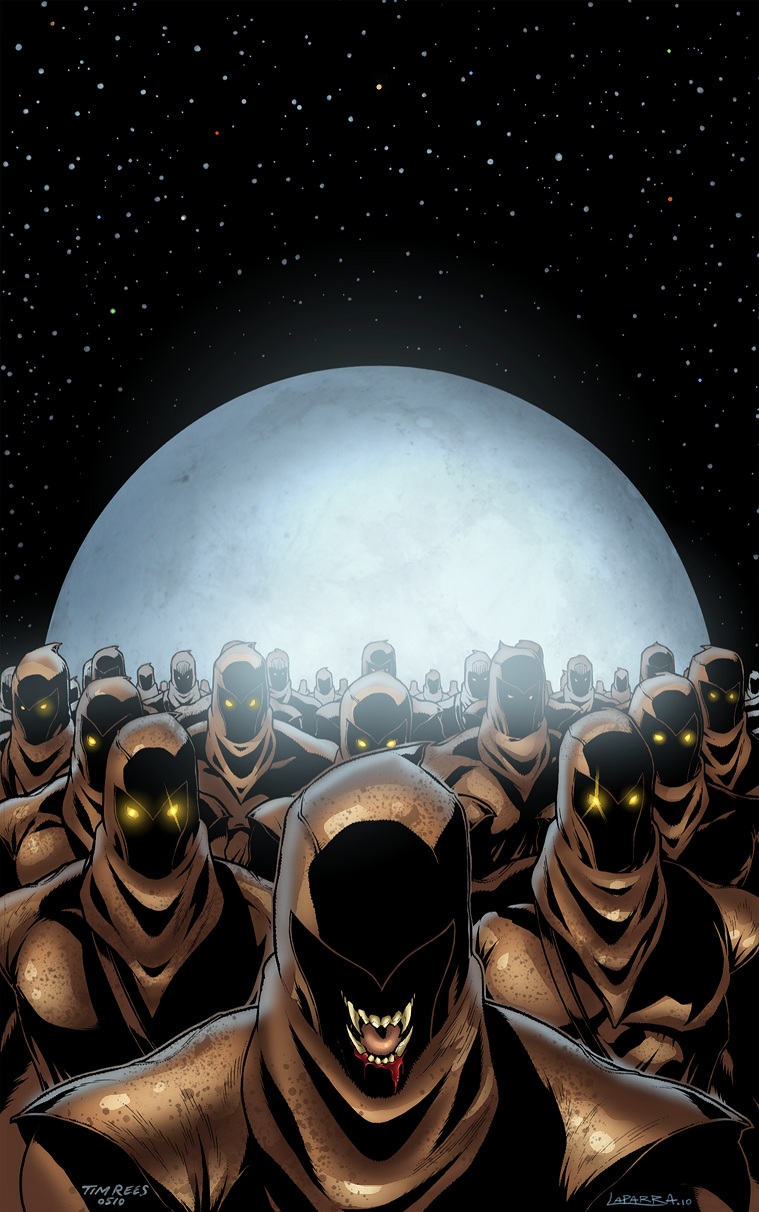 Ambush Bug is Mark L. Miller, original @$$Hole / wordslinger / reviewer / co-editor of AICN Comics for over nine years. Mark is also a regular writer for FAMOUS MONSTERS OF FILMLAND and will be releasing FAMOUS MONSTERS first ever comic book miniseries LUNA in October (co-written by Martin Fisher with art by Tim Rees) You can pre-order it here! Support a Bug by checking out his comics (click on the covers to purchase)!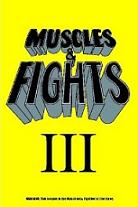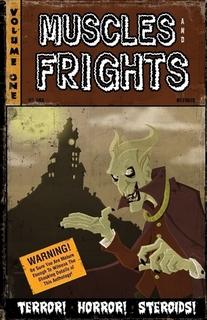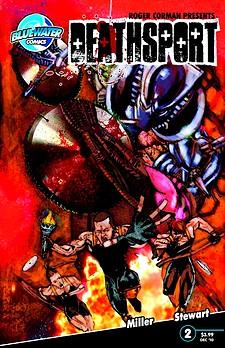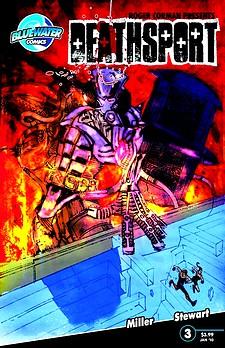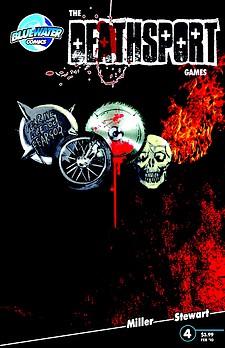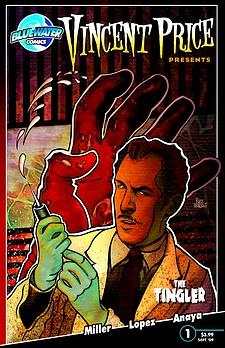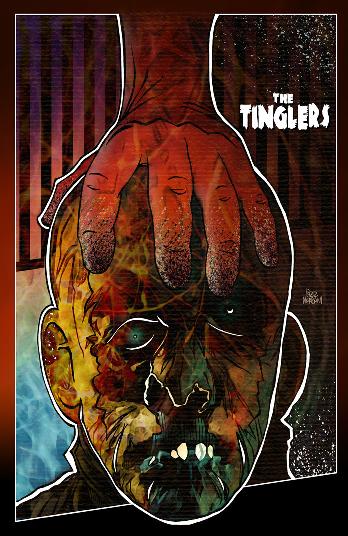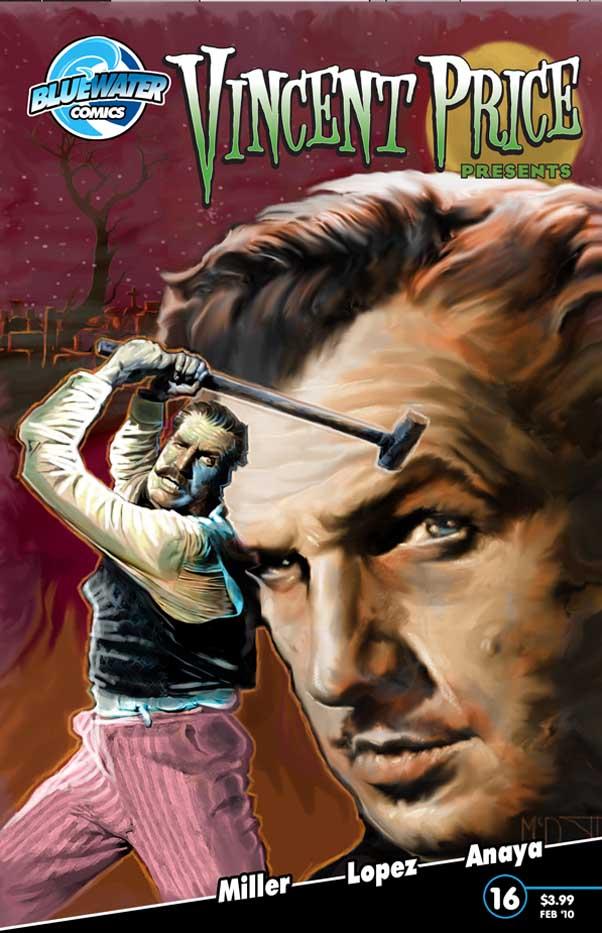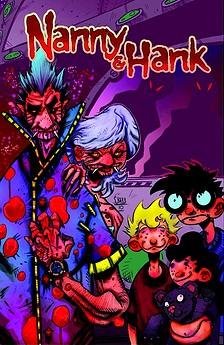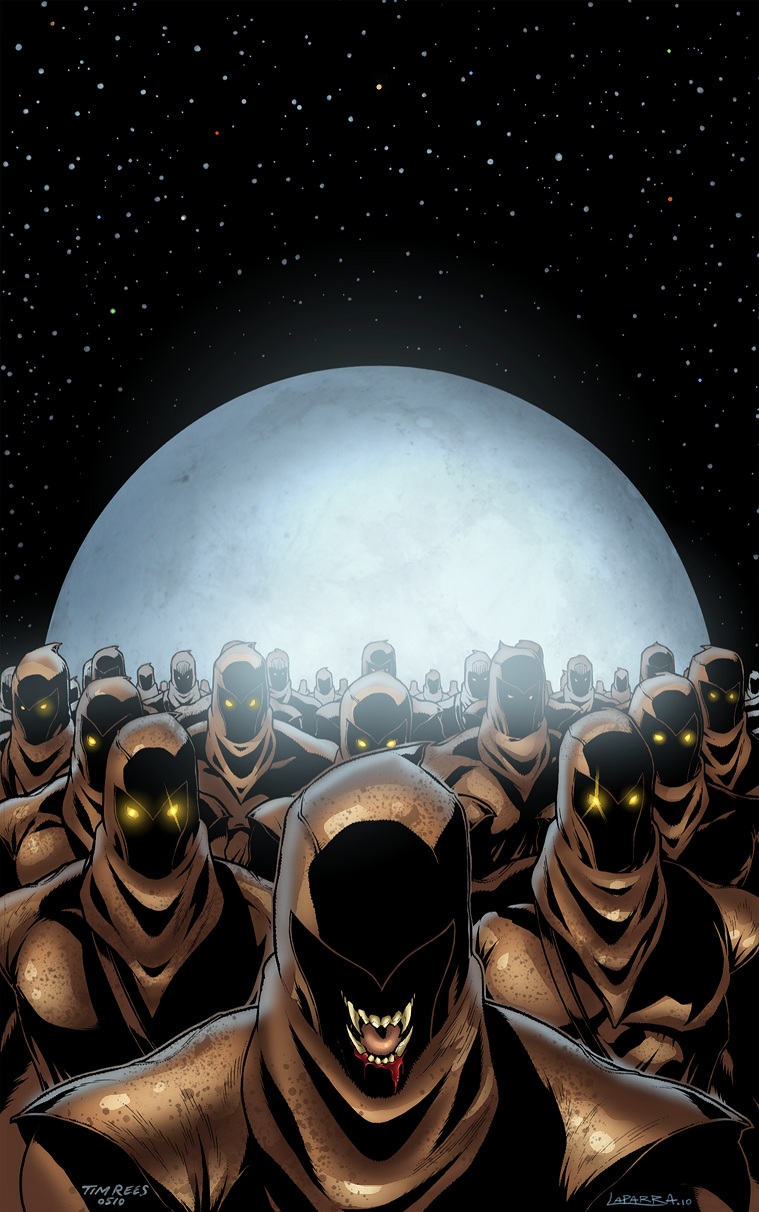 NANNY & HANK's Facebook Page
THE DEATHSPORT GAMES' Facebook Page
FAMOUS MONSTERS PRESENTS LUNA: ORDER OF THE WEREWOLF's Facebook Page
---
Check out FAMOUS MONSTERS' website here!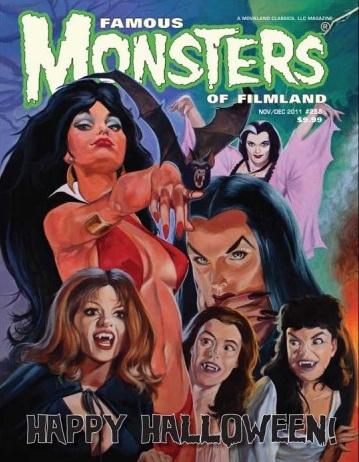 ---
Looking for obscure, foreign, or hard to find DVDs & BluRays?
Check out AH Digital: the source for international cinema!
---
Find more AICN HORROR including an archive of previous columns
on AICN HORROR's Facebook page!