Greetings! An evil parasitic alien unnoticeably posing as ScoreKeeper here to thaw out some interesting news regarding this thing I recently discovered. BSX Records has spent the past several years recreating some of cinema's greatest themes, film cues, and scores utilizing an auspicious squad of composers and arrangers who breathe new life into timeless classics and unreleased gems.

This past week BSX Records released their most ambitious, daring, and quite possibly coolest soundtrack CD to date.

THE THING (1982) is without a doubt one of the most terrifying horror-thrillers ever made. It's a beloved John Carpenter classic sporting a rather unusual and iconic score composed by Ennio Morricone. This marked the first occasion in which the director hired an outside composer to score his film rather than score it himself. Several LPs and one CD of Morricone's music were released around the time the movie opened in theaters but has since been long out-of-print and an object of desire for most collectors.

With the help of long-time Carpenter collaborator Alan Howarth, BSX Records has released a faithful restoration of Morricone's synth score as it was originally heard on the out-of-print soundtrack. Although technology has advanced significantly over the last thirty years since the film's release, Howarth has done an amazingly accurate job at recreating the sound of the original recording. The tracks have also been re-sequenced to match the order in which they appear in the film.

"There are two different music styles in Morricone's score," Alan Howarth explains. "The first is the more traditional orchestral material that Morricone did on his first pass. After hearing that score, Carpenter actually played the ESCAPE FROM NEW YORK (1981) music for Morricone and asked, 'can you give me anything like this?' So he went back in the studio without the orchestra and created this synthesizer music. That's when Morricone came up with this very memorable theme with that electronic pulse. It's almost like Morricone doing John Carpenter."

"I switched it around and put the music in order from the opening title and the spaceship fly-by, going into the main 'Thing Theme' and the desolation motif, and I've lined them up to the best of my ability in the way they were in the movie," said Howarth. "The orchestral cues I've done with Larry Hopkins using Digital Orchestra Tools to recreate them, and in some ways the performances are better in our version than they were in the original. It's like an upgrade."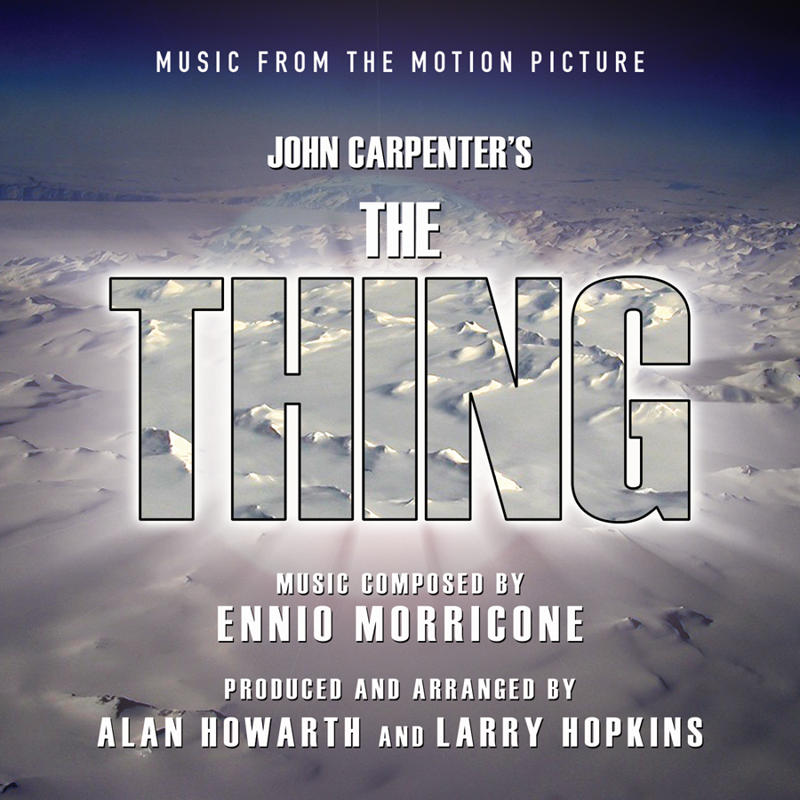 The album was released on CD on October 5, 2011. The included booklet features extensive liner notes by Randall D. Larson and is also available digitally through online music retailers.

Here is a track listing for the album. You can hear audio samples by visiting BuySoundtrax.com.

01. Main Title* 1:45
02. Main Theme - Desolation 4:29
03. Humanity 2 2:42
04. Despair 4:46
05. Humanity 6:51
06. Shape 3:18
07. Burn It* 1:27
08. Solitude 5:32
09. Fuchs* 2:27
10. To Mac's Shack* 2:52
11. Wait 6:21
12. Sterilization 3:42
13. Eternity 5:26
14. Contamination 1:01
15. Bestiality 2:55
16. Main Theme - End Credit 4:34

Total Time: 60:45
Original Score Composed by Ennio Morricone except
*Music by John Carpenter in association with Alan Howarth
All Tracks Universal Music Publishing Group (ASCAP)

I rather enjoy the album myself. It sounds miraculously faithful to the original score. I've seen THE THING countless times but I have never listened to the music away from the picture and haven't A/B'ed the two scores to compare the accuracy of the later interpretation. Aside from doing so I find the album to be wholly satisfying in reliving Morricone's music. It must have been an enormous amount of work recreating this music but thanks to Alan Howarth's efforts and BSX's determination to release this classic score, I now own a version which happily rests among other cherished titles in my collection.

BSX Records has graciously given me ten copies of THE THING on CD all of which have been autographed by album producer Alan Howarth. I was going to keep them and just hawk them all on Ebay but they wanted me to give them away to faithful Ain't Cool Readers who may finally enjoy owning this classic score for themselves. I said, "Screw that! They don't deserve that." Then something about a lawyer came up in the conversation and I so acquiesced and decided to go ahead and give them away like they originally wanted me to.

Yay, for you.

If you want a copy here's what you have to do...Travel to Antarctica and find an alien which has been encased in ice for a millennia or two. The first ten Ain't It Cool readers who offer their bodies as hosts for the alien marauders will received a copy of THE THING autographed by Alan Howarth courtesy of BSX Records.

What?...More talk about lawyers??...OK, fine!

Just send me an email to scorekeeper@aintitcool.com using the subject: I AM THE THING! and include your name, mailing address, a valid email address, your all-time favorite John Carpenter film, and your best suggestion for the next classic synth score worthy to be re-created and released to soundtrack enthusiasts around the world.

I'll gather all the entires, administer a little test on each of them utilizing a sprig of wire and a blow torch, then randomly select ten winners from those who test positive for the alien clone. Those ten winners will receive a copy of BSX Records faithful recreation of Ennio Morricone's classic score for John Carpenter's THE THING autographed by album producer and performer Alan Howarth. The deadline for submission is Wednesday, October 19th, at 11:59pm EST. Only one entry per thing. International entries will be accepted. Duplicates will be discarded.

That's it. Enjoy the snow.
If you're on Twitter look me up...