Greetings! ScoreKeeper here clutching a crucifix bathed in holy-water in celebration of the world premiere CD release of Brad Fiedel's kinchy-cool synth score for Tom Holland's FRIGHT NIGHT (1985).

I know this was a holy grail on a lot of soundtrack fans' wish lists. For more than twenty-five years this 80's staple has been virtually unavailable. Intrada Records comes to the rescue yet again with another monster home-run release.

Taking great care to be comprehensive and maintain the highest possible audio quality, Intrada Records has delivered this frightful music in two ways. Some of the master elements were drawn from 15 ips mixes while others where taken from lesser quality 7 1/2 ips tapes. They took what they had of the higher quality masters and edited them together into a suite while preserving the complete score using the lesser quality 7 1/2 ips tapes.

It's a fantastic album down to the impeccably written and insightful liner notes by Daniel Schweiger and the extremely awesome cover design by Joe Sikoryak.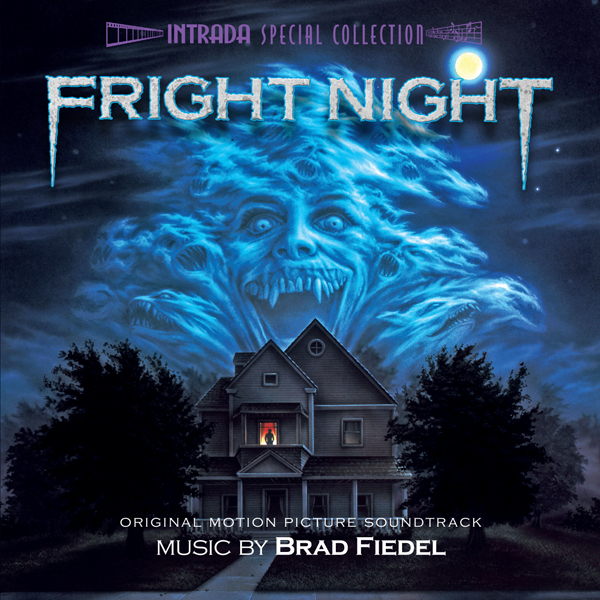 If you're in the Los Angeles area and you'd like to meet composer Brad Fiedel in person and tell him how much you adore his score for FRIGHT NIGHT (or THE TERMINATOR, or TERMINATOR 2: JUDGEMENT DAY, or TRUE LIES, or THE SERPENT AND THE RAINBOW...) you can do so on October 22nd, 2011, at 1PM at Dark Delicacies in Burbank. If you can't make the event but would still like an autographed copy of FRIGHT NIGHT you can place an order with Dark Delicacies and they'll ship one out to you (as long as they still have the CD in stock).

For more information about the signing event and ordering check out Dark Delicacies web site HERE.
If you're on Twitter look me up...