@@@ What the &#$% is AICN COMICS Q&@? @@@
---
Q's by superhero!

@'s by SCOTT SHAW!!!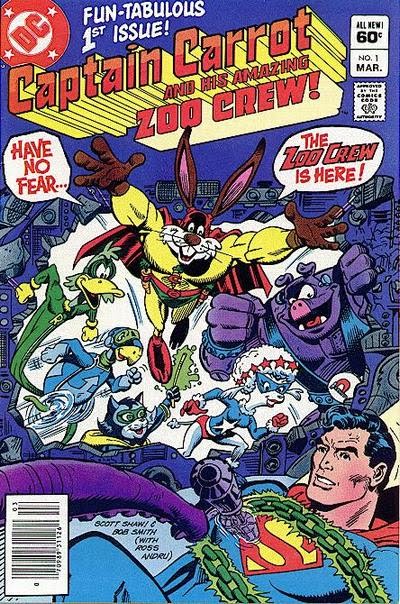 Hello out there in comic land! It is I, superhero, here with an interview with the legendary cartoonist SCOTT SHAW! Mr. Shaw! is most widely known in comic book circles as the creator of CAPTAIN CARROT AND THE AMAZING ZOO CREW but he's had an incredible career which has spanned the years and worked on all kinds of projects within the comic and animation industry.

I can't tell how much of an honor it was to have the chance to meet Scott and interview him. Captain Carrot is the reason I started collecting comics. When I was a kid my mother moved us to Colombia (that's South America, people!) for a year. When my family finally moved back to the U.S., I was dying for anything that seemed American. What better than comic books? I still remember the first issue of Captain Carrot that I saw sitting on the shelves. It was the issue that had Pig Iron Squaring off against the Wuz-Wolf. I was too young to fully understand the joke behind the Wuz-Wolf but from that issue on I was enthralled. One of my mother's friends found a comic shop in NYC (The original FORBIDDEN PLANET-now THAT was a comic shop!) and was able to get me most of the back issues.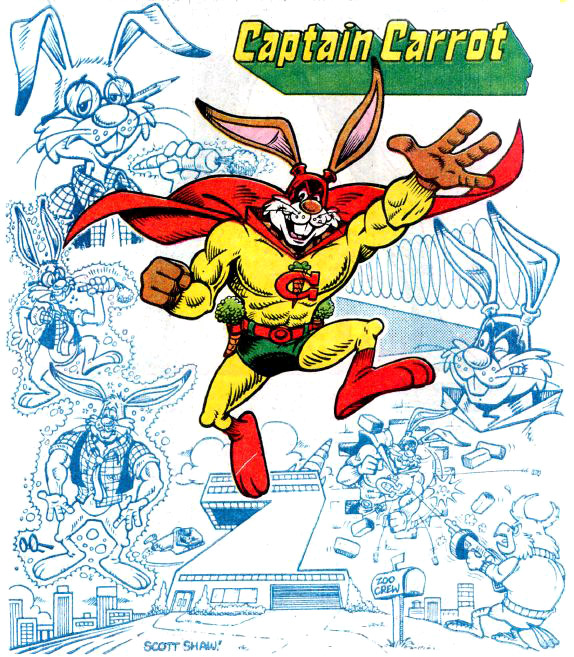 From then on, that was it…I loved Captain Carrot and the Zoo Crew. I even wrote DC Comics my first hate mail when they cancelled it. Scott Shaw!'s creation is forever etched into my DNA. Captain Carrot was the gateway drug and without that comic there would be no desire to follow up with John Byrne's Fantastic Four or Wolfman and Perez's Teen Titans. I owe Scott Shaw! a debt that can never be repaid because his creation got me into comics.

Special thanks go out to Miguel Cima of DIG COMICS for introducing me to Mr. Shaw! in the first place.

But, enough jibber jabber, let's talk to the man himself! Without further ado…here is SCOTT SHAW!

SUPERHERO (SH): So tell us a bit about yourself. Who are you? Where do hail from? What's your sign?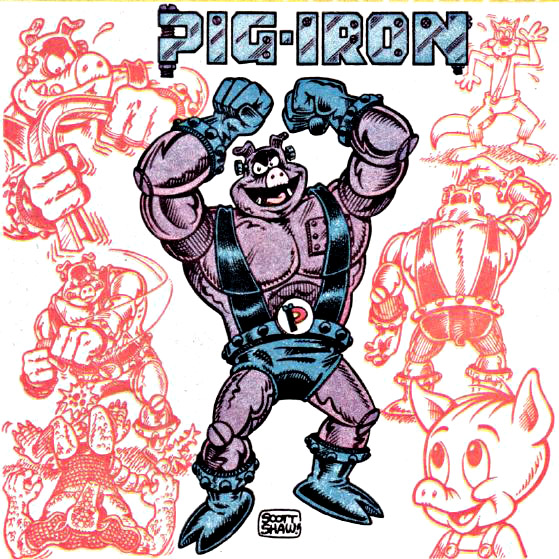 SCOTT SHAW! (SS!): I'm a cartoonist, meaning I write AND draw comics, animation, advertising, and even design games and toys. I was born in Queens, New York, lived on Long Island as a toddler and moved to San Diego, California when I was about two years old. Although I was a "Navy brat", we didn't move after that and I graduated from a local high school in 1968. I was one of the people who originated the San Diego Comic-Con in 1969 and was active on the convention committee for a few years until I moved to the Los Angeles area, where I've lived since 1975. I'm a typical Virgo; in other words, a pushy, perfectionist pain-in-the-ass.
SH: How did you get sucked into comics? Did you develop a love for comics or cartoons first? Can you remember what your first comic book was?
SS! – I've loved comics and cartoons as long as I can remember. Comics helped me teach myself how to read waaay before kindergarten. I really don't recall my first comic book, but when I was five and in the hospital to have my tonsils removed, my parents brought me what looked like the biggest stack of "funnybooks" I'd ever seen. I still remember specific issues of DENNIS THE MENACE, SUPERBOY, WALT DISNEY'S COMICS AND STORIES and MIGHTY MOUSE and even ZIPPY THE CHIMP in that stack of four-color goodness.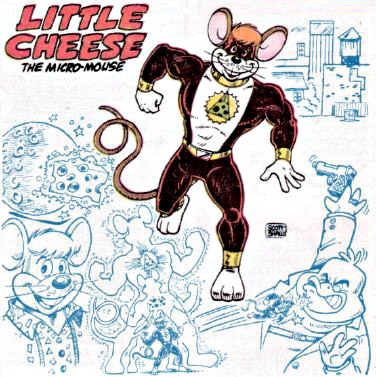 I have a theory that, at least before it became an outpatient procedure, tonsillitis was primarily responsible for a lot of kids learning to love comic books! After all, when you're feeling crummy, are stuck away from home in a place with a lot of strange kids, ice cream is not enough…but hey, kids, comic books are your friends!
SH: Where did you study your craft? Did you go to art school? Are you self-taught?
SS! – I've never had any formal art training. But working at Hanna-Barbera Productions in the late 1970s was like going to art school. The cartoon shows we made weren't so hot, but being surrounded by some of the best cartoonists in the animation industry – some of these guys had worked on stuff like SNOW WHITE, PINOCCHIO and classic DROOPY and TOM AND JERRY shorts – was like getting paid to go to art school! It was very inspiring and really improved my drawing ability.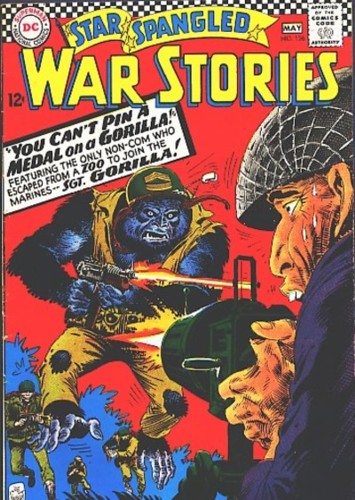 SH: Who was your biggest mentor at Hanna-Barbera? Who did you most pal around with?
SS! – I was very lucky to share a Layout Department cubicle with a cartoonist named Floyd Norman. He had worked as an assistant to Bill Woggen on Archie's KATY KEENE comic book when he was a teenager. Floyd was also one of the first, if not the first, black cartoonists hired at Disney. Among many other things, Floyd storyboarded the encounter between Mowgli and Kaa in THE JUNGLE BOOK. Anyway, Floyd was extremely cool and patient with me, showing me the ropes while drawing dozens of hilarious cartoons about Hanna-Barbera, its staff and product. Floyd and I became good friends and I still have lunch with the official Disney Legend every week.
SH: What was your first professional job as a cartoonist? Did you work in the animation field or comic books first?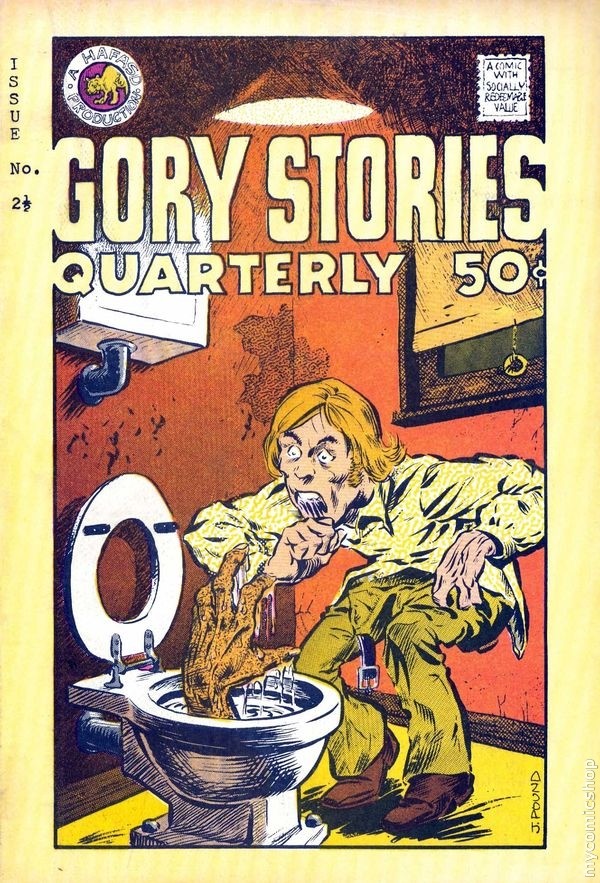 SS! – The first time I ever got paid for my cartooning was when I made a sign for a little hamburger stand near my junior high school. My first paid gig in comics was my story "The Turd" in Ken Krueger's GORY STORIES QUARTERLY, an underground "comix" in 1972. My first gig in mainstream comic books was inking Pete Alvarado's cover for Marvel's YOGI BEAR No. 1 (1976). My first gig in animation was at H-B as a layout artist and model designer on
THE NEW FRED AND BARNEY SHOW
(NBC, 1978).
SH: How did someone without any art training get a job at Hanna-Barbera? How did you get in?
SS!: I moved to Los Angeles from San Diego and took a job as manager of the American Comic Book Company, a retail store a few miles away from Hanna-Barbera. I knew it'd attract cartoonists from the studio and I was right. I also met
Mark Evanier
– who I'd met at Jack Kirby's house a few years earlier – recommended me to Chase Craig, who was editing the line of H-B comics that Marvel published in the mid-1970s. I started out as an inker – doing much of the work in my own little studio in the comic book shop's back room -- but when Craig retired and Mark took the reins of the H-B comics he gave me some assignments as a penciler.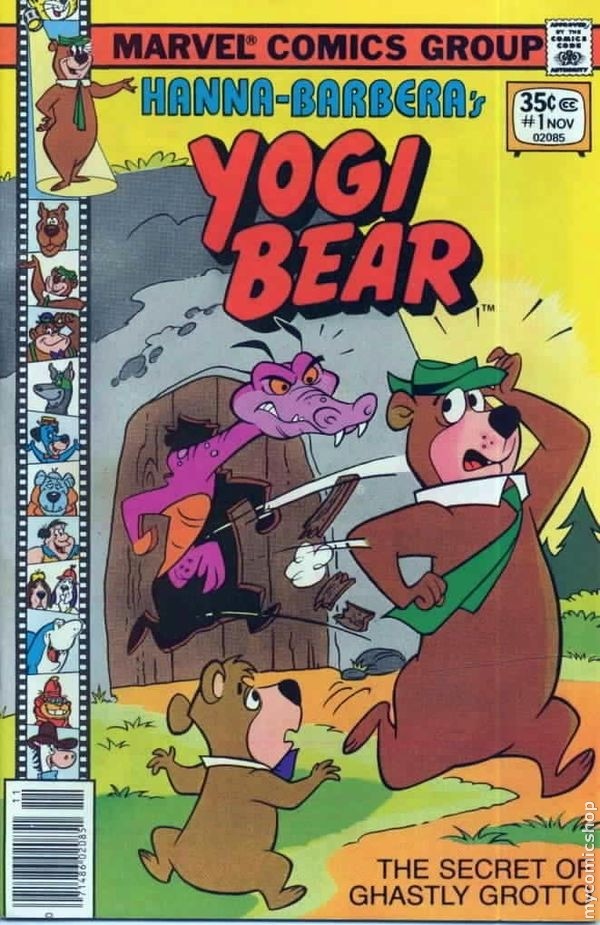 When Iwao Takamoto saw my work in the funnybooks, he offered me a staff job, which I initially turned down – until I learned I would be working on a new FLINTSTONES cartoon for NBC, THE NEW FRED AND BARNEY SHOW. I jumped at the opportunity and wound up doing both layouts and character and prop model designs. This eventually led me to doing storyboards, scripts, presentation art and even producing and directing for H-B.
SH: Who are your biggest influences? What artists, films, movies, TV shows have made the biggest impression on you throughout your life?
SS!: I've got a very wide range of influences. From comic books: Jack Kirby, Gilbert Shelton, Harvey Eisenberg, Sam Glanzman, Orlando Busino, Sheldon Mayer, Carl Barks, Al Jaffee, Bob Bolling, Al Wiseman, John Stanley, Sergio Aragonés, Marie Severin, Ross Andru, Ramona Fradon and many more. From animation: Tex Avery, Joe Barbera, Bill Hanna, Ed Benedict, Bill Scott, Gene Moss, Jim Thurman, etc. From comic strips: Bernie Lansky, Mort Walker, Gene Hazelton, Al Kilgore, Jack Mendlesohn and others. From other sources: Ed "Big Daddy" Roth, Hunter S. Thompson, Todd Rundgren, Dr. Seuss, Roy Chapman Andrews, Jonathan Winters, Firesign Theater, Edgar Rice Burroughs, the Three Stooges and Willis O'Brien, among others. See, I told you I had a lot of varied influences!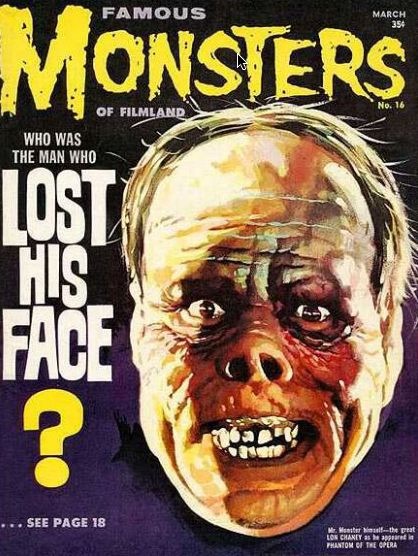 SH: I know you've met a lot of your comic book/animation heroes…got any fun stories about hanging out with famous cartoonists?
SS!: Well, I became friends with the phenomenal gag cartoonist
B. "Hap" Kliban
(CATS) when we found ourselves both buying pot from the same guy at an early San Diego Comic-Con! That was "fun". Then there was the time we almost convinced Jack Kirby to light the fuse of a Roman candle we had smuggled into the El Cortez Hotel. And with Sergio Aragonés, Mark Evanier and Bob Foster, we went on a road trip to visit Carl Barks but stopped at a strange swap meet in the middle of nowhere that was playing country-western music over the loudspeakers – in German! Yeah, I've got a lot of these stories, and hope to incorporate many of these in my autobiographical comic strip,
FAMOUS MONSTERS OF FILMLAND
magazine editor Forrest J Ackerman, cartoonist Mike Royer and local editorial cartoonist Bob Stevens. We wound up with a lot of big name guests at the cons that followed; having such respected talents such as Jack Kirby, Ray Bradbury, Bob Clampett, Frank Capra, Charles Schulz and Neal Adams, plus being in the greatest tourist town on the West Coast, gave the San Diego Comic-Con a lot of credibility with pros, fans, publishers and eventually, toy manufactures, video game companies and Hollywood studios.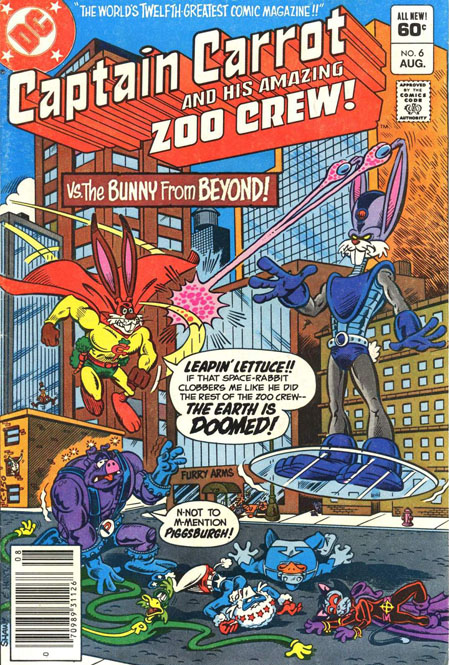 SH: Can you talk a bit about the genesis of Captain Carrot and his Amazing Zoo Crew? I know it's a broad question but how did it all come to pass?
SS!: Although Roy Thomas had been a guest at the San Diego Comic-Con where I first met him, we got to know each other better during the nine months or so that I worked as the manager of the American Comic Book Company in Studio City, California. That led to Roy inviting me to write the funny-animal back-up story for Marvel's WHAT IF? No. 8 (April, 1978), "What If Spider Had Been Bitten A Radioactive Human?", which introduced my contribution to the Spider-man family, "Man-Spider". My friends Carol Lay and the late Dave Stevens helped me ink that story, which led to Roy asking me to work with him to create a new funny animal property for DC. The project started out as "Super-Squirrel And The Just'a Lotta Animals" – I even drew a few sample pages -- but DC wanted new characters that weren't just an extension of an existing "brand", so we came up with CAPTAIN CARROT AND THE AMAZING ZOO CREW!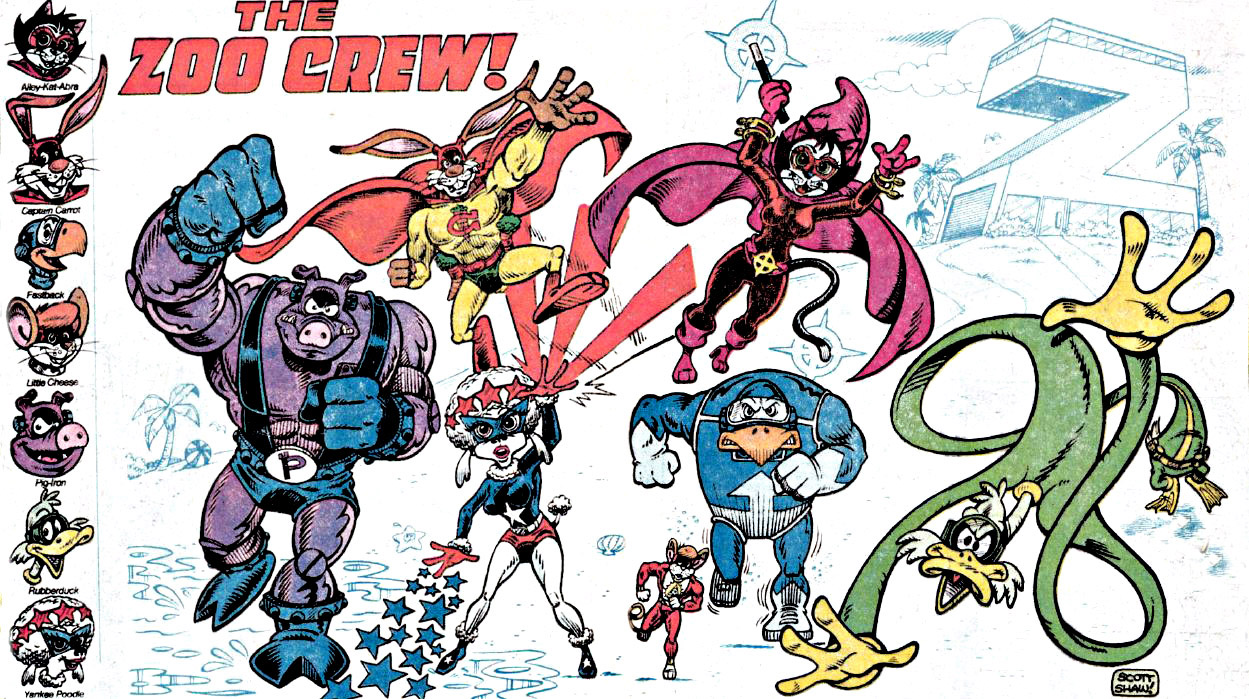 SH: How successful was Captain Carrot upon initial release? Was it popular when it came out? CCATAZC! was the reason I started collecting comics. I loved it.
SS!: Thanks, Kris; you're obviously a man of wit, taste and style. CAPTAIN CARROT AND HIS AMAZING ZOO CREW! sold well over 100,000 copies for its first few issues. Today, those would be insanely good numbers, but even back then, it wasn't anything to turn up your nose at. ABC optioned the characters for development for Ruby-Spears Prods. to develop for animation, but it was never picked up for a series. That's not surprising, considering that the Zoo Crew was teamed with Wonder Woman!
SH: Wait -- what? Wonder Woman??? What does that mean?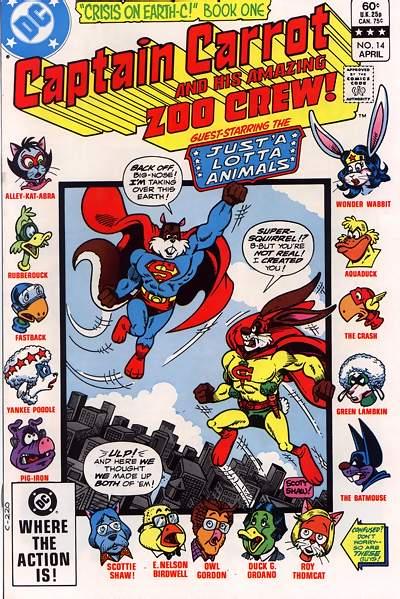 SS!: Yeah, someone at ABC or Ruby-Spears had the bright idea of saddling Captain Carrot and the gang with Wonder Woman. I'm sorry, I have no idea why, but that was R-S's pitch the second time out. I guess they couldn't have a dog – Yankee Poodle was already part of the team – so maybe WW was their human "pet". In any event, it didn't sell, thankfully!
SH: What are your feelings toward the mini-series that you worked on several years ago? Any future plans for the good Captain?
SS!: Bill Morrison and I were handed a finale for CAPTAIN CARROT AND THE FINAL ARK that we didn't particularly care for (it wasn't really an ending at all) and that DC addressed in a paltry two panels of one of those CRISIS books. I suppose they originally had plans for the Zoo Crew and then forgot about them. Bill and I submitted a ton of follow-up projects to our little series (which really required six issues instead of the three we were given) but we were told, "CAPTAIN CARROT AND THE FINAL ARK didn't sell." I think it would have if DC had promoted it. At least Bill and I had fun, I became friends with our wonderful editors, Joey Cavalieri and Stephanie Buscema (who are also terrific cartoonists) and I got to demonstrate that I'd learned a lot about cartooning in my 25 years between the original series and the new one.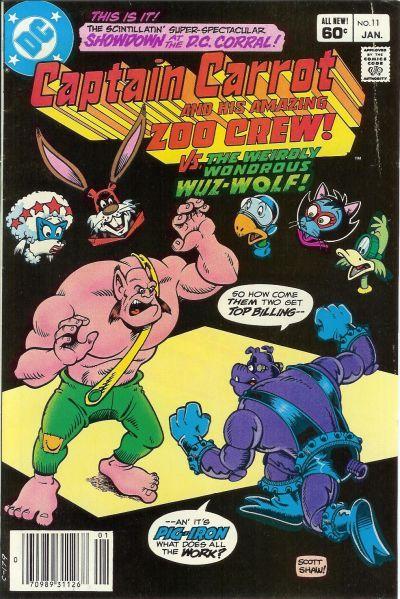 SH: What would you have done differently with a new Captain Carrot book had you been given complete creative freedom with it?
SS!: First, I would have insisted on a co-writer credit and paycheck; Bill was the official writer, but we love working together on various SIMPSONS projects and Bill wanted my input. We just never let DC know that was how we were collaborating. But we needed at least six issues for CAPTAIN CARROT AND THE FINAL ARK. There was just too much to recap and too much plot to cram into three issues. And Bill and I would have loved to taken the end of "Final Ark" storyline and run with it in the very interesting way we came up with. Oh, and it would have been nice if CAHAZC! co-creator Roy Thomas had been invited to the party, too.
SH: Can you spill on what you would have done at the end of that "Final Ark" storyline?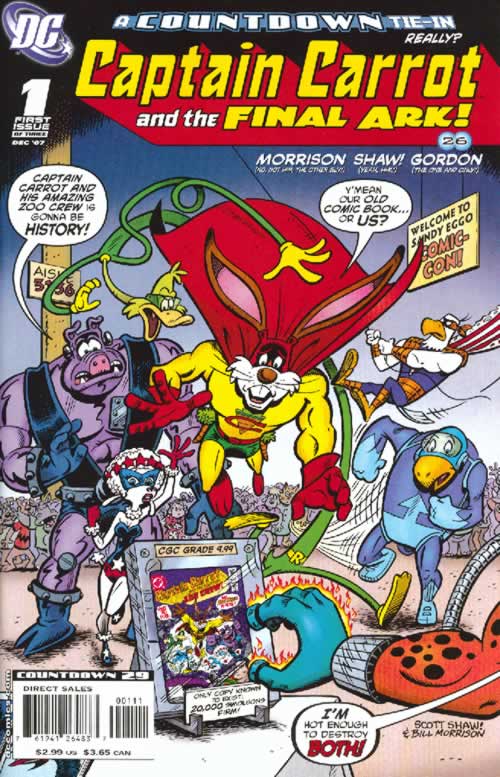 SS!: Well, the "ending" we were told we had to use was that all of the Zoo Crew, except for Pig-Iron, would be transformed from "funny animals" into "real" animals. I think the plan was to have Captain Carrot the fuzzy bunny living in Zatanna's hat for a while, but that never materialized. Instead, the ending was "resolved" (incorrectly, with Pig-Iron as one of the "real" critters) in a panel or two DC's final CRISIS issue whatever it was called. Not knowing that would happen, Bill and I approached DC with what we thought would be some fun comics. First, we'd follow up CAPTAIN CARROT AND THE FINAL ARK the next summer with a three issue LEGION OF SUPER-PETS starring the "real" versions of the Zoo Crew fighting various animal-based human supervillains from the DC Universe, which Bill and I would co-write and that Phil Winslade would draw, since he drew the last few pages of our miniseries. At the end of that story arc, Animal Man would discover that the Super-Pets were more than they appeared to be; he would contact Zatanna who would reverse their transformation. (Are you keeping up with all of this, Kris?) The next summer, I'd write and draw a squarebound 80-PAGE GIANT CAPTAIN CARROT AND HIS AMAZING ZOO CREW! comic, featuring "reprints" that never really existed in the first place. Stories like the Zoo Crew meeting their evil counterparts, the Bruise Crew, the Terrific Whatsit in WWII, the supposedly deceased Little Cheese as a sort of super-ghost, Deadmouse, a story starring the Just'a Lotta Animals, etc.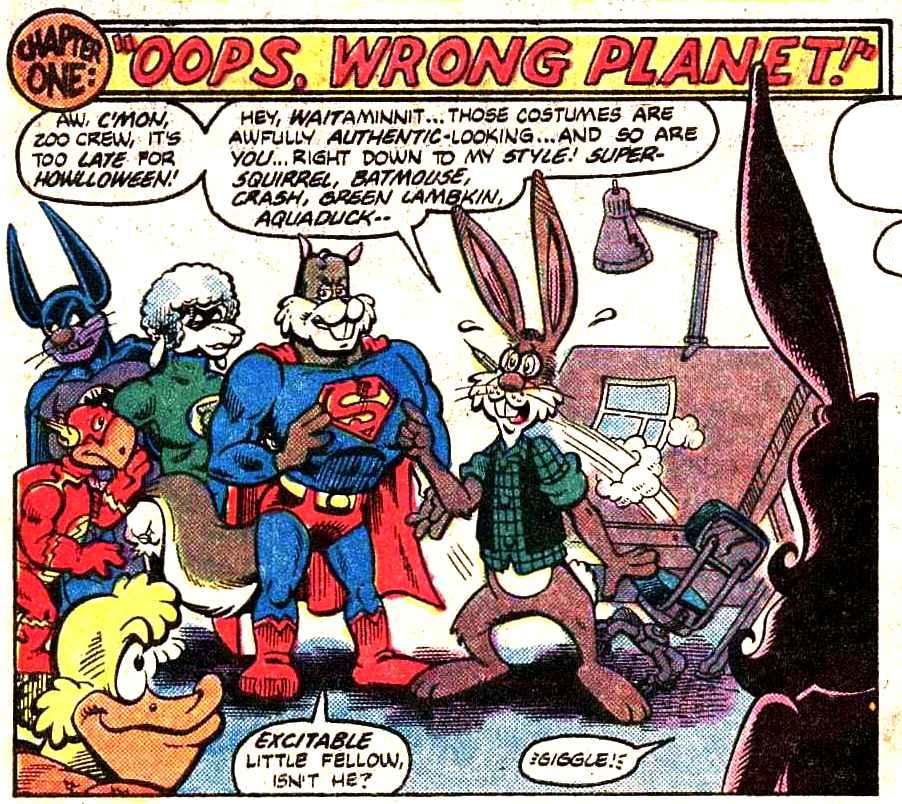 And the summer after that, Bill and I would cook up the big finale, with the restored Zoo Crew returning to Earth-26 to reclaim their flooded planet. We wanted to introduce some new, street-level heroes who were a resistance movement fighting against Starro The Conqueror in their world's post-Katrina-esque environment. We'd also show how Starro had made Pig-Iron his unwilling deputy, forcing the porcine powerhouse to continue the ruse that he'd turned evil – or Starro would flood what was left un-submerged on Earth-26. This would all culminate in an all-out big battle issue with Starro defeated and everything back to normal for the Zoo Crew.
We spent a lot of effort working out all of this, but it was rejected because "it didn't sell". I think it would have sold quite well if DC had supported the project with some smart PR. It also would have helped if the mini-series - which was presented as part of the "Countdown" maxi-event and which we were reassured wasn't gonna be considered another "kiddie comic" – didn't have a sixteen-page promotional comic for those "Goldfish" crackers bound into the centerfold. Anyone opening the book would immediately assume it was another kiddie comic! (It's also ironic that DC would only pay me the lower "kiddie comic" page-rate, which was absurd considering the complexity of the artwork I was expected to draw.)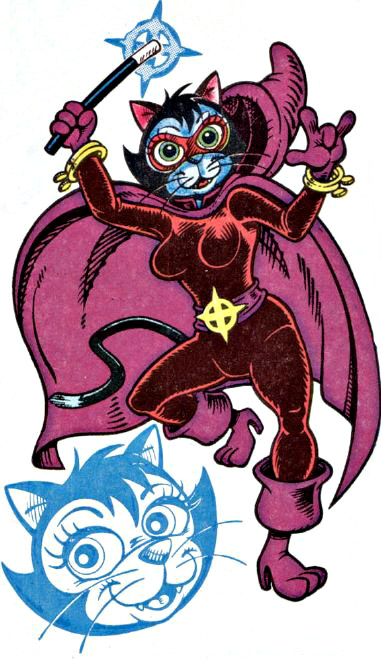 SH: Why was Roy Thomas not included?
SS!: I really don't know. The way I've heard it was that Dan Didio asked Paul Dini who was a hip, funny writer to tackle a new Zoo Crew revival. Paul suggested Bill Morrison, who agreed to do it. When Bill asked if I was drawing it, he was told, "Well, we don't have anyone in mind, but if you want to work with Scott, we'll see if he's interested." So neither Roy nor myself were considered first. (Interestingly, Bill, Roy and I have been talking about doing a sequel to that "Riddle Of Radioactive Rabbit!" I wrote and drew for Bongo a few years ago that introduced a Silver Age parody of Captain Carrot. If we do it, we're gonna create an entire team of radioactive critters!) But it just goes to show, even owing part of the property, neither Roy nor I have any say in how our characters will be used or who's gonna write and draw 'em.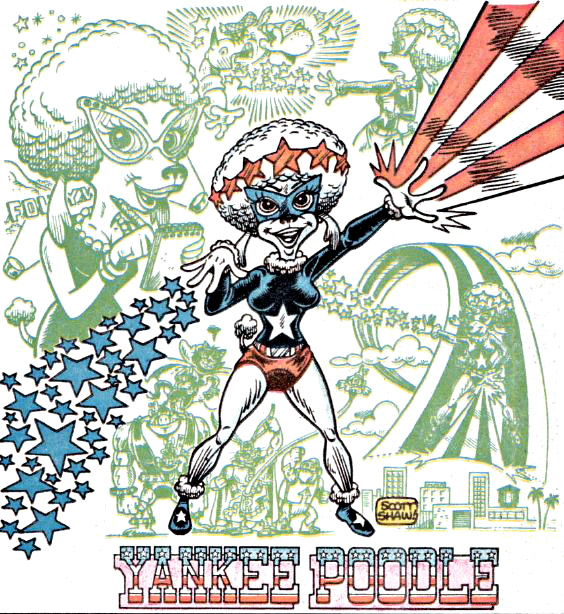 SH: How much of CC and the Zoo Crew do you actually own? Does DC own them outright or do you have any rights to the characters?
SS!: I still own 10% of the property. DC Direct was gonna hire me to design action figures of the whole team and a few of the villains but the project was bumped by – get this! – the WATCHMEN movie figures that no one bought, the SPIRIT movie figures that no one bought, and the JUSTICE LEAGUE OF AMERICA figures that were, like the film itself, never even made! So, although some Warner Bros. executroid saw a copy of our miniseries and asked, "Why aren't we producing toys of these characters?", the proposed project was put "on the back burner", never to be mentioned again, dammit. I would have loved to see that happen, especially since I'm a big toy fan and have designed a lot of 'em. Most recently, I conceived and designed a ton of Hanna-Barbera and SIMPSONS figures for MacFarlane Toys. Oh, the solicited SHOWCASE PRESENTS: CAPTAIN CARROT AND HIS AMAZING ZOO CREW! was never published because DC had never asked me about whether I'd prefer a royalty based on sales or a flat reprint rate…and they have yet to do so!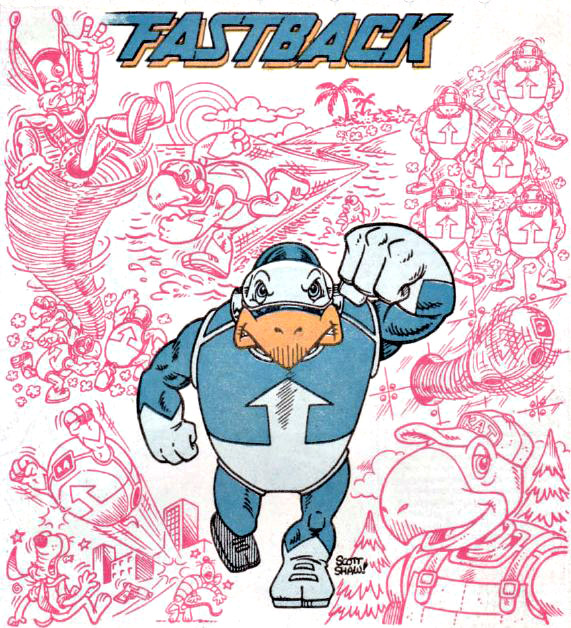 SH: Is there anything that fans can do to get some of these projects moving? Screw the SHOWCASE! I want The CAPTAIN CARROT AND HIS AMAZING ZOO CREW! Omnibus edition in a giant full sized color hardback! And screw action figures! I want statues…maquettes, dammit!
SS!: Don't hold your breath, Kris. Considering that I don't detect a scintilla of fun or humor or lightheartedness in DC's "New 52", it's almost impossible for me to imagine that there's any interest in new Zoo Crew projects of any type. A few years ago, when DC was looking for new kids' comics, Bill and I suggested a SUPER-SQUIRREL AND THE JUST'A LOTTA ANIMALS series (since CAPTAIN CARROT was never intended as being aimed at kids, at least as far as Roy, Bill and I were concerned.) But DC wasn't interested in that, either. I have a feeling that, like a lot of worthwhile-but-marginalized comic book and animation properties that Warner Bros. owns, they'd rather have the Zoo Crew's heads stuffed and mounted on the walls of some seldom-used board rooms in their corporate headquarters. I also have a hunch that if Warner Bros. is gonna give any special attention to one of their cartoon rabbit characters, it's gonna be for Bugs Bunny…and that's a character they don't have to share with any pesky creators like Roy and I.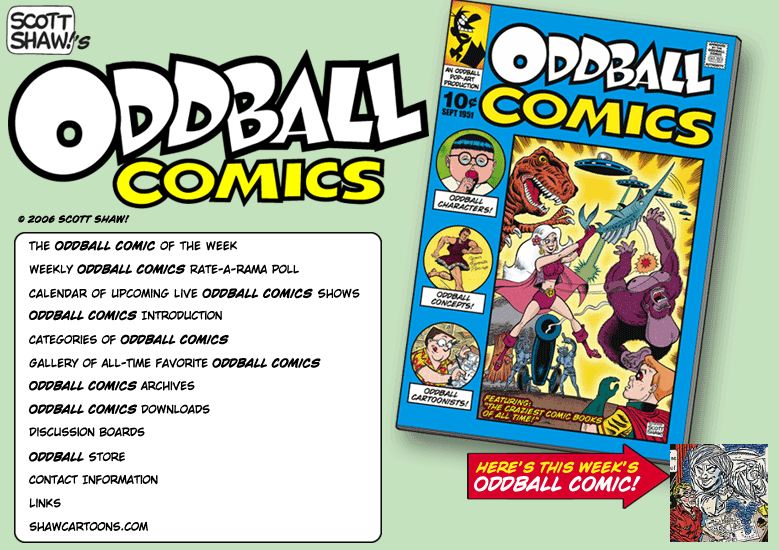 SH: So what is ODDBALL COMICS?
SS!: I call ODDBALL COMICS, "the craziest comics ever published". It consists of cover images of actual newsstand comic books from the 1940s on up. The material is so bizarre, so funny, so sexual, so…oddball that viewers' first reaction is "How the fuck did that ever get published?!?" I showcase a lot of familiar characters in extremely unlikely situations. Personally, I love comic books with dinosaurs and/or gorillas on the covers! ODDBALL COMICS also features comics with unbelievably strange characters, themes and titles, stuff like IT'S FUN TO STAY ALIVE, SPACE WESTERN, ORAL ROBERTS' TRUE STORIES, PSYCHOANALYSIS, MANUEL PACIFICO – TUNA FISHERMAN and an anti-VD comic, SIDEWALK ROMANCE. I've even got a special section devoted to comic books with covers that depict someone getting hit in the face with a fish! I've done ODDBALL COMICS as a slideshow at comic conventions for over forty years, I've done the slide show at comedy clubs, it's been a set of trading cards, a calendar, a website at
www.scottshawsoddballcomics
(soon to be re-launched) and I'm currently working on an ODDBALL COMICS book for a major publisher.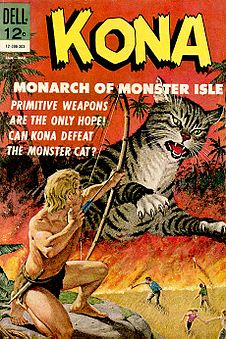 SH: You've been doing Oddball Comics for over forty years? Do you remember how you got the idea for it? Do you remember what your first Oddball comic was?
SS!: Some of my favorite Oddball Comics were ones that I'd been reading since I was a kid. Those would include DC's "The War That Time Forgot" in STAR SPANGLED WAR STORIES, SUPERMAN'S PAL JIMMY OLSEN and SUPERMAN'S GIRL FRIEND LOIS LANE, Charlton's KONGA and GORGO, Archie's TALES CALCULATED TO DRIVE YOU BATS and Dell's KONA, MONARCH OF MONSTER ISLE. The older I got and the more comics I owned – and the more I improved my cartooning skills – the more I saw funnybooks in an entirely different light than the average consumer.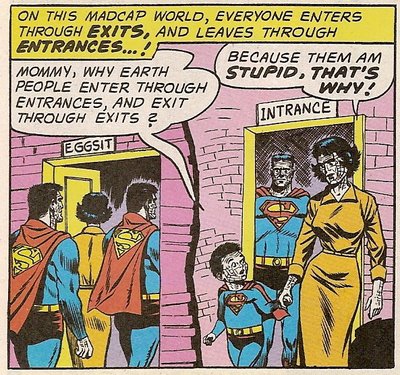 SH: So did you always think that those particular comics were odd or as you were growing up did you just someday notice…hey, that's not right? I know that there's stuff I picked up on as an adult in some comics that I never got as a kid.
SS!: I grew up in the 1950s, when publishers of funnybooks (remember when they were called that, much to my discomfort at the time) were trying all sorts of types of comics, so I was exposed to all sorts of Oddball stuff. For example, Mort Weisinger edited various "Superman" titles for DC, in which he exploited such odd themes as "Imaginary Stories" (weren't they all imaginary?), the various characters' names with the initials "L.L.", and best of all, the Bizarros and the "Tales Of The Bizarro World" stories in ADVENTURE COMICS. Described as "hilarious yet pathetic", the "imperfect duplicates" of Superman, Lois, Jimmy, etc. supposedly did everything backwards, but apparently DC drew the line at having them shove food up their asses and shit out of their mouths…now, THAT'S backwards!...but I spent way too much time worrying about scenarios just like that! I also bought every comic book I could afford that featured a gorilla or a dinosaur (or both!) on the cover…and in those days, there were a helluva lot of them! Anyway, the older I got the more I realized that my tastes were a bit outré and the more I trained myself as a cartoonist, the more I realized that when it comes for piecework work-for-hire, nothing gets written and/or drawn by accidents, especially in comic books, a field rife with wise guys and pranksters trying to keep themselves amused!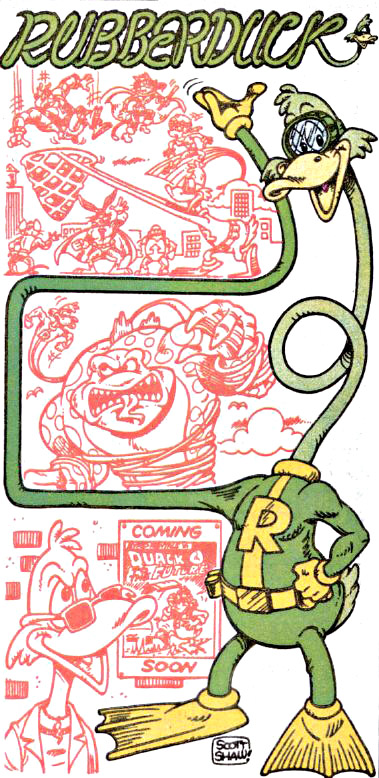 SH: You also do a panel every year at Comic-Con called "Quick Draw". Can you talk a bit about that? It's one of the most entertaining things I've seen at the con. How did that originally come together? Who decided who gets to participate? Are you all just pals or…?
SS! – "Quick Draw!" is essentially a version of WHAT'S MY LINE, ANYWAY?, but with cartoonists. Of course,
Sergio Aragonés
– arguably the World's Greatest Cartoonist – is the real attraction. The man's brain-to-hand ability is unmatched, he's always charming and funny as hell and he knows exactly how to "button" his gags for the best audience response. Mark Evanier tosses out a variety of elements and situations for us to turn into gag cartoons. They're both two of my best friends, as are some of the cartoonists who have joined us, such as
Floyd (THE JUNGLE BOOK) Norman
and
Mike (REN AND STIMPY) Kazaleh
. Mark usually picks our third participant; that has included Jeff Smith, Kyle Baker, Erik Larsen, Mike Peters, Steve Leialoha and Jim Lee, among others. There're no real winners or losers in Quick Draw! – it makes Groucho Marx's YOU BET YOUR LIFE look like Vulcan chess by comparison – so we all have a great time.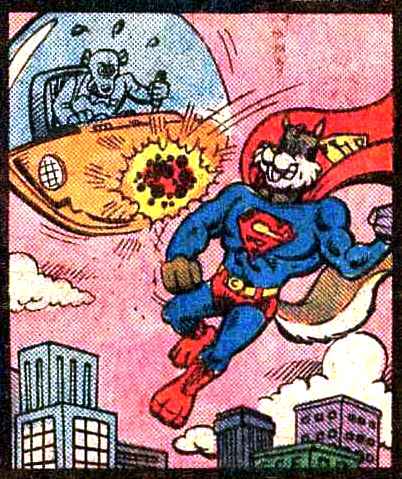 SH: What do you think have been the biggest changes that the industry has gone through since you first started drawing comics or working in animation?
SS!: I think that in general, mainstream comic books and cartoons have become more corporate, slicker and faster but without a lot of heart. Obviously, there are exceptions, but I think that the stuff from the 1950s and 1960s had more appeal. Of course, I'm not the target audience any more, but I try to stay as current as my busy schedule allows.
SH: Do you read any indie stuff? I think that you and I are alike in that we see the current crop of mainstream books as lacking the something special that we both love about comics. But is there anything outside of the big two that you enjoy reading?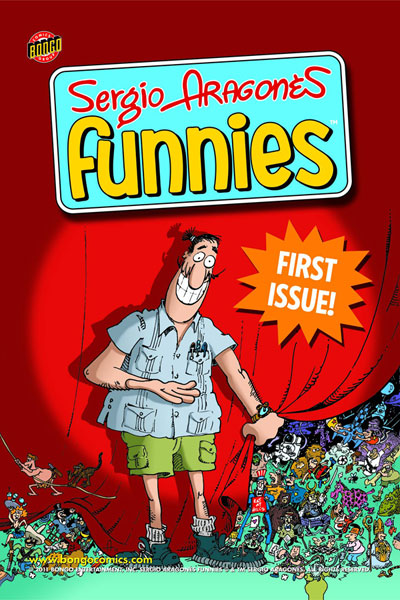 SS!: I read a little bit of everything, but as you'd expect, I'm especially attracted to humorous and somewhat lighter stuff. Books I dig include SERGIO ARAGONE'S FUNNIES (Bongo), Erik Larsen's SAVAGE DRAGON (Image), Stan Sakai's USAGI YOJIMBO (Dark Horse), Shane and Chris Houghton's REED GUNTHER (Image), Art Baltazar and Franco's TINY TITANS (DC) and anything by Rick Veitch, Roger Langridge or Evan Dorkin. Dan Parent's been doing some great stuff at Archie. And other than Jack Kirby and Stan Lee's run of FANTASTIC FOUR, my all-time favorite "desert island" comic book is Gilbert Shelton's THE FABULOUS FURRY FREAK BROTHERS.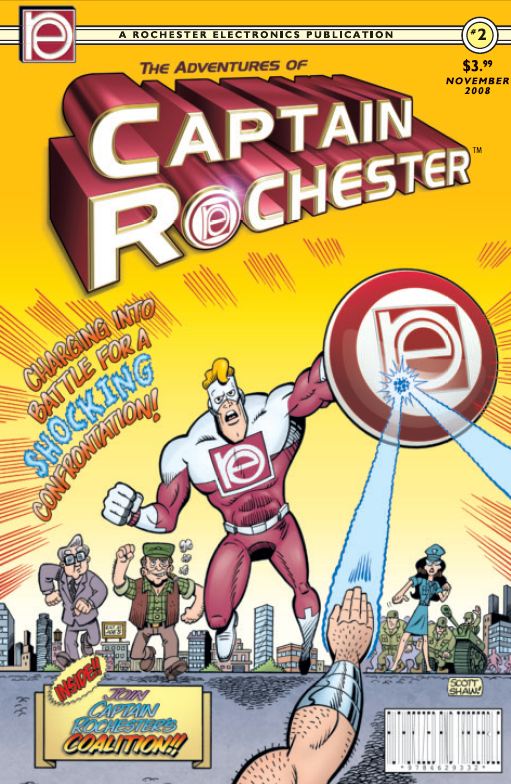 SH: What are you currently working on now? Anything in the pipeline that you can talk about?
SS!: I'm always juggling a ton of gigs while trying to line up the next ones. Lately, I've been working on:
THE ADVENTURES OF CAPTAIN ROCHESTER
(an ongoing promotional comic book for Rochester Electronics, a semiconductor manufacturer); working on that
ODDBALL COMICS
book for a major publisher; developing new animated cartoon properties for Mechem Media; writing and drawing new stories for Bongo's line of SIMPSONS comics; writing for the new SPONGEBOB SQUAREPANTS comic; working with my pal Stan Sakai on "Gnome VS. Goblin", a "Spy VS. Spy"-type strip for World Of Warcraft's BLIZZARD MAGAZINE; writing introductions to Dark Horse's archive editions of FLASH GORDON and SPACE FAMILY ROBINSON; writing and drawing
NOW IT CAN BE TOLD!,
my autobiographical comic strip at www.Act-I-Vate.com and a special 8-page NICBT! for DARK HORSE PRESENTS. Oh, and I'm learning how to use a Cintiq. Howzat for juggling?
SH: So that's it! Hope you enjoyed the interview! Be sure to check out Mr. Shaw!'s comic NOW IT CAN BE TOLD! as well as his website ODDBALL COMICS. You can also check his Facebook page out by clicking here.

But most importantly…join the Facebook group BRING BACK CAPTAIN CARROT AND THE ZOO CREW! By clicking here.

We need a Captain Carrot renaissance! With Shaw! and Thomas at the helm!
Discovered as a babe in an abandoned comic book storage box and bitten by a radioactive comic fan when he was a teenager, superhero is actually not-so mild mannered sometime designer & cartoonist, Kristian Horn of Los Angeles, California. He's been an @$$hole for three years. Some of his work can be seen at www.kristianhorn.com and check out his blog at www.parttimefanboy.com.
---
Editing, compiling, imaging, coding, logos & cat-wrangling by Ambush Bug
Proofs, co-edits & common sense provided by Sleazy G
And check out AICN COMICS' New Facebook Page!!!