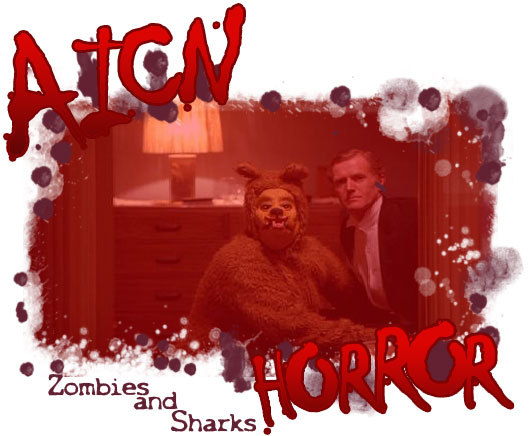 Logo by Kristian Horn
What the &#$% is ZOMBIES & SHARKS?
---
Greetings, all. Ambush Bug here with another AICN HORROR: ZOMBIES & SHARKS column. Before we jump into this week's eclectic and deliciously indie batch of horrors, here're some bits of news you might enjoy…
--- I know absolutely nothing about this film but one look at the poster and I want to know more. CASSADAGA has been selected for 2011 Screamfest in October. The film is directed by Anthony DiBlasi (Clive Barker's "Dread," "Midnight Meat Train") and stars Kelen Coleman ("Children of the Corn: Genesis") and Kevin Alejandro ("True Blood"). It's described as this:
Devastated by the death of her younger sister, Lily Morel seeks solace at the spiritualist community of Cassadaga. But instead of finding closure, she contacts something else – the vengeful ghost of a murdered young woman. With her life crumbling all-around her, Lily races to unravel the mysterious circumstances surrounding the woman's death – a task that will bring her face-to-face with a sadistic serial killer known only as "Geppetto".
All I know is that poster is damn cool! Hopefully, I'll be able to check this one out soon in a future AICN HORROR column!
---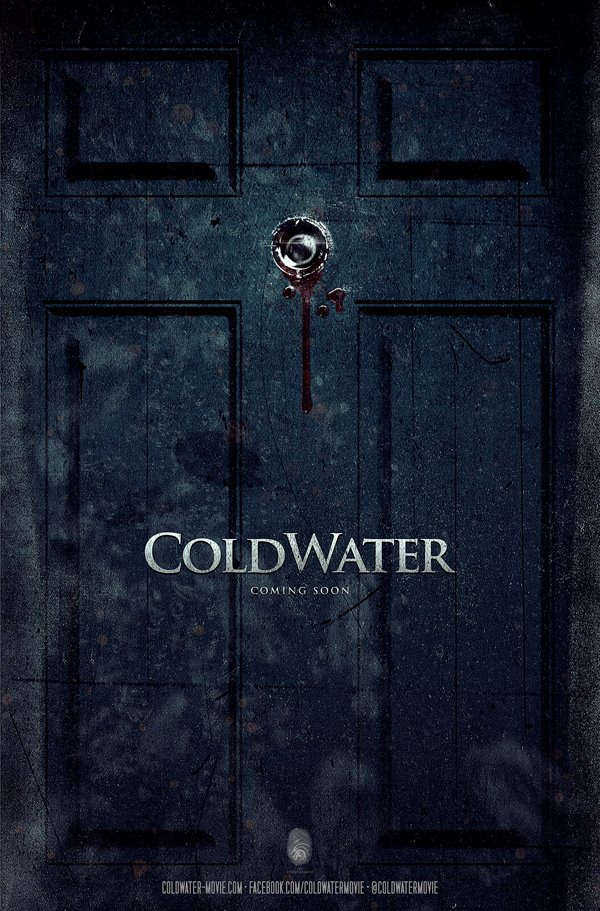 Always on the lookout for new independent horror, I bring you COLDWATER. Check out the trailer and new poster for this new horror thriller. I'll be reviewing this movie soon, but I figured I'd alert you all to it ahead of time. COLDWATER makes it's debut on October 2nd, at the Big Bear Horror/Sci-Fi Film Festival. The trailer looks ominously cool. Can't wait to check this one out!
Official ColdWater Trailer 1 from I.D. ENTERTAINMENT on Vimeo.
---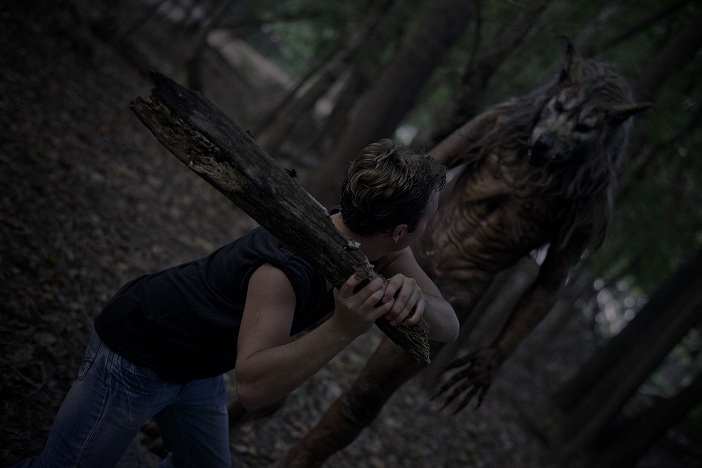 Fans of DOG SOLDIERS (aka the only werewolf movie worth a damn made in the last ten or so years) will enjoy the below all new clip from David E. Allen, owner of Kismet Entertainment. At the left and right are a few shots from the filming. Below is the clip. Pretty damn cool.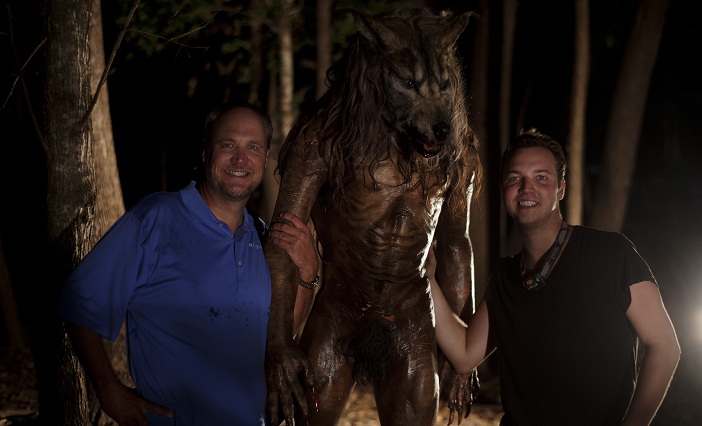 Here's what David had to say:
Kismet Entertainment Group announces the first official teaser trailer for the upcoming Dog Soldiers: Legacy web series. Dog Soldiers: Red was filmed in Northwest Arkansas in the last weekend of August 2011. "The trailer brings back a sense of the unique werewolf style that we have all come to love from the original Dog Soldiers film" stated Kismet vice president D. Eric Allen. Allen produced the teaser and is the oldest son of David E. Allen, producer and financier for the original film. Based on a modern-day version of "Little Red Riding Hood", multiple members of Allen's family took part in the Ryan Lightbourn-directed trailer including his grandmother Pat "Nan" Allen who plays the awaiting grandma and his sister Emmy Allen who portrays "Red".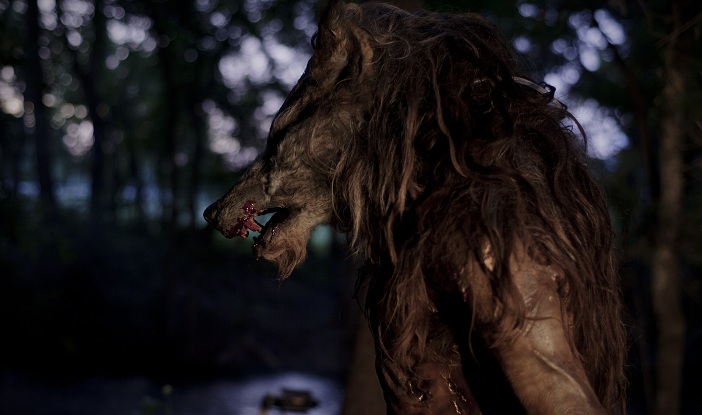 "I can't wait for people to see what we have in store," quoted Lightbourn. "Old & new fans alike will be extremely satisfied." Kismet Entertainment is also in the early stages of pre-production for the first sequel to the 2002 cult hit "Dog Soldiers".
"We would like to thank our fans for their continued support and for having faith that the Dog Soldiers title will continue to expand into the future", said David E. Allen, president and CEO of Kismet Entertainment Group.
For more information please visit
the Kismet Entertainment website
or email dogsoldierslegacy@gmail.com
And now, on with the new horrors!
Today on AICN HORROR
(Click title to go directly to the feature)
Fantastic Fest Review: THE SQUAD (2010)
AICN HORROR Book Review of PATIENT ZERO!
THE CREEPY DOLL (2011)
THE HOUSE OF BLACK WINGS (2010)
THE MAN WHO COLLECTED FOOD (2010)
THE PACK (2010)
And finally… Alfred Hitchcock presents Ghost Stories for Young People: The Helpful Hitchhiker!
---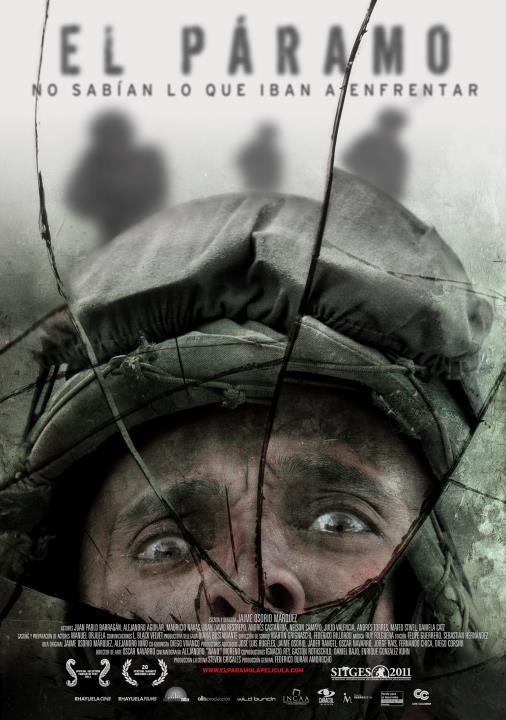 A Fantastic Fest 2011 Review!
THE SQUAD (2010)
AKA EL PARAMO
Directed by Jaime Osorio Marquez
Written by Diego Vivanco & Jaime Osorio Marquez
Starring Juan Pablo Barragan, Juan David Restrepo, Andrés Castañeda, Mateo Stevel, Daniela Catz
Find out more about this film here and on Facebook here!
Reviewed by Ambush Bug
Genre mash-ups are tough to pull off. Most of the time one of the genres is stronger than the other, more researched, more fleshed out. The best type of genre mash-ups could be categorized in either category without debate. I guess I'm thinking about films like SE7EN which could be drama or mystery or even horror. ALIEN could be sci fi or horror. Though on a more independent scale, THE SQUAD is the same type of film; equal parts military story and horror with both areas equally effective. Though it doesn't have the found footage motif, THE SQUAD could be best described as CASUALTIES OF WAR meets THE BLAIR WITCH PROJECT as a squad of Colombian soldiers happen upon a decimated military base and a woman who the soldiers claim is a bruja (Spanish for witch).
Technically, the film is a masterpiece in making the most out of a singular location and a limited budget. Everything is shot along what looks to be an abandoned army base and the muddy terrain surrounding it. The film consists of only a handful of actors and though the locale doesn't shift, the scares are all due to Jaime Osorio Marquez's talented lenswork and a powerful script which intensifies as the story goes on. This film doesn't let up until the very last horrifying moment which consists of a shriek which resonates long after the picture goes dark. Marquez does a fantastic job of translating a somber and dour mood with the claustrophobic locale and a dire situation.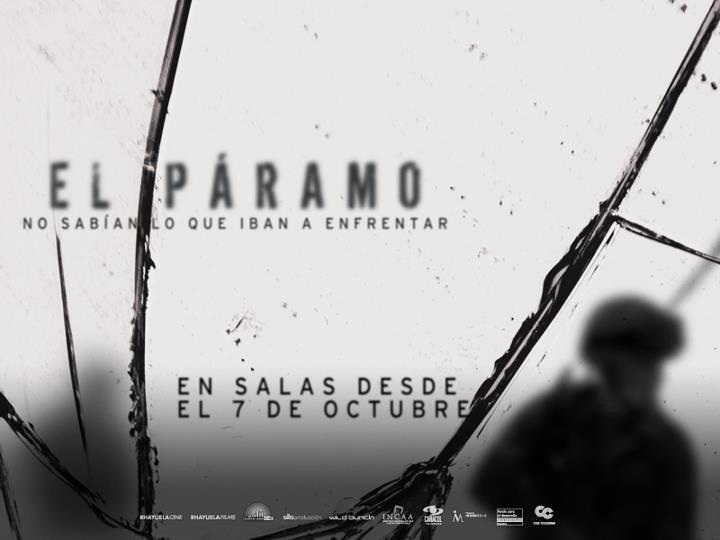 Though I don't recognize any of the names of the cast, I was really put aback at how talented all of them were. There are some pretty intense situations this group of soldiers are put into involving a witch they find walled up in the abandoned fort. In many ways, this is film reminded me of THE THING as the story we don't see about the former residents of the military base intensifies the power of this woman who may or may not be tearing this troop apart with witchcraft. Even the final moments call into question whether the woman has otherworldly powers or if the Squad is overcome by the chaos of war itself.
THE SQUAD is a powerful film which, depending on how you view it is either an effective horror film using witchcraft as a metaphor for the real horrors of war. Fantastically acted and directed, THE SQUAD is definitely a film in need of an audience, so seek it out. It played at Fantastic Fest last night. Find out where you can catch this terrifying film
here
!
---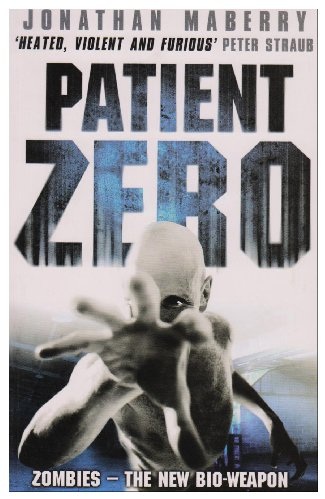 An AICN HORROR Book Review!
PATIENT ZERO Novel
Writer: Jonathon Maberry
Find out more about this book here!
Reviewer: Lang the Cat
I finally decide to sit down and write a review of an author I have been enjoying for just over a year now, Jonathon Maberry. So, what happens? The power in Southern California goes out. Now, I have seen the recent batch of Toshiba commercials wherein someone drops a laptop and the power goes out, which results in the zombie apocalypse. So, after getting lights set up and checking my gear for said apocalypse and double check escape routes, I figure the mood is set to let you know about PATIENT ZERO.
Joe Ledger is just a cop. A Baltimore detective with military training, but no combat experience who finds himself stepping into a DHS (Department of Homeland Security, if you don't follow governmental abbreviations, you might check the my review below for Larry Correira) case. Ledger ends up shooting a couple of guys, keeping a bad situation from becoming a slaughter. After the dust settles, Ledger thinks he is due for some desk time while a shooting review is completed and a chance to catch up with the violence he has committed. Instead, a government agency picks him up and delivers him for an interview. The interview is with a Mr. Church, the head of a small select group of government agents, Will Smith might have trouble catching up with. Church sees something in Ledger, the ability to judge a situation and do whatever it takes to resolve it. The test is also Ledger's opportunity to find out what his job will be; in the next room is one of the men Ledger killed, but he is still up and very much alive. After Ledger kills the same man again, Church tells him someone has found a way to create zombies. Ledger's combat skills and judgement convince Church Ledger should be allowed to meet the other candidates for the team they are setting up. Let's just say in this instance, when Joe Ledger comes face to face with the best of the best, no written tests or badly designed furniture come into play.
What follows is a beautiful marriage of George Romero and Tom Clancy. The people killing zombies show the dedication of Clancy's characters without the assumption that military service automatically makes you one of the good guys. Also, they have what Romero's characters sorely need, discipline and a plan. Don't look for women fainting at the sight of blood or bodies, yet don't expect all the men to simply be stony-faced either. Jonathon Maberry writes characters who are not invulnerable, they do understand killing someone, no matter how well deserved, is harmful to the person doing the killing. But these people are tough and they look at the bigger picture. Maberry's science is fiction based on fact, much like Critchton's Andromeda Strain, frightening believable. His politics is expediency, whoever is willing to get the job done is a good guy, whoever wants to do anything to protect their job or make money (at the expense of saving the world) is a bad guy.
Many of you will recognize Mr. Maberry from his work in comics. He has written for Marvel Comics, including BLACK PANTHER, MARVEL ZOMBIES, PUNISHER VS THE MARVEL UNIVERSE and WOLVERINE VS THE MARVEL UNIVERSE. He has also written the novelization for THE WOLFMAN with Benicio Del Toro. If I get the chance I will also cover two other books by Jonathon Maberry, GHOST ROAD BLUES (The Pine Deep Trilogy) and the beginning of his young adult series, ROT AND RUIN. I strongly recommend PATIENT ZERO and all Mr. Maberry's works for fans of smart fast paced action and horror.
---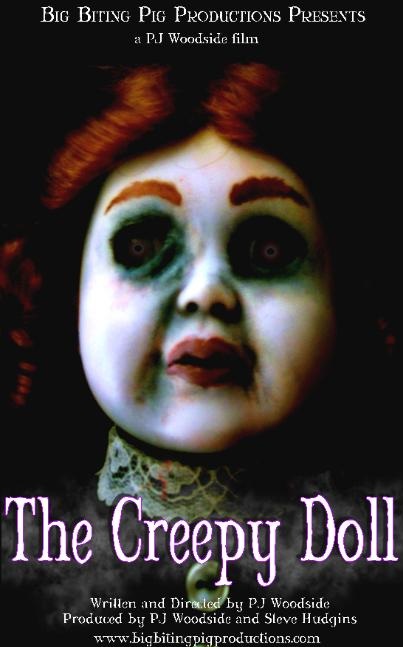 THE CREEPY DOLL (2011)
Directed by PJ Woodside
Written by PJ Woodside
Starring Kristine Renee Farley, Justin Veazey, Jessica Cook, Steve Hudgins, Cindy Maples
Find out more about this film here and on Facebook here!
Reviewed by Ambush Bug
Though shot on the budgetary low, indie director PJ Woodside knows the scary. Incorporating a mature script with real life problems and of course one creepy looking doll, THE CREEPY DOLL is either a possessed doll story or a descent into madness or maybe a little of both. The ambiguity of the origins of the terror in this story is part of it's charm.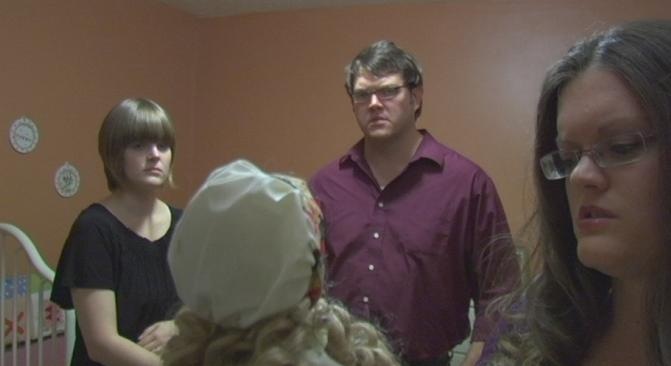 Though some of the acting is a bit stiff and amateurish, it's great to see the indie horror spirit alive and well in Biting Pig Productions (the company responsible for this and Woodside's previous films). Woodside does a great job of relying on real scares, not cheap thrills. There's a definite sense that something is off from the very first scene, which sets the stage for a doll movie somewhat out of the ordinary. More ROSEMARY'S BABY than CHILD'S PLAY.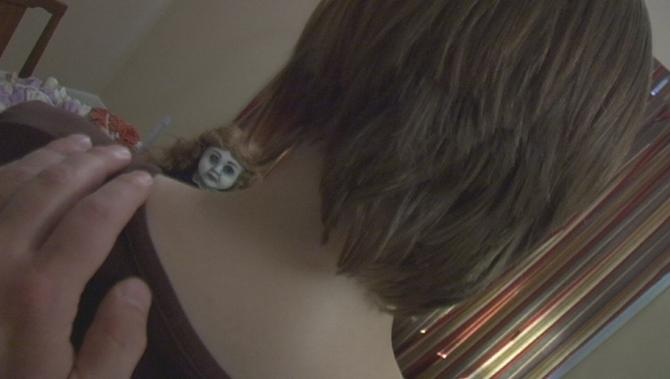 The story follows a young couple, newly married and ready to have their first baby. The couple moves to the husband's hometown where the wife immediately feels like an outsider. Woodside embraces these feelings of inadequacy well and conveys a sense of the wife, played capably by Kristine Renee Farley, cast as the outsider. From the get-go, something is not right, but the story takes it's time putting its finger on it. THE CREEPY DOLL is a nicely paced, surprisingly chilling, and wholly independent psychological thriller worth seeing if you're lenient about films that may be more on the lower budget side.
---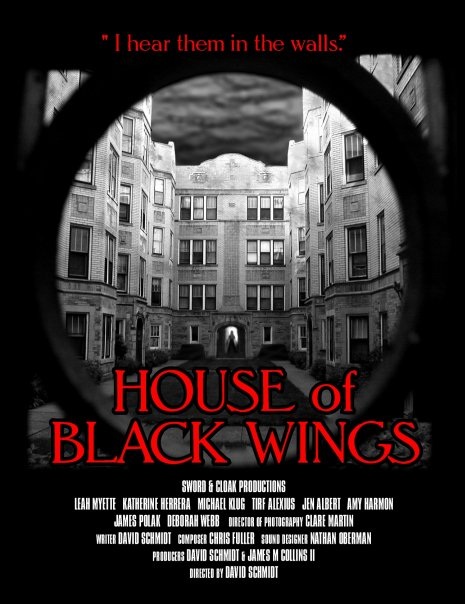 THE HOUSE OF BLACK WINGS (2010)
Directed by David Schmidt
Written by David Schmidt
Starring Leah Myette, Katherine Herrera, Michael Klug, Tirf Alexius, Amy E. Harmon
Find out more about this film here and on Facebook here!
Reviewed by Ambush Bug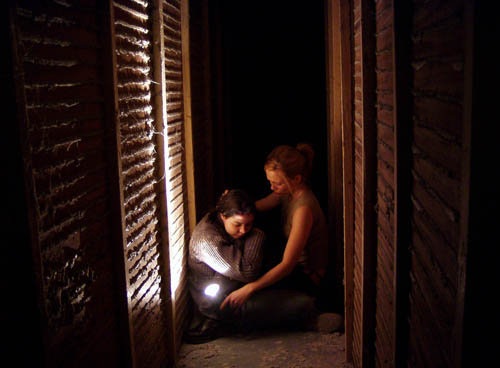 I happened upon a copy of this at this year's Chicago Flashback Weekend. Always keeping my eyes peeled for quality indie horror, the moody DVD cover and promise of Lovecraftian terrors filmed in the Chicago area (aka the place where I rest my bald noggin) sealed the deal and I picked it up. This film may be a year old, but chances are you've never heard of it, so I figured I'd include it in this weeks' new finds.
THE HOUSE OF BLACK WINGS is another low budgeter, shot on video with amateur actors and effects, but don't hold that against this film. Sure some of the acting might not be the best, the camera work might be a bit shaky, and the music is a bit on the emo side, but all that aside, there's a haunting little tale in this little film.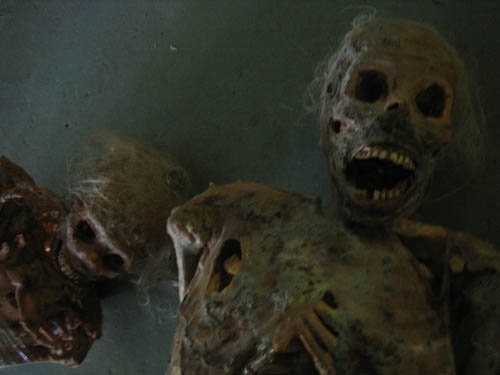 A young lady named Kate Stone (Leah Myette) after recovering from a tragedy that we find out about later in the film moves into an apartment complex close to her artist friend. Though things are pretty mopey and hum-drum at first, she begins to have bizarre dreams and daytime hallucinations of flying creatures with black wings, creepy hooded ghosts, and a hand in a drain in the middle of her bathroom. Soon paranoia sets in and for a short while, it appears all of this is in poor Kate's head. But a series of eerie scenes of extremely effective, yet simplistic and amateur, effects shows that there is something strange going on in this building. Director David Schmidt does a great job with making due with what he's got and allowing simple effects to really get under your skin.
If all things emo annoy the shit out of you, this might not be the best film for you as everything from the music, to the actresses, to the subject matter are pretty dour, but director Schmidt pulls off some very cool scenes that instill chills and that edge of your seat feeling you get with thrillers with ten times the budget. The ending is a bit rushed and tidy, but the harrowing journey through THE HOUSE WITH BLACK WINGS is a little indie find worth watching.
---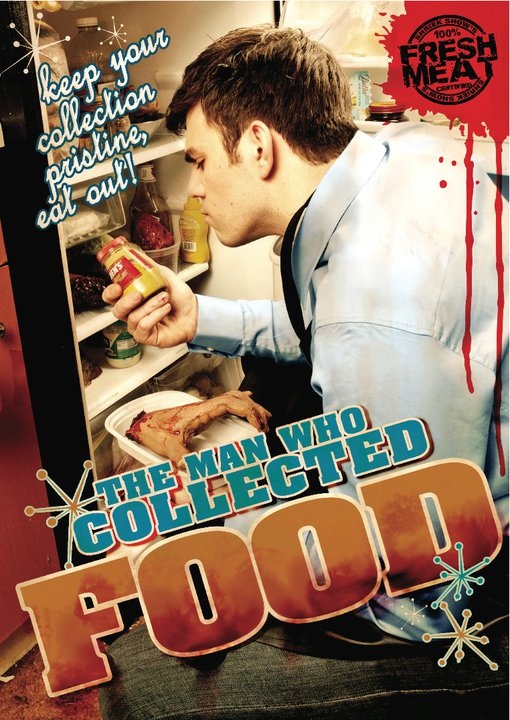 THE MAN WHO COLLECTED FOOD (2010)
Directed by Matthew Roth
Written by Matthew Roth
Starring Mike N. Kelly, Gary Wagner, Lila Miller, Russell Fox
Find out more about this film here and on Facebook here!
Reviewed by Ambush Bug
The beauty of THE MAN WHO COLLECTED FOOD is how deliriously fucked up it is.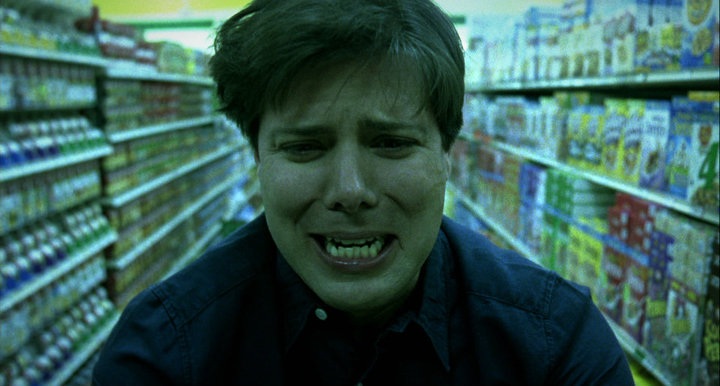 This is a fantastic story about addiction. Though it's not as attractive as drugs or sex addiction and not as AICN accepted as comics or films, the story follows a man who simply has an unhealthy addiction that endangers his way of life. In this case, it's food. The film begins with Miguel making his way through the aisles of the supermarket filled with glee at the new products he is finding. Everything seems great for Miguel and though he may be a bit over-enthusiastic about his food purchases, he seems like a decent enough guy. That is, until we realize that Miguel has given up food entirely and instead resorts to cannibalism in order not to eat his precious collection.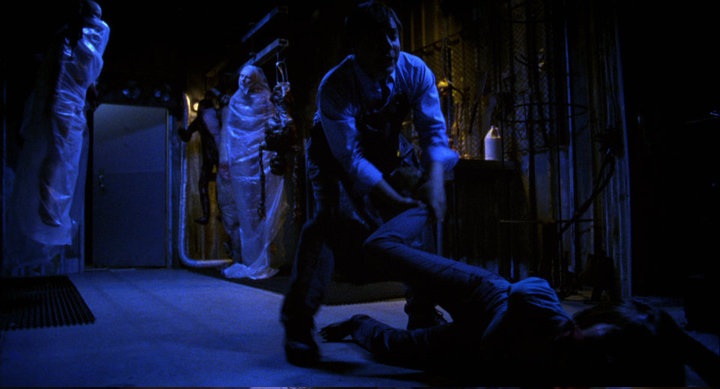 Sounds quirky? Damn straight it is. THE MAN WHO COLLECTED FOOD is a pitch black comedy that never takes itself too seriously, but never makes fun of itself either. Though utterly so wrong, you can't help but laugh when Miguel admits his problem to a self help group, then has to murder them all in order to keep his secret. The film clearly illustrates the horror of collecting and though it takes the addiction to an extreme level, I know some comic book collectors who feel the same way about their funny books. The gore is not gratuitous, but there are some nice bits of splatter, plus seeing the lengths Miguel goes to keep his secret safe is twisted fun.
Though some of the performances are somewhat amateur, the leads in this film are pretty strong, mainly Miguel and his mother. The bombastic ending is over the top, but with the ridiculous concept the film is based on, I rolled with it. Basically, THE MAN WHO COLLECTED FOOD is an odd gem filled with gore and laughs that may shock the viewer depending on his/her level of addiction to all things geek at how close to home the film actually hits.
---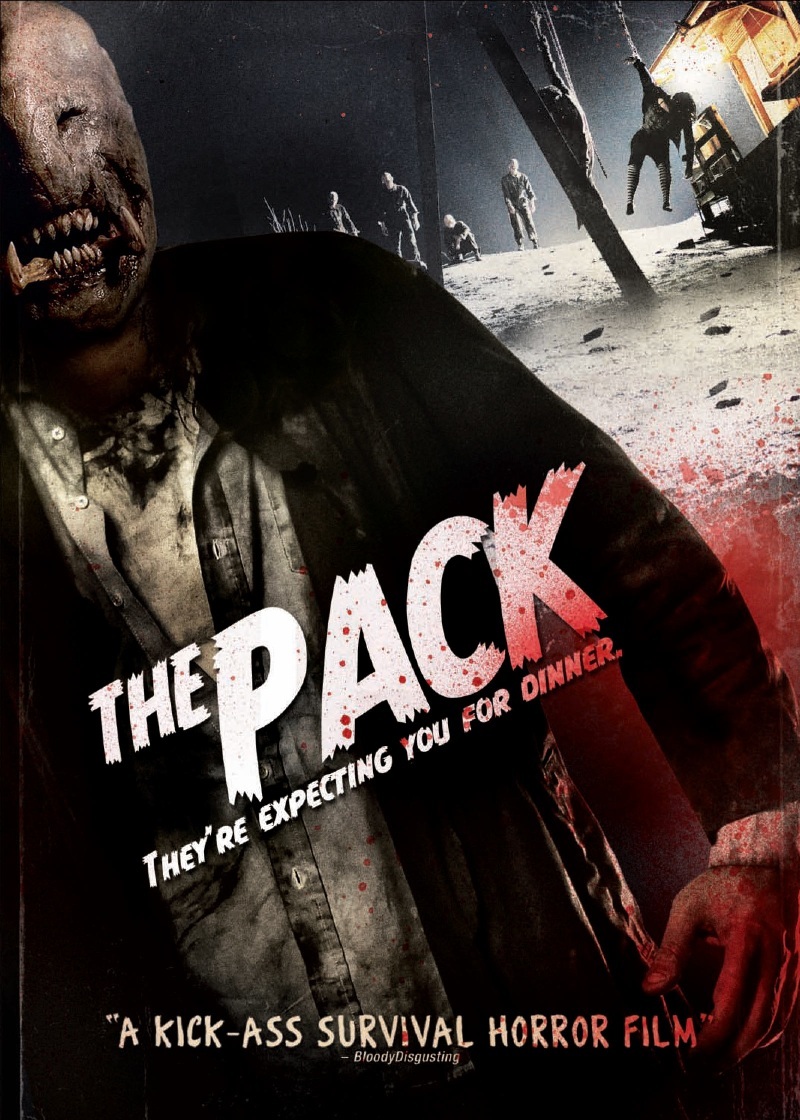 Available on VOD September 27th!
THE PACK (2010)
AKA LA MUETE
Directed by Franck Richard
Written by Franck Richard
Starring Yolande Moreau, Émilie Dequenne, Benjamin Biolay
Reviewed by Ambush Bug
Check out this moody and twisted exclusive clip from the film below!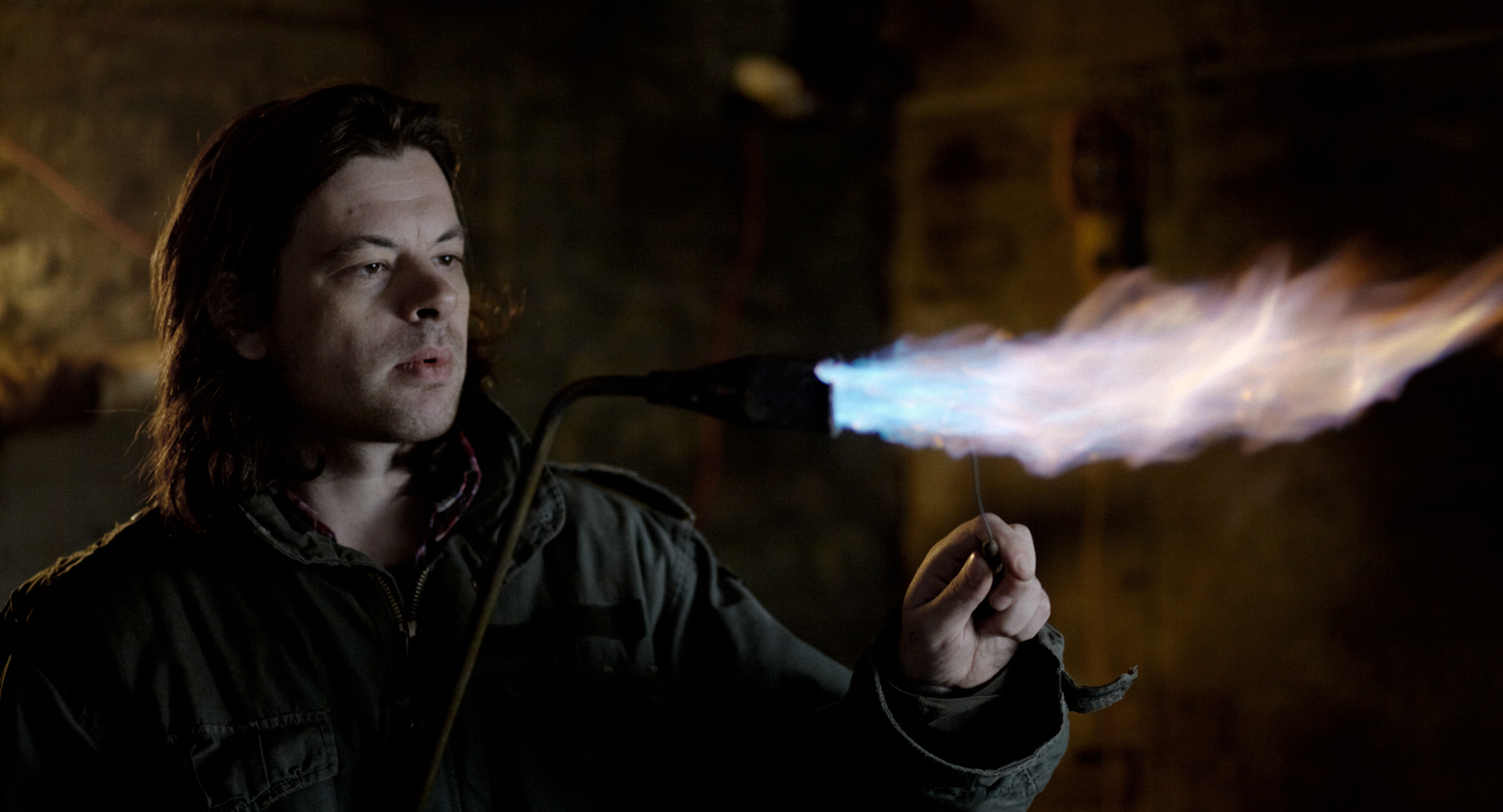 INSIDE, MARTYRS, FRONTEIRS, all French, all scary as hell, and all some of the best horror the world has to offer in the past few years. Well, though THE PACK may not be on the same level as those three modern classic horror films, it still proves that despite an unfathomable liking for Jerry Lewis, France has good taste in horror.
I found this film to be utterly endearing in that it refuses to commit to one genre. At first it's a PULP FICTION style flick where a guy and a girl meet and it looks like they both mean trouble for each other. Soon it turns into a biker revenge flick. Then an overbearing mother enters the picture and the tone shifts to a more HOSTEL-like atmosphere. Then the zombie mutants show up…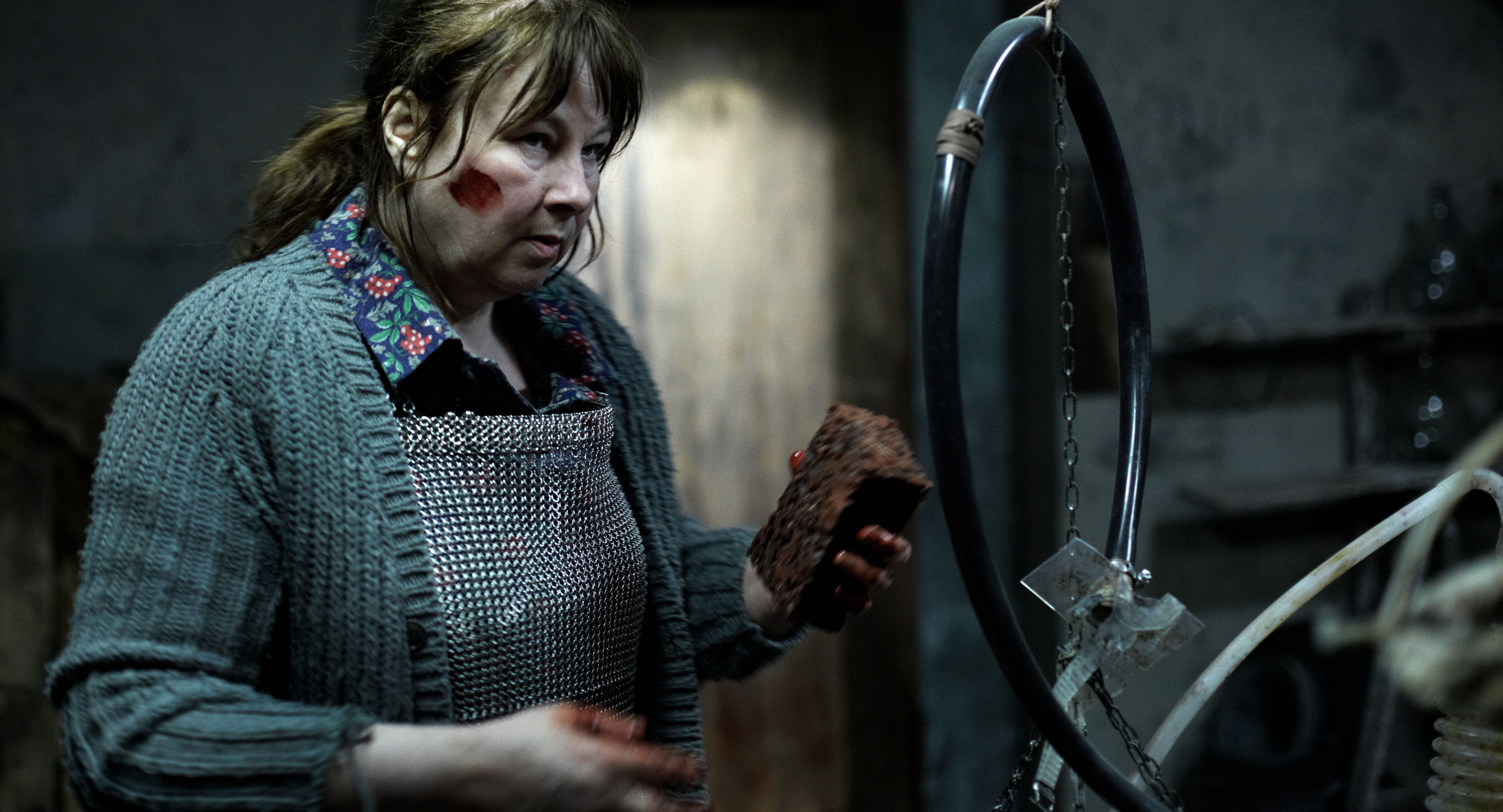 By the time the Pack does show up though, I gave up trying to categorize this film and just sat back and enjoyed the hell out of it. There's a devilish sense of humor throughout at the heroine played by Emilie Dequenne tells jokes and presents as hard as adamantine nails in the face of danger. The sheepishness of Benjamin Biolay adds to the fun as his overbearing and badass mother tries to attend to her undead mutant brood. Sure the contraption used to feed the beasts and the reasoning behind it all is a bit muddied, but why ask questions like that with a movie this fun.
The Pack themselves seem to be channeling Doug Jones a la the creepy eyeball palmed beast from PAN'S LABYRINTH. They writhe around stiff armed and threatening, howling at the moon and giving off an utterly eerie vibe. The design of the creatures is strong with the gestures of the actors under the mask adding a lot of depth and terror to the creatures' presence.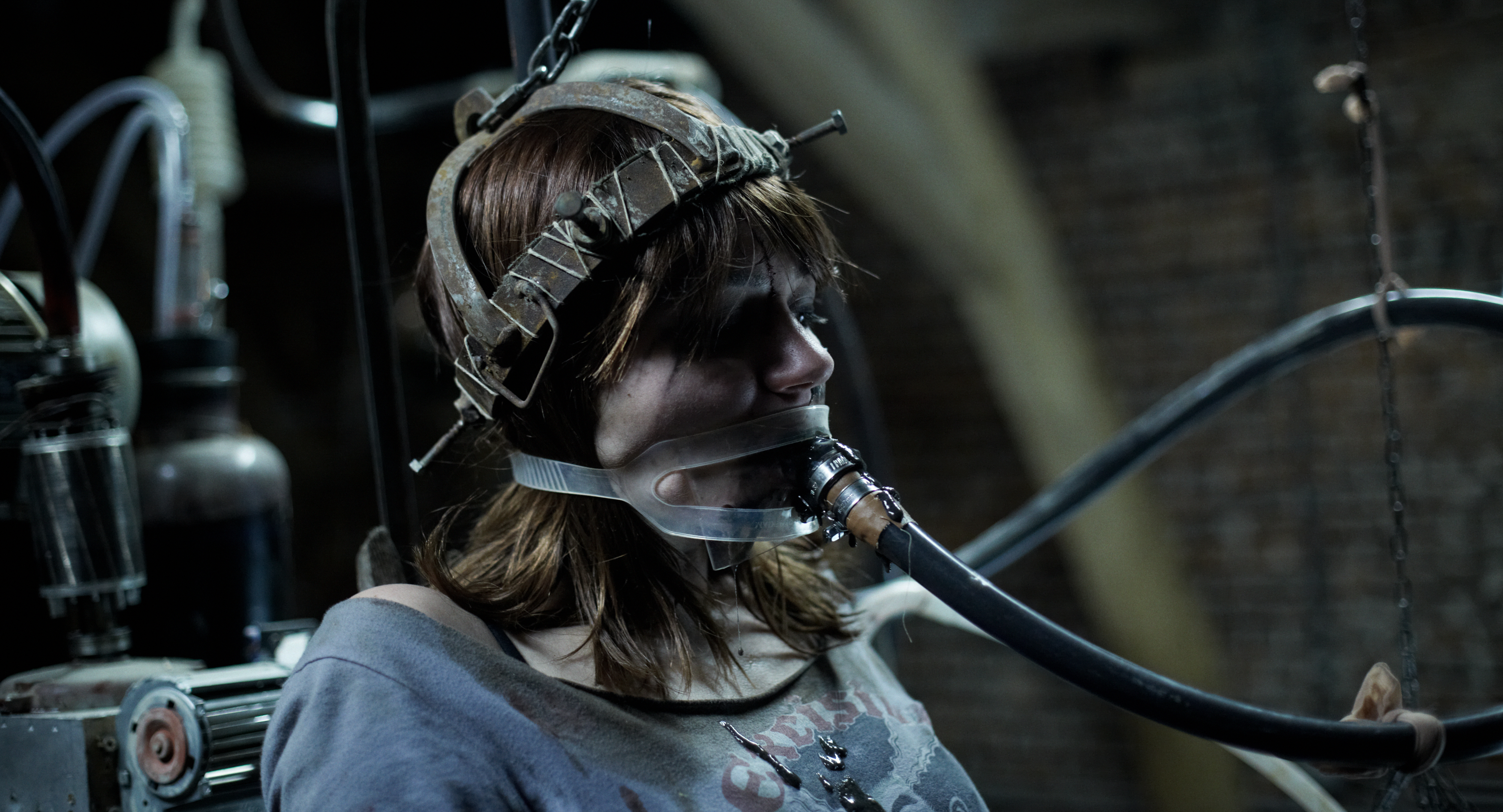 Though I felt that the story kind of lost it's steam toward the end as conventional horror film trappings are set off, THE PACK is a film that keeps you guessing. Director/writer Franck Richard does a great job not only with creative lenswork, but unconventional transitions from one scene to the next reminiscent of early Raimi. With some memorably horrific monsters and an acidic sense of humor, there's a lot to like about this French treat.
Plus the elderly sheriff has a "Fuck on the first Date" t-shirt, which to me, made me laugh out loud every time he was on screen.
---
And finally…our fourth installment of Alfred Hitchcock presents Ghost Stories for Young People: The Helpful Hitchhiker! Enjoy!
See ya, next week, folks!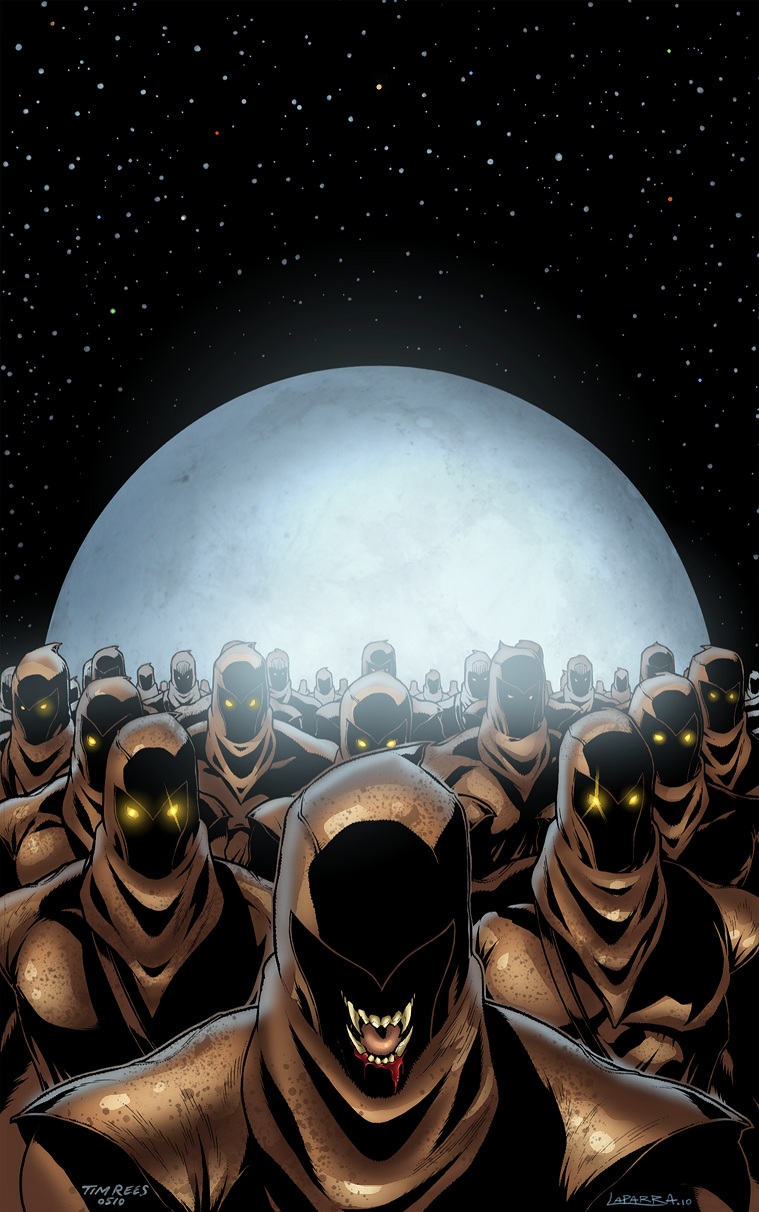 Ambush Bug is Mark L. Miller, original @$$Hole / wordslinger / reviewer / co-editor of AICN Comics for over nine years. Mark is also a regular writer for FAMOUS MONSTERS OF FILMLAND and will be releasing FAMOUS MONSTERS first ever comic book miniseries LUNA in October (co-written by Martin Fisher with art by Tim Rees) Order Code: AUG111067! Support a Bug by checking out his comics (click on the covers to purchase)!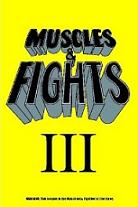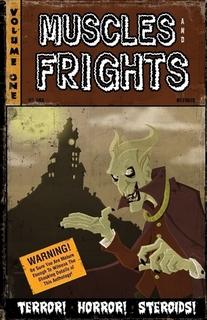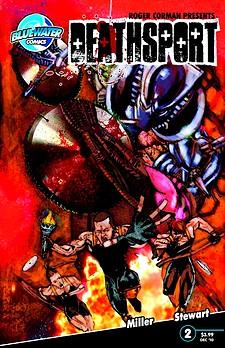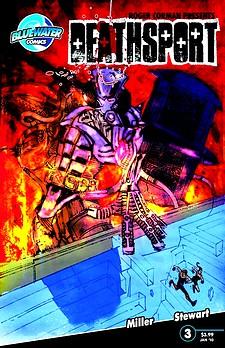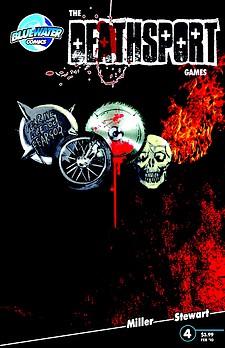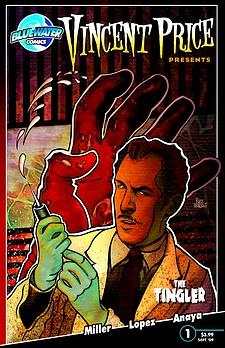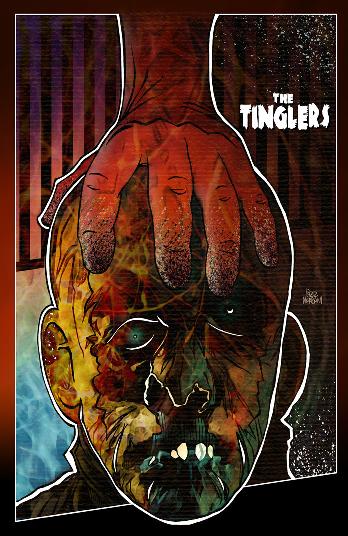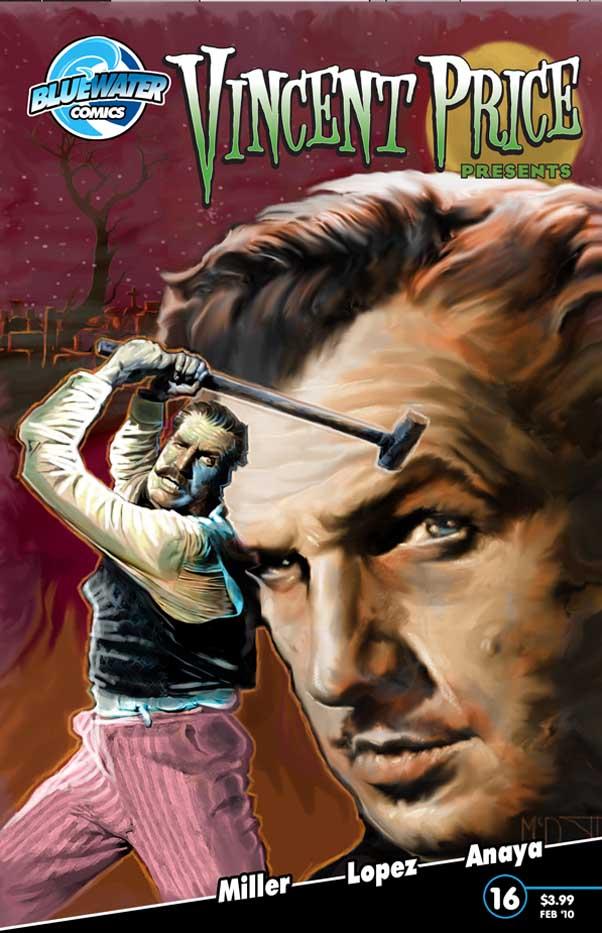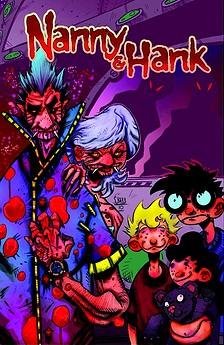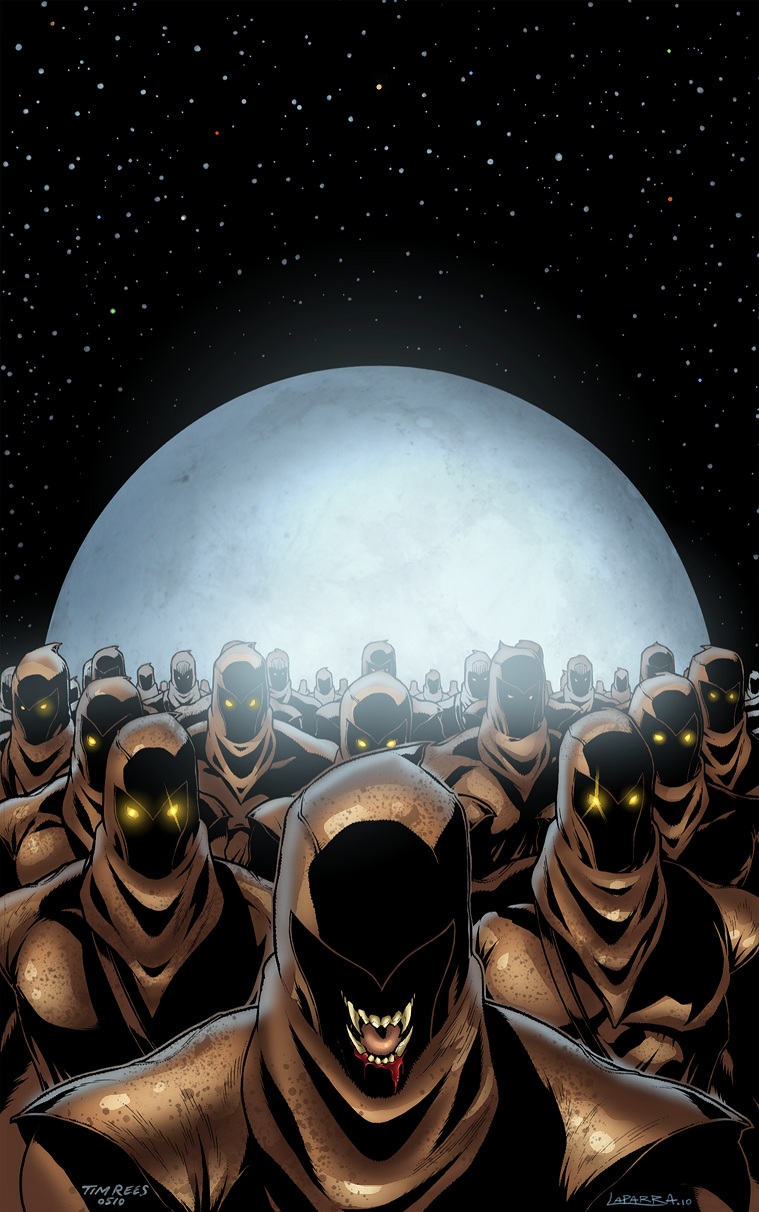 Check out NANNY & HANK's Facebook Page
Check out THE DEATHSPORT GAMES' Facebook Page
---
Check out FAMOUS MONSTERS' website here!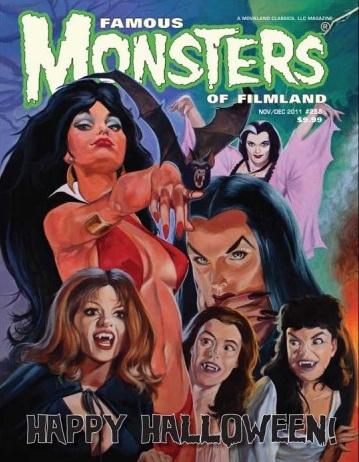 ---
Looking for obscure, foreign, or hard to find DVDs & BluRays? Check out AH Digital: the source for international cinema!
---
Find more AICN HORROR including an archive of previous columns on AICN HORROR's Facebook page!