One man who certainly needs no introduction is the living legend Sir Roger Moore. He's thrilled us over the years with a number of unforgettable characters and performances in the likes of THE SAINT, a slew of James Bond movies, and of course THE PERSUADERS! alongside the late, great Tony Curtis, which has just arrived on Blu-ray for the very first time in a swanky set bursting with special features and of course all 24 episodes.
To mark the release, I recently put a number of questions to the man himself.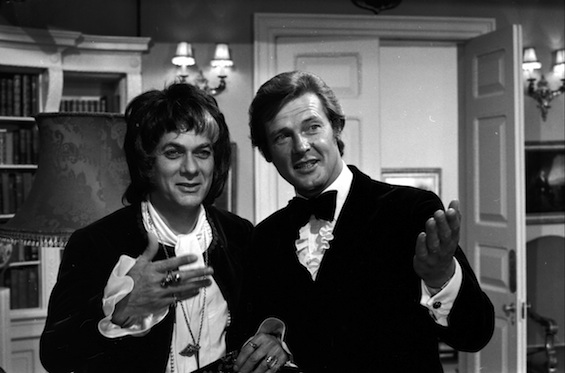 And yes, that's one of the many exclusive behind the scenes stills that I shared with you a couple of weeks ago.
BRITGEEK: How did you come to be involved in THE PERSUADERS!?
ROGER MOORE: At the tail end of THE SAINT, my producing partner Bob Baker had the idea to pair Simon Templar with an American buddy. Bob liked the old Hollywood buddy movies. The episode was THE EX-KING OF DIAMONDS and was in fact a sort of tester. It happily worked. From there Bob developed the idea further, and THE PERSUADERS! came into being. Bob sold the idea to Lew Grade who in turn called me to discuss a deal. I said I didn't want to do any more TV, having recently made a couple of movies. But Lew told me he'd already sold it to the American network and I should think of my Queen, as the country needed the money! He then wrote out a cheque, which helped persuade me!
BG: There was a great deal of rivalry between Lord Brett Sinclair and Danny Wilde. What was it like working with Tony Curtis and was he anything like his screen persona?
RM: Tony was a fun, larger than life figure full of fun and ideas. There was never any rivalry between us, but I was perhaps a little more conscious of the filming schedule (being a producer) than Tony! We had great fun and I believe that comes across on screen.
BG: The Persuaders were constantly landing themselves in trouble. What real life situations have you had to get yourself out of?
RM: Interviews in which I've lied!
BG: You've played some great characters both on TV and in the movies. What do you put your success down to?
RM: Huge talent, great acting ability, good looks, charm, and above all, being humble. No! It's all luck. I've been very lucky and consequently never try to analyse myself too closely.
BG: You drive a classy Aston Martin DBS in the show. What is your favourite car?
RM: Of the cars I drove on screen? I'd have to say the Volvo P1800. Of my personal cars, my new Mercedes hybrid – it's so wonderful to drive!
BG: You live in Monaco. Did you fall in love with the state after filming the show?
RM: I knew Monaco and the area well by then already, but it certainly didn't harm being here for three months. I moved to the Cote D'Azur in 1978 as a summer home, when I had to – unfortunately – become a tax exile due to extraordinary high tax in the UK.
BG: Is there anyone you haven't worked with but would love to do so?
RM: At my age, I'm afraid all my acting heroes are dead! Though I wouldn't mind sharing a scene with Johnny Depp – he's terrific.
BG: Can you recall any funny or dangerous moments when making the programme?
RM: Too many, and too rude to mention. Oh! One that was fairly funny was in an episode I directed, and Tony had a piece of dialogue including the word 'abattoir'. I knew we'd have trouble. I could see his face when he read over the script before coming on set. He wanted to re-write it because "abattoir is the thing you use in Paris to clean your nonny" he said.
BG: If THE PERSUADERS! was to be remade, who would make an ideal Brett Sinclair and a perfect Danny Wilde?
RM: Oh that's very difficult. They have previously mentioned Steve Coogan and Ben Stiller as being in the frame. I don't know. Who could be as beautiful as me on screen?
BG: You designed Lord Sinclair's clothes. Where did you get your inspiration and what was your favourite outfit from the show?
RM: They were all so camp! I came up with the broad look, and then they were embellished a little. It was really the look of the times. Walk down the Kings Road and you'd see it. I didn't have a favourite as such though, they were all terrific.
BG: Who was your favourite glamorous lady in THE PERSUADERS!?
RM: I never play favourites I'm afraid. Though Maddy Smith did do a Bond with me after THE PERSUADERS!.
BG: Do you have any exciting projects in the pipeline?
RM: Yes, my 100th birthday.
Many thanks to Sir Roger for the interview.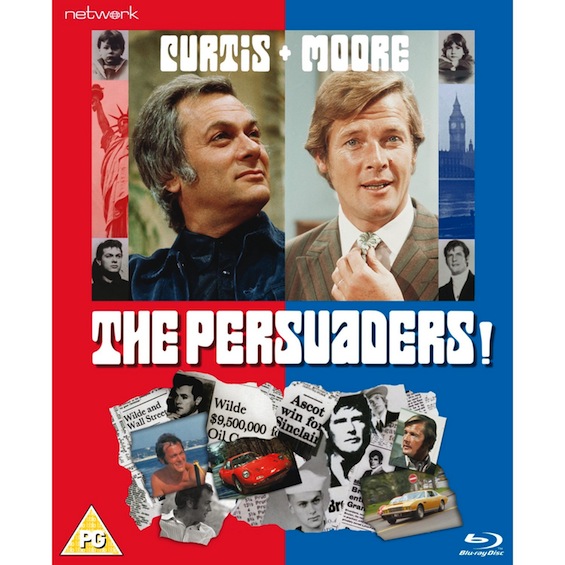 The incredible 8-disc Blu-ray set of THE PERSUADERS! is available now from Network DVD, and it's one of the best TV releases of the year. Look out for my full review coming this week.
TTFN.
Britgeek(britgeekaicn@yahoo.com)
Follow me on Twitter!