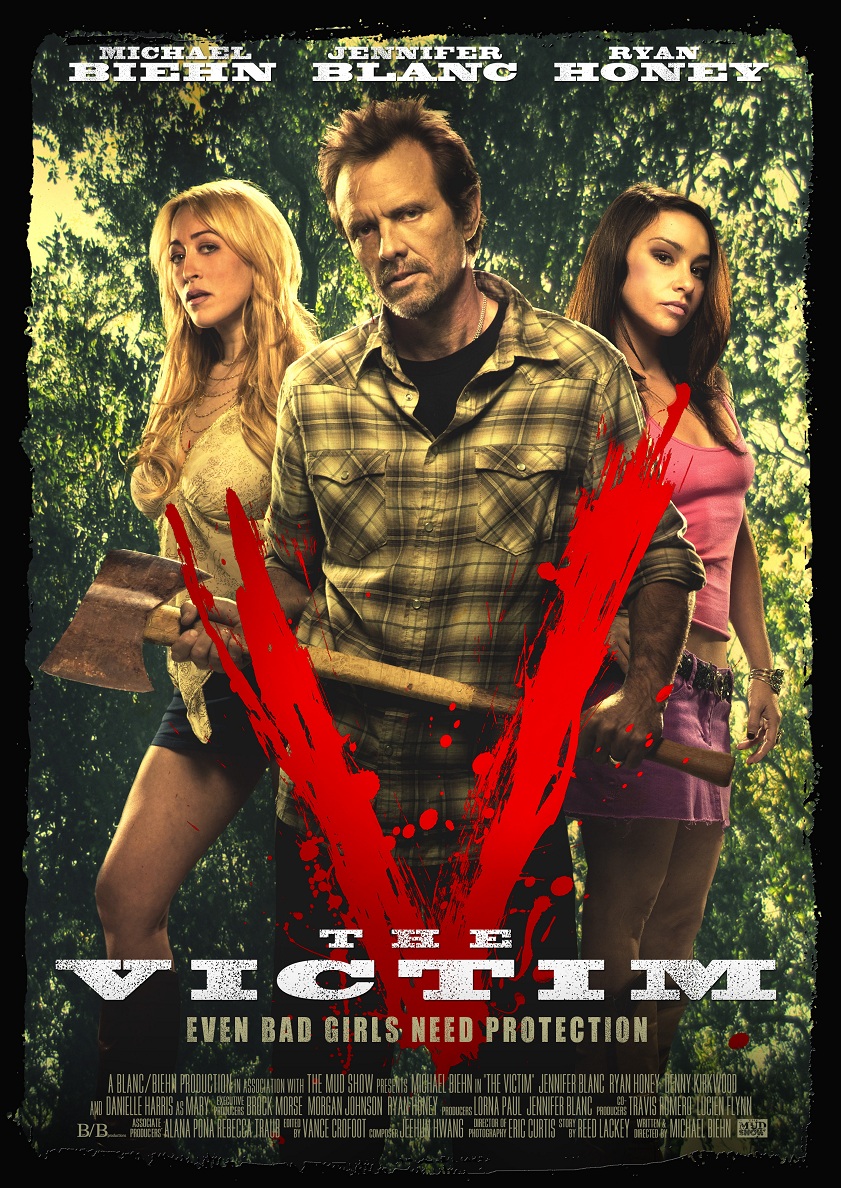 Nordling here.
When Michael Biehn was working on Xavier Gens' THE DIVIDE, he was wondering what he could do once the shoot was over. He spotted one of the crew reading Robert Rodriguez's REBEL WITHOUT A CREW and a seed of an idea was born in his mind - he should make a movie himself. That idea became THE VICTIM, Michael Biehn's own entry into the grindhouse genre, and it's quite a bit of fun for the budget it has - a twisted, sleazy little film that will make grindhouse fans quite happy.
Although Biehn didn't have a giant budget, he spends his money well in the actors he hires, and in the setting. Biehn paid attention when he worked with Rodriguez and Eli Roth, and it shows in his film. The result is a sexy, fun little grindhouse film, true to the genre and for a first-time director, a satisfactory effort.
Kyle (Michael Biehn) is a recluse, living in a cabin in the woods listening to self-help books and living a quiet, unassuming life. We don't know much about him, but we get the idea that he's running from something in his past. But the world manages to catch up to him in the form of Annie (Jennifer Blanc-Biehn). Annie and her friend Mary (Danielle Harris) were on a date with Sheriff's deputies Harrison (Ryan Honey) and Cooger (Danny Kirkwood). When Mary and Harrison sneak off for a little bit of kinky sex, Harrison accidentally kills Mary. But Annie sees what happened, and Harrison and Cooger need to prevent her from going to the police, so now they are after her. But they didn't count on Kyle. In the meantime, through flashbacks, we hear that a serial killer is also on the loose. How this figures into the plot is best discovered by the audience, but it did leave me smiling as I left the theater with a terrific punchline in the final scene.
Biehn pushes his actors to 11 in regards to their performances. This is a grindhouse film, after all, and subtlety isn't really on the menu. But you can tell they are having fun and making the lack of budget work for them. Jennifer Blanc-Biehn plays both the damsel in distress and the sexy love interest very well, and Biehn uses her in the film to maximum effect. When you can't spend a lot of money, sexy sells in grindhouse films, and Biehn is well aware of that. The performances from the deputies are over-the-top when they need to be, especially Ryan Honey, who plays his seedy character with gusto.
Biehn gives his all in his performance - almost to the point that it's unhealthy, as in one fight scene he literally tapped out unconscious. So you can't say Biehn doesn't care - he cares quite a bit about the final product. As a director, Biehn comes from a place of reality and truth, even in the grindhouse genre, and it's a no-nonsense mode of working. Many first films aren't as direct as THE VICTIM - Biehn has a clear path to what he's shooting for, and for much of the film's running time, he gets it. He's not a perfect director, to be sure - one driving montage scene goes on a bit too long and feels like padding - but he understands the film he's making isn't Merchant/Ivory either. It's a specific genre with a specific style, and working from that, Biehn gets way more right than he does wrong.
Michael Biehn, along with his wife Jennifer, will be bringing THE VICTIM to Houston to show at Splatterfest 2011. He's screened it across the country at verious horror festivals to great responses, and he'll be in attendance here screening THE VICTIM, along with the world premiere of Odyssee Picture's JACOB, which he plays a supporting role. Tickets are available through the Splatterfest website, and Biehn will be available for autographs and pictures at the event. If you're here in town, check out THE VICTIM and see a first-time director cut his teeth in making movies.
I'd be very curious to see how Biehn would fare with a budget behind him - as it stands, he knows what he wants in his film, and more often than not, he hits the mark. Biehn's been quite busy lately, with THE VICTIM, JACOB, PUNCTURE, and THE DIVIDE, and he's one of our favorite character actors in geek cinema. I'm glad he's back.
Nordling, out.