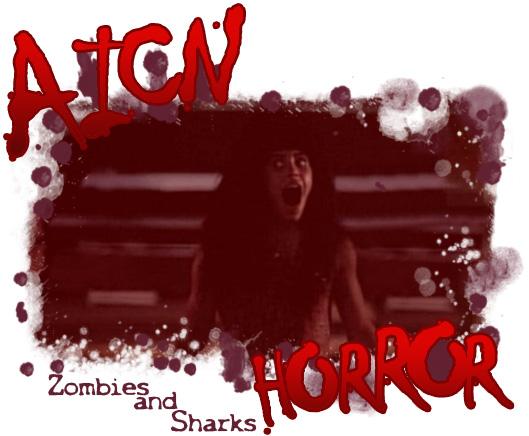 Logo by Kristian Horn
What the $% is ZOMBIES & SHARKS?
---
Greetings, all. Ambush Bug here with another AICN HORROR: ZOMBIES & SHARKS column. We've got more new horrors this week, but before we jump in, here are a few bits of info you might be interested in.
---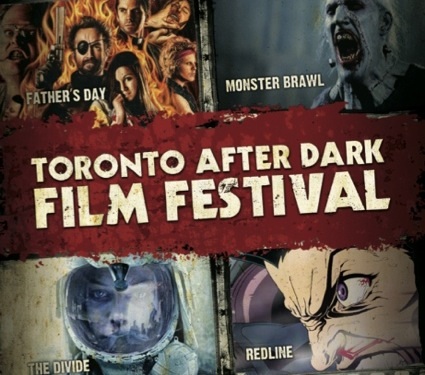 The 6th Annual Toronto After Dark Film Festival
is coming the this October 20-27, 2011! Individual screening tickets to all the films will be available at the end of September when the full lineup of 17 new feature films, the short films, and festival schedule is announced. But All Access Passes are available now! The first round of films are the highly anticipated FATHER'S DAY, the monster wrestling epic MONSTER BRAWL, historical zombie flick EXIT HUMANITY, the zom-com DEADHEADS (
Reviewed here!
), end of the world drama THE DIVIDE, the gorgeous looking astronaut trapped in space epic LOVE, the animated cornucopia REDLINE, and the truly bizarre THEATRE BIZARRE. The fest seems to be a can't miss for horror fans, so be sure to check out the website and get your tix early!
Find out more on their Facebook page.
Look for more exclusive coverage of TADFF and announcements of the second round of films in the fest here on AICN HORROR in the future!
Check out the trailer below!
---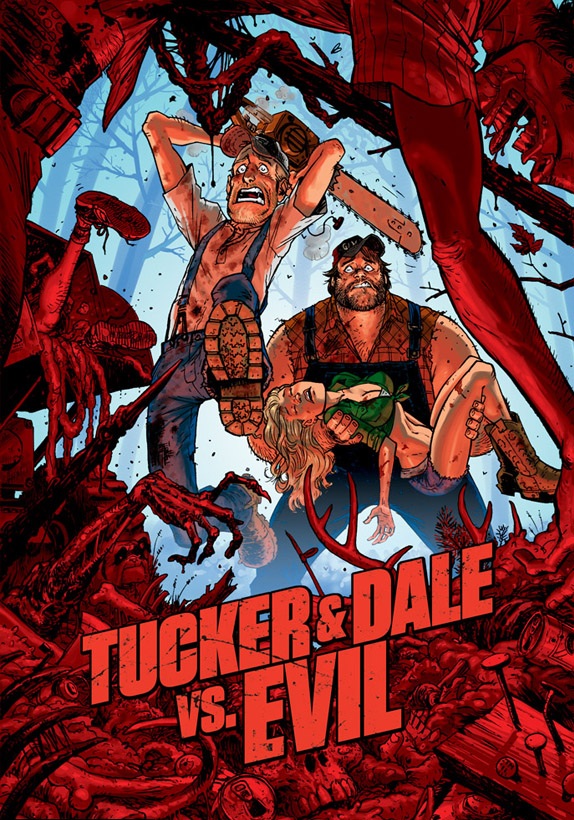 Check out this cool new poster by original THE WALKING DEAD artist Tony Moore for TUCKER & DALE VS EVIL (
, a film I reviewed last week and interviewed star Alan Tudyk here
!) The film is a lot of fun and worth seeing out in the select theaters its playing September 30th and on VOD where available! Find out more
about the film here
!
---
Finally, SCALENE, a truly unique, touching and twisted drama starring Margo Martindale, Hanna Hall, and Adam Scarimbolo (
I reviewed the film here!
) has a brand new trailer. Check it out below and look for it on BluRay and DVD!
You can follow this truly cool film on Facebook here!
---
Now on with the new horrors!
Today on AICN HORROR
(Click title to go directly to the feature)
HOWLS (2011)
CAESAR & OTTO'S SUMMER CAMP MASSACRE (2009)
CONVENTO (2011)
OUTCAST (2010)
INBRED (2011)
And finally…Alfred Hitchcock presents Ghost Stories for Young People: The Magician and Johnny Takes a Dare!
---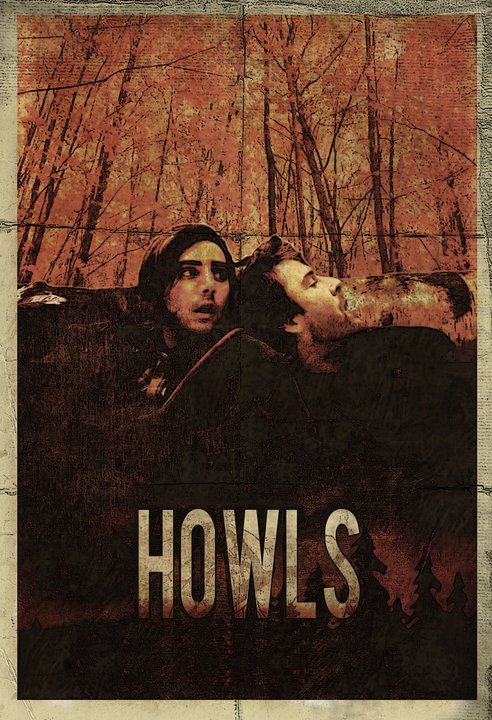 HOWLS (2011)
Directed and written by Jamie Tracey
Starring Joseph Gallo Jr., Nick Smyth, & Jamie Tracey
Find out when and where you can see this film here and on the Facebook page!
Reviewed by Ambush Bug
HOWLS is one of those low budget gems that knows exactly the limitations it has and maximizes everything else about it to make it a fully enjoyable experience. While some horror films reach well beyond their means and show it obviously and amateurly, HOWLS is able to convey an engrossing story with likable characters who just happen to be in a pretty scary story.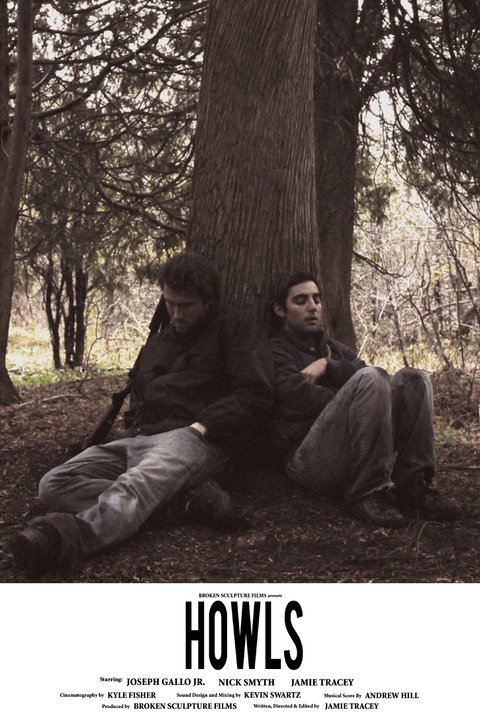 Though I don't want to give too much away, HOWLS is about a pair of friends lost in the woods who encounter something not human. Whereas most bigfoot tales rely on phony looking guys in monkey suits stomping around the forest, HOWLS only shows just enough of the monster to convey a sense of danger and creep. Writer/director/star Jamie Tracey does a great job with what he has. Described bluntly, it is a pair of guys walking around a forest. But it's the performances by Joseph Hallo Jr, Nick Smyth, and Jamie Tracey himself that make this story so much more than that. Because I came to care about these guys, my concern for their safety was intensified as they got deeper and deeper in the woods. The payoff at the end is both satisfying and exciting, mainly due to Tracey's patience and excellent build up.
HOWLS is not one of those films that kicks in the door and announces its here, but it does creep up behind you and give you a good jolt.
---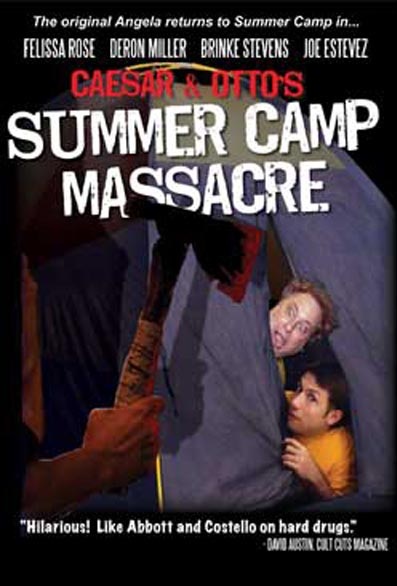 In select theaters September 9th. Released on DVD October 4th through Midnight Releasing!
CAESAR & OTTO'S SUMMER CAMP MASSACRE (2009)
Written and directed by Dave Campfield
Starring Dave Campfield, Paul Chomicki, Felissa Rose, Joe Estevez and Brinke Stevens
Find out when and where you can see this film here!
Reviewed by Ambush Bug
Mixing horror and comedy isn't always successful. I recently reviewed TUCKER & DALE VS EVIL and found that film to be a perfect balance between the two genres. In that film, the comedy complimented the horror and both were of the highest caliber. Though CAESAR & OTTO'S SUMMER CAMP MASSACRE's budget may be considerably lower than TUCKER & DALE, it does have a number of fun of gore and mayhem.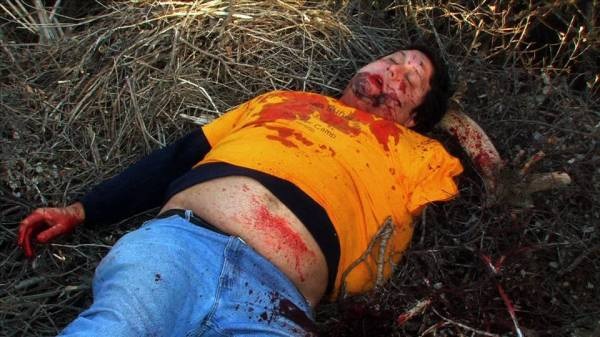 An effeminate man (writer/director Dave Campfield) and his oafish brother (Paul Chomicki) end up playing camp counselors in the woods and also run into genre stars Felissa Rose (Angela from SLEEPAWAY CAMP) and scream queen Brinke Stevens. Oh, and Joe Estevez, brother of Martin Sheen, shows up to maniacally laugh throughout the film. There's a bit of mystery. Someone's killing folks and it's up to Caesar and Otto to bumble about and somehow solve the case.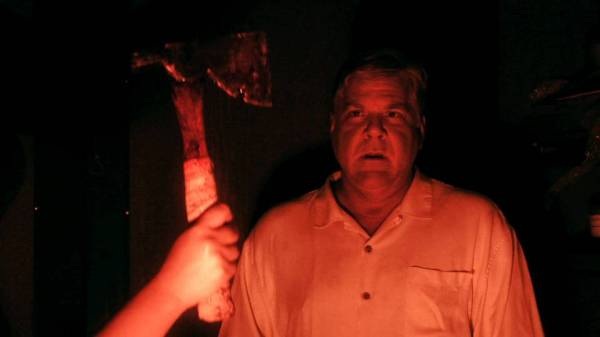 While the comedy hits its mark a little over half of the time, I did find myself laughing out loud during certain moments of the film. It tried to make me laugh a lot more, but a lot of the lines delivered by the stars were groaners. There are quite a few fun moments at gore and a lot of the lines like the one about HOUSE II: THE SECOND STORY in the trailer below indicate that this is a film from fans of horror. If you're a fan of horror, you're more likely to both get the in jokes and laugh at them. As is, CAESAR & OTTO'S SUMMER CAMP MASSACRE is a low budgeter with an obvious bleeding heart for the genre that will cause the funny bone to twinge more often than not.
---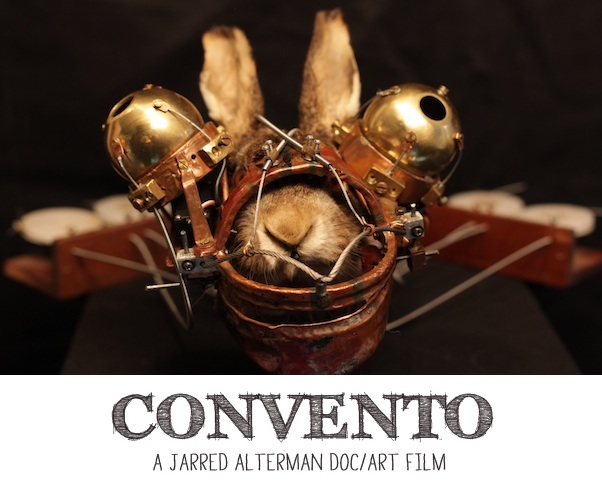 CONVENTO (2011)
Directed by Jarred Alterman
Starring Geraldine Zwanikken, Louis Zwanikken, and Christiaan Zwanikken
Find out when and where you can see this film here!
Reviewed by Ambush Bug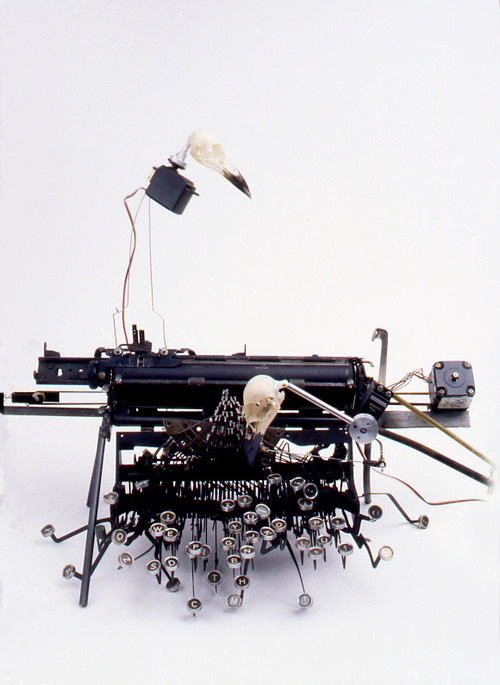 Occasionally I come across a film that doesn't necessarily fit into the genre of horror, but contain elements that I think are weird enough for horror fans to enjoy. CONVENTO is such a film: a documentary about a family of artists, two sons and a mother, who live in an abandoned Dutch convent. Geraldine, the matriarch, is a former ballerina and takes care of her two sons; Louis, who loves to take care of animals; and Christiaan, who makes artistic moving sculptures out of animal carcasses and machine parts. Sound interesting? Yeah, I know. It is.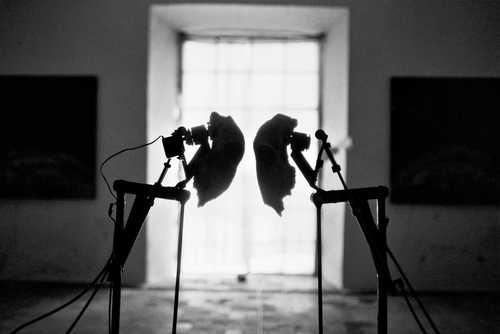 Wile the pace is somewhat slow, I found the content of this gorgeously filmed documentary to be a fantastic break from the usual gore and terror I usually subject myself to in order to make this column possible. Known as kinetic art, Christiaan's mechanical sculptures are fascinating in that they actually move and make sounds in a manner that I simply can't explain. Director Jarred Alterman focuses mainly on Christiaan's art in this film, but the entire family is fascinating in the way they live and interact with one another. At center stage, though, is Christiaan's surreal creations full of bones, fur, feathers, gears and wires.
Again, if you're a hardcore horror fan in search of a typical slash and scare flick, this won't be for you. But if you're looking for more cerebral thrills that walk on the fringe of fine art, CONVENTO is a film that shows horrific imagery in an absolutely beautiful light.
---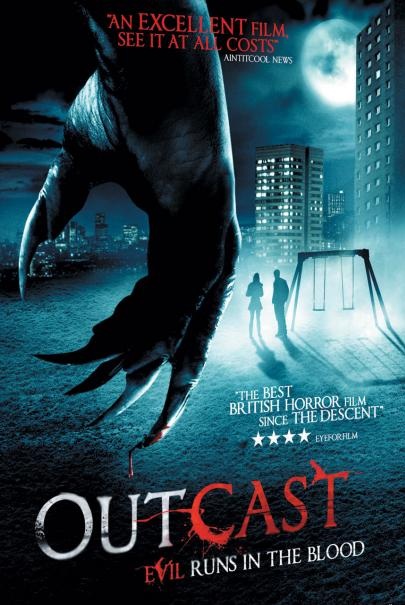 OUTCAST (2010)
Directed by Colm McCarthy
Written by Colm McCarthy and Tom McCarthy
Starring James Nesbitt, Kate Dickie, James Cosmo, Niall Bruton
Find out when and where you can see this film here!Reviewed by Ambush Bug
This moody epic is not to be missed by fans of witchcraft films. OUTCAST is a modern take on the genre centering on Celtic magic and set in Edinburgh, Scotland. Though the accents are often thicker than witch's snot, OUTCAST has more atmosphere and cool takes on magic than most films of its kind combined.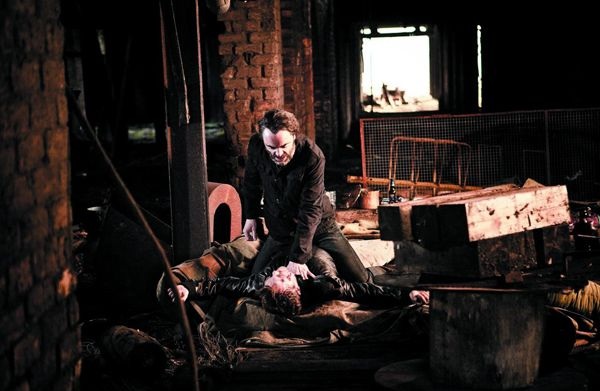 When Mary and her son Fergal move into a new apartment complex, the place is abuzz over the new tenants. Though the apartment is meager, Mary (played coldly by Kate Dickie) immediately does some home improvements which means she draws protective totems all over the walls and starts casting spells of protection all over the place. In the meantime, sheepish Fergal (played by a restrained Niall Bruton) is busy getting to know the neighborhood, including a sassy young chippie played by Hannah Stanbridge. Of course, this runs him into conflict with her old boyfriend. But while Fergal amps us the teen angst, his father Cathal (played with equal parts weakness and strength by James Nesbitt) is looking for him and his mother. After attaining permission from the high laird (BRAVEHEART's James Cosmo), Cathal and another Scottish witch use all forms of down to earth magic to track them down. In the meantime, a lanky pale demon creature is stalking and killing young people around the apartment.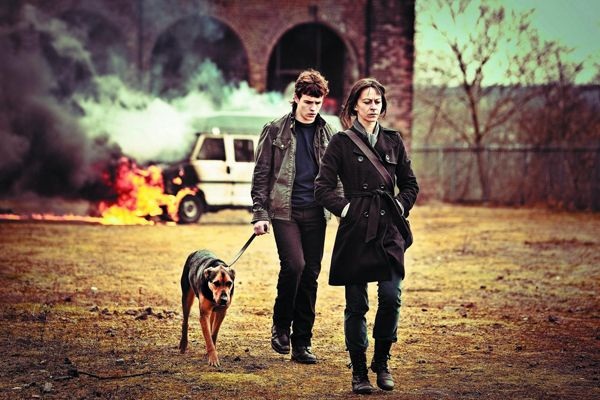 Equal parts mystery and horror, OUTCAST's most fascinating aspect is the way it makes its magic almost believable. There's a sensible yin and yang to the way magic works in this one, which to me was much more appealing than the wand twirling and lightning bolt-blasting magic one has seen time and again in HARRY POTTER and LORD OF THE RINGS. Here, the magic lies in tattoos and candles made of insects and wax. Ink on a wall causes pain to those who trespass and eating a bird killed by a man makes one impervious to harm from that person. Stuff like that which had me riveted.
On top of that, the film is superbly acted and directed. Writer/director Colm McCarthy (along with co-writer Tom McCarthy) creates a damp and dour world which is not the most chipper of settings, but one vividly alive nevertheless. I can't recommend OUTCAST more. It's a down and dirty tale of magic that is unlike most magic tales you've probably seen.
---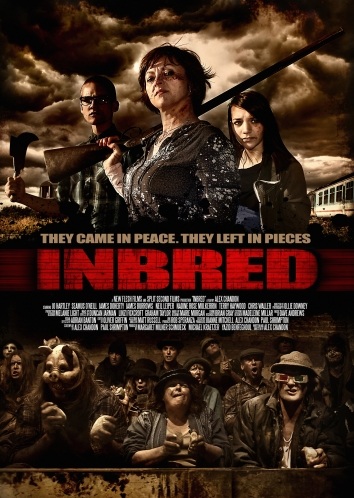 Advance Review: INBRED (2011)
Directed by Alex Chandon
Written by Alex Chandon
Starring Jo Hartley, James Doherty, James Burrows, Seamus O'Neill, Terry Haywood, Nadine Rose Mulkerrin, Neil Leiper, Chris Waller
Screening at Fantastic Fest 2011! Find out when and where you can see this film here and on the Facebook page!
Reviewed by Ambush Bug
INBRED is as perverse and tasteless as a film can be. Anywhere else those would be harsh words against a film, but not here at AICN HORROR. Here I have to give it up to this twisted little gem for not being shy at doling out the gory stuff and being unafraid to go to dark corners that would make most feel utterly uncomfortable. Horror fans have had their fair share of inbred families terrorizing a group of innocents. To stand out, you've got to be something pretty special. In all of its twisted glory, INBRED stands loud and proud as the modern king of sick killer mutant family movies.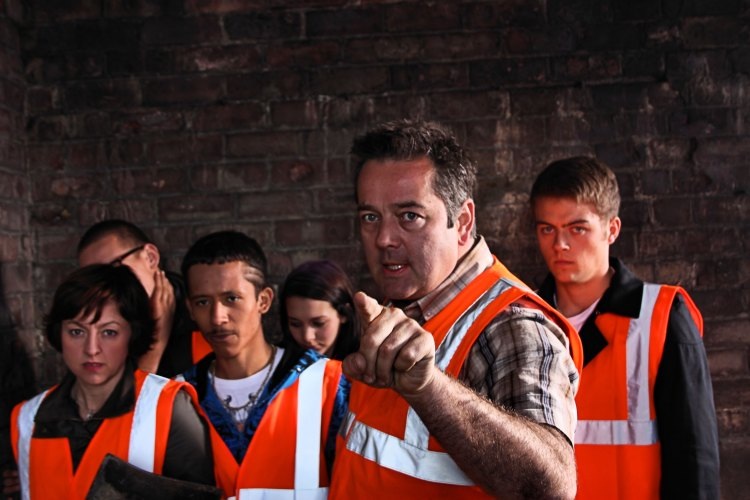 The story starts off innocently enough as a group of misguided youth are led by their social workers to play HOME MAKEOVER on an abandoned house in the middle of nowhere outside of Yorkshire, England. The film spends quite some time showing how well intentioned the social workers are and how shitty these youngsters' attitudes are. Though it's pretty hard to back this crew of misguided punks, once the bucktoothed locals show up and start terrorizing them it's pretty easy to understand who to root for. The group must band together or play victim in a sick performance in front of an inbred audience expecting torture and blood where they are the main attraction.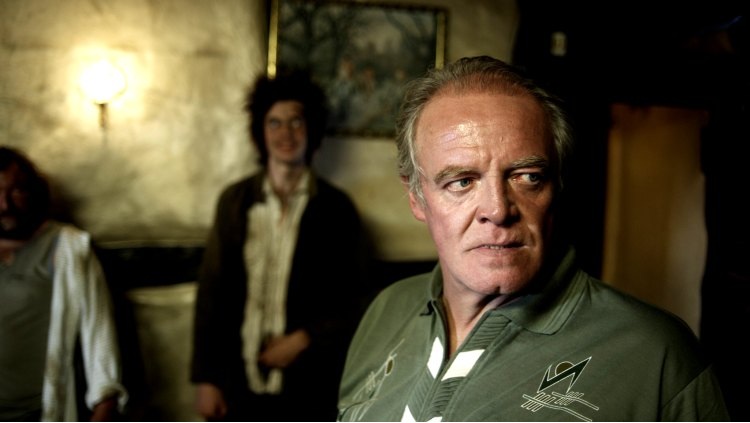 The fun starts about halfway in as the film amps up the gore to hilarious levels. Heads are blown in half, bodies spin while the legs stand still after being blown away with a shotgun, and there's a scene involving twin girls and a horse that is absolutely hilarious and perverse all at once. Though these victims are in serious danger, one can't help but guffaw out loud at the over the top gore. Director/writer Alex Chandon slops in the grue like a child in a mud puddle, using computer effects in ways I haven't seen before in modern horror, and the effects are seamless, pushing the envelope and showing things you didn't think were possible.
Though not played for laughs, the absurdity of the level of horror that unfolds will definitely have gorehounds reeling in glee. On top of that, there's a bit of commentary on modern audiences for those who like their horror on the headier side, as the inbred audience being performed for reflects the masses one might see in any typical movie theater. When the ringmaster prepares the audience for the special performance by asking them to put on their 3D glasses, one can't help but think that there's more to Chandon's gore-fest that just blood and guts.
In the gory tradition of EVIL DEAD II and RE-ANIMATOR, two films that strike a horrific chord while sloshing around in their own bloody slop, INBRED is a worthy addition to this twisted little family. I highly recommend this film for those who love gore by the truckload.
---
And finally…here's another installment of Alfred Hitchcock presents Ghost Stories for Young People. This time we have two stories The Magician and Johnny Takes a Dare! Enjoy!
See ya, next week, folks!

Ambush Bug is Mark L. Miller, original @$$Hole / wordslinger / reviewer / co-editor of AICN Comics for over nine years. Mark is also a regular writer for FAMOUS MONSTERS OF FILMLAND and will be releasing FAMOUS MONSTERS first ever comic book miniseries LUNA in October (co-written by Martin Fisher with art by Tim Rees)! Support a Bug by checking out his comics (click on the covers to purchase)!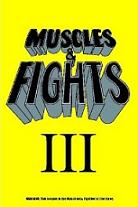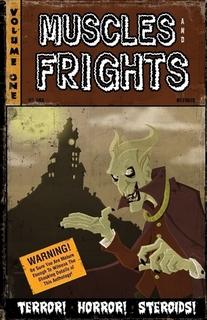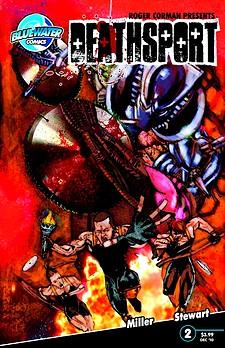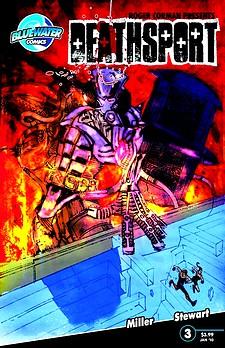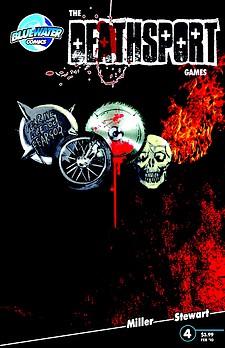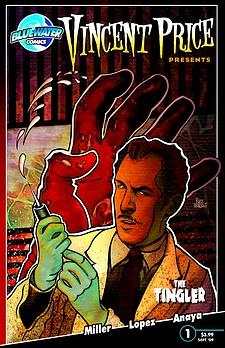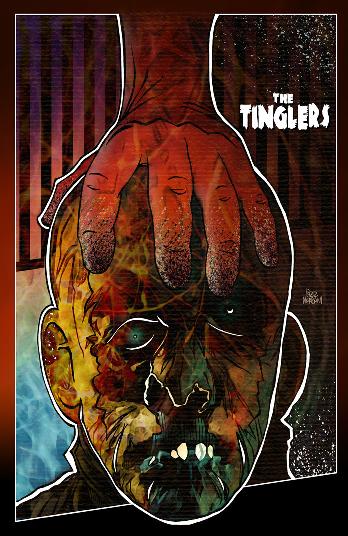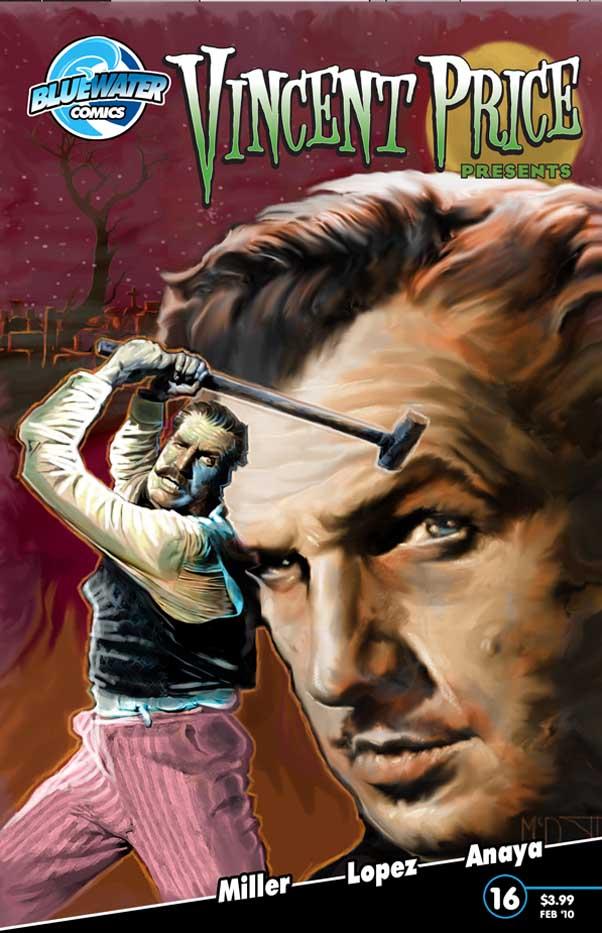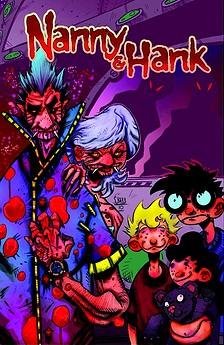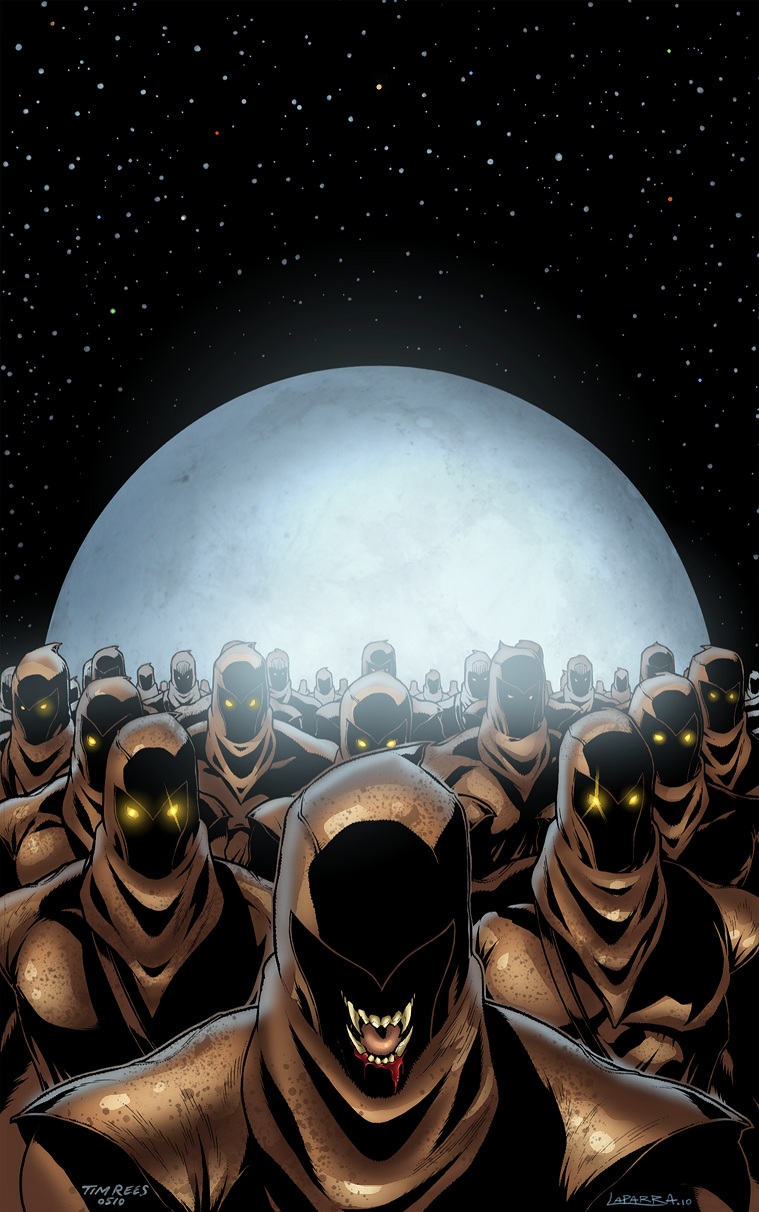 Check out NANNY & HANK's Facebook Page
Check out THE DEATHSPORT GAMES' Facebook Page
---
Check out FAMOUS MONSTERS' website here!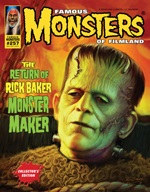 ---
Looking for obscure, foreign, or hard to find DVDs & BluRays? Check out
AH Digital: the source for international cinema!
---
Find more AICN HORROR including an archive of previous columns on AICN HORROR's Facebook page!