The award-winning Jonathan Sothcott is one of the most prolific producers working in the British film industry today. He runs Black & Blue Films, an independent production company based in London, with his partners Martin Kemp (actor, writer, producer, director, Spandau Ballet bassist), Billy Murray (star of TV, film and the CALL OF DUTY video game franchise) and Simon Phillips (actor and fellow producer). You wouldn't know it looking at how many credits he has racked up already, but 31-year-old Sothcott has only been producing features for a few short years, since his debut WISHBABY in 2007. With films like THE DEVIL'S PLAYGROUND, HOW TO STOP BEING A LOSER, STRIPPERS VS. WEREWOLVES and BIG FAT GYPSY GANGSTER under his belt, he has a rather astounding seven films set for release this year alone, compared to three in 2010. Perhaps he's also the UK's hardest working producer? Let's find out as Sothcott discusses his past, present, future and more.
BRITGEEK: How did you get your start in the industry?
JONATHAN SOTHCOTT: I wanted to be a film journalist in my teens – I grew up in the middle of nowhere with no ties to the movie business and no idea of how to get involved – because writing about films seemed as good a way as any to edge forwards. I wrote extensively for The Dark Side [magazine] and contributed to books such as TEN YEARS OF TERROR and then by happy accident drifted into DVD. Anchor Bay in the States had picked up the old EMI library from Studio Canal and were spending money delivering definitive editions of classic horror films. I worked on the releases of some fantastic movies such as THE WICKER MAN, THE MAN WHO HAUNTED HIMSELF and TO THE DEVIL A DAUGHTER. I graduated from interviewee to interviewer to associate producer. They were happy days. I met people along the way, particularly director/producer David Wickes, who encouraged me to become a film-maker, but it was a hell of a jump. I learned a lot from David. Then some guys I knew were making a micro-budget horror called WISHBABY and there was an opportunity to get involved. I jumped on it. And then I met Martin Kemp and the idea of Black & Blue Films was born.
BG: You have a genuine love of horror films. What sparked your passion for the genre?
JS: I think I took the natural fascination kids have with monsters a bit far! Even as young as 3 or 4 I remember watching stuff like ONE MILLION YEARS BC, THE LAND THAT TIME FORGOT and, particularly, WARLORDS OF ATLANTIS. I loved STAR WARS. These are the extremes of soft horror. I think there comes a point where boys decide they like girls and football or girls and vampires, and I forked off the latter way. I still think it's a better combination and thankfully
Charlie, my lovely missus, agrees!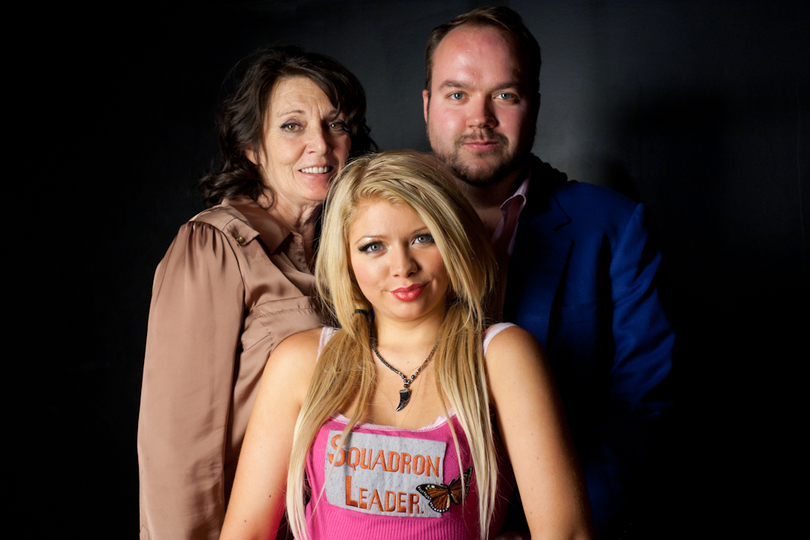 BG: Do you remember the first horror film you ever saw?
JS: Yes, very clearly, it was the first Hammer DRACULA and I was 7. My parents had taped it off BBC1 the night before and thought it was tame enough for me to watch. I remember so clearly that big stone eagle at the beginning and the pounding chase theme at the finale. It was a revelation. There used to be seasons of what we now call classic horror on UK TV then and within a few months I had seen DRACULA: PRINCE OF DARKNESS, THE EVIL OF FRANKENSTEIN, THE CREEPING FLESH, THE GORGON, DANCE OF THE VAMPIRES, CURSE OF THE WEREWOLF, BRIDES OF DRACULA and FROM BEYOND THE GRAVE. I still love those movies.
BG: The title of producer is sometimes considered somewhat of a "dirty word" among film-makers. What sets you apart from being just another suit?
JS: The cut of this suit's better! I think in the independent sector there's less hostility towards producers, though it is always an uneasy alliance between producer and director – but I have finessed Black & Blue into a producer-controlled business. We make a certain type of film and we will give new directors a chance to make a film, but with the limitations that it must stick to a certain formula. There are exceptions of course – sometimes we back a project because of the film-maker – Ryan Andrews' ELFIE HOPKINS being a case in point.
BG: Which of your films are you most proud of?
JS: I'm very proud of ELFIE – it is a remarkable film from a remarkable film-maker. We loved working with Ryan and with the Winstones [Jaime and Ray]. It was a co-production with Ray's company Size9 and I particularly enjoy working with his agent Michael Wiggs, who is also a partner in Size9. Jaime was involved on the production side too and she's amazing – no doubt in my mind she's about to become a major star and she's so clued up it's unreal. And the best thing is that she doesn't know just how good she is. So ELFIE's special.
That one aside, I am most proud of STALKER. We made it for literally no money in a location that was hell on earth but it looks amazing. The DoP, James Friend,
is a bloody genius and he was at the top of his game on this. It looks lush. There are also remarkable performances, particularly from Jane March, who I love working with.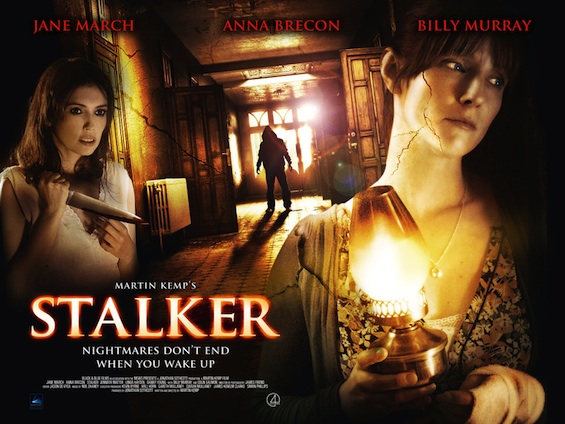 BG: In two of your latest films, AIRBORNE and STRIPPERS VS. WEREWOLVS, both due for release towards the end of the year, you cast two icons in Mark Hamill and Robert Englund. What was your reaction to them coming aboard the project?
JS: I got involved with AIRBORNE because of Mark Hamill. Simon Phillips and Dom Burns were two weeks into filming and some of the money had fallen through, as it so often does. I had thought about coming on board earlier just because Julian Glover was in it and I loved him in QUATERMASS, but Hamill was the clincher. I raised £100,000 in 24 hours for that film, it was quite stressful! And Mark was a great guy – really relaxed and cool, full of anecdotes but not in that annoying "then I did this" way that some actors can be, just nice. It was quite surreal having dinner with him thinking, "I had a little plastic toy of you when I was 3."
Englund was my idea for STRIPPERS – we were brainstorming who would be the ultimate Big Bad Wolf and I guess Mark H. had given us the courage to reach out across the pond and make our films more international. Hewas charmingtooand is very, very good in the film. I'm really looking forward to working with him again.
BG: Aside from Hamill and Englund, you've cast many world-renowned actors over the last couple of years, from Rik Mayall in JUST FOR THE RECORD, to Richard E. Grant in HOW TO STOP BEING A LOSER and Ray Winstone in ELFIE HOPKINS. Who are the top three actors you'd like to work with who you've never done so before?
JS: Sir Michael Caine is definitely number one. I love HARRY BROWN and wish I'd made it. The director, Daniel Barber, is a friend of mine. I sat opposite Sir Michael in a restaurant a few weeks ago, he was doing a junket for CARS 2 and I really wanted to go over and say hello, but I bottled it! He's such an amazing actor and a proper movie star. Bringing it right up to date and keeping with HARRY BROWN, I'd love to do something with Ben Drew. Is there nothing that boy can't do? He's so talented. I'd love to have done a film with Roger Moore, he was my favourite star as a kid (OCTOPUSSY was the first film I saw as a kid), but I think that ship might have sailed. I'd like to work with Christopher Walken.
Or [Jason] Statham. And I'd love to do something with Sylvester Stallone. Yes, OK, Sly is my third choice – I think he's fantastic.
BG: You often cast the same actors, from your partners Billy Murray and Martin Kemp, to Danny Dyer, Craig Fairbrass and Steven Berkoff. Are there any actors who you wouldn't want to work with again?
JS: Ah, interesting. It's nice using an ensemble because you get on with people and it is important to trust the people you work with so you know that they'll deliver. I love getting Berkoff in, he's a legend and he's becoming a regular. Same as Colin Salmon, brilliant actor, lovely guy – why would I not use him again and again? Fairbrass is not only brilliant at what he does – there's nobody who does action like him in the UK – but became a really close friend. We bonded over a mutual love of old horror films and nice wines, so it is always lovely working with him. I don't know that I'll be making any more Dyer Films. I have the utmost respect for him – at his best he's an immaculate screen actor and he's one of the most charismatic people I've ever met – but I think we had a pretty good run (four films and a football DVD) that has now come to its natural conclusion. I think he's had some bad advice over the years and that he now needs to be focusing on bigger films anyway. That run of crap he did (in which I include JUST FOR THE RECORD and DEAD CERT) cheapened his brand a bit, but he's way too good not to bounce back. The last film I did with him was this arthouse film 7LIVES, which I just put some money into and to be honest it is pretty rotten. Good cast, but it doesn't make any sense, and I suspect whoeverpicks it up for the UK will put a picture of Danny with a gun on the cover. A shame: he's better than that.
There are a few actors I wouldn't work with again because they are unprofessional, and I've fired a few, but I think not employing them again is more appropriate than naming them!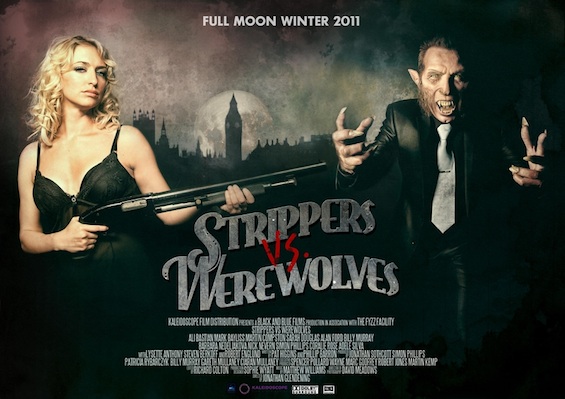 BG: Last year you made DEAD CERT, a film that pitted gangsters against vampires. Now you've moved on to strippers vs. werewolves in... well, STRIPPERS VS. WEREWOLVES. What can we expect from such a collision, apart from plenty of bras, blood and fur?
JS: A much better film than DEAD CERT! That film was such a missed opportunity – great concept, great cast, but it was a disaster. It was supposed to be funded by the company that funded JUST FOR THE RECORD (which was utter garbage but had been p
paid for), which was owned by the director, but early in production it turned out that they literally had no cash. It staggered on for a few days, then we put up the majority of the money, which I wish we hadn't done. It was a massive learning curve. In that situation now, I'd have stopped filming, reviewed the footage, made a few crucial sackings and looked at how best to get it back on track. But then it became this monster that veered out of control. So much ridiculous self-indulgence, so little coherence. And what a wasted cast – Craig, Berkoff, Dyer, Fleyming, Dexter Fletcher... complete catastrophe. I have to say, Momentum [Pictures] really got us out of trouble with that fantastic artwork, but I was pretty embarrassed when it screened at FrightFest last year. Fairbrass and I sat in the bar for that screening so we had a better time than the poor sods watching it. Don't get me wrong, it isn't the worst film in the world (that's JUST FOR THE RECORD!), but it isn't anywhere near what it could've been.
[STRIPPERS VS. WEREWOLVES] on the other hand is a film that delivers – it's very much a comic book movie, influenced by stuff as diverse as KICK-ASS, FRIGHT NIGHT and THE MONSTER SQUAD. It has that '80s horror comedy tone to it – it's a horror film with laughs, not a comedy with werewolves. It has a great cast, some top totty and some great lycanthrope gags. If you liked BITCH SLAP or MACHETE, chances are you'll like SVW.
BG: Jonathan Glendening directed STRIPPERS VS. WEREWOLVES. What was it about his last film, a horror by the name of 13HRS, that piqued your interest in having him join the project?
JS: I saw 13HRS, which was made for about £7, at FrightFest, the day after they screened DEAD CERT, and thought "this guy could make about four of these for the price of one DEAD CERT!" Jonathan understood making something cinematic, and has a good understanding of the genre. 13HRS was a very impressive movie.
BG: Martin Kemp makes his feature directorial debut in STALKER. I'll be talking to him about the movie closer to release, but what can you tell us about it?
JS: Well it was originally conceived as a remake of a minor video nasty called THE HOUSE ON STRAW HILL, and I met Martin as I approached him to be in it. Also in the cast were Anna Brecon, Patrick Bergin and Victoria Silvestedt. At one point Bob 'Proteus' Keen was attached to direct. It was a completely different script and direction. Anyway, this was just after WISHBABY. Long story short, the guy who was putting up the money was a waste of space and didn't deliver (an all too familiar story in the British film industry) and it collapsed. But Martin and I had become friends and he very much encouraged me to dust myself off and try again. So he and I got together and started this production company, Black &
Blue Films. We made a short called KARMA MAGNET first, initially as a segment in a proposed anthology. Martin directed it and it starred his brother Gary (a fantastic and very underrated actor) and a lovely actress called Adele Silva, who was in EMMERDALE. Adele is now very much part of the Black & Blue family and is fantastic in SVW. Having found out we worked well as a team, we set about developing a slate of features, and binned the anthology idea along the way (though I'd still like to do one). We came back to the STRAW HILL project and Martin used it as a jumping-off point to write STALKER. There's basically no resemblance to the old film, so we're not pushing it as a remake – it really is a new film in its own right. Anyway, we filmed for three weeks in deepest, darkest Suffolk. The results speak for themselves – it is a stylish, well-made psycho-thriller in the style of SINGLE WHITE FEMALE and FATAL ATTRACTION, and I really hope people give it a chance.
BG: How do you think Martin has handled his first feature as writer-director?
JS: Oh, brilliantly – he was immaculately prepared, the crew would have followed him to hell and back and the cast adored him. He has an actor's understanding of their needs. You'd never have guessed it was his first feature. Now we're just trying to find another one for him to do.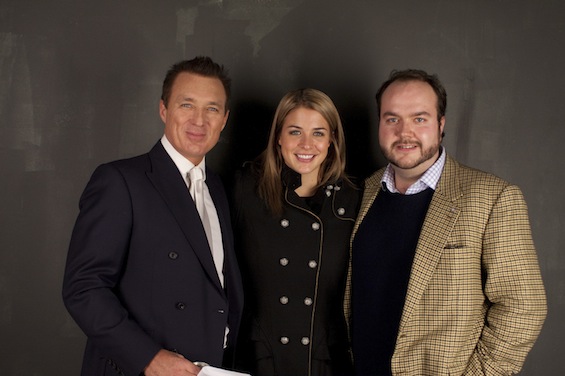 BG: How do you feel about the state of horror in 2011?
JS: It's never been healthier, has it? There's a never-ending stream of product to satisfy an unquenchable thirst. I must say I'm not a big fan of the SAW-influenced "torture porn" cycle – that stuff is a bit too strong for me, though I thought THE HUMAN CENTIPEDE was hilarious. I'm also so over this romantic vampire bollocks that started with the Coppola DRACULA but has gotten out of control with the TWILIGHT franchise. I'm about to start work on a new vampire film (don't worry, I promise it'll be much better than DEAD CERT!) and it will be scary and atmospheric like vampire films should be.
BG: Are there any real-life stories that you would love to turn into films?
JS: There are a few. I'm fascinated by the Highgate Vampire story from the '70s – I mean, what the hell went on there? That could be good, though it's probably a comedy. I'd love to make a film like FROST/NIXON – that was amazing. I've toyed with the idea of true crime stuff – look how well RISE OF THE FOOTSOLDIER did – but it isn't a realm I really want to get into.
BG: You now have your own DVD label "Jonathan Sothcott Presents", in association with UK distributor 4Digital Media. What kind of films in particular are you interested in releasing?
JS: Yeah, that's a lot of fun. The idea is to highlight international genre films that might otherwise slip through the cracks. The first was MINDFLESH, a fantastic Brit horror that didn't have big stars but really deserved to reach as wide an audience as possible. Then we did THE FRANKENSTEIN SYNDROME starring the lovely Tiffany Shepis, and now we've just had a great little film called DEAD West, shrewdly retitled COWBOYS & VAMPIRES here. So I'm looking for cool, fun, sexy genre movies that audiences will enjoy.
BG: What is your opinion of the current British movie scene?
JS: It's OK. It's tough out there and there is too much bullshit and not enough action, but 'twas ever thus. There's a lot of talent but not enough work for them and there's also a lot of dead bodies talking a good talk in the Groucho, but then doing bugger all. Budgets have had to come down – you can't make your money back here on a £1 million film easily – and that's why we're looking more at the international market. But the good outweighs the bad and things are healthy.
BG: Being such a fan of horror and having made a few genre films, what are your thoughts on the BBFC and film censorship in Britain?
JS: It is what it is. Censorship is important to protect kids because adults aren't always as responsible as they should be. I thought banning THE HUMAN CENTIPEDE II was silly and of course there are always daft decisions like that which can make us forget that society needs a buffer. Growing up in the Video Nasty era, I had the dubious pleasure of 17th generation copy tapes of things like THE EXORICST that were so dark you couldn't see what was going on. Back then censorship made life more exciting in a way and I guess that has been lost now, though I'm sure there are kids out there watching pirates of THE HUMAN CENTIPEDE II that their older brother bought off a Chinese guy down the pub.
BG: With an incredible seven films out this year, do you ever stop working? You're almost like the modern day British Roger Corman.
JS: I'm a big fan of Roger Corman so that's quite a compliment. I do need to slow down a bit – I'm getting married quite soon and have a very happy home life, so the days of working all day and all night are long gone. I've started doing a bit more writing too. I have a chapter in the new FAB Press book which is being launched at FrightFest and that was fun, dusting off the cobwebs and doing that again, so there's now another book project on the horizon.
I have two more films lined up to make this year, the vampire one and a chiller called WHISPER, in the style of WHITE NOISE, which I'm doing with that wonderful Lysette Anthony. We're casting the rest of it now. After those we'll see which way the wind blows me. California is appealing, but we'll see.
Many thanks to Jonathan for a great interview. Martin Kemp's STALKER hits cinemas in the UK on October 10, ahead of its DVD release on October 17 from 4Digital Media. I look forward to it.
Follow me on Twitter