Merrick here...
Per THIS piece at Deadline, Ridley Scott will evidently be returning to BLADE RUNNER via a brand new film.
Scott has signed on to direct and produce a new installment of Blade Runner. He'll make the film with Alcon Entertainment, producing with Alcon partners Broderick Johnson and Andrew Kosove.
What isn't clear at this time is whether we're talking about a sequel, a story set in the 1982 movie's established "universe," a revisitation the Philip K. Dick's "Do Androids Dream Of Electric Sheep" pseudo-source material which inspired the original film? Or...what?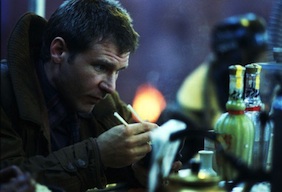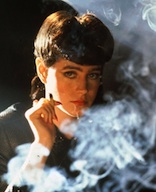 Will we find an aging Rick Deckard living in peaceful seclusion with Rachel, whose expiration date finally comes, propelling him back into the spectacular and mad society witnessed in the original film in a desperate effort to save her? Will the story be set elsewhere, potentially with different characters, allowing us to see some of the things "you people" wouldn't believe" - like attack ships on fire off the shoulder of Orion, or C-beams glittering in the dark near the Tannhauser Gate? Will we get a remake of some sort, or a combination of all of the above?
A huge part of me is tremendously excited to see Sir Ridley revisiting this universe, and I can easily imagine a nearly limitless number of stories waiting to be told within it. Part of me is hedging at the moment because I haven't been knocked out by many of Scott's recent films, which makes me nervous for both PROMETHEUS and this. However, the recently leaked (and quickly banished) images from PROMETHEUS' Comic-Con reel suggest that Scott may well be returning to his old ways...which is nothing but a good thing for him, for these projects, for Geeks in general, and for modern cinema.
Strange and utterly fascinating days ahead.
If you find yourself with a few spare moments, consider checking out ON THE EDGE OF BLADE RUNNER. It's a tad dry, but is probably the best documentary I've ever seen on the making of this film, and one of the more compelling "Making ofs..." I've ever come across. It's available via YouTube (in six parts) HERE.
It should be noted that BLADE RUNNER uber-designer-god Syd Mead is still around and still working on movies (Neill Blomkamp's forthcoming ELYSIUM, for example).
— follow Merrick on Twitter ! —