@@@ What the &#$% is AICN's SDCC FALLOUT Q&@? @@@
Greetings, folks. Ambush Bug here with another interview I conducted at the San Diego Comic Con. Special thanks to AICN's unsung hero, Muldoon, for transcribing all of these back and forthings. Expect a ton of interviews to be released daily until my interview well is dry (and believe me, it's going to be a while after this con). Today's interview comes from the Radical booth at the con where I had a chance to catch up with Barry Levine, Radical Comics founder and publisher. With three SDCC's under my belt, I've interviewed Barry all three times I've been there. Here's what Barry had to say about all things Radical this year!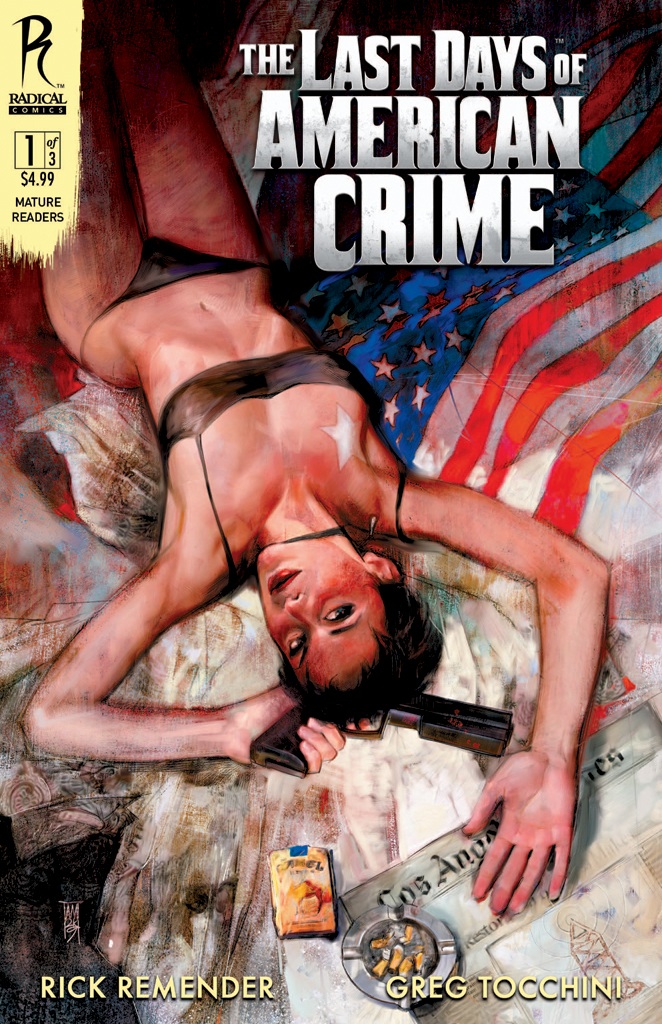 AMBUSH BUG (BUG): Okay, I'm here at the Radical booth and this is my annual visit with Barry Levine from Radical. So how is it going for you here this year at the con?
BARRY LEVINE (BL): This is a little bit strange for me, because I've never spent one day at the con, I've always come here on Wednesday and gone home on Sunday. I just got here this morning.
BUG: Oh wow.
BL: We came here for the panel, Sam Worthington with Full Clip and his two partners, Michael and John Schwarz and we had Daivd Lapham who was writing DAMAGE, their first book. We had Joshua Dysart who is writing their other book. We had Rick Remender who is writing LAST DAYS that they are executive producing. So this year we kept it lean and mean as opposed to last year when we had the population of Rhode Island on the panel. Like I said today, I forgot who was on the panel there were so many people, but this was pretty cool. We were focused on announcing THE IMPRINT and DAMAGED with them.
BUG: Is that what you feel has changed? I remember I was here two years ago and it was your first year at the con here and you guys have really grown in that small time. What's it like looking back on that? What kind of mistakes or what did you learn in those three years?
BL: You know what? You make mistakes all of the time and you learn. I've been learning… If I could have a nickel for every mistake in my life I'd be a millionaire right now, but you learn and we were a growing company like a deer caught in the headlights, we think… At that time we took things for granted a little more than we do now and we are not looking to be doing like fifteen books a month, we are really still laser focused on doing two or three books a month and as you see behind you our wall opposed to last year was like about 26 images, the stuff on our wall now DAMAGED, APOCALYPSE, LAST DAYS OF AMERICAN CRIME, JAKE THE DREAMING, OBLIVION, and HERCULES…the reason for this, larger images and less images, is because these are films that are going into production or are about to be sold and we didn't have that before and I think for a young company like us to have four films going into production in 2012 is pretty amazing.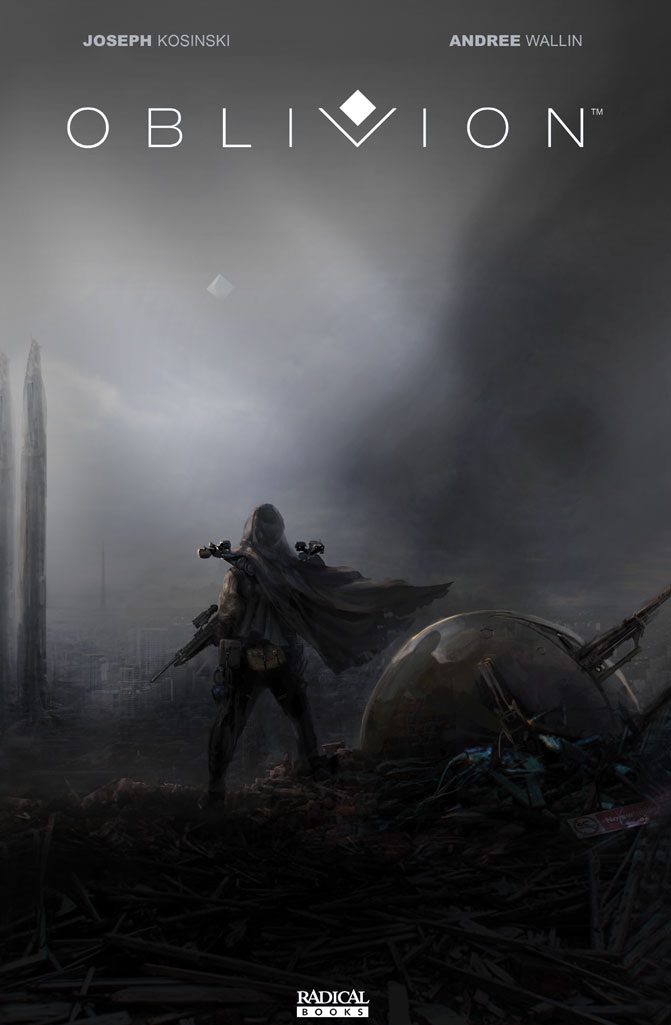 BUG: Well, let's talk specifically about some of them. I know there was a lot of talk about OBLIVION last year with Joseph Kosinski, right?
BL: Yeah.
BUG: How is that going right now?
BL: It's going great. We have Tom Cruise starring in it. We seamlessly went from Disney to Universal in less than a year, because August we sold it to them.
BUG: That seems like that doesn't happen very often.
BL: It never happened to me. I mean Bill Monahan, Academy Award winning writer of THE DEPARTED, wrote the first two drafts, then Karl Gajdusek who actually wrote LAST DAYS OF AMERICAN CRIME came in to do some work and then we recently had Michael Arndt, another Academy Award winning writer…two Academy Award winning writers have been involved with this and Universal was so behind this. Tom Cruise, bless his heart, he took the journey with us from Disney, stayed with us, loves the character, loves the story, and we've got a July 13th start date in 2013, so they gave us a start date already and we are going to start shooting around March it looks like.
BUG: So is that something that you are going to…are you going to wait on the book?
BL: We are kind of doing a prequel type of app where we are going to release different episodes every week, every month, or however we are doing it, and we kind of wanted to wait to release the book in digital format and a hard copy format, because Joe didn't want to give the story away and with a story as unique as OBVLIVION you really have to do that, because if we had that book out there yeah it's great to build a brand, but then if you are giving away plot points and the ending…so we are going to release it when the film is released.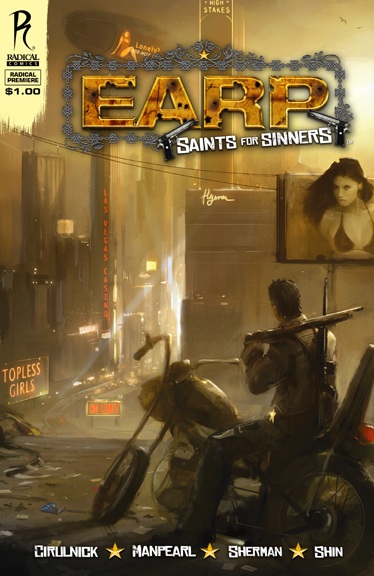 BUG: It's kind of like the HARRY POTTER books, you know how it's going to end, because you've read the books, so yeah I think that's really smart and should keep people guessing.
BL: Yeah, it's also kind of like TITANIC, (laughs) you know the ship is going to sink, but you don't know what else is in between and that's how we are doing it now. This year less is more, having JAKE THE DREAMING which is a big four quadrant book for us…HERCULES we have Brett Ratner directing that at MGM. We are casting right now.
BUG: Any names…?
BL: I can't say, but there are some very interesting people we are talking to.
BUG: Great. So what about EARP?
BL: EARP has just been commenced to be written right now by Matt Cirulnick, so HOT WIRE that's over at Fox is being written by Andrew Wills. We've got a lot of stuff out there.
BUG: Yeah and let's move on to DAMAGE, because I know that that is a really big thing this year.
BL: I love DAMAGE. As you see, the first image that's on our wall right there is actually from issue #6, but it was such an iconic piece, such an amazing color pallette, that we had to go with that. That's probably going to be our trade paperback cover.
BUG: It looks fantastic.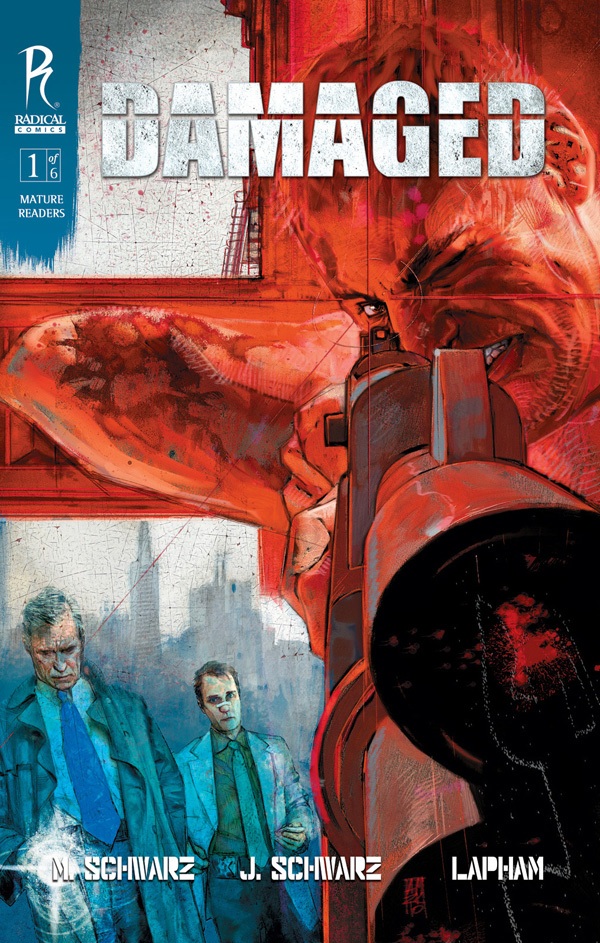 BL: Michael and John Schwarz and Sam really have done an amazing job of creating their first concept and the artwork is mind blowing. Leonardo…like I said, Leonardo is a frustrated director and he will be a director someday with that kind of an eye, textures, expressions, so what we are doing with that right now is we are in the middle of packaging, talking to writers, talking to directors, talking to talent…Sam is not starring in this, Sam is just involved in the production.
BUG: He's a little young to play the characters in the book. I read the first issue, right?
BL: There are two other characters in the book that are young as well and the two bothers are mentors to them, but this is an amazing story and you can't say enough about David Lapham and the job he's done adapting their concept.
BUG: Yeah. I'm huge fan of his work.
BL: He is ridiculously good. I was a huge fan of STRAY BULLETS.
BUG: So what else is coming up for you guys?
BL: I think one of the things that we are excited about more than anything is that up there, JAKE THE DREAMING. It's a four-quadrant book. It's an illustrated novel like OBLIVION is, like SWORD OF THE APOCALYPSE…actually, three out of the six images on our wall are illustrated novels, you know.
BUG: It seems like you guys have been playing around with how you are releasing these; some of them are in single issues, some of them are in double sized kind of issues…have you decided on a set goal with that or a set way of doing that or are you just going to do them as it comes along?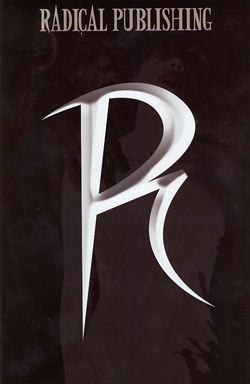 BL: As it comes along. I do know that our initiative is being a digital publisher and promoting it in any and every new media way possible using all of those tools and social media. We will still do limited editions and hard covers, but we are really focused on being more of an interactive book, because of the visual assets we have, the kind of art we why let that stuff go to waste?
BUG: Definitely. Well I know you're a busy man, I don't want to keep you for too long. Thanks so much for taking the time to talk again.
BL: I appreciate it.
BUG: I always enjoy talking with you every year. I'll see you again next year.
BL: Excellent.
BUG: Be sure to check out the Radical Comics website to follow their exciting releases in the upcoming months!
---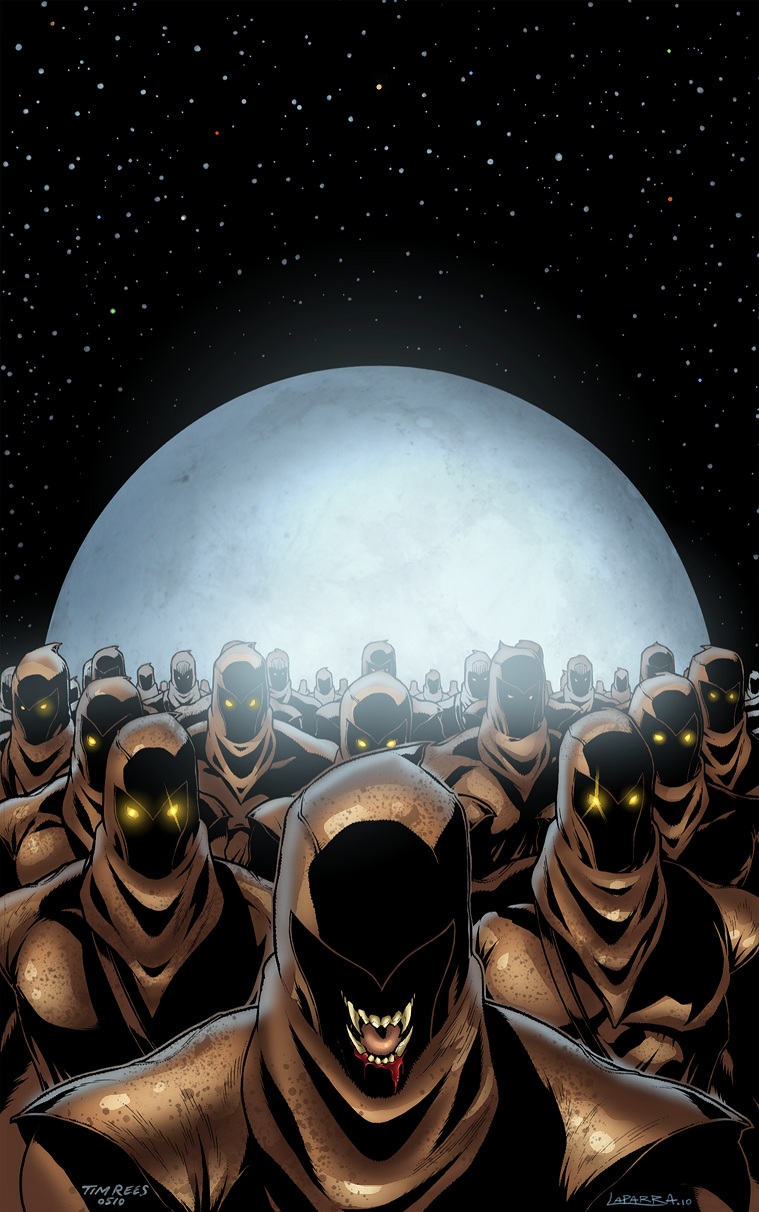 Ambush Bug is Mark L. Miller, original @$$Hole / wordslinger / reviewer / co-editor of AICN Comics for over nine years. Mark is also a regular writer for FAMOUS MONSTERS OF FILMLAND and will be releasing FAMOUS MONSTERS first ever comic book miniseries LUNA in October order code: AUG111067 (co-written by Martin Fisher with art by Tim Rees)! Support a Bug by checking out his comics (click on the covers to purchase)!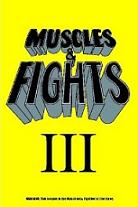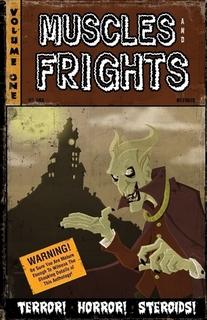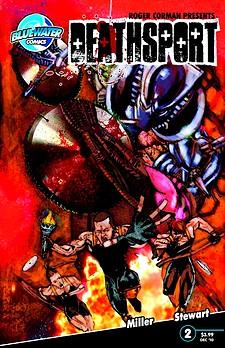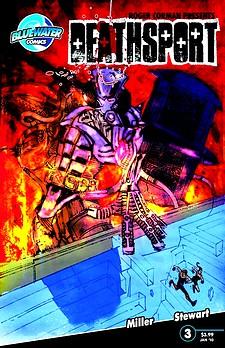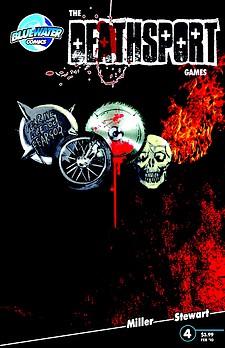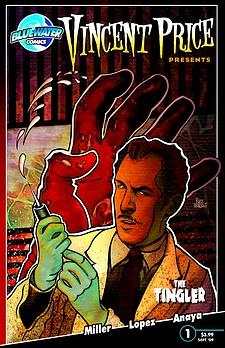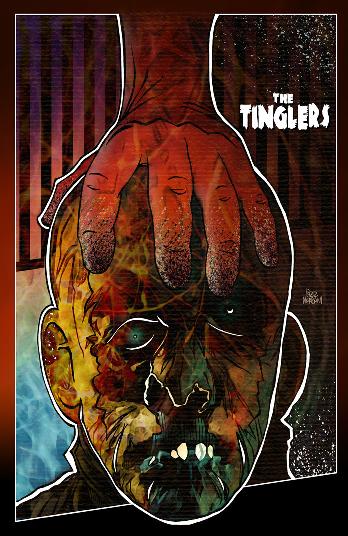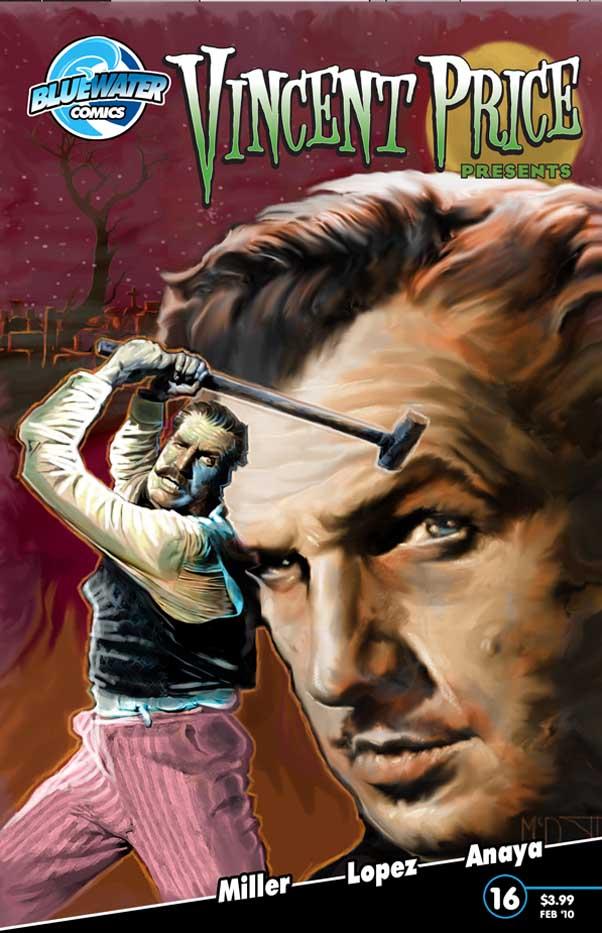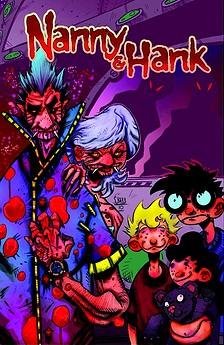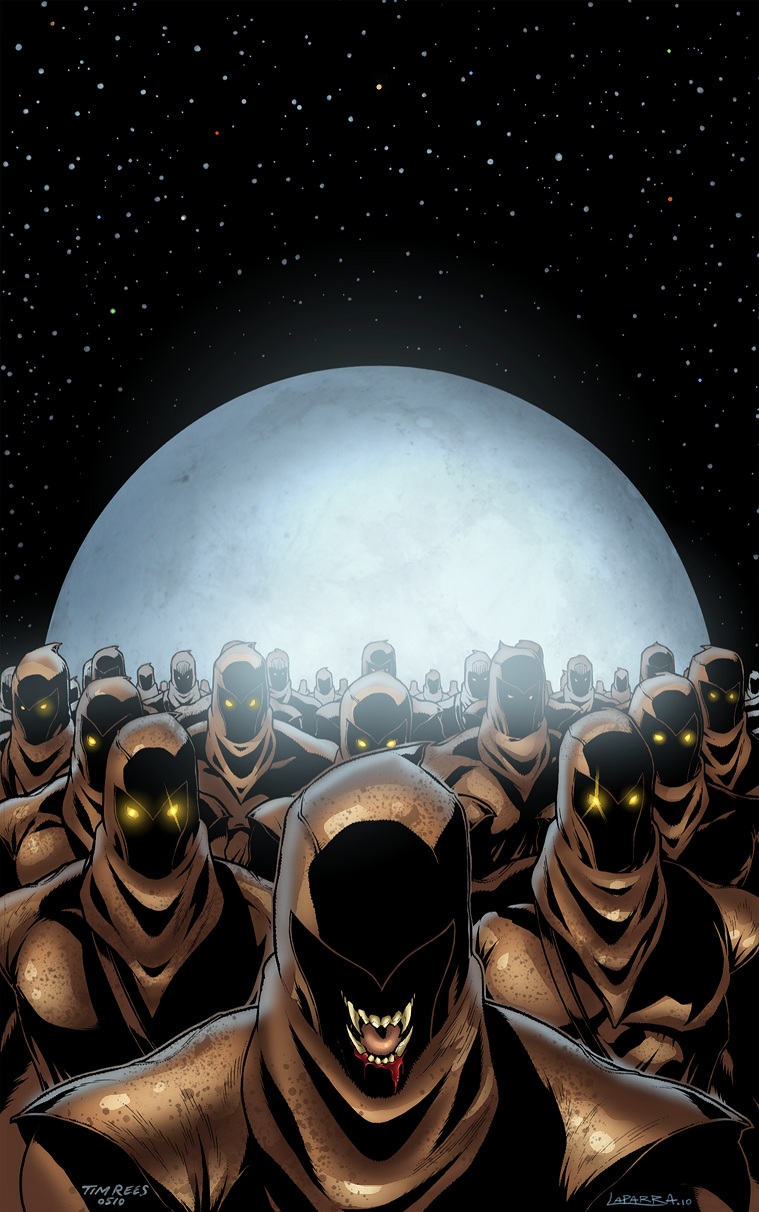 Check out NANNY & HANK's Facebook Page
Check out THE DEATHSPORT GAMES' Facebook Page
---
Editing, compiling, imaging, coding, logos & cat-wrangling: Ambush Bug
Proofs, co-edits & common sense: Sleazy G
---
Looking for more SDCC Coverage?
Check out Bug's panel Horror on the Paneled Page in its entirety from the con!!!
Ambush Bug announces his new werewolf comic LUNA on FAMOUS MONSTERS panel!!!
SJimbrowski brings back a ton of webseries news from Comic Con—Felicia Day's DRAGON AGE REDEMPTION! MORTAL KOMBAT! & Bryan Singer's H+ THE DIGITAL SERIES!
Bug sits for a lengthy chat with Marvel CCO Joe Quesada!
SJimbrowski reports from Felicia Day's THE GUILD and Joss Whedon's panels!
Bug talks with DC top brass Dan Didio & Jim Lee!
Bug talks with Fear.net's TODD & THE BOOK OF PURE EVIL star Jason Mewes!
Bug talks with Zenescope's Ralph Tedesco & Raven Gregory!
Bug talks with writer/artist Menton3 about his new IDW series MONOCYTE!
Keep an eye out for more interviews and special reports from SDCC 2011!
---
Going to be in Chicago this weekend? Chicago's got two conventions of note worth checking out! FLASHBACK WEEKEND CHICAGO HORROR CONVENTION will be at CROWNE PLAZA CHICAGO O'HARE, 5440 N. River Road, ROSEMONT, IL 60018! Join Robert Englund, Malcolm MacDowell, Sid Haig, Lance Henricksen and more to see all of the sights, frights, stars, and nightmares there are to see at this Chicago's premiere horror convention this Friday-Sunday! Be sure to click on the image to the left for ticket info, a full schedule of events, and more goodies!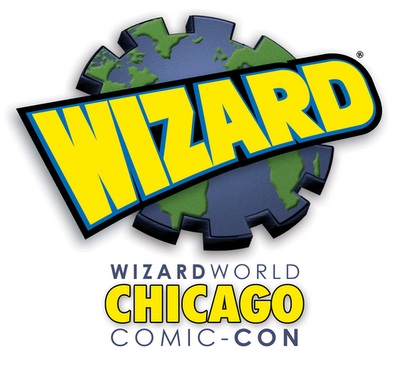 And if it's comic books and stars you're looking for, WIZARD WORLD CHICAGO 2011 is going on just a few blocks away at the DONALD E. STEPHENS CONVENTION CENTER, ROSEMONT, IL 60018 this Thursday – Sunday! Bruce Campbell, Patrick Steward, Felicia Day, Vivica A. Fox, and many more stars are set to be there this weekend! Be sure to click on the image to the right for scheduling and ticket info! Ambush Bug and the Chicago @$$Holes will be bopping between these two conventions all weekend. No self respecting genre fan would miss these two events. See you there!