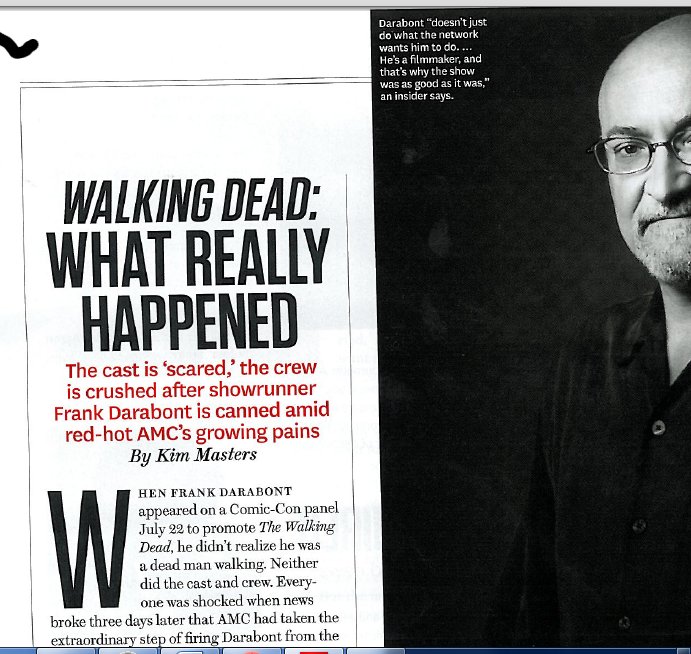 Kim Masters' new story in the Aug. 19 print edition of the Hollywood Reporter, the one titled "Walking Dead: What Really Happened," indicates that Frank Darabont was fired as "Walking Dead" showrunner just three days after Darabont's July 22 appearance at San Diego Comic Con promoting the series.
AMC's head of scripted programming offered the series' cast and crew in Atlanta no clear reason for Darabont's firing, according to the piece. "This isn't working," they were told.
The article suggests Darabont, writer-director of such acclaimed big-screen hits as "The Shawshank Redemption" and "The Green Mile," is no longer involved with the show creatively. An AMC exec at a recent Television Critics Association event indicated new hire Glen Mazzara, who masterminded Starz' low-rated and critically reviled TV version of "Crash," would take over as "Walking Dead" showrunner. Darabont's representatives indicate he has no interest in commenting on the matter.
From the Reporter:
There also have been no public comments from the cast, and a source with knowledge of the situation says AMC has been "terrorizing" them and their representatives to discourage them from speaking out on Darabont's behalf. "They're scared," confirms another insider. "They're on a zombie show. They are all really easy to kill off."
To say "Dead" is by far AMC's most popular series is something of an understatement. Its first-season finale garnered the biggest 18-49 demo rating ever for a drama on basic cable.
The Hollywood Reporter story suggests Darabont did not cotton to AMC's decision to cut the series' per-episode budget for its second season.
"Frank doesn't like the cast and crew overworked and underpaid," says a show insider. As recently as the end of May, with the show's second season poised to go into production, Darabont seemed to be holding out hope that AMC would relent. "Creatively, I have no complaints thus far," he said at a THR roundtable. "But I believe if they do move ahead with what they're talking about, it will affect the show creatively … in a negative way. Which just strikes me as odd. If you have an asset, why would you punish it?"

An agency source says Darabont is "notoriously a pain in the ass" known for "taking a feature-film approach to television," which is meant to suggest he didn't manager the brisk pace of television well. But an insider says Darabont's approach was what made Walking Dead special. "Frank fights for the show," says an insider. "He doesn't just do what the network wants him to do … He's a filmmaker, and that's why the show was as good as it was." Sources with ties to the show insist it was on schedule and on budget.
The article singles out an AMC exec for precipitating Darabont's departure:
Despite the show's success, AMC stuck to its original position on the second-season budget. When those involved with the show protested that the network was taking chances with its biggest hit, AMC's head of original programming, Joel Stillerman, is said to have declared, " Ratings have no bearing on this conversation."

The show went into production on its second season in June. Sources say an early episode came in with footage that was not usable. The director had shot a successful first-season episode and was a mutually agreed-upon choice. Darabont was editing the episode in an effort to fix it but by then, an insider believes, AMC was looking for a pretext. "Joel thinks he is responsible for the success of shows on AMC, and not the creators," this person says. This person blames Stillerman for the decision to fire Darabont. (Stillerman also has a strained relationship is Mad Men's [mastermind Matthew] Weiner, who declines to speak to him.) Through an AMC rep, Stillerman declined comment.
Find all of the Reporter's story on this appalling matter here.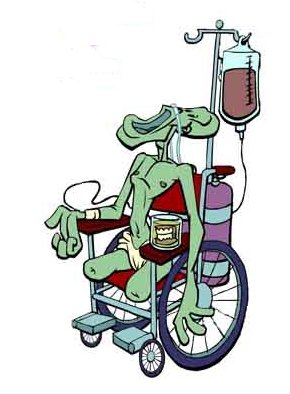 Shipping Next Month On Blu!!
Hundreds of Blu-rays Under $10!!