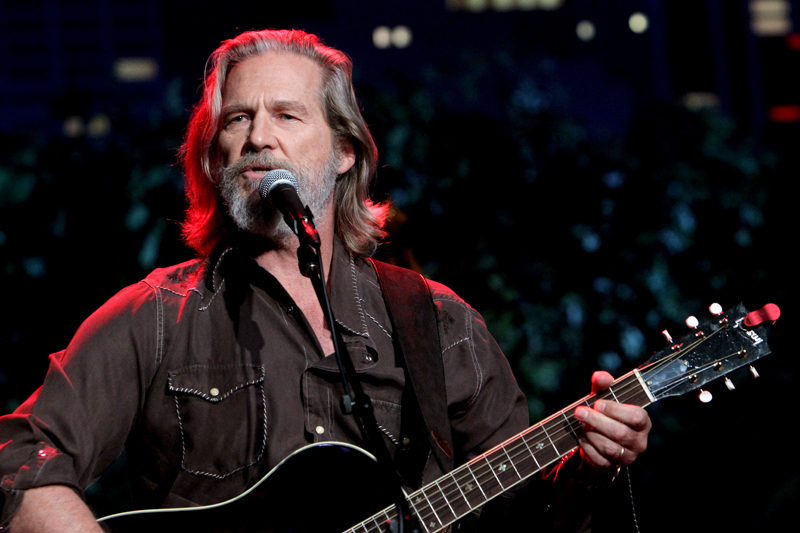 Hey folks, Harry here... long before Austin had any real claim to a film scene, it was most well known globally - and probably still is - for its PBS show, in its 37th season, AUSTIN CITY LIMITS. I don't usually do much Television taping coverage - and I rarely ever talk about music, lest my wife box my ears for my ignorance. Earlier today she almost left me for joking that RADIOHEAD was a side band project by members of PANTERA. I love teasing her. But the other day, Yoko told me we had stage side seats for the taping of the November 5th episode of AUSTIN CITY LIMITS that was going to have Jeff Bridges and his band doing their first real show... and for posterity.
We have a dear friend that works on ACL, I'll merely refer to him as The Really Bad Robot... but he totally hooked the two of us up. Just as he did a week ago for Joanna Newsom's astonishing performance on ACL. That show was magical. Newsom wore this beautifully elegant American Flag skirt that was just magic with that harp of hers between her legs. Musically - that show just owned me. Really amazing & I now own everything Newsom has put out.
Now, don't get the idea that Jeff Bridges show was less in any way shape or form from Joanna's show. She's just a mythological siren who ran my brain into the reef as I was swimming in her sonics. Whereas with Jeff Bridges - I was just smiling like a jackass for pretty much the entire affair.
Jeff's band took the legendary stage - and I felt like a school girl when I saw Augie Meyer amongst them. I was big into SIR DOUGLAS QUINTET back in the day, they used to play my Dad's frat parties when he was in college. So I was well versed on Augie's awesome keyboard prowess. I took his presence as a major indicator that what Jeff was going to be doing tonight would best be classified as "GOOD TIMES MUSIC" You know, toe-tapping, hand-clapping, yehawwin' kinda affair.
When Jeff took the stage, I just flashed on Kris Kristofferson... later, Jeff would cop to being incredibly inspired by him. But the mane Jeff sports these days, I'd call it Western Regal. It does recall both Kenny Rogers and Kris. But there in the midst of it is Jeff Bridges. I hope the final show will reflect the genuine awesome personality and fun that Jeff had with the Austin studio audience tonight. He brought up THE BIG LEBOWSKI, CRAZY HEART, THE LAST PICTURE SHOW and a huge love of Austin tonight. We geeks in the audience hung on his every word.
There was a guy with OBAMA-esque DUDE shirt, who I never caught without a shit eating grin. His wife boogied the entire night. The various solo instrumentals throughout the night brought the house down. The talent on that stage with Jeff tonight was intimidating and a dream. Often you could see Jeff sitting back and just stare in awe and utter delight as a dear friend was ripping minds with a guitar, a fiddle, a bass, the steel guitar, the accordian, the drums or the ivories. You know that face he made going between the bowling alley babes' legs in Lebowski... when he turned over? That times 100. Jeff was simply a kid in a candy store tonight, having an absolute blast. Playing his kind of music and having a real damn fine time.
It was 12 songs and 2 encores tonight... the final one being an awesome cover of MAN IN ME from THE BIG LEBOWSKI - which had everyone in the room giggling like kids. But for my money, SHE LAYED HER WHIP DOWN, BLUE CAR and THE QUEST were my faves. He played several tunes from CRAZY HEART, he spoke passionately about the late great Stephen Bruton. He performed at least half of the songs twice, just because he felt he could do better - and this is for TV - and every do-over was a measurable leap forward. Cleaner, more entertaining and more on the money. This will be one of my fave events of the year. Easily. Just hearing Jeff Bridges happy noises as things tickled him... shit man. That's Flynn, Starman, The Dude, Rooster, Obadiah Stane, Bad Blake (he wore the guitar strap from the film on 3 songs by my count), Tucker, Wild Bill, Jack from the fucking FISHER KING... well just a shit ton of great films. As a movie geek - I've been a fan of Jeff Bridges from the beginning. I mean. THUNDERBOLT AND LIGHTFOOT? Anyone? The Dino KING KONG - I loved him in the film. The voice of Prince Lir? As one of the FABULOUS BAKER BOYS... and now here he is, lighting a room up with multiple standing ovations.
I was just so happy to be entertained so perfectly tonight. If he comes to your area... you know what to do. But on November 5th - y'all can all check out this great night for yourselves! JEFF BRIDGES & THE ABIDERS are an act to catch.
The photos for this article were taken by my wedding photographer & official BNAT photographer, Gary Miller! Just for you!
The real treat tonight was getting a preview of the act that Jeff Bridges is going to be touring with. Folks, this was a real damn awesome good time tonight.