@@@ What the &#$% is AICN's SDCC FALLOUT Q&@? @@@
Greetings, folks. Ambush Bug here with another I conducted at the San Diego Comic Con. Special thanks to AICN's unsung hero, Muldoon, for transcribing all of these back and forthings. Expect a ton of interviews to be released daily until my interview well is dry (and believe me, it's going to be a while after this con). This time around, I had a chance to talk with Jason Mewes, best known as Jay of Jay & Silent Bob fame. Jason had a chance to sit down with me at the con and talk a bit about his TV series through FEARnet called TODD & THE BOOK OF PURE EVIL. It premiered last Tuesday on FEARnet and the second episode will be premiering tonight at 10pm ET! Jason was running a bit late and had just been ripped off by the rickshaw taxis that vulture their way around the SDCC swooping up unsuspecting tourists and then ripping off the customers by making them pay $40.00 a person. (Public Service Announcement from the editor: word to the wise, avoid these vermin at all costs when going to SDCC. They are the worst scum of the earth and leech off of tourists in the worst way. You've been warned.)

Anyway, on with the interview already in progress!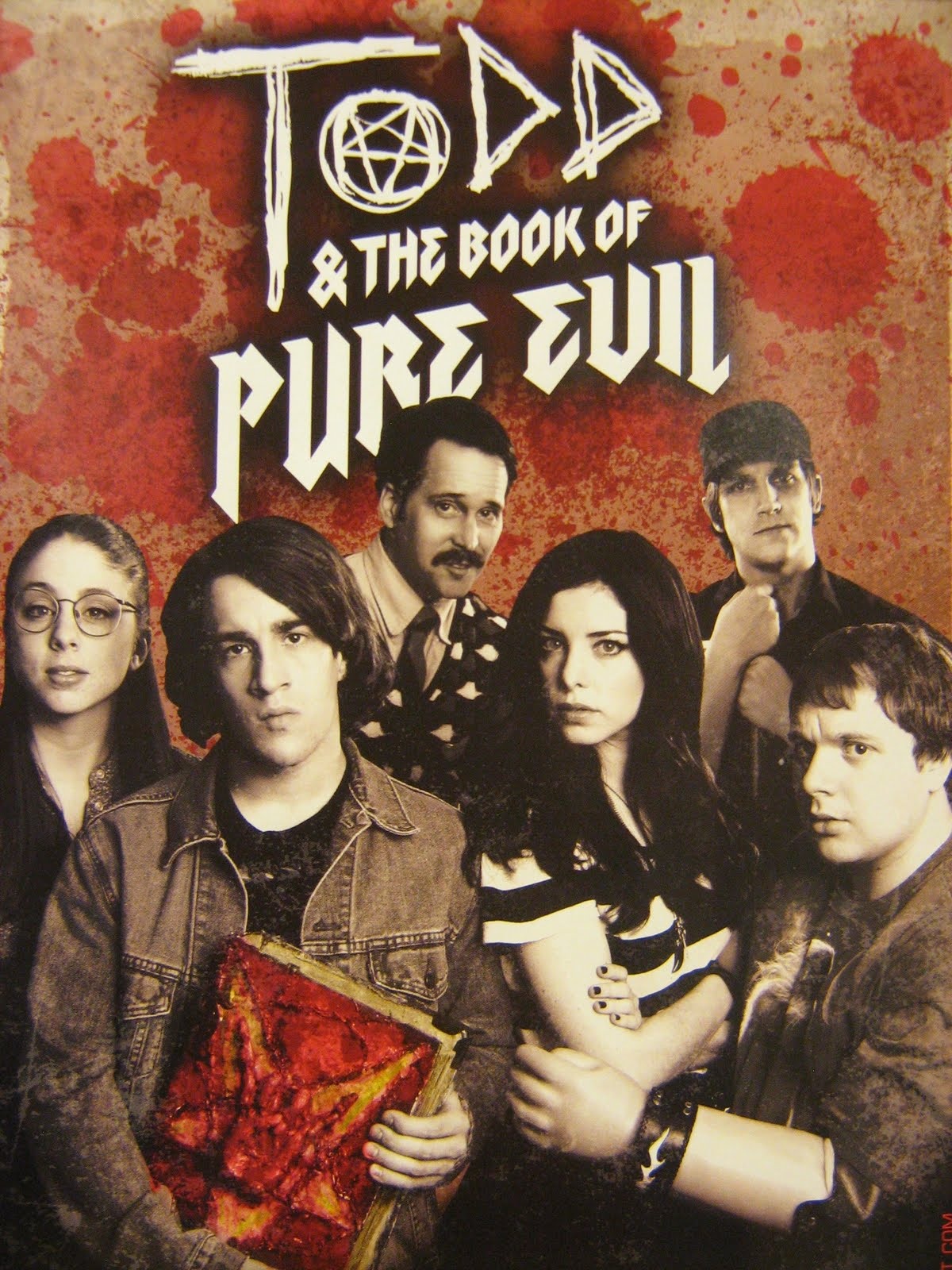 JASON MEWES: You know what we did? We wound up taking one of those pedi taxis and we were like right here, but we weren't sure where we were going and the guy went down that way and around. It was nice. They are fun to ride, but we would have been here sooner if we had walked and we would have been sixty dollars richer.
AMBUSH BUG (BUG): I hear they rip you off.
JM: They do, yeah. He was like "sixty dollars." And I'm like "Ooookaaaaay…"
[Jason's Wife "I don't remember them being as expensive."]
JM: No, it was never that bad. I remember last time it was like ten bucks a person, so I thought it was going to be about forty bucks, but anyway…
BUG: Okay, well let's talk about TODD & THE BOOK OF PURE EVIL.
JM: What do you want to talk about?
BUG: What's it about?
JM: TODD is about a high school kid who is, I guess, trying to save the world in a sense. I haven't even seen the poster, it's pretty awesome. I'm up there front and center sort of. It's a…how do I explain it? I'm horrible at explaining stuff. I feel like I'm under pressure with my wife staring at me from over there. (Laughs) "You better say something good or it's going to suck!" It's about a book that makes kids' insecurities and it feeds on their insecurities and sort of makes what they are insecure about and all of that turn up. On one episode, a girl is overweight and she feels fat and ugly, so she wants to be skinny and so she gets her wish, but the fat oozes off of her and creates a monster and starts turning everyone else in the school fat. So there are always consequences even though it grants the wish, but there are consequences. So then there's always Todd and his little crew who has to save the school from the fat monster or the homunculus. They are getting into the origin of like my character, Jimmy, I work at the school. Again, I'm horrible at explaining stories, movie scripts, and all of that.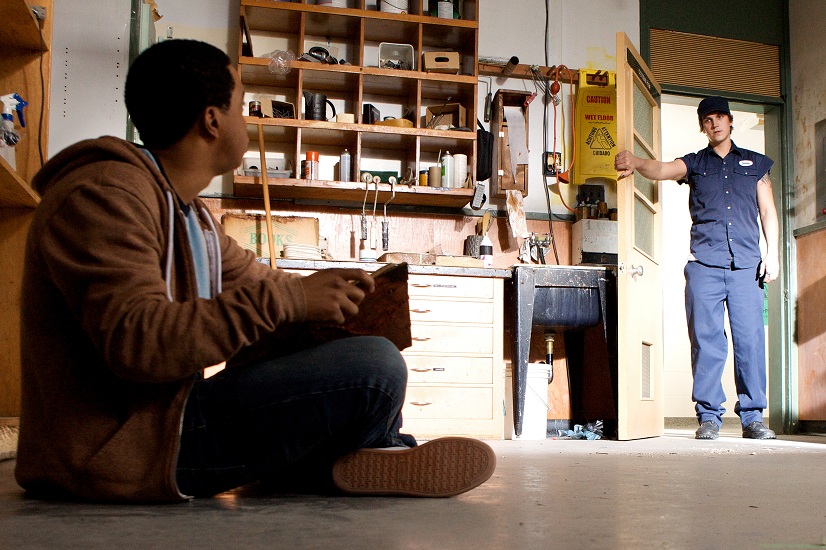 BUG: (Laughs) I think you did a good job with it.
JM: Decent, right?
BUG: Yeah.
JM: Even with all of the pressure of four women staring at me.
BUG: So how did you get involved with FEARnet?
JM: You know I don't know how they got involved to be honest. That's the producers, Anthony Leo and Andrew [Rosen] and all of them, they are the ones who have been looking for an American distributor and I know that they had a few places in mind and Fear.net was one of them, so I guess they talked to them and I guess FEARnet was excited about it. Or maybe they just charmed them, but yeah so I had nothing to do with that. I wish I did. I wish I had called them up and was like "This show should be on your channel" and then the head of Fear.net was like "You know what? You are right, Mr. Mewes, you are so right."
BUG: So it's going to be on Tuesdays at 10 o'clock or at least that's what it says over there.
JM: Yes, and it premieres August 2nd at 10 o'clock.
BUG: So how many episodes do you have so far? How many are there going to be? Do you know?
JM: Well, season one has 13 episodes and we are shooting season two right now and that should have 13 also.
BUG: Is it a half an hour show?
JM: It winds up being more like 23 or 24 minutes…
[A rep notifies him that they are 22.]
JM: 22? I was right, my goodness.
BUG: So it's a horror comedy, is that correct?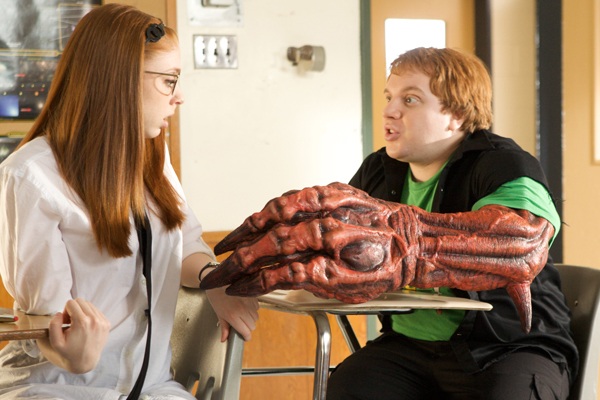 JM: Yeah, I say it's like a "90210 meets TALES OF THE CRYPT," but they explain it as "BREAKFAST CLUB meets…" Each episode has this bizarre sort of situation, but it still focuses on that, it's all in a high school and again it's sort of based on high school kids and what goes on with them like being ugly or "I'm not smart enough" or "I'm not cool enough," so it's sort of that and bizarre, crazy, psycho-ville stuff.
BUG: So do you play your performance differently when you are doing horror? You've mainly done comedies in the past.
JM: No, you see Jimmy is more Shakespeare than anything. No, I'm just kidding… (Laughs) It's sort of, I would just say he's just more chill, because he's supposed to be a mentor. He gives Todd advice, so he smokes and he's more relaxed. He's sort of like a guru type of sensei if you will, so I'm sort of funny, but serious. I'm not too slapstick and silly, but there's a little comedy, but serious throughout as well.
BUG: Sure, so people know you from Kevin's films and everything, what have you learned from those films that you have brought to this series?
JM: More just about…I feel like now in doing a bunch of different movies honestly I feel like, like the other day we were shooting a scene and they were talking about a camera angle and I find myself now like wanting to set up shots sort of. Do you know what I mean? They were doing this one shot and I felt like with the scene and what I was doing that it would be better this way or that way. I don't know. And I would tell them a shot that I thought would be cool and they actually did it, so that's cool and they were calling it "The Mewes Shot." They used it a couple of times.
BUG: That's what I was going ask next: that sounds like directing to me. Would you ever think about doing any directing?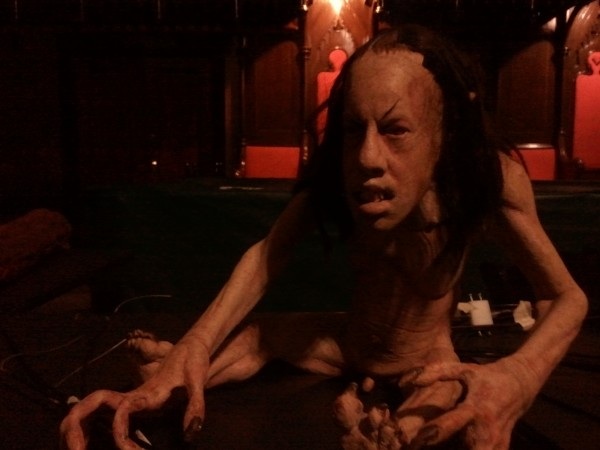 JM: Yeah, definitely. I would love to. I got to direct a music video and I know it's different, but for me it was a good start, because it was only a couple of days and it wasn't too big of pressure, like I feel like even if someone offered for me to direct say like a million dollar movie the pressure would be on, because of the money and stuff. So it was nice, because it was like a 25,000-dollar music video in Canada for Much Music and so it was good. It was an actual real music video that played and so yeah I really enjoyed that is my point and I would definitely love to do…it would be nice if TODD goes three or four seasons and maybe they will let me direct and episode or something.
BUG: That'd be awesome, yeah. So what's the name of the band that you directed the video for?
JM: The Artist Life and the song was called "Let's Start a Riot."
BUG: Very cool. Well, let's see--do you want to talk a little more about some of the specific episodes that are coming out? What's going to be the first episode? What happens there?
JM: You know I don't know how much I'm really allowed to talk about.
BUG: Really?
JM: Well I'm not sure, because I did ask them before I left and they said right now, because season one aired in Canada, I think right around…they just don't want me to give away…you guys in the United States will just be seeing one…they are just starting season one in the US and season 2 will be in 2012, but they have a trailer out to give a better idea of the show. But two is good, because it leads off with some changes from season one and then it picks up in one and it's great. It's sort of a cliffhanger, but it's sort of just them evolving. You'll see; it's really good.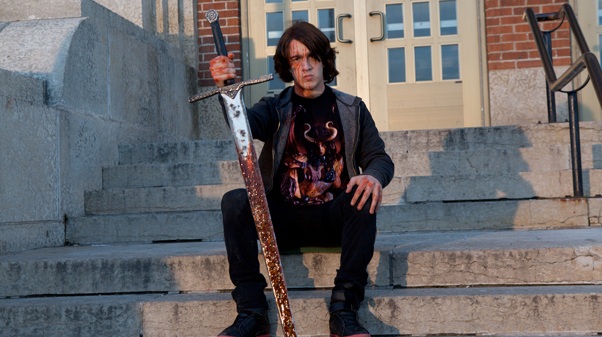 BUG: So is there a series bible or something? Do you know how long the series is going to last?
JM: I think it should go for five at least, because I would think they are in school, so I guess you could say they were freshmen, so at least four years I would hope and I definitely think it's good enough to make four if not more, but definitely four because I guess school is always tough, though I guess they can always sort of exaggerate and got left back or something. I guess, the class could just change.
BUG: "The Next Generation."
JM: That's true, they could do it. (Laughs)
BUG: Sounds good. Is there anything else you'd want to tell Ain't It Cool News about TOOD AND THE BOOK OF PURE EVIL?
JM: Just I mean I enjoyed it and not even because I'm involved, but it's definitely a good show. You want me to talk about Alex House? He's great. I don't know if that's what they want, but no the cast is great. It's cool, because I believe Alex has done a couple cameos or done guest spots in shows, but this is like his first thing and he is great. He's a great…the whole cast is great and I'm sorry I do want to say…Chris Leavins is hilarious, like honestly every episode whenever he is on screen he makes me laugh.
[Bug pulls up a poster from the show.]
JM: He's the dude all the way to the right. He plays this dude, "Atticus." It's just the way he delivers his lines and his choices. Again, even if I wasn't involved I would love the show and he makes me laugh. I don't think there are many shows that make me laugh. You'll see. Have you gotten to watch any of it?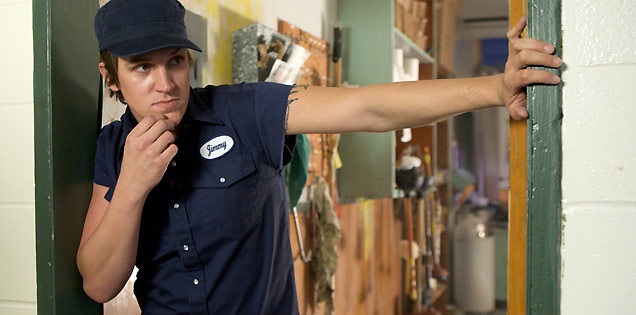 BUG: Not yet.
JM: But you are going to now, right?
BUG: Definitely. I definitely will check it out.
JM: I just recently saw them. When I was up there shooting season two they had all 13, like I got to see some when we were shooting and they were like "Oh here's episode 1" and I would get to check out a couple, but then I got to actually sit and watch 1 to 13 and it's awesome.
BUG: Great, well I look forward to checking it out. It looks really fun.
JM: Nice.
BUG: Thanks a lot for taking the time to talk with me, I appreciate it.
JM: Thank you, man.
BUG: Check out this scene from TODD & THE BOOK OF PURE EVIL!
BUG: Look for TODD & THE BOOK OF PURE EVIL on Fearnet Tuesdays at 10pm ET and available on Video On Demand in September!
---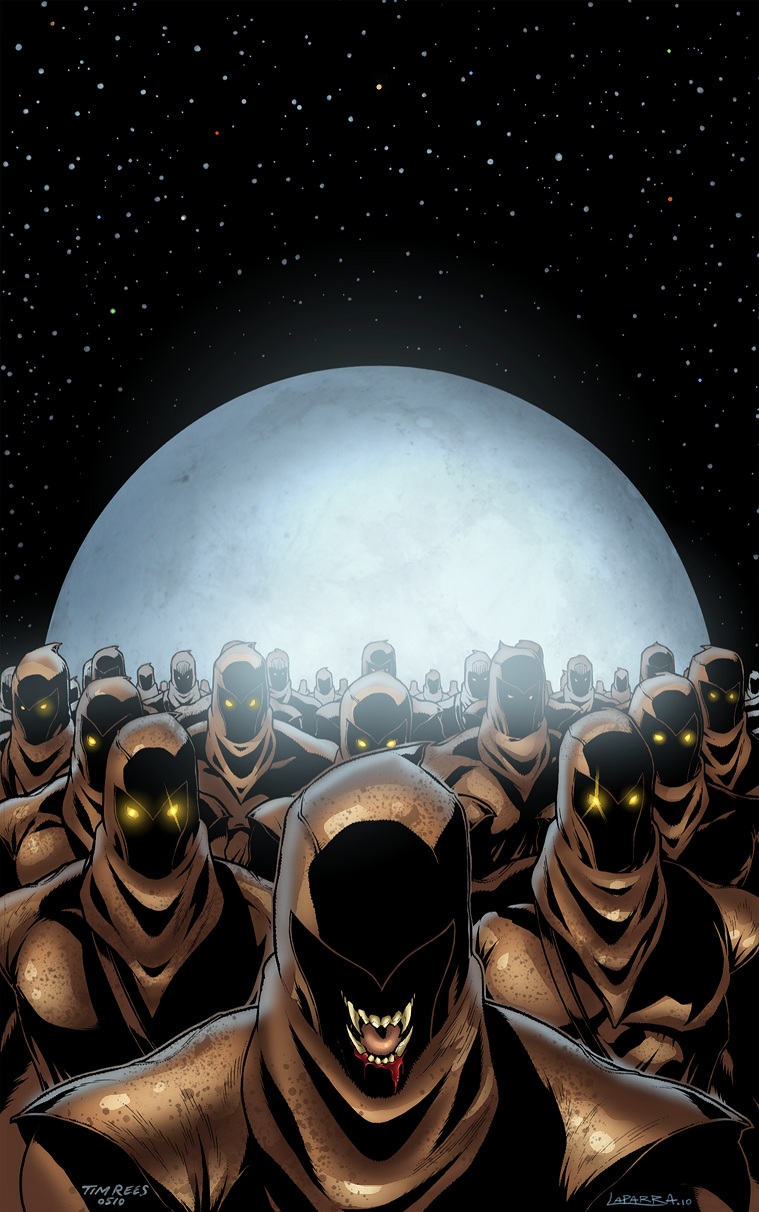 Ambush Bug is Mark L. Miller, original @$$Hole / wordslinger / reviewer / co-editor of AICN Comics for over nine years. Mark is also a regular writer for FAMOUS MONSTERS OF FILMLAND and will be releasing FAMOUS MONSTERS first ever comic book miniseries LUNA in October (co-written by Martin Fisher with art by Tim Rees)! Support a Bug by checking out his comics (click on the covers to purchase)!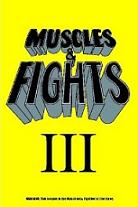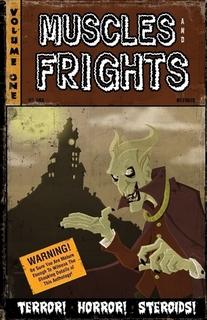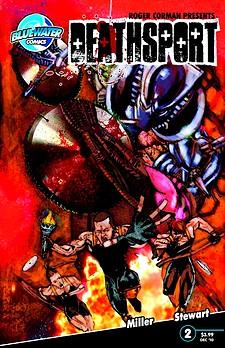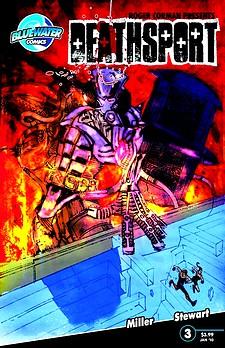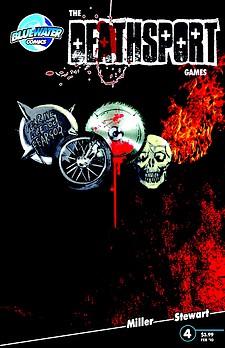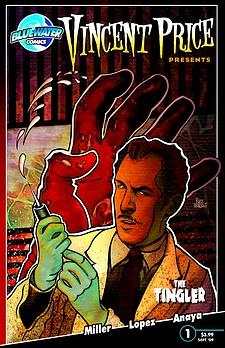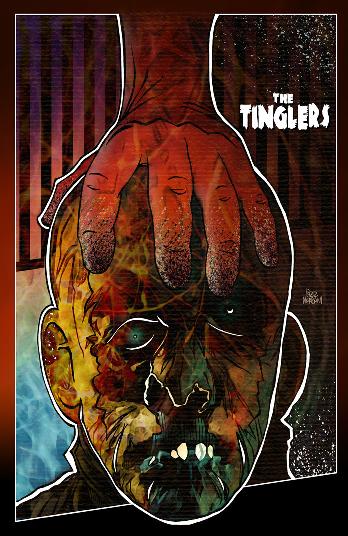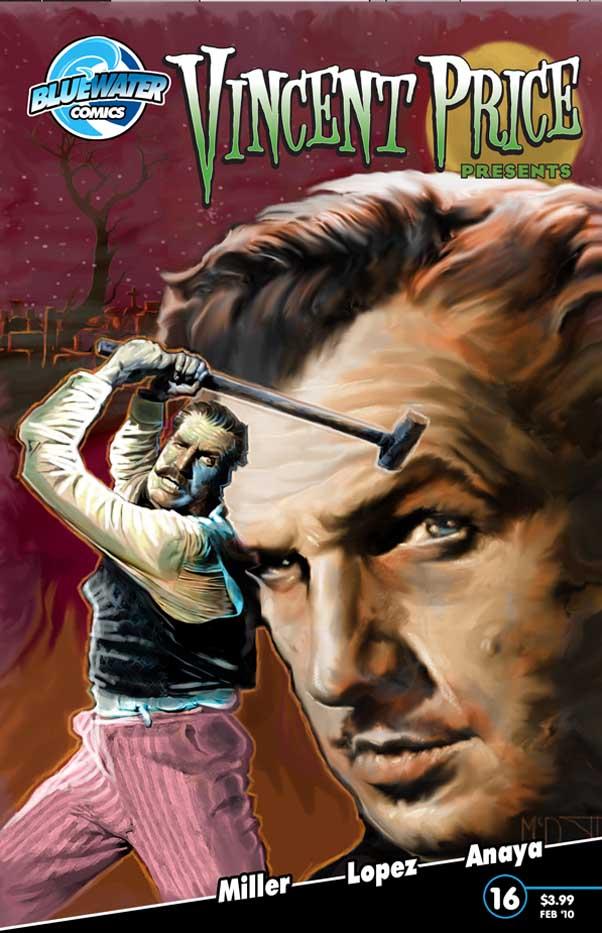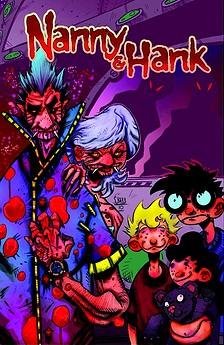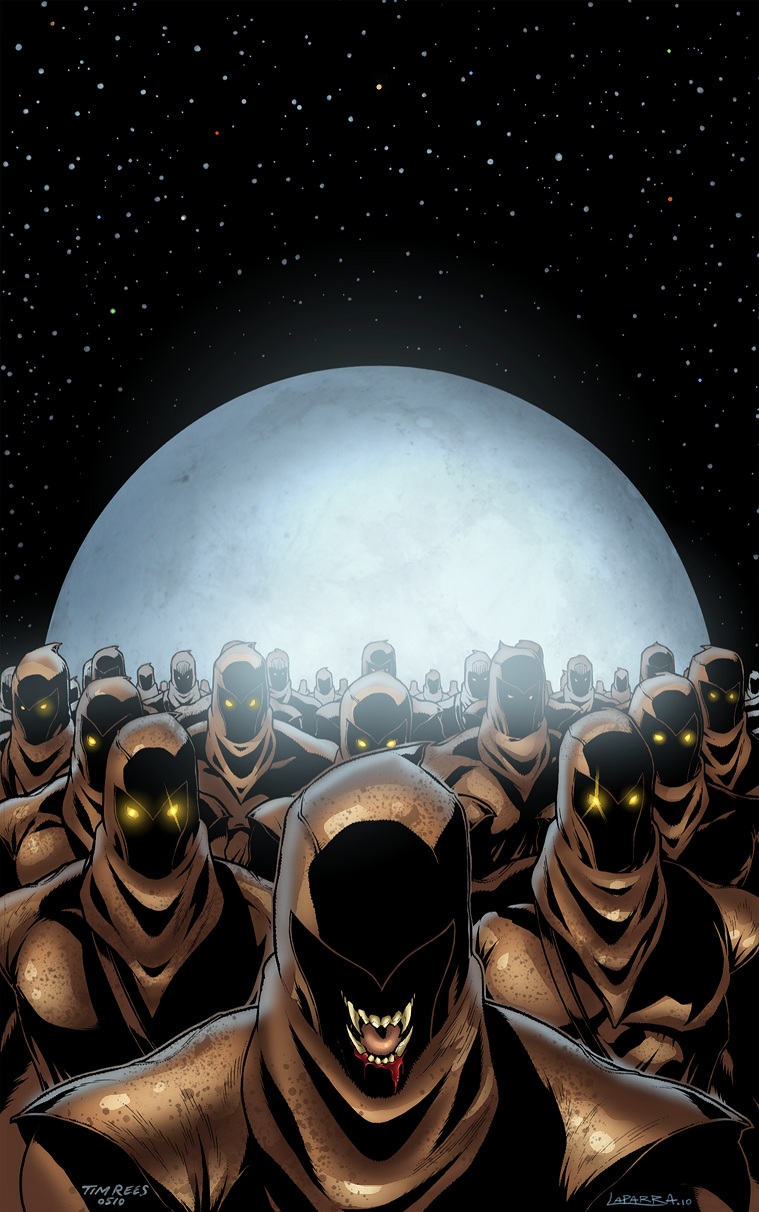 Check out NANNY & HANK's Facebook Page
Check out THE DEATHSPORT GAMES' Facebook Page
---
Editing, compiling, imaging, coding, logos & cat-wrangling: Ambush Bug
Proofs, co-edits & common sense: Sleazy G
---
Looking for more SDCC Coverage?
Check out Bug's panel Horror on the Paneled Page in its entirety from the con!!!
Ambush Bug announces his new werewolf comic LUNA on FAMOUS MONSTERS panel!!!
SJimbrowski brings back a ton of webseries news from Comic Con—Felicia Day's DRAGON AGE REDEMPTION! MORTAL KOMBAT! & Bryan Singer's H+ THE DIGITAL SERIES!
Bug sits for a lengthy chat with Marvel CCO Joe Quesada!
SJimbrowski reports from Felicia Day's THE GUILD and Joss Whedon's panels!
Bug talks with DC top brass Dan Didio & Jim Lee!
Keep an eye out for more interviews and special reports from SDCC 2011!
---
Going to be in Chicago this weekend? Chicago's got two conventions of note worth checking out! FLASHBACK WEEKEND CHICAGO HORROR CONVENTION will be at CROWNE PLAZA CHICAGO O'HARE, 5440 N. River Road, ROSEMONT, IL 60018! Join Robert Englund, Malcolm MacDowell, Sid Haig, Lance Henricksen and more to see all of the sights, frights, stars, and nightmares there are to see at this Chicago's premiere horror convention this Friday-Sunday! Be sure to click on the image to the left for ticket info, a full schedule of events, and more goodies!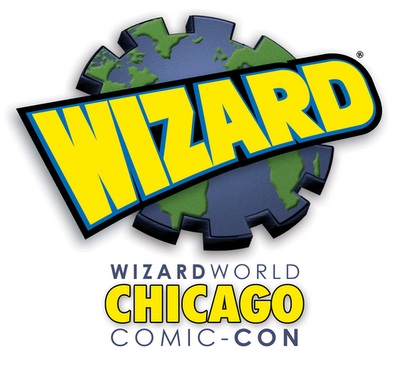 And if it's comic books and stars you're looking for, WIZARD WORLD CHICAGO 2011 is going on just a few blocks away at the DONALD E. STEPHENS CONVENTION CENTER, ROSEMONT, IL 60018 this Thursday – Sunday! Bruce Campbell, Patrick Steward, Felicia Day, Vivica A. Fox, and many more stars are set to be there this weekend! Be sure to click on the image to the right for scheduling and ticket info! Ambush Bug and the Chicago @$$Holes will be bopping between these two conventions all weekend. No self respecting genre fan would miss these two events. See you there!