@@@ What the &#$% is AICN's SDCC FALLOUT! @@@
Greetings, folks. Ambush Bug here with another SDCC panel report from our Wide World of Webseries reporter Sjimbrowski who has been hard at work amassing the interviews he took at the con. In the meantime, he's got a couple more panel reports on all things webby.
SJimbrowski
here.
Last time we checked in I reported on Bryan Singer's H+ webseries.
Below is the trailer for that series, which premiered at the con.
Now let's take a look at two other panels I was able to check out at the con.
---
Joss Whedon Panel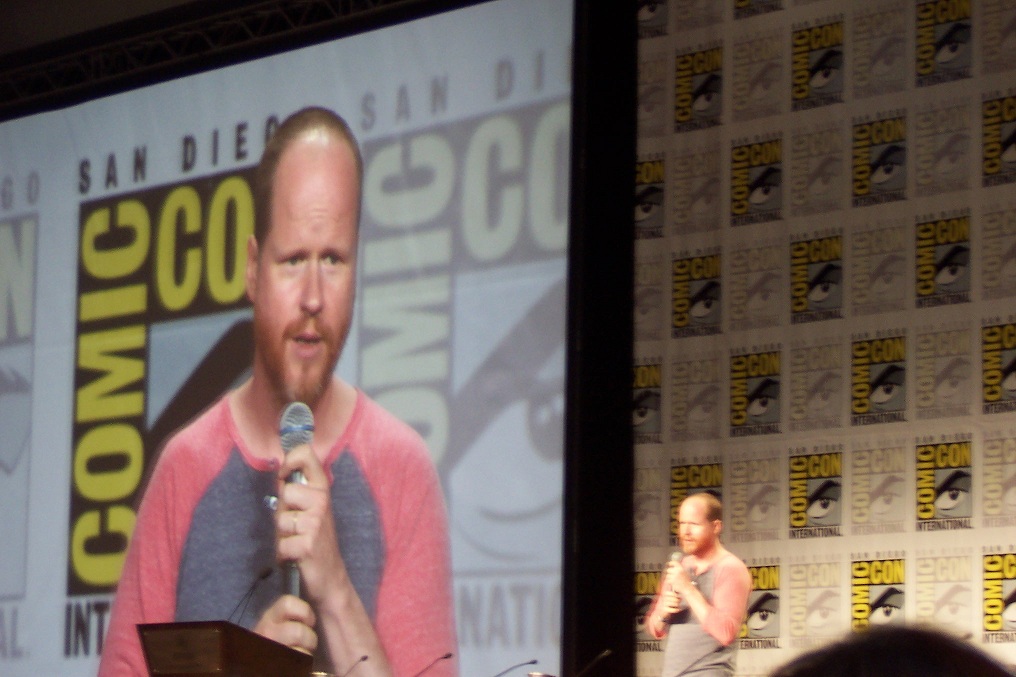 Great panel--no presentation, just audience questions and Joss, who answered the fan questions with his trademark humor and good nature. He even copped to killing favorite characters just to cause fan suffering as part of the satisfaction of what he does. Mostly, the panel dealt with the BUFFY and ANGEL comics; Joss was glad they were being brought under one roof at Dark Horse so he can bring the characters into each others' universes and was looking forward to that. He mentioned a SERENITY sequel to massive cheers more than once, but alas the cheers will not make it happen, he lamented. On the musical front, Joss said he would love to see Buffy on Broadway, right across from Dr. Horrible. When asked about a second DR. HORRIBLE he simply replied "Yes". He also spoke about a song he had recently heard from Jed Whedon and Maurissa Tancharoen that was so wonderful that it was an inspiration for a second Dr. Horrible.
---
THE GUILD Panel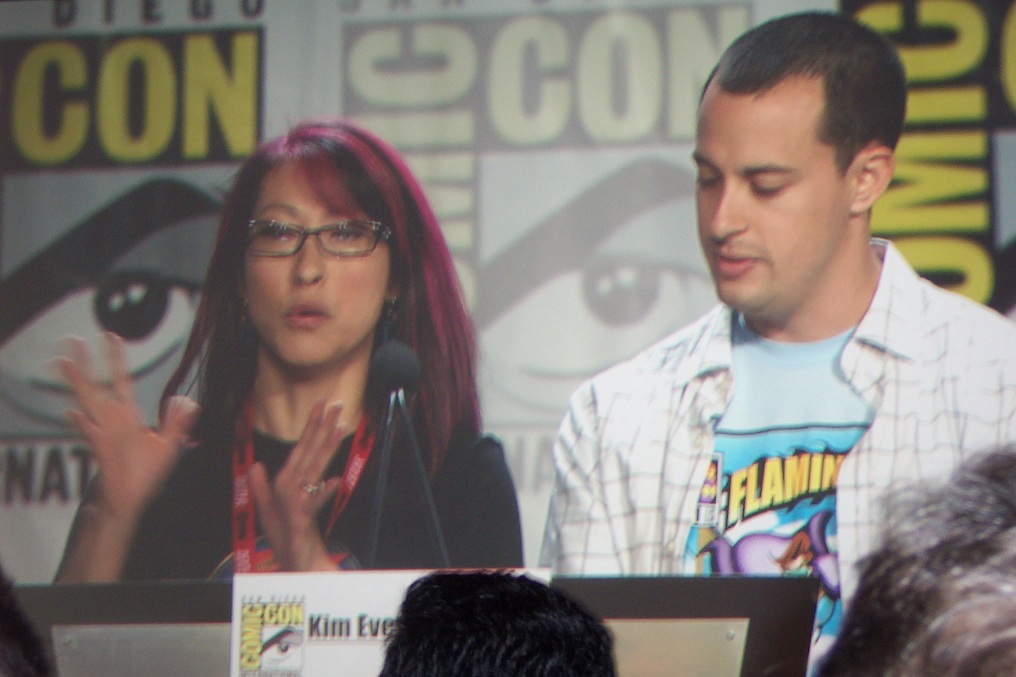 Pictured here are Kim Evey, producer of THE GUILD, and Director Sean Becker. Here it is again: the now-annual panel for the webseries THE GUILD. The panel has always been an opportunity for surprises and a preview of the upcoming season. THE GUILD Season 5 premieres on Xbox Live July 26th and for the rest of the non-Xbox masses on MSN July 28th. As in years past, the size of the Guild panel rooms have grown to accommodate the growing number of fans and they packed them in once again in the Indigo Ballroom at the San Diego Hilton, one of the largest rooms at the Con.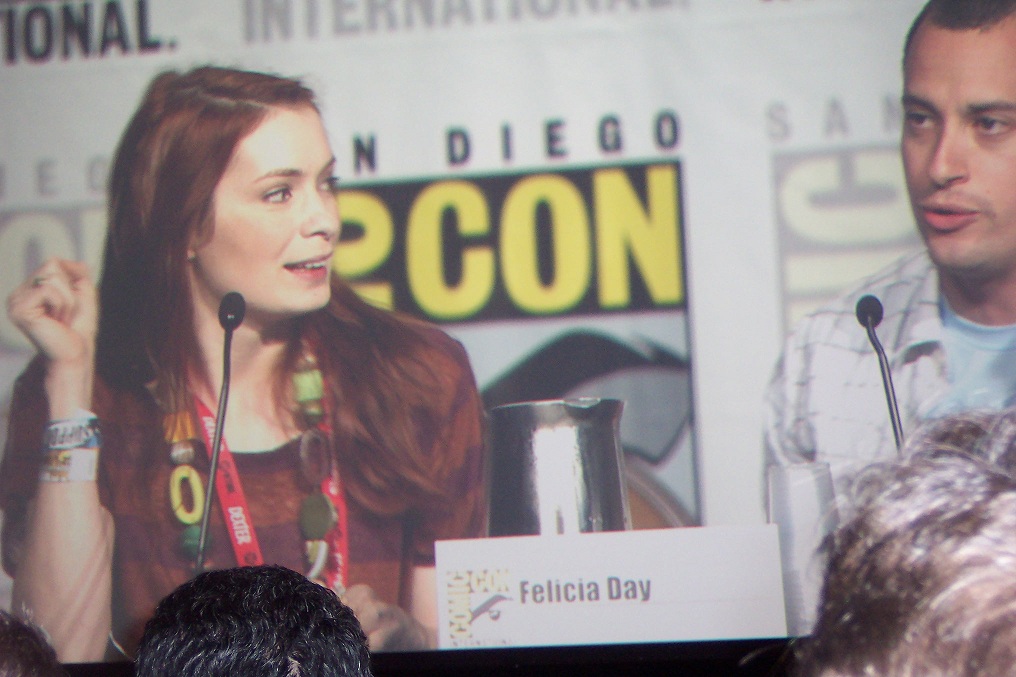 This year had some AV issues.
but unfortunately when they did a recap of the first four seasons with a voice over by the Honeybadger narrator Randell the voice over was out of sync, which prompted Ms. Day to covertly run on stage to stop the playback.
The recap was played later along with the first episode with a lower resolution copy--ever resourceful, those Guildies. Alas, no music video this year as Ms. Day was too busy to make it happen; perhaps later this year she'll have the time. Season 5 takes the intrepid Guild to a gaming convention called MEGAGAME-O-RAMACON. The season will mostly take place at the convention and will have a host of guess stars, including Doug Jones and Erin Grey, plus others just hinted at: Master Chief = Nathan Fillion, perhaps? The first episode of the season is here:
About The Guild: The Guild is an award-winning independent comedy web series about a group of online gamers created by and starring Felicia Day, now with over 100 million views. The show is available for free on Microsoft's Xbox LIVE, MSN, Zune.net and The Guild website. Launched in 2007 and funded initially by the show's fans, The Guild has since been sponsored by Microsoft and Sprint. Previous seasons of the show are also available on YouTube, DVD, iTunes, Netflix and Hulu.
---
Look for my interviews with some of the biggest names in webseries in the coming weeks!
---
Editing, compiling, imaging, coding, logos & cat-wrangling: Ambush Bug
Proofs, co-edits & common sense: Sleazy G
---
Looking for more SDCC Coverage?
Check out Bug's panel Horror on the Paneled Page in its entirety from the con!!!
Ambush Bug announces his new werewolf comic LUNA on FAMOUS MONSTERS panel!!!
SJimbrowski brings back a ton of webseries news from Comic Con—Felicia Day's DRAGON AGE REDEMPTION! MORTAL KOMBAT! & Bryan Singer's H+ THE DIGITAL SERIES!
Bug sits for a lengthy chat with Marvel CCO Joe Quesada!
Keep an eye out for more interviews and special reports from SDCC 2011!
---
Going to be in Chicago this weekend? Chicago's got two conventions of note worth checking out! FLASHBACK WEEKEND CHICAGO HORROR CONVENTION will be at CROWNE PLAZA CHICAGO O'HARE, 5440 N. River Road, ROSEMONT, IL 60018! Join Robert Englund, Malcolm MacDowell, Sid Haig, Lance Henricksen and more to see all of the sights, frights, stars, and nightmares there are to see at this Chicago's premiere horror convention this Friday-Sunday! Be sure to click on the image to the left for ticket info, a full schedule of events, and more goodies!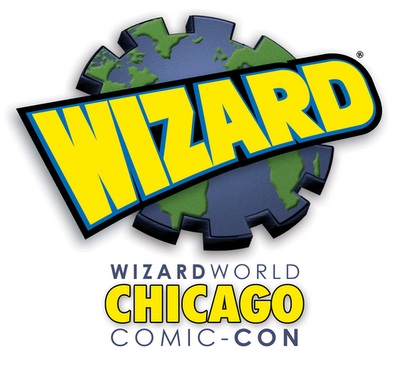 And if it's comic books and stars you're looking for, WIZARD WORLD CHICAGO 2011 is going on just a few blocks away at the DONALD E. STEPHENS CONVENTION CENTER, ROSEMONT, IL 60018 this Thursday – Sunday! Bruce Campbell, Patrick Stewart, Felicia Day, Vivica A. Fox, and many more stars are set to be there this weekend! Be sure to click on the image to the right for scheduling and ticket info! Ambush Bug and the Chicago @$$Holes will be bopping between these two conventions all weekend. No self respecting genre fan would miss these two events. See you there!