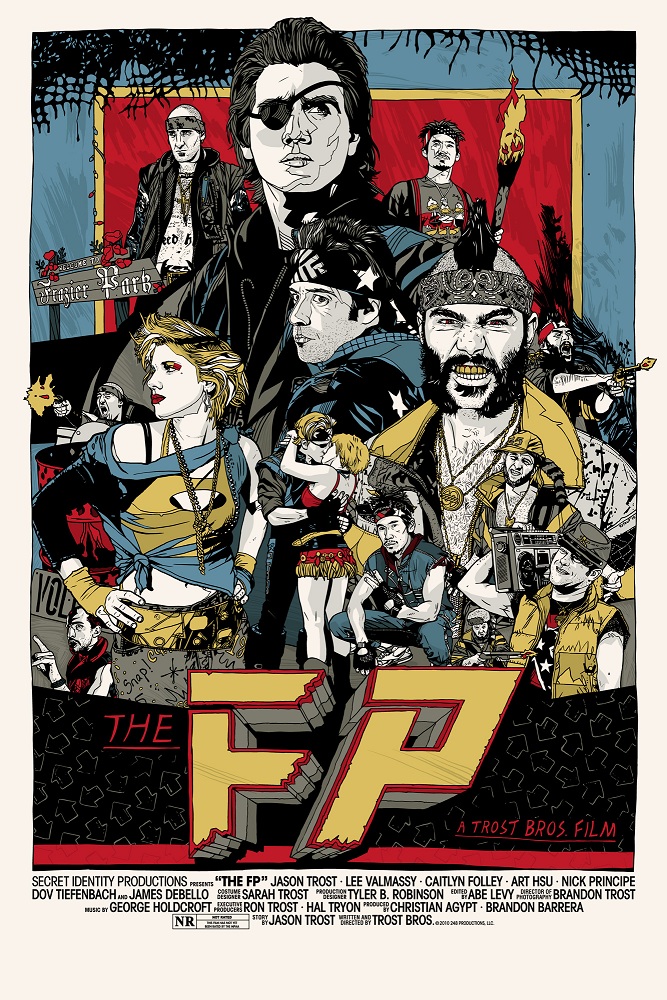 Nordling here.
I missed THE FP when it screened at SXSW this year, and I really wish I hadn't. From all accounts, it sounded like a great time. THE FP is a little difficult to explain; it's basically a gang warfare movie, except instead of rumbles the rival gangs fight it out with Dance Dance Revolution. Here's the trailer (NSFW):
The FP - Trailer from Trost Bros. on Vimeo.
The film looks crazy in a good way, and I'm kicking myself that I missed it. But today, Drafthouse Films announced that THE FP will be the studio to release the film in the US, which means we'll all be stepping left, right, left, right to it very soon! Here's the press release:
****FOR IMMEDIATE RELEASE****

DRAFTHOUSE FILMS ACQUIRES US RIGHTS TO "THE FP," APPOINTS NEW COMPANY DIRECTOR

AUSTIN, TX – Monday, August 1, 2011 – Drafthouse Films, the film distribution arm of the Alamo Drafthouse Cinema, today announced the acquisition of US rights to THE FP from it's July 30th screening at Montreal's Fantasia International Film Festival. Set in a near post-apocalyptic future, THE FP centers on two rival neon-clad gangs raging an underground turf war for dominance of Fraizer Park ("The FP") in the deadly arena of "Beat-Beat Revelation" – a competitive dance-fight video game. THE FP is a nod to '80s sci-fi/action genre fare and is directed by brothers Jason and Brandon Trost (Cinematographer, CRANK 2: HIGH VOLTAGE and the upcoming GHOST RIDER 2: SPIRIT OF VENGEANCE), and Executive Produced by Jason Blum and Steven Schneider of PARANORMAL ACTIVITY and INSIDIOUS fame. A limited theatrical release for the "rare ready-made cult hit" (Moviefone) is planned for Q1 of 2012.

"I fell in love with THE FP from its world premiere in Austin," says Tim League, CEO/Founder of Drafthouse Films who programmed the film for SXSW's midnight features lineup at SXFantastic, "and for the same reasons, we decided to pick up the film for distribution. The Trost brothers have an amazing, fresh creative vision and I want to be a part of the team that helps evangelize their strange new gospel."

It was also announced today that Drafthouse Films has appointed Evan Husney as the company's new director who will oversee all aspects of acquisitions, distribution, promotion and marketing for their future slate of new and repertory releases. Minneapolis-born Husney began in professional entertainment at the age of 11, helping his promoter/manager father A&R albums that included a polka compilation curated by satirist "Weird Al" Yankovic, and several discs for the famed 'as seen on TV' label K-Tel Records. Eight years later, Husney started his full-time career as the Director of Marketing and Public Relations at the infamous Troma Entertainment in New York City. There, he earned a glowing write-up in The New York Times by launching a line of DVD releases that included such cult hits as the '80s indie shocker COMBAT SHOCK and South Park creator Trey Parker's debut CANNIBAL! THE MUSICAL. In 2009, Husney was hired at premiere boutique label Severin Films, where as Integrated Marketing Director he designed and implemented the company's digital strategy and oversaw such top-selling DVD releases as HARDWARE, SANTA SANGRE and THE STUNT MAN as well as the theatrical release of BIRDEMIC: SHOCK AND TERROR, which Husney discovered at the 2008 Sundance Film Festival. Most recently, Husney supervised branding and acquisitions for Severin's 'outsider video' subsidiary label Intervision Picture Corporation and, together with the Alamo Drafthouse's collectible art boutique Mondo, resurrected the VHS format for a sold-out line of product that celebrated the direct-to-video movement of the 1980s.

For more information on Drafthouse Films or THE FP, visit:

http://twitter.com/drafthousefilms

http://facebook.com/drafthousefilms
Drafthouse Films, the distribution arm of the Alamo Drafthouse Cinema, debuted in 2010 with the theatrical release of FOUR LIONS (Top 10 Film of 2010 by Time Magazine. Drafthouse Films is dedicated to scouring the globe in search of amazing, challenging and unique films that we are passionate about sharing with a wide audience. Drafthouse Films along with the Alamo Drafthouse Cinema, Mondo, Fantastic Fest and Badass Digest comprise the growing Alamo Drafthouse entertainment lifestyle brand.
Congratulations to THE FP, the Trost brothers, and Evan Husney, and I hope that Drafthouse Films makes its mark on American film distribution. It already has, with FOUR LIONS, a really great film that deserved an audience.

Nordling, out.