Logo by Kristian Horn
---
What the &#$% is ZOMBIES & SHARKS?
---
Greetings, all. Ambush Bug here with another AICN HORROR: ZOMBIES & SHARKS column. Here's another batch of new or recently to DVD horror that might tickle those wicked bones of yours.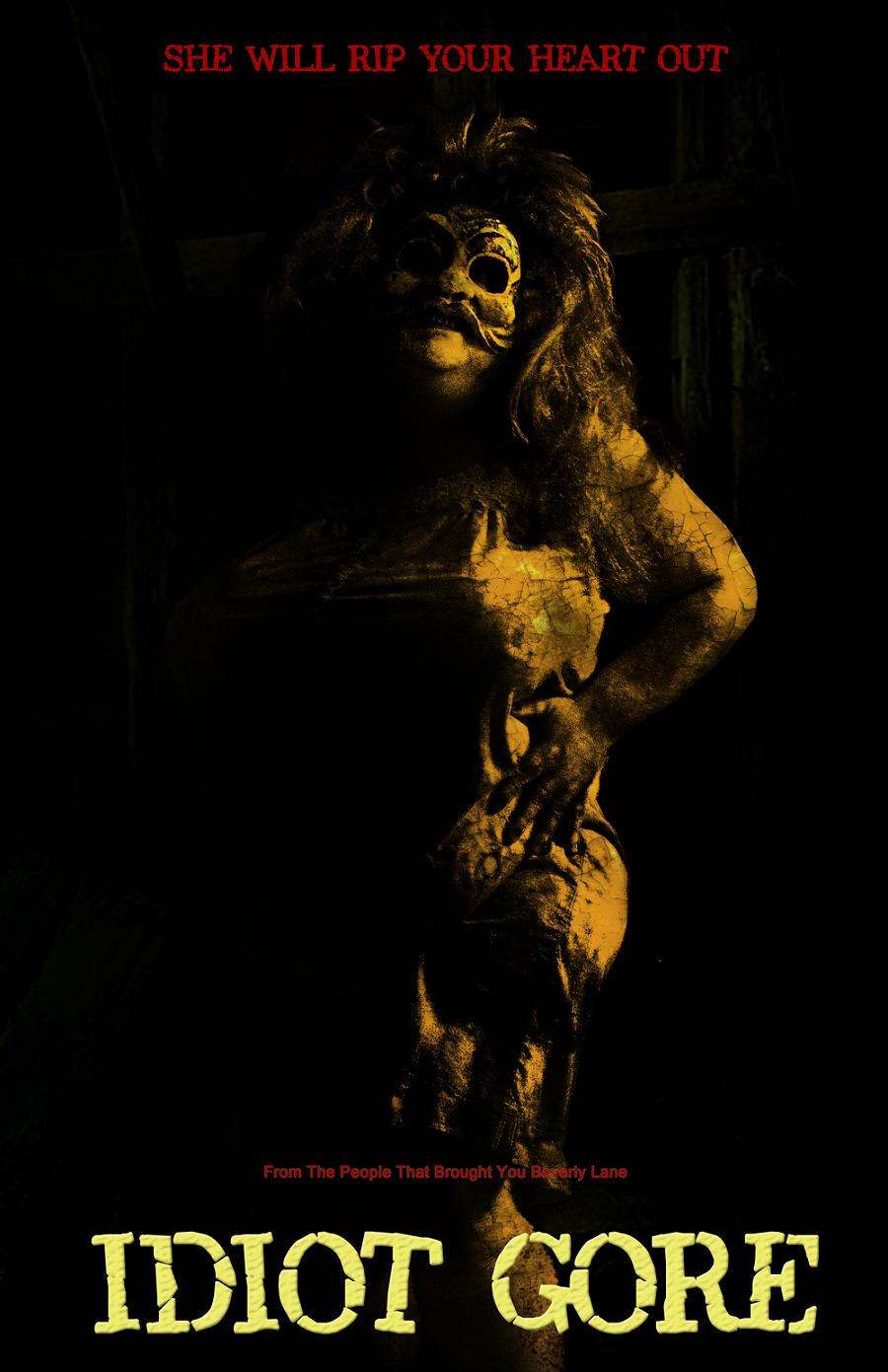 But first, I've got this…
The folks behind the new indie film IDIOT GORE released their first teaser poster this week and sent it to me to share with all of you. The poster looks good and creepy. Just the way I like my horror. Click on the pic off to the right to see the poster in all of it's creepy glory! Can't wait to see this one!
So while I prepare for an ultra busy SDCC 2011, enjoy this latest batch of new horror!
Today on AICN HORROR
(Click title to go directly to the feature)
CANNIBAL: THE MUSICAL (1993)
SLIME CITY (1988)
KILL KATE MALONE (2010)
RED, WHITE, & BLUE (2010)
WAKE WOOD (2011)
Zeek of the Week: FOLLOWED Short Film (2011)
And finally…GUILLOTINE GUYS!
---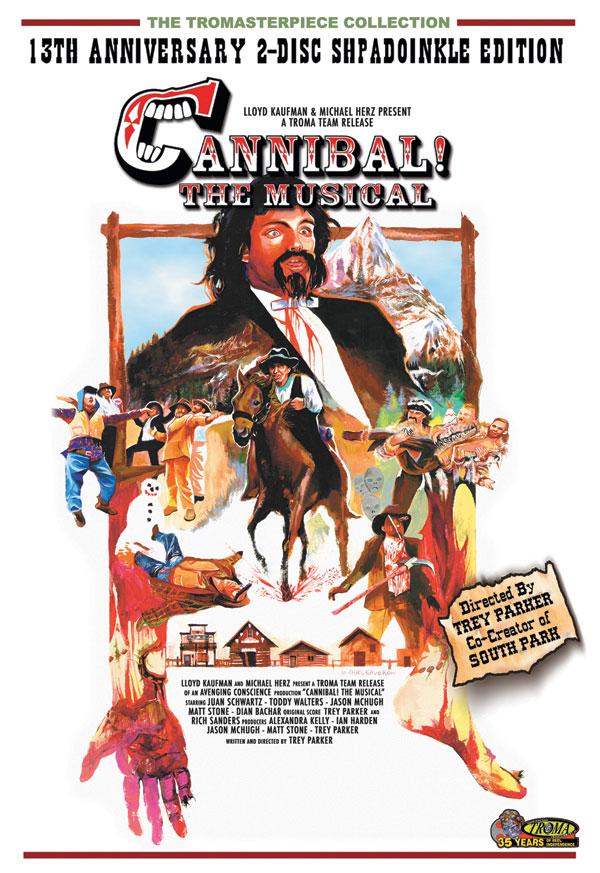 13th (or so) Anniversary Shpadoinkle Edition just released on DVD!
CANNIBAL: THE MUSICAL (1993)
Directed by Trey Parker
Written by Trey Parker & Matt Stone
Starring Trey Parker, Matt Stone, Dian Bachar, Toddy Walters
Reviewed by Ambush Bug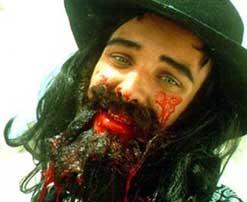 Though their math bight be a bit off since the film was actually released in 1993, Troma is releasing the 13th (or so) Anniversary edition of CANNIBAL: THE MUSICAL, the film that introduced the word "shpadoinkle" into the public consciousness. Though it is a bit rough around the edges, the 1993 film still carried the wit and spark later seen in Trey Parker and Matt Stone's ORGAZMO, BASEKETBALL, TEAM AMERICA WORLD POLICE, and of course SOUTH PARK. Now, if those films (& TV series) don't make you laugh a bit at the mere mention of them, I don't think I would recommend CANNIBAL: THE MUSICAL to you. But if you like irreverent and off the wall humor, despite an obvious deficiency in budget, the film makes up for it all with a fun script and more than enough guffaws.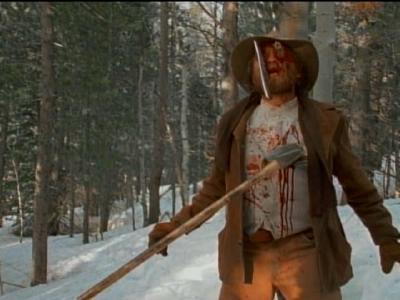 CANNIBAL: THE MUSICAL begins by letting us know that this is a true story about Alfred Packer (played by Trey Parker, who seems like he's just getting used to being in front and behind the camera here), a mountain man who led a party through the Colorado Territory and ended up being the last survivor of the bunch and was tried for cannibalism. But though the film starts out with a gory reenactment of Packer's assault on his fellow trailblazers, the rest of the movie is relatively bloodless. Instead, humor of the goofiest kind takes center stage as Packer confesses his love of his horse Leanne, and the rest of the group build a snowman, compete with a tribe of tone-deaf French trappers, and run into Japanese Indians, a little lamb and a Cyclops.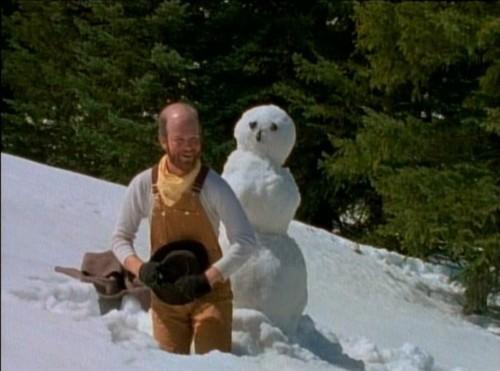 That's right, you heard me. A Cyclops (Parker later admitted that he based the story structure of CANNIBAL: THE MUSICAL on "The Odyssey").
That's the thing about this film. Despite the goofy humor and low budget, Parker and Stone's dangerously sharp wits shine through. So while this film may be acted in a bit of an amateurish manner, the shots and edits are shaky, and the songs are not the catchiest (though "Shpadoinkle Day" and "Let's Build a Snowman" do have a tendency to burrow its way into one's brain), there are moments of sheer hilarity that I won't go into too much here (because we all know explaining a joke ruins it outright). Thirteen years after the film was released by Troma, there are still a lot of great laughs to be had here. Though attempts to bring the musical to stage have been hit and miss through the years, the original tale is now available from Troma in this 13th (or so) Anniversary Edition (with new special features and an intro by Lloyd Kaufman himself). So if you're interested in checking out the seeds from which the demented shit you've seen on SOUTH PARK sprung (and maybe have the sudden urge to shout "SHPADOINKLE!" and build a snowman), CANNIBAL: THE MUSICAL will leave you humming the songs and giggling at the laughs for days after viewing.
---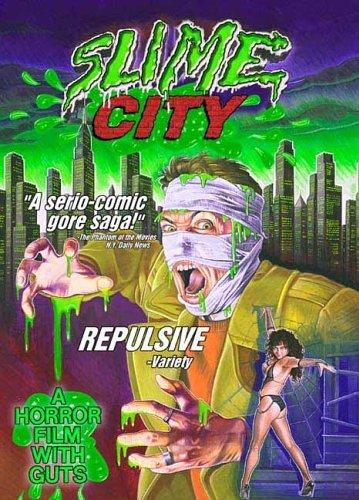 SLIME CITY (1988)
Directed by Greg Lamberson
Written by Greg Lamberson
Starring Robert C. Sabin, Mary Huner, T.J. Merrick, Dennis Embry, Dick Beil
Reviewed by Ambush Bug
Totally and unabashedly gross, SLIME CITY knows how low budget it is and wallows in it like a pig in slop. Those looking for highbrow scares and pristine production values should probably avert their gaze and scroll down. But those who love their gore grimy and gross need to seek this one out pronto Squanto.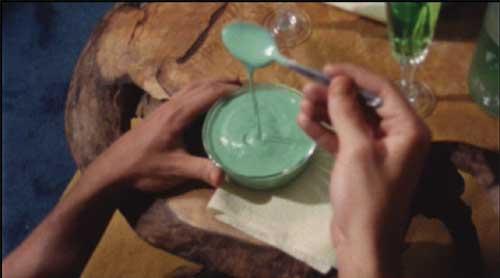 Alex and his virginal girlfriend Lori answer an ad for an apartment in an old New York building. At first it seems like the perfect place for Alex (who invites his girlfriend to move in but she's not ready), but soon he meets Roman the beatnik neighbor and Nicole the goth siren next door and things quickly go pear shaped. Tempted into Nicole's bed and Roman's dinner, squeaky clan Alex finds himself wrapped up in sex, drugs, and the occult. After a trippy dinner at Roman's, Alex is introduced to a slimy "yogurt" dish and an unlabeled liquor. Alex wakes up covered in slime and soon begins to melt ooze all over the place. His actions become erratic but after killing a bum, Alex finds that he returns to normal. Soon Alex realizes that if he doesn't want to end up a pile of ooze, he must kill on a semi-regular basis. Of course, his girlfriend Lori isn't happy about all of this.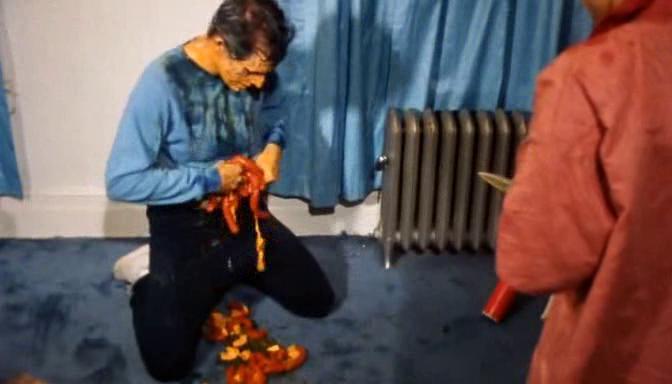 Released in 1988, a few years after Cronenberg's THE FLY, SLIME CITY has a lot of the same themes, albeit in a more lowbrow manner. As Alex's humanity and body begin to puddle beneath him, the similarities between the two films are pretty jarring. Director Greg Lamberson does a great job of keeping everything together despite the limited budget and works well with what he has. The use of non-actors often times adds to the hilarity of the film (especially in a scene where a gang confronts Alex in a not so dark alley).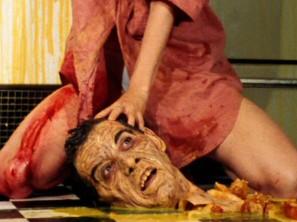 Though I've already mentioned THE FLY, SLIME CITY also reminds me of the gross out awesomeness of EVIL DEAD II. In the gory climax of the film, Lori and Alex face off with severed limbs and oozing slime in their wake. SLIME CITY spawned a remake/sequel called SLIME CITY MASSACRE (also by Lamberson) last year that I'm dying to see after the gory giddiness seen in every frame of this film. If you're in the mood for gore to the extreme level, SLIME CITY is right up your alley.
---
Available now on VOD!
KILL KATIE MALONE (2010)
Directed by Carlos Ramos Jr.
Written by Mark Onspagh & Carlos Ramos Jr.
Starring Dean Cain, Stephen Colletti, Lil J, Nick Hogan (son of the Hulk!), Masiela Lusha, Sylvia Panacione
Reviewed by Ambush Bug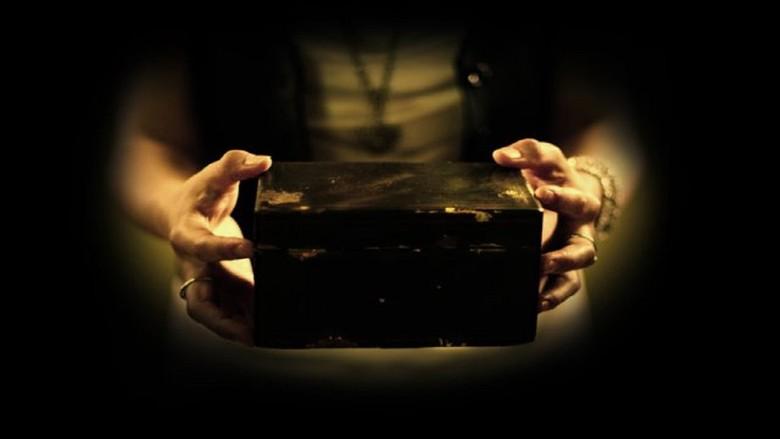 Though not the most logical story, KILL KATIE MALONE does have a plot that I can safely say I've never seen before in a movie. A couple of attractive college kids stumble on a ghost up for bid on Ebay and decide to make a bid. Sure enough, they win the prize, but they soon find that winning the prize isn't really a good thing. With a cast made up mostly of television personalities, this attractive youngsters in trouble thriller has some effective thrills despite the goofy premise.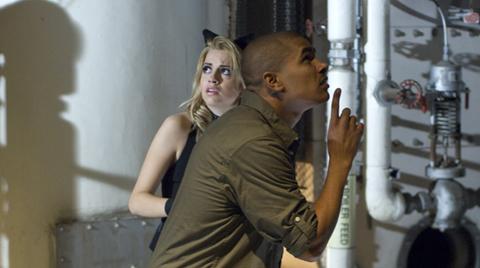 Writer Mark Onspagh (who wrote FLIGHT OF THE LIVING DEAD) turns in a script that acknowledges the goofiness of the premise and director Carlos Ramos Jr. runs with it well, filling KILL KATIE MALONE with more than a few effective scares (most involving the title character popping out of odd places). The effects are decent and the look of the ghost herself is actually quite chilling.
KILL KATIE MALONE isn't a barn-burner, but better than expected. Though the cast delivers performances one would expect from shows like LOIS & CLARK, THAT'S SO RAVEN, and MEET THE HOGANS, there are enough thrills and chills lumped into the mix to look past its deficiencies. KILL KATIE MALONE is worth a gander. Don't expect much going in and you might be surprised.
---
Available now on DVD/BluRay!
RED, WHITE, & BLUE (2010)
Directed by Simon Rumley
Written by Simon Rumley
Starring Noah Taylor, Amanda Fuller, Marc Senter, & John Michael Davis
Reviewed by Ambush Bug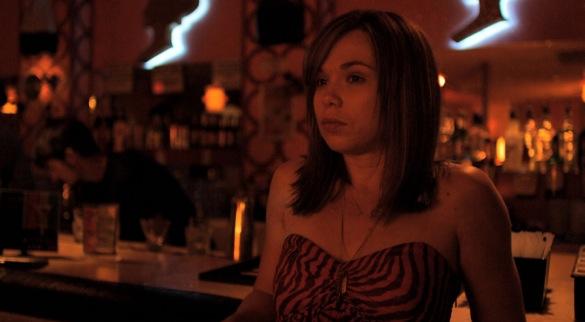 Though it's tough to call RED, WHITE, & BLUE a straight up horror film, the final moments of this emotional loopty-loop have some of the most shocking scenes I've seen put to film in quite a while. Director/writer Simon Rumley pulls not single punch in the final half hour after lulling the audience in with a charming story about a promiscuous woman (Amanda Fuller) developing a relationship with a war vet (Noah Taylor). Though not for the squeamish (but what the hell are the squeamish doing reading a column called AICN HORROR anyway?), RED, WHITE, & BLUE is well acted, masterfully directed, and utterly memorable.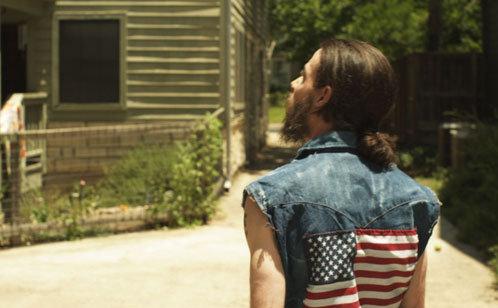 Structurally, I liken RED, WHITE, & BLUE to TAXI DRIVER. Both are about damaged people seeking companionship and both end with an explosively violent climax. But while TAXI DRIVER suffers from a bit of a lull up until the bombastic ending, I was entertained by RED, WHITE, & BLUE throughout. The core of this film is the love story between Erica (Amanda Fuller,)a woman who refuses to have relationships, only brief sexual encounters, and Nate (Noah Taylor, best known for his role as a young Geoffrey Rush in SHINE, but unrecognizable here), an Iraq War vet who is deliberating about going back to work for the government. Both actors expertly show periods of intimacy toward each other, yet bristle at the touch of anyone else they encounter. The third lead, Marc Senter, offers a capable performance as Franki, a singer in a garage band and one of Erica's former suitors, but his performance doesn't compare to the two leads. Then again, Franki is given quite a bit of story to chew and does so in a way that makes you both like and loathe him all at once.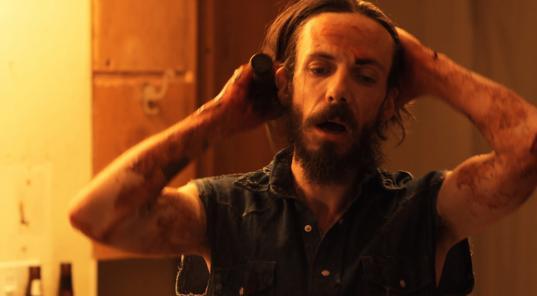 Though the film has been out for a while, I won't reveal the kick to the balls reveal toward the end of the film or the horrific events that spawn from it. All I can say is that RED, WHITE, & BLUE is the type of film that leaves scars you'll be picking long after the closing credits. The sheer brutality of the acts that occur in the final moments resonate mainly because of the time and patience director Rumley allows us with the lives of these three main characters. It's a harrowing journey to get to the end of this film, but well worth the trip. With July Fourth a few days behind us, I can't think of a better way to celebrate the nation's independence than with this little indie film from Texas that lulls you in with a gentle caress, but leaves you in a pool of your own juices with a powerhouse kick to the gut.
---
New on BluRay / DVD / VOD this week!
WAKE WOOD (2011)
Directed by David Keating
Written by David Keating, Brendan McCarthy
Starring Aidan Gillen, Eva Birthistle, Timothy Spall, Ella Connolly, Ruth McCabe
Reviewed by Ambush Bug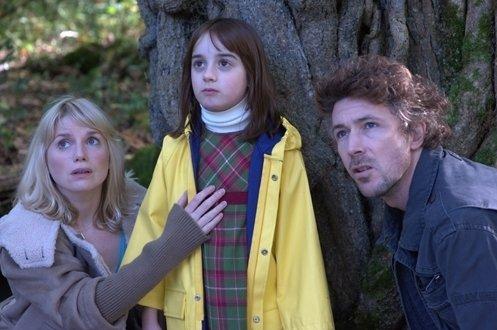 Hammer Films are 2 and 1 in my book with LET ME IN being their other hit (THE RESIDENT being somewhat of a lackluster entry), but WAKE WOOD is by far the one most reminiscent of Hammer films of old, if you ask me. Though it doesn't have Christopher Lee hissing at a leaping Peter Cushing or damsels sporting fancy dress and loads of cleavage, WAKE WOOD is a straight up and unapologetic horror film through and through. Writer/director David Keating pulls off a story of loss and the lengths we all will go to avoid it.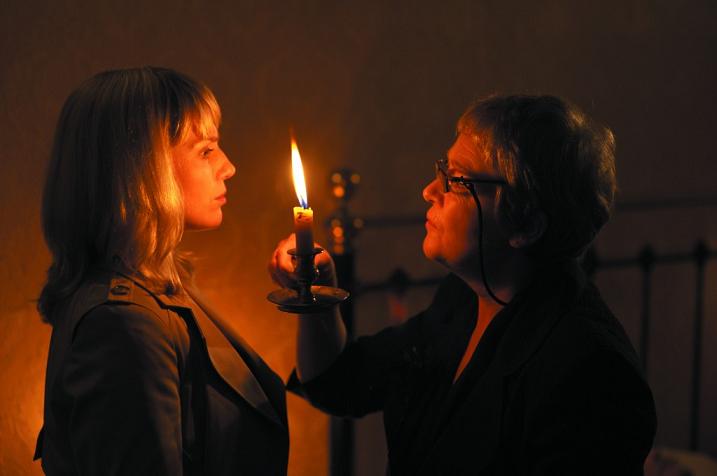 Patrick and Louise are trying to put their marriage back together after the tragic death of their daughter Alice (Ella Connolly). The couple moves to the simple town of Wake Wood for a new start. With Louise working in the pharmacy and Patrick taking up as the town veterinarian, everything seems hunky-dory. But when the couple's car breaks down on the side of the road, they witness a ritual performed by the town elders which seemingly brings back to life a person who had recently died. Louise (played by Eva Birthistle) immediately wants to perform the ritual on their recently deceased daughter. Patrick (played as surprisingly likable by Aidan Gillen, who has been known to play complete shits in THE WIRE and GAME OF THRONES) is more than a little leary, but wants to please his wife. If you've seen PET SEMETARY, you know where this is going. Alice is brought back, but something is definitely off with her. Horror ensues. But whereas the overrated PET SEMATARY exceeds in camp over chills, WAKE WOOD plays things deadly straight and never stumbles all the way until the diabolical little ending.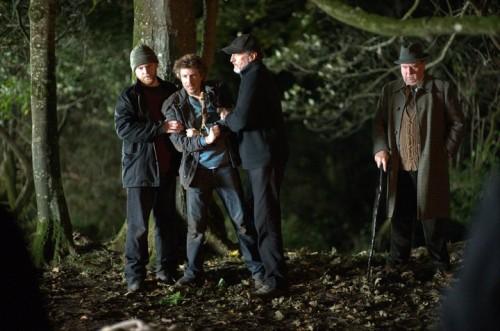 I got a whiff of DON'T LOOK NOW (the Donald Sutherland classic about parents haunted by the ghost of their dead daughter) and even ALICE SWEET ALICE while watching WAKE WOOD, especially since this Alice wears a yellow slicker similar to the little monsters of those films. But despite the similarities to other horror films, WAKE WOOD is a wicked little film with a lot of scares and druidian Old English horror you don't see a lot of in modern cinema. The acting is top notch with Gillen (sporting an unfortunate head of hair in this one) and Birthistle serving up heartbreaking performances. Timothy Spall is, as usual, fantastic as the town elder who performs the ritual and little Ella Connolly does a fantastically haunting job as Alice without the amateur air that usually hangs around child actors in this sort of role (see Gage in PET SEMATARY). With no punches pulled when it comes to gloom and gore, along with performances of the tip top notch, WAKE WOOD capably upholds the great tradition that is Hammer Films.
---
ZEEK OF THE WEEK!!!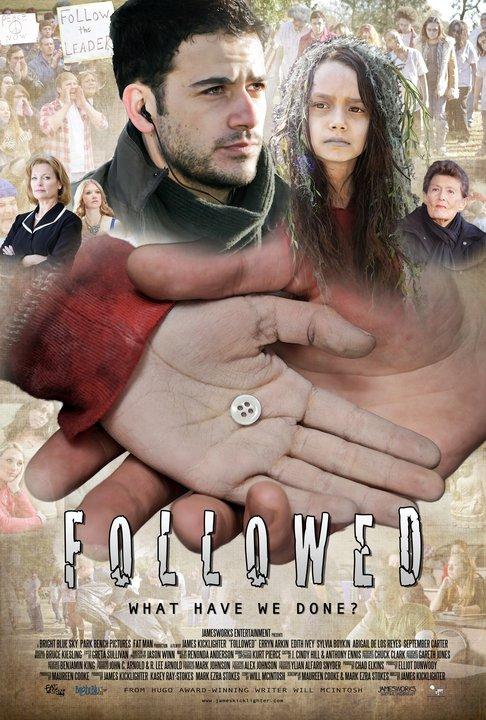 FOLLOWED Short Film (2011)
Directed by James Kicklighter
Written by Maureen Cooke and Mark Ezra Stokes (based on a short story by Will McIntosh)
Starring Erryn Arkin, Edith Ivey, Abigail de los Reyes
Find out more about where and when to see this short film here and more on their Facebook page!
Reviewed by Ambush Bug
Director James Kicklighter contacted me a while back about this film and was nice enough to let me check it out, and I'm so glad I did. Though this film could easily be lumped in with other zombie films, it's an entirely new and refreshing take on the zombie genre. Though it might take some work to seek this one out, it's definitely worth the effort.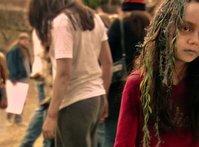 The concept of FOLLOWED comes from a short story by Will McIntosh. Unlike most cinematic zombies, the zombies in FOLLOWED don't have the annoying tendency to eat brains. They actually are pretty pleasant. They just kind of appear from nowhere, following the humans slowly, and that's about it. The thought of a race or species of human that do nothing but wander around and occasionally follow humans slowly is both a new and haunting one. One particular man finds himself followed by a little zombie girl and does everything he can to avoid her, but she relentlessly continues to show up everywhere he goes. Though the concept of zombies is always a gruesome one, FOLLOWED turns out to be a sweet and downright heartwarming story.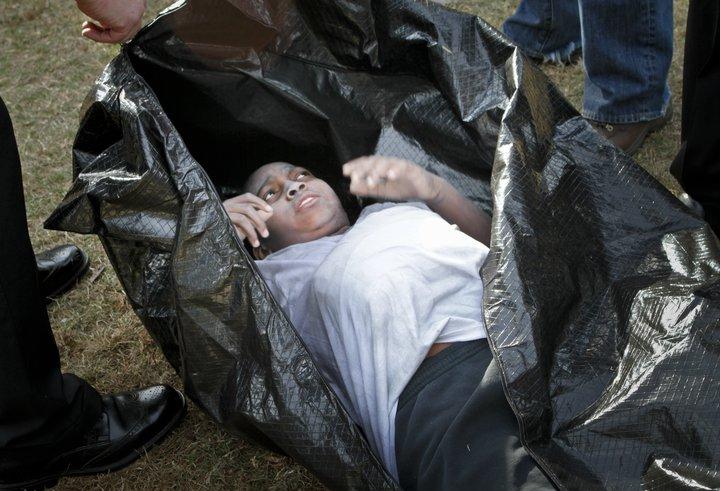 Directed with a delicate and gentle hand, FOLLOWED is probably the most unexpected horror surprise I've seen in quite a while. The final moments, set to a song called "Glory" by Essie Jane, will warm even the coldest and deadest of hearts. I don't know if FOLLOWED is ever going to be a feature film, but it certainly has enough going for it to warrant one. As is, FOLLOWED is worth getting behind. It's making its way around festivals at the moment (specifically Dragon*Con, the Rome International Film Festival, and Central Florida Film Festival -- all in September) and you can find out more about it and where and when the film will be playing
here
and
here
.
---
And finally…here's a moralistic short film called GUILLOTINE GUYS to play y'all out on. Enjoy!
See ya, next week, folks!

Ambush Bug is Mark L. Miller, original @$$Hole / wordslinger / reviewer / co-editor of AICN Comics for over nine years. Support a Bug by checking out his comics (click on the covers to purchase)!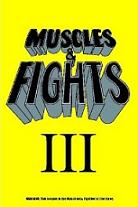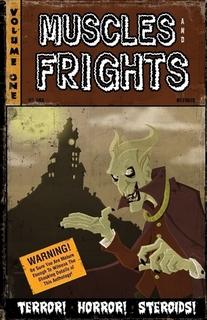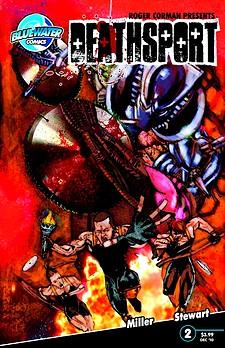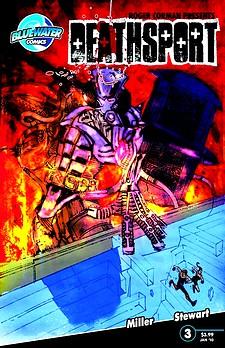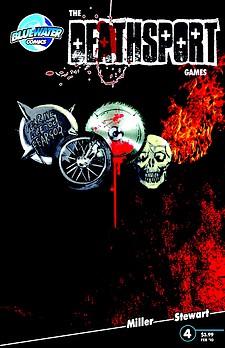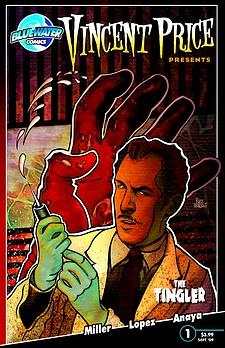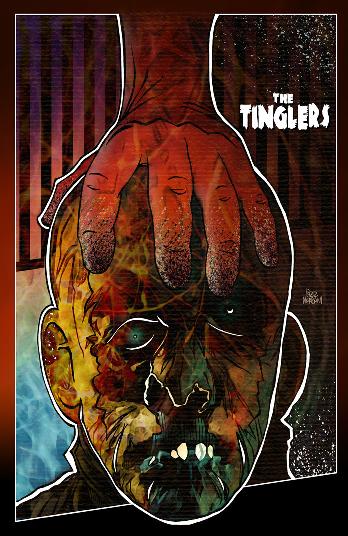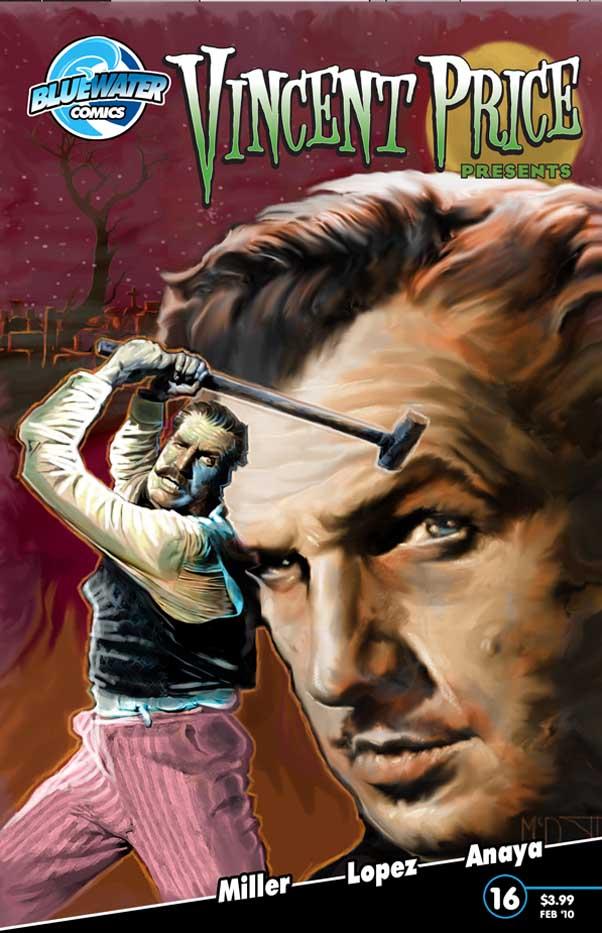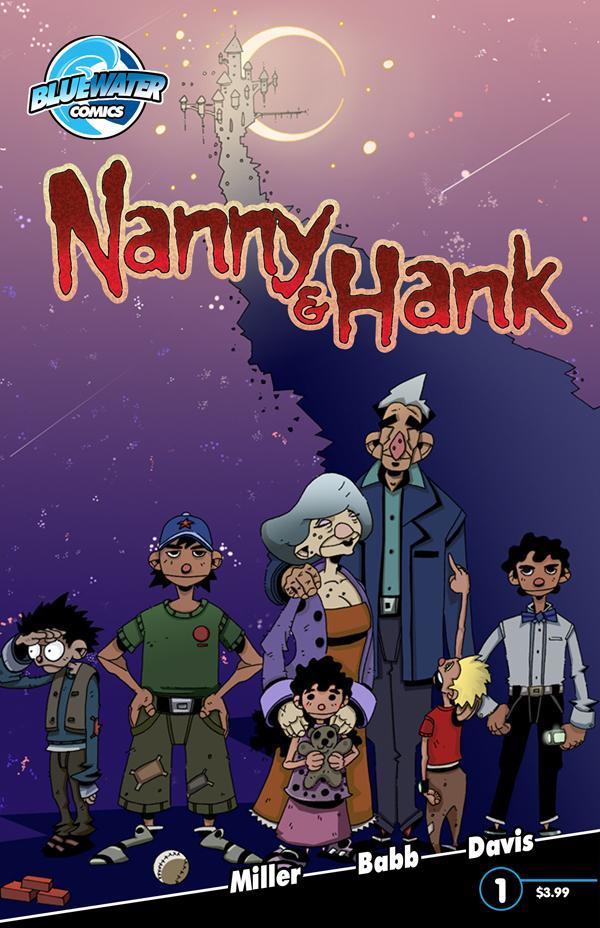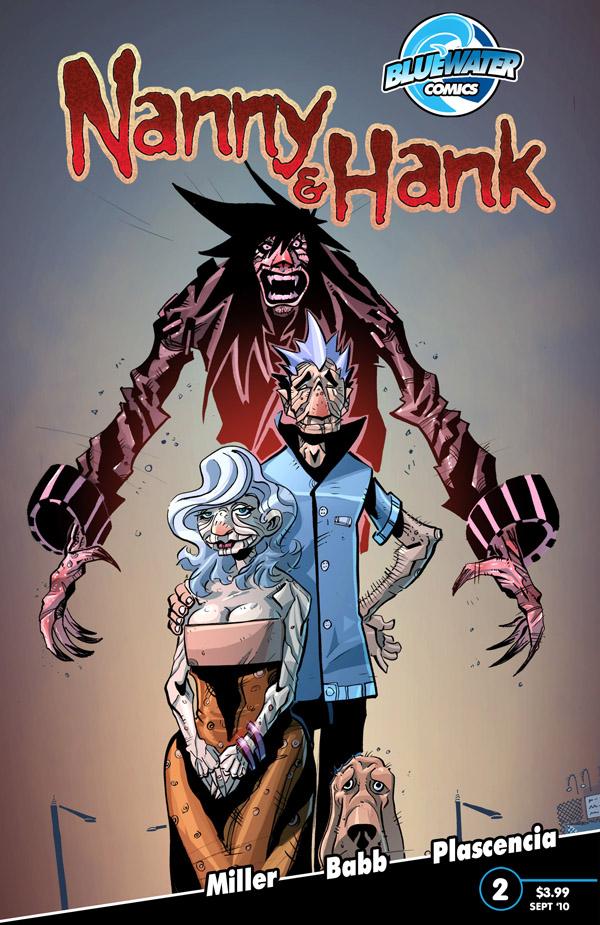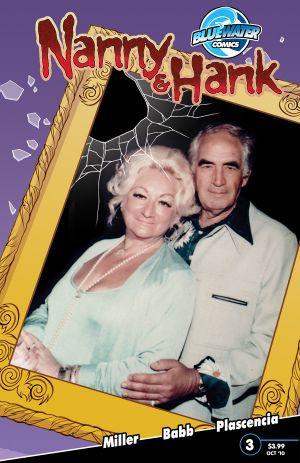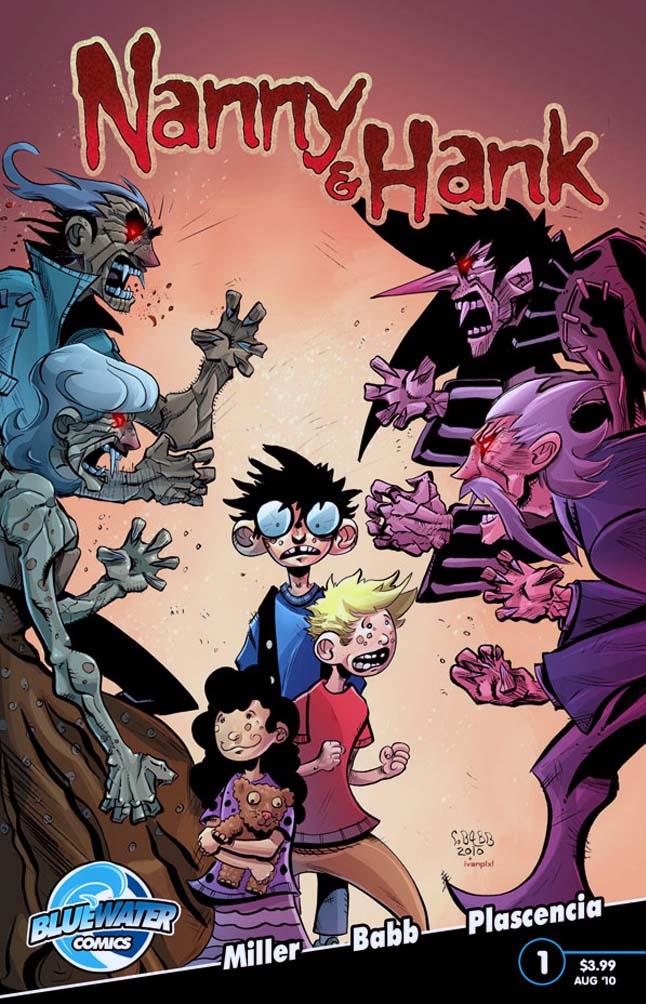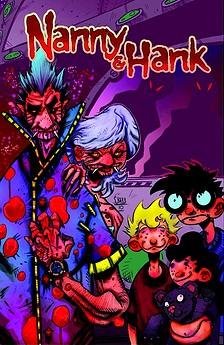 Check out NANNY & HANK's Facebook Page
Check out THE DEATHSPORT GAMES' Facebook Page
---
Check out FAMOUS MONSTERS' website here!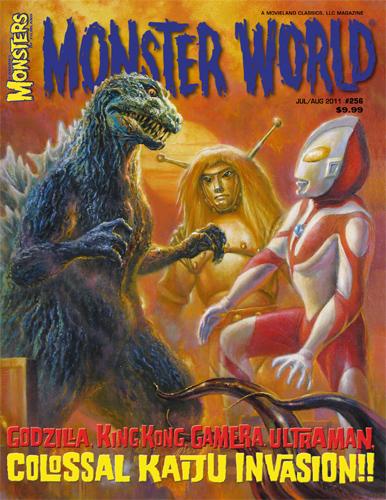 Find more AICN HORROR including an archive of previous columns on AICN HORROR's Facebook page!