Hey folks, Harry here... The once wicked Norman ruled area of Nottingham is now playing host to an entirely new fighter for the innocent, none other than Batman. You see at Wollaton Hall, in Nottingham - it is doubling as WAYNE MANOR - which, looks to be the new home of Bruce Wayne. Now I thought he was going to rebuild it exactly as it looked in the original Nolan film, but it seems Bruce has had time to rethink it. Also - we know have a great tree planted in the middle of a family plot on the grounds. Again... very cool. Here's a photo with Wollaton Hall in the background: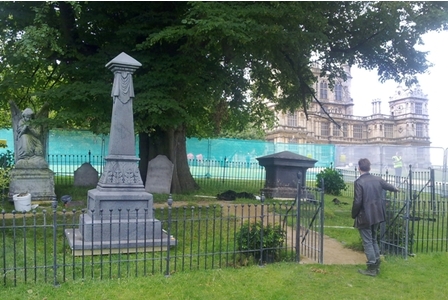 If you click on the photo above, you'll be whisked to the folks of THIS IS NOTTINGHAM - which is writing about Catwoman drinking a smoked margarita and veggie chimichanga... Also it seems Alfred enjoyed some Fish & Chips. Many more amazing details to be had. Kinda. But now, not only can you visit Nottingham to torment their local Sheriff, but you can gawk at Wayne Manor. Too cool.
In other DARK KNIGHT RISES news - in Pittsburgh, they're now casting Gotham football players. Plot thickens.