Ahoy, squirts! Quint here with today's Behind the Scenes Pics!
This particular Empire Strikes Back behind the scenes photo has a curious history. It was obtained… in a "unique" fashion by enterprising Star Wars fans in the weeks leading up to the release of The Empire Strikes Back.
I won't get into the nitty gritty, but I will say it's a good thing they didn't run into a Dianoga. Star Wars fans should know what I'm talking about..
I'd have to comb through the massive Making of Empire book again, but I don't think I've seen this shot before. In it we see Master Lucas checking in on a massive Star Destroyer model that I wish was hanging from my ceiling because I'm nerdy like that.!
Thanks to the Bothan spies who died bringing us this picture. Click to embiggen!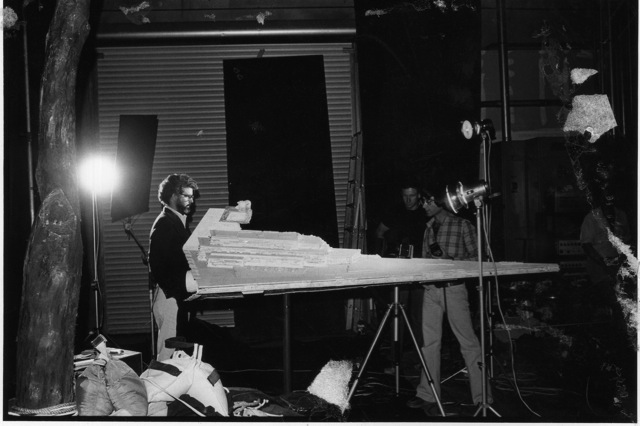 If you have a behind the scenes shot you'd like to submit to this column, you can email me at quint@aintitcool.com.
Tomorrow's behind the scenes pic ain't quite done with the Bay Area just yet.
-Quint
quint@aintitcool.com
Follow Me On Twitter