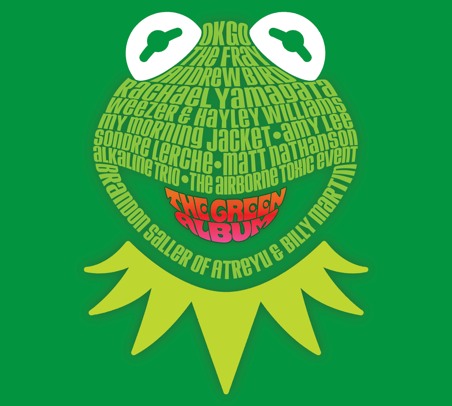 Nordling here.
We don't often post about music on AICN, but this was too cool not to talk about - on August 23rd, Disney will release MUPPETS: THE GREEN ALBUM, filled with some of our favorite Muppet songs, covered by such artists as Weezer, My Morning Jacket, and OK Go. I'm assuming this will be ramping up to the Thanksgiving release of the new film. And that's perfectly fine with me.
I'm especially curious to hear Weezer and Paramore's Hayley Williams' take on "Rainbow Connection", but My Morning Jacket covering "Our World" sounds like a terrific match as well. My Morning Jacket doing an Emmet Otter song? Yeah. I'm there.
Here's the track listing:
01 OK Go: "Muppet Show Theme"
02 Weezer and Paramore's Hayley Williams: "Rainbow Connection"
03 The Fray: "Mahna Mahna"
04 Alkaline Trio: "Moving Right Along"
05 My Morning Jacket: "Our World"
06 Amy Lee: "Halfway Down the Stairs"
07 Sondre Lerche: "Mr. Bassman"
08 The Airborne Toxic Event: "Wishing Song"
09 Atreyu's Brandon Saller and Good Charlotte's Billy Martin: "Night Life"
10 Andrew Bird: "Bein' Green"
11 Matt Nathanson: "I Hope That Something Better Comes Along"
12 Rachael Yamagata: "I'm Going to Go Back There Someday"
Nordling, out.