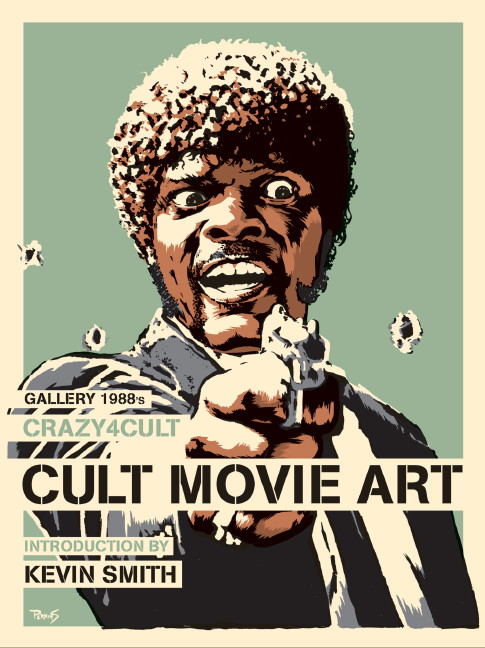 Nordling here.
In 2004 Jensen Karp and Katie Cromwell opened Gallery 1988 in Los Angeles, California, and they have become very successful showing pop-culture themed art in their studio. Their gallery has included pieces by such notables as Shepard Fairey, and once a year Gallery 1988 hosts "Crazy4Cult", a showcase of film-inspired art, from Kubrick to Burton to Coen, and is hosted by Kevin Smith and Scott Mosier. They have released a coffee-table book showing the best of these pieces of art (available here at Amazon) and I was able to talk with Mr. Karp about the show, the artwork and the inspirations that influence them, and the new release of the book.
The artwork is beautiful, and anyone who loves film owes it to themselves to check it out. As you can see by the cover, Quentin Tarantino is well represented, and I'd be surprised if you didn't find something in here to knock you around a bit.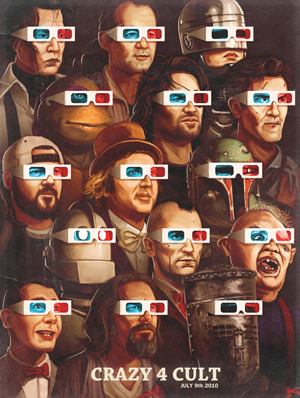 Mike Mitchell, "Crazy 4 Cult 4 Show Poster", Various Films
Nordling: Can you tell us a little bit about the origin of Crazy4Cult?
Jensen Karp: When we opened back in 2004, our mission was to work with purely 20-30 year old artists who were either too affordable or too young to show in stuffy, pretentious galleries. And as we worked with these artists we realized this batch of artists are no longer inspired by just masters like Picasso and Matisse, they're also influenced by Quentin Tarantino and Tim & Eric. And our goal was to make sure that artists created pieces they were passionate about, and in turn could create a batch of passionate first time art buyers, and we figured pop culture art was that common thread. So one idea we had kicked around was a show based on classic cult films, but we didn't really have the confidence to think everyone would love it as much as we did. And producer Scott Mosier, who had done Mallrats and Clerks, had become a frequent buyer at G1988 and a friend, so we pitched it to him. He seemed to like it (he's a bit stoic), but he asked if he could tell Kevin Smith about it. The next day he called me to tell that Kevin loved it, and so did Edgar Wright and Richard Kelly because he told them too! And basically we had our most buzzed about show without even booking one artist. And that was 4 years ago, and we have 1,000's of people visiting the show yearly as get ready for the 5th installment on July 8th. And Kevin and Scott Mosier are still our supporters, with Kevin even writing the foreword to the book.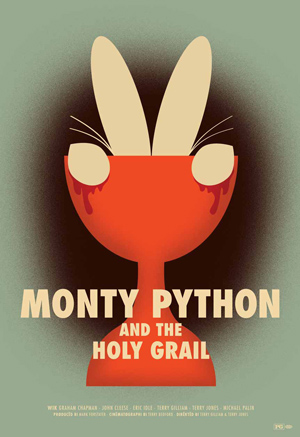 Brandon Schaefer, "Monty Python And The Holy Grail", MONTY PYTHON AND THE HOLY GRAIL
Nordling: The many artists that have participated have turned in amazing work. What piece in particular has received the most reaction?
Jensen Karp: That's a tough one, as we've literally had over 500 pieces come through these Crazy 4 Cult shows. But I think Kirk Demarais is my favorite story from Crazy 4 Cult. He tells the story now that he was a fan of G1988 and decided he would "stalk" me a bit and find me during Comic Con in 2008 to submit for the show. He said he sat in the shadows for an hour trying to muster the courage to walk up to me and show me his possible contribution. I remember when he did eventually walk up, he was visibly shaking and stumbling over his words. I was honestly expecting the worst. He kept prefacing that he's not a good artist and I'll probably hate it and eventually I just asked to see it. He pulled out the now infamous family portrait of the family from The Shining that has basically been revered by every cinephile since we showed it that year. I didn't know what to say. I looked at him and literally said, "I think you just became my favorite artist." Since then he has sold every original piece (drawing) he's put in our gallery, been paid to do commissions for a handful of famous directors and become one of our most sought after print artists. Customers who own his pieces include Michael Rappaport, Jonah Hill and Paul Scheer - all because one day he got the courage to approach me at Comic Con.
Graham Carter, "Red On You", SHAUN OF THE DEAD
Nordling: E.T. and ALIEN are two of my favorite films of all time, so to see them together is like chocolate and peanut butter. I love the E.T./ALIEN piece by Jason d'Aquino. Can you tell us a little about this piece?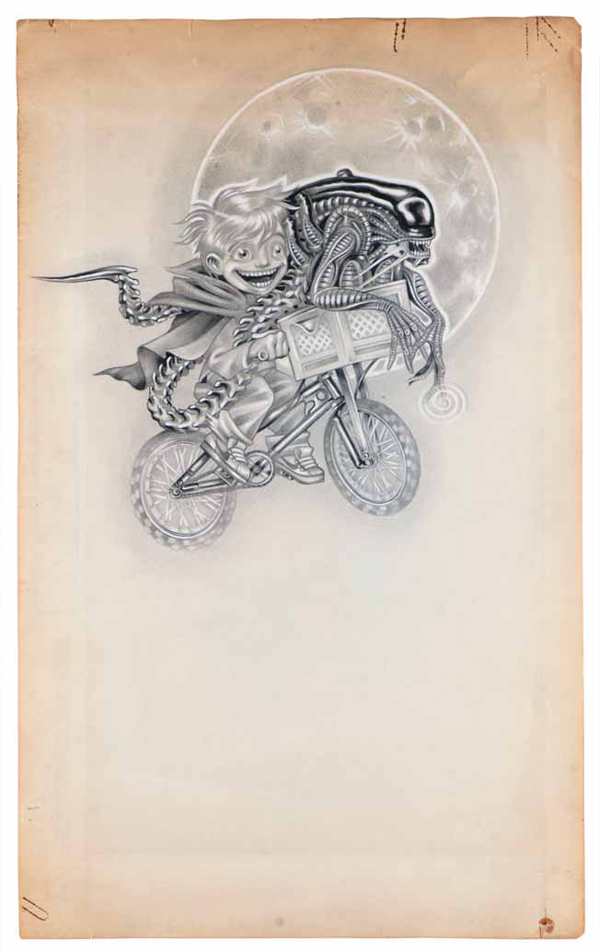 Jason d'Aquino, "Joyride", E.T. THE EXTRA-TERRESTRIAL and ALIEN
Jensen Karp: Love that piece! It's actually hanging in Jason and Jenny Biggs's house. Jason is an incredible artist who is mostly known for his incredibly detailed pencil drawings that he does on very small objects, most notably matchbooks. The E.T./Alien mash-up was much larger than he usually works (around 18x24 inches), so I didn't know what to expect. But it was beautiful. Some of my favorite pieces from past Crazy 4 Cults is when an artist can use two different films and have them create some sort of fantasy fan boy hybrid and this one is a hall of famer.
Nordling: How did Shepard Fairey's work find itself in the collection?
Jensen Karp: Shepard is an artist who seemed confident in Gallery1988 before we were even confident in it. We were pretty nervous about going bankrupt and finding day jobs, because we were focusing on artwork that other galleries found to be childish and way too themed. We also were working with artists that hardly anyone ever heard of (we still do actually). But we knew what we had was just a new formula for art buyers who were looking for artwork that spoke to them, not a canvas with 4 red dots that they are being told to buy for $40,000. Shepard got it immediately. He actually gave us a small pep talk. Not sure if he remembers it. But he came in and told us to keep going because we were causing a great commotion in the LA art scene and to keep giving the old guard shit. It was inspiring. He hinted that he would be down to some art for us in a group show in the future, so we asked...and he did it two years in a row. It was incredibly nice of him to participate and then actually be excited about the book. We feel honored to have had him show at our gallery, as he also participated in our Beastie Boys tribute a few years back (and I BOUGHT THAT PIECE!)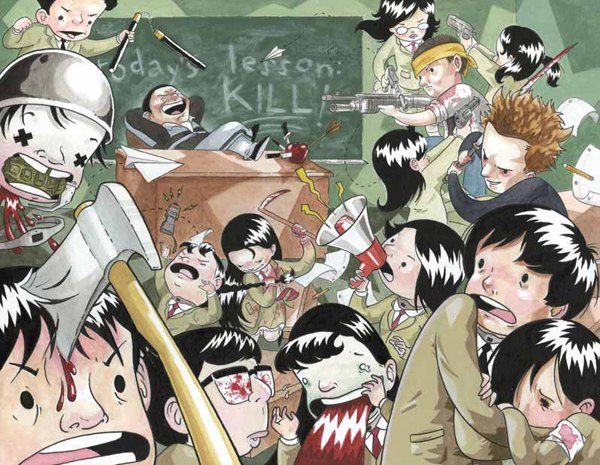 Julian Callos, "Class Dismissed", BATTLE ROYALE
Nordling: Many of these artworks are riffs on classic films. What is your personal favorite film represented in this collection, and can you talk about the pieces of art inspired by that film?
Jensen Karp: My favorite movie from the book is probably Pee-Wee's Big Adventure, as it's so influential in shaping my creativity. It also helped create some of the best pieces in the collection. Danielle Rizzolo's piece, which is just Pee-Wee's signature bike against a blue background, is one of my all-time favorites. It also has a small little plaque proclaiming it as Pee-Wee's bike on the frame, which is just something I could see Pee-Wee doing if he owned the painting himself. I love Little Friend of Printmaking piece that shows Pee-Wee screaming in the air, holding the snakes he saved from the burning pet store, as well as Kiersten Essenpreis's two pieces, one also influenced by the snakes scene, but another one of Pee-Wee hitchhiking in Texas. And here's an exclusive....on July 29th, at our Venice location, we'll be opening "I Know You Art, But What Am I?" a tribute show dedicated to just Pee-Wee Herman, so I'm in for a lot more favorites obviously.
Nordling: Many of the films represented are genuine classics and many others found their audience over the years. Art inspires art, and what do you think makes these films resonate with the artists?
Jensen Karp: I think artists themselves aren't always easy to understand or appreciate immediately like a cult film. Both in their work and socially. We all connect with movies that might not be front, center and mainstream - as we ourselves are the same way. It's only natural that artists might find inspiration in films like these. I think the Summer blockbuster knows its role and obviously it's fun, but a film that continues to build new audiences and have new definitions, stays in your mind and might just spark some creativity inside creative people. I think that's what you see in the book.
Nordling: We're seeing more and more posters inspired by films being released by places such as Mondo Tees, while the "official" art from the studio seems to be becoming more formulaic. Do you sense a craving in the filmgoing audience for more original art to represent film in the market?
Jensen Karp: Totally. We've worked directly with companies in shaping marketing campaigns to a more heartfelt and artistic direction. We worked with Paramount on The Fighter and with ABC creating and producing the final season viral campaign for LOST. We've coined a term here called "artvertising" (sorry) and more and more studios are understanding that we don't want to be talked down to for advertising. We want to be as proud of the merch/poster/marketing campaign of a film as we are the actual film. We want to feel like part of a community, not just another ticket sale. We want to reblog and retweet images and items that we can't wait to hang in our house, which if the studio is smart, realizes is also advertising. I applaud Paramount for sure, as they've been front and center with us, understanding the importance of something like our approach in breathing new life into old properties and speaking organically to a crowd that is dying to see their favorite movies break the formula.
Nordling: What is it about Stanley Kubrick's films that inspire such wonderful art?
Jensen Karp: Kubrick was an artist himself first and foremost. I've read a bunch of great books about Stanley, and he seemed to take each frame and look at it as a canvas. Honestly, it's the same with early Tim Burton. They are both artists at heart, and traditional artists flock to those films.
Kevin Tong, "Sic Transit Gloria", RUSHMORE
Nordling: Lastly, I imagine that choosing your favorite piece is like choosing your favorite child, but what pieces have really made their mark on you since seeing them for the first time?
Jensen Karp: I only have one Crazy 4 Cult piece hanging in my house, and that's the Greg "Craola" Simkins Edward Scissorhands/Nightmare Before Christmas mash-up from the first year of Crazy 4 Cult. When I had first thought of the show, that was exactly what I imagined. It's almost the blueprint. I knew when I saw it, I wanted to remember the feeling of first seeing it and realizing that Crazy 4 Cult might just work.
These pieces are amazing, and there's even more inside the book. Gallery 1988's CRAZY4CULT: CULT MOVIE ART is available at bookstores nationwide and at Amazon.com. Thanks to Tom Green and Jensen Karp.
Nordling, out.