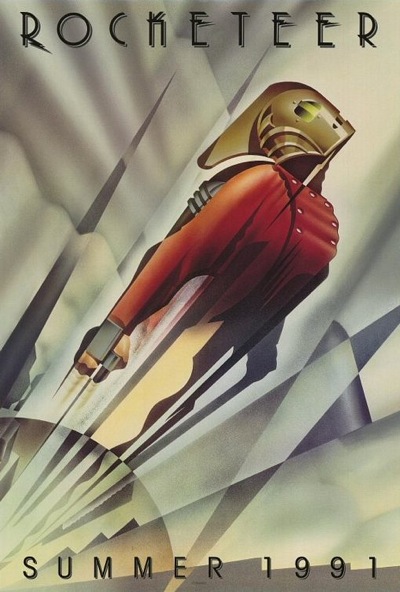 Update 10:00 PM PST... You guys did not make this easy. At all. So many heartfelt (and a few heartbreaking) emails... I wish I had tickets for all of you. Thank you so much for sharing your memories of THE ROCKETEER.
But there must be a winner, and it is... Brian Day! Congrats, sir!
There are still tickets available for this event. I know they're expensive, but if you've got the cash to throw around, this event will be well worth it.
Beaks here...
This came out of nowhere.
Just a few minutes ago, I was asked if I'd like to give away two tickets to D23's 20th anniversary screening of THE ROCKETEER at the El Capitan Theatre. Though this is incredibly short notice (the screening is tomorrow night, June 21st), I've a feeling there are some die-hard fans of Joe Johnston's 1991 classic out there who'll happily drop their Tuesday evening plans to check out this brand new digital presentation and stick around for a Kevin Smith-moderated Q&A with Joe Johnston, Bill Campbell, Rick Baker, Danny Bilson, Paul De Meo and William Stout.
Wanna go? Here's what you need to do: send an email to mrbeaks@aintitcool.com with the subject "THE ROCKETEER D23", and share your memories of seeing THE ROCKETEER on June 21, 1991. That's right, I want to give these tix to someone who's been a fan of this movie from the start, someone who elected to see Johnston's film over ROBIN HOOD: PRINCE OF THIEVES, DYING YOUNG or CITY SLICKERS (all three of which outgrossed THE ROCKETEER that weekend). Be passionate, but concise in your email. I'm going to give you until 7 PM PST this evening, and I will announce the winner in this article at precisely 10 PM. (Please be sure to include your full name and your guest's name in the email.)
This is a very special screening (tix are going for $50 a pop - and are still on sale), so I'm looking for a true ROCKETEER superfan. The event starts at 7:30 PM (with check-in beginning at 6:45). Good luck!
There's also going to be a bunch of cool ROCKETEER merchandise on sale at the event (in conjunction with Creature Features). Check it out!