Ahoy, squirts! Quint here with today's Behind the Scenes Pic!
From Russia With Love is my favorite Bond movie. I love a lot of 'em, especially in the Connery era, but there's something special about From Russia With Love. Sure, I'm mildly obsessed with Robert Shaw, but his Donald Grant is a flat-out badass. I mean, he opens the movie killing Sean Connery! How much more badass can you get? (Yes, I know it wasn't REALLY Connery, but still).
One of these days I'll run a nice BTS pic from this film that features a memorable scene (the knock-down, drag-out train fight, perhaps?), but today I have a nice little bit of Bondian coolness for you: Creator meeting creation!
Ian Fleming visits with Sean Connery on the set of From Russia With Love. It's not an earth-shattering image, but a very, very cool one for Bond fans. Enjoy!
Thanks to Frank Mugavero for sending this one along! Click to embiggen!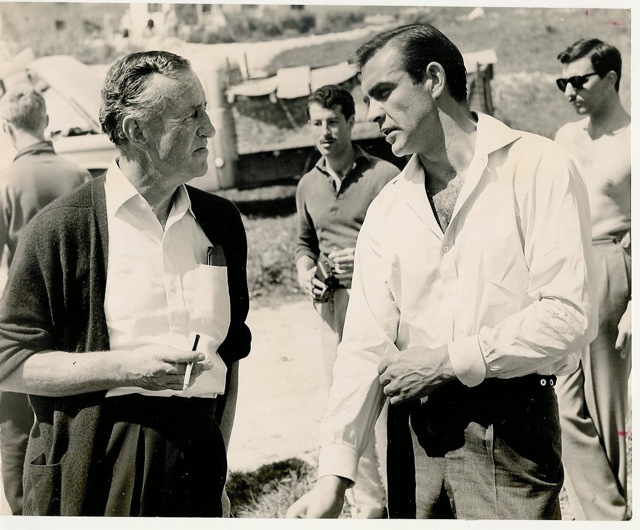 If you have a behind the scenes shot you'd like to submit to this column, you can email me at quint@aintitcool.com.
Tomorrow's behind the scenes pic features another famous writer on another famous set (with a famous director to boot).
-Quint
quint@aintitcool.com
Follow Me On Twitter