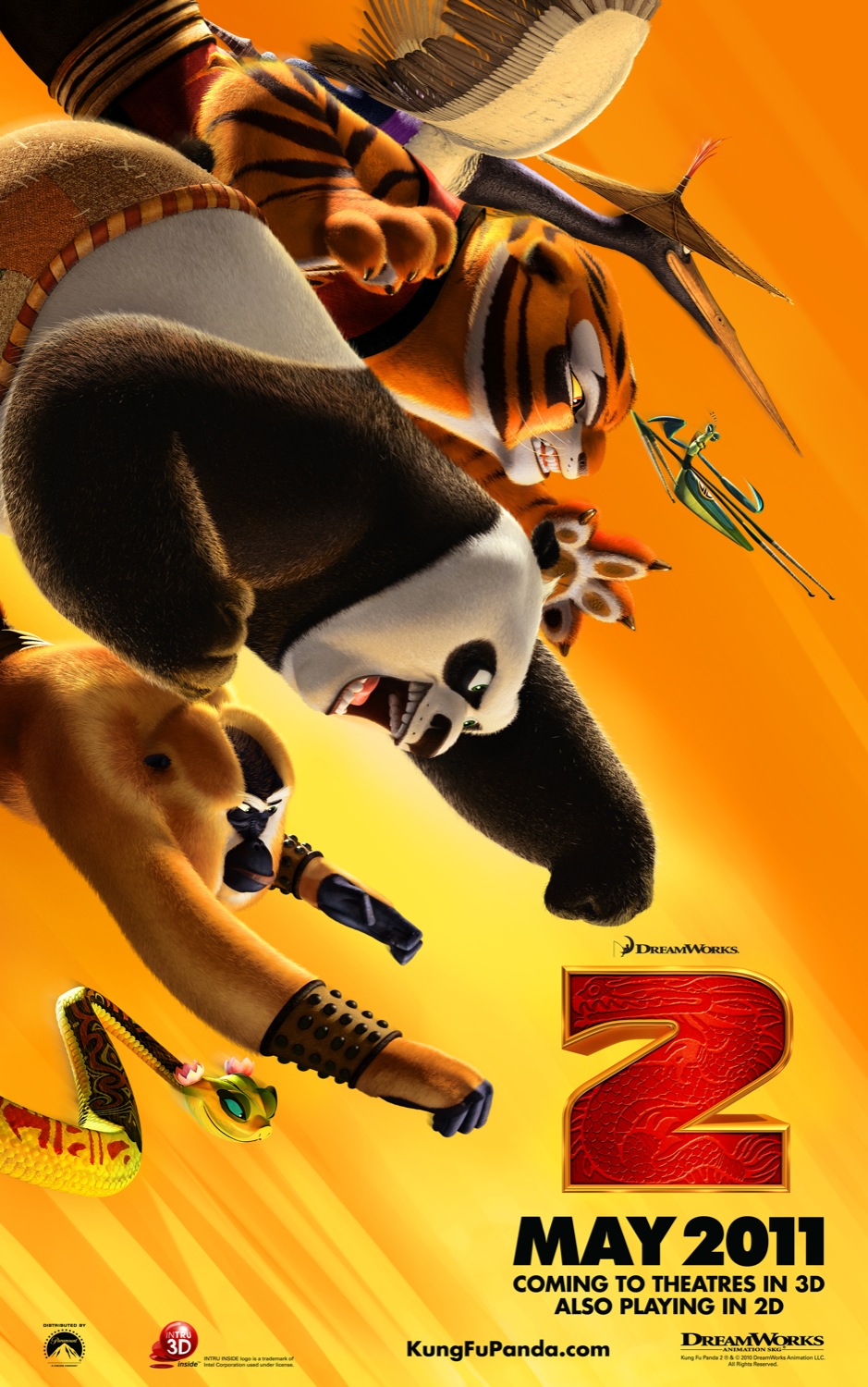 Nordling here.
KUNG FU PANDA 2 is that rare sequel that lives up to the original film, that references what happened before without being slavish to it, and that expands and deepens the story and characters. What makes these films work as well as they do is simple - the makers and artists are making a martial arts epic first and foremost, and then fashioning it for family entertainment. Like the original, it feels modern but is not full of pop culture references that instantly date a film, and if this were made with live-action actors instead of fluffy animals, geeks would be touting its greatness to the heavens.
At the end of the first film, Po (Jack Black) was fully the Dragon Warrior, and he, along with the Furious Five (Angelina Jolie, Jackie Chan, Seth Rogen, Lucy Liu, and David Cross all return as their original characters) have been making China safe and having a lot of fun doing it. Master Shifu (Dustin Hoffman) continues to train Po and send them on their adventures, and all seems right in their world. However, as told in the fairy tale-like beginning, Lord Shen (Gary Oldman) has created a weapon, a weapon that threatens the way of life for all in China, and kung fu may be helpless to stop it.
When wolves attack the village to steal precious metal for Shen's weapon, Po is suddenly struck with a powerful image of his past. Confused, he goes to his father Ping (James Hong) to learn the truth of where he came from. As Po and the Furious Five go on their quest to stop Shen, Po must come to grips with his past, and his relationships with his father and the Furious Five. Po must learn to find that inner peace that escapes him.
The script is witty but not overpoweringly cute, and the film isn't afraid to go to dark places when it needs to. By their nature, sequels to films like these go darker, but this film has a nice balance between humor and pathos. Jack Black continues to nail what makes the character of Po so great - his eagerness and unabashed love for his friends pushes him to excel and he loves what he does, and yet I found his relationship with Ping incredibly poignant, even in light of the revelations of the movie. What really surprised me was the new characters - we get Jean-Claude Van Damme as a butt-kicking crocodile, and Michelle Yeoh as a soothsayer whose prediction of Shen's fate motivates much of Shen's actions. The action is fierce and visually arresting, and every character of the Furious Five gets a moment to shine. Jennifer Yuh Nelson's direction is impressive - each set piece plays very well, pushes the story further, and is very epic in scope. This is her first directed animated feature film, but she's been involved in animation for years, and the film feels like she's been directing for years.
The 3D in KUNG FU PANDA 2 is outstanding, one of the best uses of the technology I've seen yet. The film is completely immersive, with arrows flying towards the screen and around, and the depth of field is extremely well done. Dreamworks, with this and HOW TO TRAIN YOUR DRAGON, seems to have a really good understanding of how to use 3D, and I can wholeheartedly recommend spending the extra cash on it. I saw it in Real-D and the film didn't suffer from being overly dark. This is the first 3D film this year that I can recommend on that basis.
KUNG FU PANDA 2 ends on a definite note of continuation and I'll be very happy to join these characters on whatever road this story takes them down. Well done, Dreamworks Animation. Outstanding.
Nordling, out.