@@@@ What the #$%! is AICN COMICS: Q&@? @@@@
AICN COMICS: Q&@ is our new semi-weekly interview column where some of your favorite @$$Holes interview comic bookdom's biggest, brightest, newest, and oldest stars. Enjoy this latest in-depth interview filled with @$$y goodness and be sure to join the rest of your favorite @$$Holes for their opinions on the weekly pull every Wednesday with AICN COMICS REVIEWS!
---
Q's by Optimous Douche!

@'s by BLACKEYE's
Ryan Standfest, Blaise Larmee, & Tom Neely !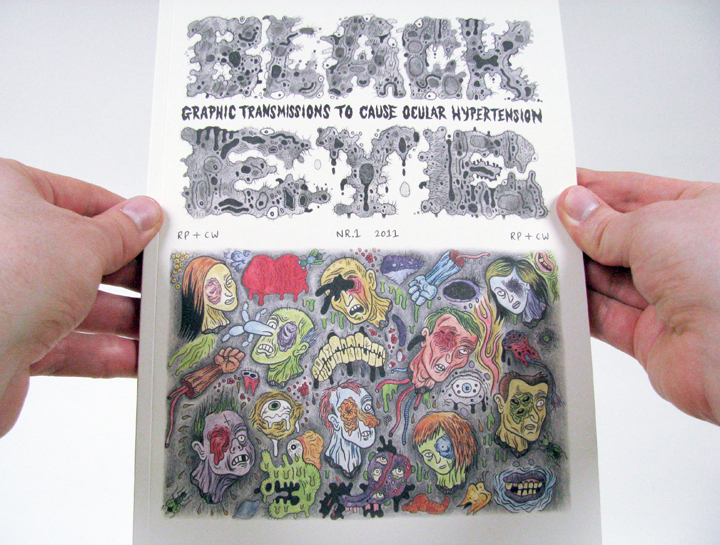 Optimous Douche here. Canada has been in a subversive game to destroy American entertainment for countless years with imports like Celine Dion and Alan Thicke. Several weeks ago, though, the Canadian government decloaked their Death Caribou to perform a full frontal assault on the comic medium with the confiscation of the books BLACK EYE #1: GRAPHIC TRANSMISSIONS TO CAUSE OCULAR HYPERTENSION and YOUNG LIONS on their way into the great oppressive North.

Thankfully the men were released (while the state of the confiscated books still remains a mystery) and they were kind enough to share their tale.
In order of appearance:
Tom Neely — Comic mule, contributor in the BLACK EYE anthology.
Ryan Standfest — Publisher, Rotland Press and BLACK EYE.
Blaise Larmee — Artist on YOUNG LIONS.
OPTIMOUS DOUCHE (OD): All right, guys--tell me a little bit about your books.
TOM NEELY (TN): Ryan can probably answer this better for me. BLACK EYE is his book; I was just one of the contributors and attempting to bring a few copies over to promote it.
RYAN STANDFEST (RS): BLACK EYE is intended as a paean to the expression of black humor, with 41 international artists and writers contributing. It was partially crowd-funded via Kickstarter. It comes out of a personal love for the type of humor made popular in the United States in the 1960's by writers like Terry Southern and Kurt Vonnegut, among others, and films like "Dr. Strangelove" and "The Loved One." It is fueled in part by my desire to use the medium of comics to explore subject matter that may not induce an easy laugh, but leaves a little aftertaste/afterthought. In the words of the great Michael O'Donoghue, whose work as a founding writer on "The National Lampoon" is an important touchstone for me: "making people laugh is the lowest form of humor." But if that humor can cause something else, a visceral response that makes an audience reconsider themselves or their environment, well then, we might be on to something.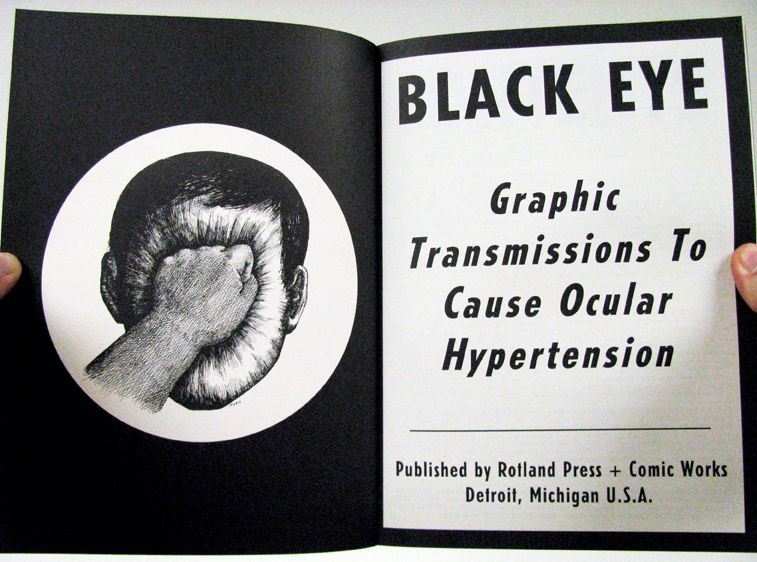 I didn't have an agenda to only shock or offend, but certainly to "prod" a little. I included artists whose work I respect and admire for its honesty and craft, and I felt the need to "partner up" European and North American artists, to balance the different approaches to black humor (and with a bit of absurdist humor thrown in).
BLAISE LARMEE (BL): YOUNG LIONS was self published in 2010. It is my debut graphic novella. It is 96 pages, perfect bound, soft-cover with French-flaps, offset printed in an edition of 1000.
Optimous Douche: What was forcing you good gentlemen into the great maple leaf of oppression? Did you lose a bet...with God?
TN: We were bringing books into the country to sell to The Beguiling comic shop for the Toronto Comics Arts Festival.
RS: Well, I don't think anyone was "forced" nor needed to be. Canada is a great land-- especially with regard to the art of comics. Also, I don't bet, and I'm an atheist (which for some people might be considered a bet). The book was printed by a great press in Winnipeg, and was funded on Kickstarter by a number of generous Canadians, including the great Canadian comics publisher Anne Koyama.
OD: Let's talk about the "incident." Were there torture tactics leveraged like having to drink Canadian beer?
TN: So, we were pulled over to show them our invoices and possibly pay tax on the books we intended to sell. We'd been through this before, so no big deal.
They looked through some of our books to see what kind of material they contained. For the BLACK EYE anthology, he flipped open to a page of Onsmith Jeremy's gag strips and said something about a character peeing on another person and "...that's not allowed in Canada." The first guard came back out to ask us about BLACK EYE and YOUNG LIONS. I told him it was an anthology of art comics that all deal with the idea of extremely dark humor, and that there were essays on the history of dark humor inside. He also asked Dylan about YOUNG LIONS... luckily, the border guards were extremely polite and reassuring during the whole process. One of the guards was very understanding and helped explain everything that was going on, so I didn't feel very nervous at all. He explained that he understood the books were "art" but there were certain things that he isn't allowed to let through.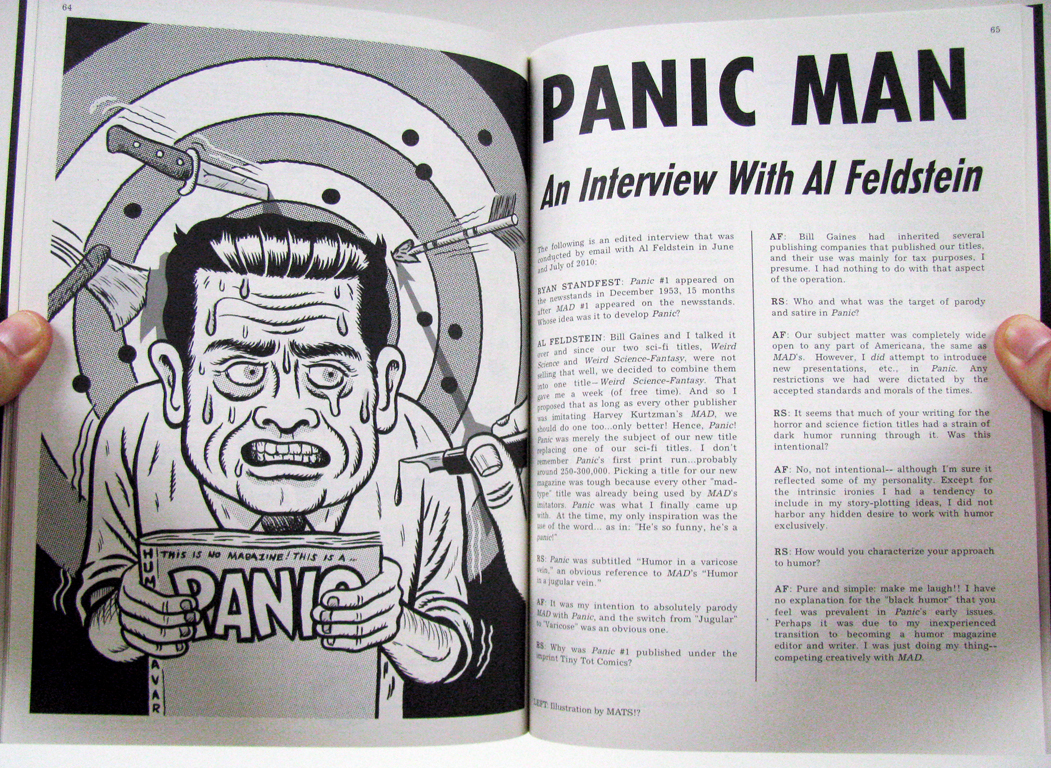 So, they'd have to send the confiscated material to Ottawa for review and if they were deemed "obscene material" they would be destroyed, or they might just ship them back to me at home. He gave me a receipt for the books they were seizing, and sent us on our way with the rest of our books.
RS: I would like to point out that, although I was not present, the customs agent was a guy doing his job--enforcing laws that are questionable. Blame the big guy, not the little guy.
OD: So what was the beef with YOUNG LIONS--guilt by association?
BL: I'm not sure why YOUNG LIONS was confiscated.
OD: Have any of you heard back from Ottawa or received any returned books?
RS: No. No word. Nothing. I assume the review process, as with any bureaucracy, is a long one. Images of Kafka's "The Castle" come to mind.
OD: I'm assuming both of these books can be ordered online even by Canadians. Doesn't this seizure feel like an archaic exercise in futility?
BL: Yes, it seems archaic.
RS: Yes, of course. Ever since BLACK EYE was seized, and the story has made the rounds on the internet (with extensive blog postings, tweeting and Facebook-ing), there has been a great deal of interest in the book. Keep in mind that when it was seized, it had just been published and not seen by anybody. So all of the stories covering the seizure have to do with a book that no one has seen. This leads to increased interest over its content. But it also leads to erroneous stories in which the book is described as being "full of sex and violence," which is certainly not true. The visual material that may be considered offensive to some readers makes up a very small percentage of a book that covers a lot of ground, and a lot of different expressions of black humor.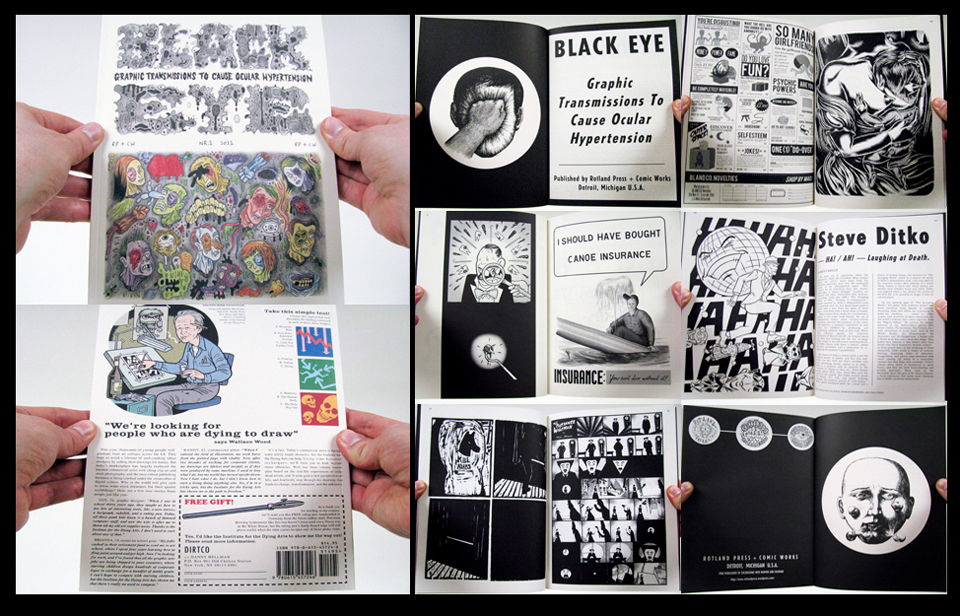 The book is indeed available for purchase from my site
and there have been orders coming in from Canada, as well as every other corner of the world. I think it is becoming increasingly difficult to both censor and draw border lines in the era of the internet. Sooner or later, people will seek out and find the material they wish, for better or for worse.
OD: Any closing thoughts?
RS: I think this may have been an instance in which someone down at the bottom of the bureaucratic ladder (the customs agent(s)) was put into a position to interpret vague guidelines of a far-reaching law created by those higher up on the ladder. From information I have gleaned since the seizure, there have been other incidents involving the confiscation of manga (not just a red flag, but a burning flag for Canadian customs) and pornography. Of course, you can get these things anywhere nowadays. Seems like trying to patch a hole in the dam with a piece of scotch tape! As for BLACK EYE #1, it certainly isn't the sort of book I would show my grandmother-- but then again it isn't meant to be. It is not for everybody. Will someone take offense at the material? Of course they could. But BLACK EYE #1 is no more "obscene" than anything by Eli Roth or Peter Greenaway ("The Cook, The Thief, His Wife and Her Lover" DID open with a man being urinated on, by the way.) The book is meant to provoke and transgress, but one look at its contents and anyone can see in context that it has an agenda and it is not "obscene."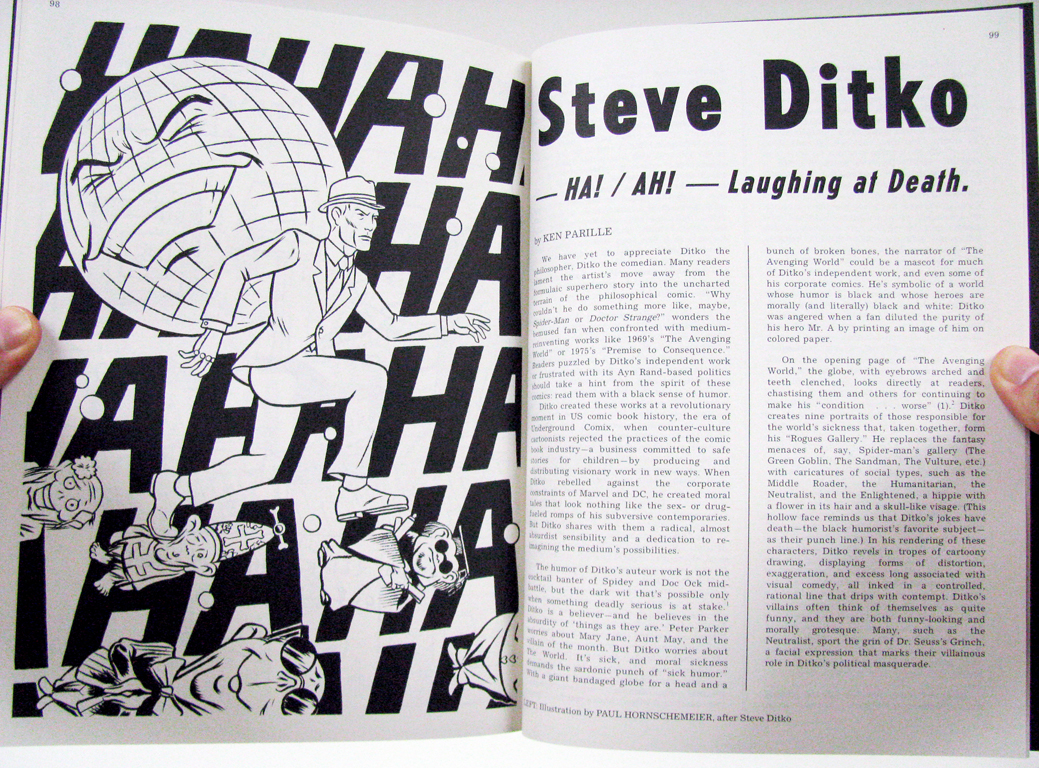 A few other points I'd like to add--since the border incident went down, I've received many a kind word of support from Canadian comic book publishers and cartoonists who are equally troubled by the event. Quill & Quire, Canada's magazine of book news and reviews, did an interview with Tom and I and published a piece that carefully addressed the facts of comic and literature-based border confiscations. One of the contributing writers to BLACK EYE #1 was Canadian author, journalist and comic historian Jeet Heer, who wrote a great piece on S. Clay Wilson. So, it is not just us Yanks transporting goods across the border, but Canadians as well, who are affected by the current government's border policies.
OD: Thanks for your time, guys, and best of luck to you. And let's hope for free speech everywhere that these practices die the next time the Conservative Party is ousted from office. Pick up a copy of BLACK EYE #1 here!
Optimous has successfully blackmailed fellow @$$Hole BottleImp into being his artist on Average Joe. Look for Imp's forced labor on Optimous brain child in mid-2011 from COM.X. Friend Optimous on FaceBook to get Average Joe updates and because ceiling cat says it's the right thing to do.
---
Editing, compiling, imaging, coding, logos & cat-wrangling by Ambush Bug
Proofs, co-edits & common sense provided by Sleazy G