Merrick here...
D23 brings us a look at a rare TRON Sunday newspaper comic strip that ran in the 1980s. TRON was part of an umbrella series called Walt Disney's Treasury of Classic Tales, which was active from the early 1950s up through the late 1980s.
I didn't know there was a TRON comic strip in the Sunday papers, did you? I do recall the STAR TREK comic strip that followed the release of STAR TREK: THE MOTION PICTURE - which looks to be available HERE. Loved those...couldn't wait for each new installment, although I seem to remember our local paper not running that series for too long (and I'm pretty sure we didn't have TRON at all).
Awesome and amazing. Is any of this stuff assembled in a book? Probably not, but hopefully someone will do so soon?
Punch Ram to see more panels.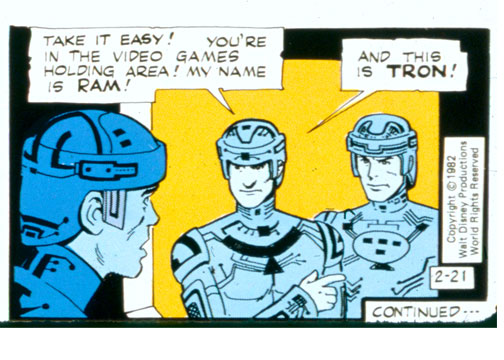 — follow Merrick on Twitter! ---