I've seen the first six episodes, and I'm here to tell you rumors of slow parts in that batch are silly rumors. This first season has a lot of book to cover; it does not dilly dally. These descriptions take us all the way to episode seven:
Episode #1: "Winter Is Coming" Debut: SUNDAY, APRIL 17 - A Night's Watch deserter is tracked down outside of Winterfell, prompting swift justice by Lord Eddard "Ned" Stark and raising concerns about the dangers in the lawless lands north of the Wall. Returning home, Ned learns from his wife Catelyn that his mentor, Jon Arryn, has died in the Westeros capital of King's Landing, and that King Robert is on his way north to offer Ned Arryn's position as the King's Hand. Meanwhile, across the NarrowSeain Pentos, Viserys Targaryen hatches a plan to win back the throne, which entails forging an allegiance with the nomadic Dothraki warriors by giving its leader, Khal Drogo, his lovely sister Daenerys' hand in marriage. Robert arrives at Winterfell with his wife, Queen Cersei, and other members of the Lannister family: her twin brother Jaime, dwarf brother Tyrion and Cersei's son and heir to the throne, 12-year-old Joffrey. Unable to refuse his old friend and king, Ned prepares to leave for King's Landing, as Jon Snow decides to travel north to Castle Black to join the Night's Watch, accompanied by a curious Tyrion. But a startling act of treachery directed at young Bran may postpone their departures. Written by David Benioff and D.B. Weiss; directed by Tim Van Patten.
Episode #2: "The Kingsroad" Debut: SUNDAY, APRIL 24 - Bran's fate remains in doubt. Having agreed to become the King's Hand, Ned leaves Westeros with daughters Sansa and Arya, while Catelyn stays behind to tend to Bran. Jon Snow heads north to join the brotherhood of the Night's Watch. Tyrion decides to forego the trip south with his family, instead joining Jon in the entourage heading to the Wall. Viserys bides his time in hopes of winning back the throne, while Daenerys focuses her attention on learning how to please her new husband, Drogo. Written by David Benioff and D.B. Weiss; directed by Tim Van Patten.
Episode #3: "Lord Snow" Debut: SUNDAY, MAY 1 - Arriving at King's Landing after his long journey, Ned (Sean Bean) is shocked to learn of the Crown's profligacy from his new advisors. At Castle Black, Jon Snow (Kit Harington) impresses Tyrion (Peter Dinklage) at the expense of greener recruits. Suspicious that the Lannisters had a hand in Bran's fall, Catelyn (Michelle Fairey) covertly follows her husband to King's Landing, where she is intercepted by Petyr Baelish (Aidan Gillen), aka "Littlefinger," a shrewd longtime ally and brothel owner. Cersei (Lena Headey) and Jaime (Nikolaj Coster-Waldau) ponder the implications of Bran's (Isaac Hempstead-Wright) recovery; Arya (Maisie Williams) studies swordsmanship. On the road to Vaes Dothrak, Daenerys (Emilia Clarke) finds herself at odds with Viserys (Harry Lloyd). Written by David Benioff & D.B. Weiss; directed by Brian Kirk.
Episode #4: "Cripples, Bastards and Broken Things" Debut: SUNDAY, MAY 8 - Ned looks to a book for clues to the death of his predecessor, and uncovers one of King Robert's (Mark Addy) bastards. Robert and his guests witness a tournament honoring Ned. Jon takes measures to protect Samwell (John Bradley) from further abuse at Castle Black; a frustrated Viserys clashes with Daenerys in Vaes Dothrak; Sansa (Sophie Turner) imagines her future as a queen, while Arya envisions a far different future. Catelyn rallies her husband's allies to make a point, while Tyrion finds himself caught in the wrong place at the wrong time. Written by Bryan Cogman; directed by Brian Kirk.
Episode #5: "The Wolf and the Lion" Debut: SUNDAY, MAY 15 - Incensed over news of Daenerys' alliance with the Dothrakis, Robert orders a preemptive strike on the Targaryens that drives a wedge in his relationship with Ned. A captive Tyrion helps Catelyn, but receives a cold reception at the Eyrie from her sister, John Arryn's widow Lysa (Kate Dickie). Sansa is charmed by the dashing Ser Loras Tyrell (Finn Jones), aka the Knight of Flowers. Arya overhears a plot against her father. Written by David Benioff & D.B. Weiss; directed by Brian Kirk.
Episode #6: "A Golden Crown" Debut: SUNDAY, MAY 22 - Reinstated as the Hand, Ned sits for the King while Robert is on a hunt, and issues a decree that could have long-term consequences throughout the Seven Kingdoms. At the Eyrie, Tyrion confesses to his "crimes," and demands that Lysa give him a trial by combat. Joffrey (Jack Gleeson) apologizes to Sansa; Viserys receives his final payment for Daenerys from Drogo (Jason Mamoa). Written by Jane Espenson and David Benioff & D.B. Weiss; directed by Daniel Minahan.
Episode #7: "You Win or You Die" Debut: SUNDAY, MAY 29 - Explaining that the future of the Lannisters is at stake, Tywin (Charles Dance) presses Jaime to "be the man you were meant to be" as they prepare for battle. Ned confronts Cersei about the secrets that killed Jon Arryn. With the fate of the missing Benjen (Joseph Mawle) very much on his mind, Jon Snow takes his Night's Watch vows, though not with the assignment he coveted. After Ser Jorah (Iain Glenn) saves Daenerys from treachery, an enraged Drogo vows to lead the Dothraki where they've never gone before. An injured Robert takes pains to ensure an orderly transition at King's Landing. Written by David Benioff & D.B. Weiss; directed by Daniel Minahan.
9 p.m. Sundays. HBO.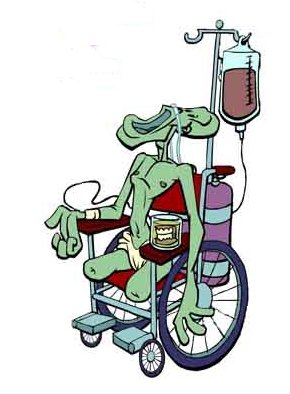 Blu Solo!!
Hundreds of Blu-rays Under $10!!