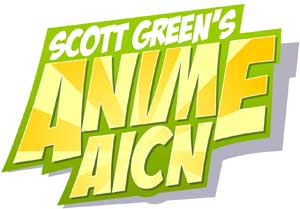 Logo handmade by
Bannister
Column by
Scott Green
Upcoming in North America


Genndy Tartakovsky Priest prequel


Talking to MTV, Keanu Reeves updated the live action Cowboy Bebop live action film situation, saying "I had some conversations. I believe there's still knocking on that door, but it has not opened."

On his rumored Akira casting, Robert Pattinson told MTV "I love the movie, but I mean, I don't know. I've just seen the same things as anybody else has, really... I mean, I like motorbikes."

Hasbro is creating an original Duel Masters show for their network, The Hub

Crave spoke to the producers of the new Thundercats

Godzilla direct to be Gareth Edwards talks the lizard among other subjects here and here

AniPlex
Historical action Baccano! will be released on Blu-ray May 17th for US$69.98

Also from Brain's Base based on a related Ryohgo Narita light novel series, Durarara!! is being offered thru PlayStationNetwork via the PlayStationStore along Gurren Lagann the Movies 1 & 2 –,R.O.D -THE TV-, Ghost Slayers Ayashi, and Toward the Terra


TV episodes can be purchased at $1.99 per episode. Movies can be purchased at $9.99 per
movie or rented for $2.99 eac

Yuya Matsushita, a singer of "Trust Me", the ending theme for Durarara!! (episodes 1-12.5), gave a video message to North American fans.

He will appear and have live concert at Fanime Con in May.


Bandai Entertainment
Bandai is hinting at a new license - possibly Star Driver

Dark Horse




DRIFTERS VOLUME 1
Kohta Hirano (W/A)

On sale Aug 31
b&w, 216 pages
$12.99
TPB, 5" x 7"

First he pitted the Catholic church against vampires, Nazis and Great Britain, bathing London in a flood of blood. But Hellsing creator, Kohta Hirano still had something crazy up his sleeve when he created his new series, Drifters.

Imagine a world of magic, full of elves and hobbits and dragons and orcs. Inside this world of magic and wonder there is a great war being waged, using warriors from human history as chess pieces in a bloody, endless battle. Hirano's new concept gathers famous warriors throughout history and puts them on both sides of good and evil, and then turned them loose in a bloody melee of madness.




EDEN: IT'S AN ENDLESS WORLD! VOLUME 13
Hiroki Endo (W/A)

On sale Aug 31
b&w, 224 pages
$12.99
TPB, 5" x 7"

Hiroki Endo's critically acclaimed manga series returns with a massive volume packed with brutal battles, strange sci-fi surprises, political intrigue, and an expanding "intelligent virus" that's taking over the world!

As Elijah searches Australia for his missing sister, the Propater organization sends several rounds of cyborg assassins after him! The "Maya" virus grows and threatens to absorb all human life into it, Elijah is reunited with a few talented friends, and a budding romance restores a bit of hope to this violent, postapocalyptic near future!




GANTZ VOLUME 18
Oku Hiroya (W/A)

On sale Aug 3
b&w, 224 pages
$12.99
TPB, 5 1/8" x 7 1/16"




OH MY GODDESS! VOLUME 39
Kosuke Fujishima (W/A)

On sale Aug 31
b&w, 168 pages
$10.99
TPB, 5" x 7"







EMPOWERED SPECIAL #2: TEN QUESTIONS FOR THE MAIDMAN
Adam Warren (W/A) and Emily Warren (A/C)

On sale June 8
b&w/FC, 32 pages
$3.50
One-Shot

The badass, broom-swinging vigilante Maidman, the "cross-dressing crusader," is interviewed by the super-phony "celebricape" TV host of an ill-fated talk show. The confab soon degenerates from happy chatter to cape-on-cape violence! Meanwhile, costumed crimefighter Empowered exploits Maidman's fearsome reputation not only to victimize hapless supervillains, but also to get the upper hand on her recalcitrant boyfriend!

In a new one-shot spinning off from the sexy superhero comedy graphic-novel series Empowered, creator Adam Warren draws fourteen black-and-white pages that frame and cruelly interrupt a fifteen-page story painted in glorious full color by special guest artist Emily "No Relation" Warren!




USAGI YOJIMBO #138
Stan Sakai (W/A)

On sale June 22
b&w, 24 pages
$3.50
Ongoing

The Red Scorpion gang has terrorized the countryside for months, and its members have been the culprits behind many of Usagi's recent adventures. In this issue, Usagi finally faces the Red Scorpion himself! But defeating both the Scorpion and the mercenaries at his side may be too much even for the rabbit ronin—unless he has some help.



Discotek Media
Discotek will be publishing a new release of Golgo 13: The Professional - Osamu Dezaki's theatrical anime based on the long running assasination manga series

FUNimation



Funimation will be releasing a Blu-ray/DVD combo pack complete set of Dance in the Vampire Bund on June 14th.

Horror anime Shiki, which has been streamed online, will be a DVD and Blu-ray release next spring.

TO movie in Blu-ray and DVD - Available 6/7/11


BioWare and FUNimation Entertainmen announced an agreement to create an anime feature film adapted sci-fi game Mass Effect™. Tokyo-based anime and international feature film production company T.O Entertainment, Inc. has signed on as a co-producer on the video. B

Casey Hudson of BioWare, executive producer of the Mass Effect series, will serve as executive producer on the film, along with FUNimation President and CEO Gen Fukunaga and Director of Original Entertainment Chris Moujaes and T.O Entertainment's CEO Takeichi Honda and Yui Shibata.


Production of the Mass Effect anime movie has already begun. Digital and home video releases are scheduled for the summer of 2012.

Funimation acquired additional rights to "Fractale" and Freezing, which have recently wrapped up their simul-stream runs.

FUNimation now has the U.S. and Canadian home entertainment, broadcast, digital and merchandise rights to the 12 episode anime series. Funimation will release Fractale on DVD and Blu-ray in 2012.

Funimation also licensed "Tales of Vesperia ~ The First Stike" from Bandai Visual Co. Ltd. FUNimation now holds the home entertainment, broadcast, theatrical, digital, and merchandising rights for the title in the U.S. and Canada.
The movie is the anime adaptation of the role-playing video game (RPG) for Xbox 360 and PlayStation 3 published by Namco (now Namco Bandai Games) and is directed by Kanta Kamei. A veteran of the Japanese animation industry, Kamei has worked in several "Tales of" series titles, and directed the movie part of Tales of Legendia (2005) as was on staff on Blood: The Last Vampire (2000, visual effects and key animator), Kill Bill: Vol. 1 (2003, visual supervisor), Innocence (2004, visual effects and key animator), IGPX (2005, visual effects) and Asience: Hairy Tales (2007, director of photography).

Tales of Vesperia ~ The First Strike ~ (2009) is his directorial debut in a feature film.
FUNimation will release the feature on DVD and Blu-ray in 2012.

Rosario + Vampire has been delaued from September to December

Fanfare/Ponent Mon

Amazon lists that Jiro Taniguchi's will be released in June 23

IDW
American comic publisher IDW has some releases that may be of interest to AICN Anime readers




Godzilla: Kingdom of Monsters #4
Eric Powell & Tracy Marsh (w) • Phil Hester (a) • Eric Powell, Jeff Zornow (c)
France is in danger when the mysterious egg that washes ashore begins to hatch, but should the military be worried about what's inside the egg or those creepy kids who found it? Also, a community of monks has a religious experience of the 3-headed variety. And all the while, Godzilla seems hell-bent on coming to America...but hasn't Anguirus already claimed it as his turf? Fight! Fight! Fight!
FC • 32 pages • $3.99
*2 regular covers will be shipped in a 4-to-1 ratio (4 Eric Powell, 1 Jeff Zornow cover)




Godzilla: Gangsters & Goliaths #1 (of 5)
John Layman (w) • Alberto Ponticelli (a) • Geof Darrow, Alberto Ponticelli (c)
Detective Makoto Sato is on an unrelenting quest to bring down the Takahashi crime syndicate. Sato's efforts earn him a one-way trip to a tropical getaway, courtesy of the Tokyo criminal underworld. The exotic locale? MONSTER ISLAND! Alone and facing death at the hands of both gangsters and goliaths, Sato must use his wits to survive—and enlist the aid of some most unusual friends. Join superstar creators John Layman (Chew) and Alberto Ponticelli (Unknown Soldier) for this unusual and exciting miniseries!
FC • 32 pages • $3.99
*2 regular covers will be shipped in a 4-to-1 ratio (4 Geof Darrow, 1 Alberto Ponticelli cover)




Suicide Forest
El Torres (w) • Gabriel Hernandez (a) • El Torres (c)
The legend of the Aokigahara forest (which lies just outside of Tokyo) says that those who have committed suicide in the massive wilderness are cursed to have their souls trapped within its very roots. Unfortunately for Alan, his girlfriend, Masami, committed her suicide there and she's now on a vengeful mission to ruin his life!
TPB • FC • $17.99 • 104 Pages • ISBN: 978-1-60010-947-8




Transformers Classics, Vol. 1
Bob Budiansky, Bill Mantlo, Ralph Macchio, Jim Salicrup (w) • Frank Springer, Alan Kupperberg, William Johnson, Mike Manley, Ricardo Villamonte, Herb Trimpe, Don Perlin (a) • Guido Guidi (c)
Relive the original Transformers stories that started it all—now re-mastered and re-presented! Pulling from the original '80s Marvel material, this first volume offers some of the most beloved stories from TRANSFORMERS' history, including the seminal "Car Wash of Doom," "Crater Critters," "Warrior School!" and many others in their entirety.
TPB • FC • $24.99 • 276 Pages • ISBN: 978-1-60010-935-5

100 Penny Press: Transformers Classics #1
Bill Mantlo, Ralph Macchio (w) • Frank Springer, Kim DeMulder (a) • Bill Sienkiewicz (c)
FC • 32 pages • $1.00

Transformers: Heart of Darkness #4 (of 4)
Dan Abnett & Andy Lanning(w) • Ulises Farinas (a) • Farinas, Casey Coller, Livio Ramondelli (c)
FC • 32 pages • $3.99

Transformers # 20
Mike Costa (w) • Guido Guidi (a) • Marcelo Matere, Guido Guidi (c)
FC • 32 pages • $3.99
*2 regular covers will be shipped in a 1-to-1 ratio.
Selling Points:
Art by fan-favorite Guido Guidi!

Transformers 3: Movie Adaptation #1 (of 4)
John Barber (w) • Jorge Jimenez Moreno (a & c)
FC • 32 pages • $3.99

Transformers 3: Movie Adaptation #2 (of 4)
John Barber (w) • Jorge Jimenez Moreno (a & c)
FC • 32 pages • $3.99


Transformers 3: Movie Adaptation #3 (of 4)
John Barber (w) • Jorge Jimenez Moreno (a & c)
FC • 32 pages • $3.99

Transformers 3: Movie Adaptation #4 (of 4)
John Barber (w) • Jorge Jimenez Moreno (a & c)
FC • 32 pages • $3.99


Transformers Prime, Vol. 3
Joseph Kuhr (w) • Various (a & c)
TPB • FC • $7.99 • 104 Pages • 5" x 7" • ISBN: 978-1-60010-960-7

Transformers: The Complete All Hail Megatron
Shane McCarthy, Simon Furman, Andy Schmidt, Nick Roche, Mike Costa, Josh Van Rekk, Shaun Knowler (w) • Guido Guidi, Casey Coller, E.J Su, Robert Deas, Emiliano Santalucia, Don Figueroa, Andrew Griffith, Nick Roche, Robbie Musso, Marcelo Matere (a) • Trevor Hutchison (c)
The DECEPTICONS have won, the AUTOBOTS are defeated, and the time for conquest is at hand! After finally succeeding in defeating the AUTOBOTS, the DECEPTICONS set about ruling our planet with an iron fist. Their forces invade and control New York City where, before long, they manage to cripple the United States. It's a war between the armed forces of the United States of America and a giant species of technologically advanced killing machines—a war that suddenly becomes incredibly one-sided! That is, unless the AUTOBOTS can muster their ranks and come to humanity's aid. But the way things are going on Earth, nothing short of a miracle will save the planet from utter extinction!
HC • FC • $75.00 • 492 Pages • 7x11 • ISBN: 978-1-60010-955-3

IDW will be bringing the Teenage Mutant Ninja Turtles back in a new comic series in summer 2011. In addition to the all-new series, TMNT fans will also be treated to newly remastered collections of classic Turtles comics, beginning with the original 1980s series that started this worldwide phenomenon.
Additionally, in fourth quarter 2012, Nickelodeon will premiere a new CG-animated version of the wildly popular Teenage Mutant Ninja Turtles franchise.


Image Entertainment
Cowboy Bebop: Knockin' on Heaven's Door will be released on Blu-ray June 28th for $17.97

Kodansha
Kodansha USA Publishing announced return of Naoko Takeuchi's SAILOR MOON, coming September 2011. Out of print for six years, SAILOR MOON re-launches along with Takeuchi's two-volume prequel series CODENAME: SAILOR V, in print in the US for the first time—making this one of the most highly anticipated manga releases in years.


The SAILOR MOON manga, which originated in Japan in 1992 and debuted in the US in 1997, follows Usagi Tsukino, a young girl who transforms into super heroine Sailor Moon to combat evil and fight for love and justice in the name of the Moon and the mysterious Moon Princess. The first successful shôjo (girls') manga release in the US, SAILOR MOON changed the book landscape and helped establish the foundation for the manga craze; in particular drawing attention to the popularity of comics among female readers.

Prequel series CODENAME: SAILOR V, the first of Takeuchi's "magical girl" manga, will make its highly anticipated debut in the US alongside the SAILOR MOON re-launch. In CODENAME: SAILOR V, teenager Minako Aino fights as Sailor V against the villains of the Dark Agency before she discovers Sailor Moon.


The Kodansha USA editions of SAILOR MOON will be published on a bi-monthly schedule and follow the 2003 Japanese re-release format of the classic series. The original 18 volumes have been condensed into 12 volumes covering the main storyline, and two volumes dedicated to short stories. Each volume has gorgeous new cover art, retouched interior art and dialogue along with extensive bonus material from Takeuchi, and detailed translation notes.






Relationship comedy Love Hina returns in omnibus form this September. The first omnibus will contain volumes 1-3 of the original Love Hina series and will be priced at $19.99. This edition of Love Hina features an entirely new translation.

Shojo series Tokyo Mew Mew, a shojo classic, also returns in omnibus form in September. The first Tokyo Mew Mew omnibus will contain volumes 1-2 and will cost $14.99. This edition contains a new translation.

Following up on Shugo Chara, which concludes with the 12th volume in September, comes Shugo Chara Chan! in November. Created by PEACH-PIT and some of their closest mangaka friends, Shugo Chara Chan! Volume 1 stars all of your favorite CHARActers in hilarious 4-koma (4-panel) gag strips. Shugo Chara Chan! is priced at $10.99.

@Full Moon is the sequel to Until Full Moon, and it releases in November. Find out what happened to Marlo, the half-werewolf/half-vampire, and his paramour, David. A new vampire has come to town and no one knows her secrets. Only Marlo, whose curse is still in full effect, can unravel them. But can he do it in time? Both volumes in this two-volume series are priced at $10.99.

Media Blasters
Media Blasters will be releasing Urotsukidoji 3: Return of the Overfiend in May and the Kanokon OVA in June

A re-release of Magical Witch Punie-Chan, the magic girl parody that spawned the viral video in which vestables suicidally peel themselves, is slated for June 28th.




Psycho Gothic Lolita


delays inclide
Loveless Vocal Collection DVD Boxed Set (Bilingual) - Mar 29 to Apr 26
Moribito Collection #2 Boxed Set (Eps #14-26) (BLURAY) - Apr 12 to May 17

Media Blasters has also discontinued
Iria: Zeiram the Animation DVD
eX-Driver, Perfect Collection DVD Set
Figure 17 Complete Collection DVD Boxed Set
If I See You In My Dreams Complete Collection DVD Boxed Set
Jewel Hunter Lime BEM DVD
Babel II DVD Collectors Box Set

No Starch Press
The Manga Guide series will be continuing in April with the Manga Guide to Relativity.







Readers master some of modern physics' most profound insights, like unified space-time and the equivalence principle. They see how relativity affects modern astronomy, and discover why GPS systems and other everyday technologies depend on Einstein's extraordinary discovery. Best of all, the cartoon story makes a difficult subject fun: Readers learn alongside the book's main character, Minagi, as his plucky teacher Miss Uraga explains the counterintuitive laws that shape our universe.

In The Manga Guide to Relativity, readers learn how to:

Understand and use E = mc2, the world's most famous equation
Calculate the effects of time dilation using the Pythagorean theorem
Understand classic thought experiments like the Twin Paradox, and why length contracts and mass increases at relativistic speeds
Grasp the underpinnings of Einstein's special and general theories of relativity
Co-published with scientific and technical publisher Ohmsha of Tokyo, Japan, The Manga Guide to Relativity is an engaging romp through some of the most revolutionary ideas in the history of science.


Right Stuf
Right Stuf & Nozomi Ent. announced that the 1st REVOLUTIONARY GIRL UTENA remastered DVD set is due June 2011

Anime producer and distributor Right Stuf, Inc.and its Nozomi Entertainment division announced that SOUND OF THE SKY (Sora no Woto) Complete DVD Collection L.E. will be available on July 5, 2011 for $49.99 .

This limited-edition DVD box set will feature all 12 episodes of Sound of the Sky – plus two special episodes – with Japanese audio, plus English-language subtitles and on-screen translations. Additionally, the set will be housed in a collectors' art box and include a 40-page book with series artwork and staff commentaries. Only a limited quantity of this premium set will be produced.

Also known by the title "Sora no Woto," Sound of the Sky aired on TV Tokyo and via Internet simulcast in early 2010. It was the first series produced as part of the "Anime no Chikara" program, a joint initiative by TV Tokyo and Aniplex to develop original animated content for television.

The series is based on an original concept by Paradores and features direction by Mamoru Kanbe (Elfin Lied, Letter Bee: Light and Blue Night Fantasy), series composition and scripting by Hiroyuki Yoshino (Macross Frontier, My-Otome) and animation by A-1 Pictures (Black Butler, Fractale). Sound of the Sky's opening theme is composed by Yuki Kajiura (Noir, .hack//SIGN) and performed by Kalafina (Black Butler).

Visit to find out more about the series and to pre-order the SOUND OF THE SKY Complete DVD Collection L.E.

About SOUND OF THE SKY (Sora no Woto)

In a lonely corner of the world, on the edge of No Man's Land, sits Clocktower Fortress. It's home to the 1121st Platoon of the Helvetian Army, and their newest member is a 15-year-old volunteer named Kanata Sorami, who enlisted to learn how to play the bugle. When she was a child, Kanata was saved by a beautiful soldier and found inspiration in the clear, golden sound of her trumpet. From that day forward, Kanata decided music would be her life. As the other platoon members train her how to be a bugler and a soldier, Kanata's enduring optimism will inspire them to look for happiness and beauty, even in a world haunted by war. Contains episodes 1-12, plus two special episodes!




SOUND OF THE SKY: Sora no Woto (SO?RA?NO?WO?TO) © Paradores/Aniplex/1121



Sentai Filmworks and Section23

Sentai Filmworks announced its acquisition of Maria Holic Alive! the follow up to comedy Maria Holic. Set to begin broadcast in Japan on April 7, Maria Holic Alive! will soon be available in the U.S.

Synopsis: Some things never change: Ame no Kisaki, that famous and extraordinarily exclusive boarding school, STILL doesn't accept boys. And Kanako, Kisaki's most romantically unfortunate student, STILL doesn't accept them either. They give her the hives. Literally. Sadly, that means that Kanako's STILL trying to connect with ANYONE of the same sex, and having the usual horrid luck; STILL being in imminent peril of dying from the constant nosebleeds she gets from being over stimulated by the presence of her fellow classmates; and STILL being forced to endure the tragedy of sharing a room with the school's most beautiful girl, who is, of course, STILL a guy in drag. Poor Kanako! She came to school to major in loving women, and instead she's STILL failing relationships in Maria Holic Alive!.

Sentai Filmworks also announced the license of ANGEL BEATS. A multi-media mega-franchise with two manga, a series of illustrated short stories and two internet radio shows, each new volume of ANGEL BEATS has consistently ranked in the top three nationwide bestselling Blu-Ray releases in Japan. Now the series is coming to the U.S. on both DVD and Blu-Ray. Both releases will include an all new English dub, with the first episodes of the dub set to premiere at Anime Boston.

Synopsis: It sucks being dead. Sucks even more to be trapped in a surreal afterlife where you're caught between the living and the dead—where a mysterious, violent Angel is trying to pull you over to…somewhere. What do you do? Well, if you're this group of rough-and-tumble teens, you grab every weapon you can get your hands on and give Heaven hell! High-caliber action and locked-and-loaded comedy meet on a rock and roll battleground in Angel Beats!

The first two DVD set of Guin Saga has been released for $59.98

SYNOPSIS: He awakens in the dark forest of a mythical land with some type of leopard mask that he cannot remove. The only thing he remembers is his name - Guin - and that he is a warrior of unimaginable power. And when the two twins of Parros, innocent victims of a civil war arrive, Guin knows what he must do. But the journey to save the children means much more than just slaughtering a few hundred well-trained Mongoul soldiers. Victory means he must battle magical desert tribes, assemble forces that have fought each other for hundreds of hears, and divine a mysterious plan that he is central to. Prepare for a sweeping anime epic of mystery and magic! Of violent clashes and dark double-crosses. Ready yourself for the battle with GUIN SAGA.

Home video distributor Section23 Films today announced its June slate of releases, including the highly anticipated complete collection of High School of the Dead to be released on DVD & Blu-Ray by Section23 client Sentai Filmworks.

MAID SAMA COLLECTION 1
Published by: Sentai Filmworks
Distributed by: Section23 Films
Run Time: 325 min.
Street Date: 6/7/2011
Format: DVD
Language: Japanese with English Subtitles
SRP: $49.98

SYNOPSIS: Getting sent to Seika High School is scary enough if you're a guy, but now that the notorious former boys' school has gone coed, the unfortunate girls who've been enrolled there have only one goal - getting through each day as it comes. But into this untamed and testosterone-filled wilderness comes a girl on a mission; a girl who's not afraid of any male and is willing to take them on in that most deadly of all arenas: the Student Council! As Seika's first ever female president, Misaki Ayuzawa talks the talk and walks the walk, but after school hours she morphs into something rather different… a waitress at a maid café! So when cool, aloof and handsome Usui Takumi discovers Misaki's secret, things are going to get VERY interesting, very quickly! The blackboard jungle's about to bloom with some decidedly feminine touches, because sometimes it takes a maid to maintain order in MAID SAMA, Collection 1!

DEMON KING DAIMAO COMPLETE COLLECTION
Published by: Sentai Filmworks
Distributed by: Section23 Films
Run Time: 300 min.
Street Date: 6/14/2011
Format: DVD
Language: English, Japanese with English Subtitles
SRP: $59.98

SYNOPSIS: After enrolling at the Constant Magic Academy, Akuto Sai discovers he's not just a gifted student with magical powers; he's destined to become the Demon King. And though he's not that crazy about the idea, it drives the girls wild! From the sexy school girls in his class to the skin-obsessed android who's programmed to seduce him, Akuto has no shortage of wacky girl trouble. How much temptation can a demon king take? How much naughty anime antics can you handle? Find out in Demon King Daimao!

DEMON KING DAIMAO COMPLETE COLLECTION BLU-RAY EDITION
Published by: Sentai Filmworks
Distributed by: Section23 Films
Run Time: 300 min.
Street Date: 6/14/2011
Format: BD
Language: English, Japanese with English Subtitles
SRP: $69.98

SYNOPSIS: After enrolling at the Constant Magic Academy, Akuto Sai discovers he's not just a gifted student with magical powers; he's destined to become the Demon King. And though he's not that crazy about the idea, it drives the girls wild! From the sexy school girls in his class to the skin-obsessed android who's programmed to seduce him, Akuto has no shortage of wacky girl trouble. How much temptation can a demon king take? How much naughty anime antics can you handle? Find out in Demon King Daimao!

YOU'RE UNDER ARREST: FULL THROTTLE (SEASON 3) COMPLETE COLLECTION
Published by: Sentai Filmworks
Distributed by: Section23 Films
Run Time: 600 min.
Street Date: 6/21/2011
Format: DVD
Language: Japanese with English Subtitles
SRP: $59.98

HIGH SCHOOL OF THE DEAD COMPLETE COLLECTION
Published by: Sentai Filmworks
Distributed by: Section23 Films
Run Time: 300 min.
Street Date: 6/28/2011
Format: DVD
Language: English & Japanese with English Subtitles
SRP: $59.98

SYNOPSIS: It began without warning. It continues without mercy. Now a band of high schoolers join forces with guns, swords, baseball bats and anything else they can get their hands on to battle a bloodthirsty, flesh-hungry zombie apocalypse. Slashing action, stunning animation, and jawdropping excitement make HIGH SCHOOL OF THE DEAD the most hotly anticipated adventures of the year. For horror fans and animation addicts alike, nothing offers the high-energy adrenaline of HIGH SCHOOL OF THE DEAD!

HIGH SCHOOL OF THE DEAD COMPLETE COLLECTION BLU-RAY EDITION
Published by: Sentai Filmworks
Distributed by: Section23 Films
Run Time: 300 min.
Street Date: 6/28/2011
Format: BD
Language: English & Japanese with English Subtitles
SRP: $69.98



Seven Seas
Han Yu-Rang's My Boyfriend is a Vampire will be released starting in September

Shout! Factory
Transformers: The Headmasters DVD will be released in July 5th for $29.96

Transformers – Beast Wars: Complete Series will be release on June 7th for $49.99

M.A.S.K. is also scheduled to be released this year

Shout! Factory will be releasing well remembered 90's Nickelodeon series Rocko's Modern Life: Season One DVD on June 21 for $19.93.




Marvel Knights Animation 's SPIDER-WOMAN – Agent of S.W.O.R.D motion comic DVD will be released on June 14, 2011 for $14.97.





SYNOPSIS
With Jessica Drew still reeling from the effects of having been sedated and physically replaced on Earth by the Skrull Queen Veranke, the last thing in the world she wants to encounter is another Skrull invasion. But when Jessica is approached by Abigail Brand, a mysterious agent of S.W.O.R.D., she finds that the urge within herself to inflict vengeance upon the Skrulls is too overwhelming to deny.


Tokyopop
Sakurako Gokurakuin's Freaks will be released starting in August.

Vertical
Covers for...

"Velveteen & Mandala" by Jiro Matsumoto






7 Billion Needles vol. 4





UDON Entertainment
UDON has announced art books based on The Mega Man Battle Network and Mega Man Battle Network: OCW





Mega Man Battle Network: Official Complete Works hits stores March 16, 2001, followed up by Mega Man Star Force: Official Complete Works in May 2011.

Viz
The first volume of SAKURA HIME: THE LEGEND OF PRINCESS SAKURA has recently been released






The latest series from creator Arina Tanemura takes us to the Heian era of Japan (with the resultant lush period costumes, and enhanced by Tanemura's fantastically detailed artwork), weaving the myth of the legendary moon princess with a bit of magical shojo and the supernatural! Sakura is the granddaughter of a mysterious moon princess who slew demons with her Blood Cherry Blossom sword. All her life, Sakura's been forbidden to look at the full moon without knowing why... One night, unhappy over her impending marriage, Sakura gazes up at the moon, only to see a demon attacking her!

VIZ Media announced that the distributor will be augmenting the VIZ Kids library that includes THE LEGEND OF ZELDA, PANDA MAN, TARO, BEYBLADE and DINOSAUR KING with a set of properties not owned by any of VIZ Media's parent companies, Shueisha, Shogakukan and Shogakukan-Shueisha Productions.



HERO 108 – VIZ Kids will be distributing DVDs of this popular series which airs on Cartoon Network. HERO 108 chronicles the battle for peace in the Hidden Kingdom. In addition, VIZ Kids will make the episodes available for download through iTunes. DVDs will be available in May 2011 while downloadable episodes will launch in June 2011.


MAMESHIBA – The irresistibly cute and irrepressibly curious Mameshiba are not quite beans, not quite dogs--they're a hybrid of both! VIZ Kids will release a graphic novel, MAMESHIBA: ON THE LOOSE!, and a character guide, MEET MAMESHIBA, in July 2011.


POKÉMON BLACK AND WHITE: VIZ Kids will release manga, a travel activity kit, and other select merchandise based on the most recent incarnation of the juggernaut POKÉMON™ video game franchise, Pokémon Black Version and Pokémon White Version. Meet all-new Pokémon from the fastest-selling Pokémon video games in history. The travel activity kit will be available in May 2011; Volumes 1 and 2 of the manga will be available in July 2011.


MR. MEN AND LITTLE MISS – Mr. Happy, Little Miss Sunshine and all their Dillydale friends are about to take the graphic novel world by storm! Under the VIZ Kids imprint, VIZ Media will create and distribute original graphic novels starring the lovable MR. MEN and LITTLE MISSES. Little Miss Sunshine, Mr. Bump, Mr. Strong and Little Miss Daredevil books will be available in Spring 2012.


VOLTRON FORCE – Voltron®, the ultimate space adventure from the 1980s, is ready to take the world by storm again! VIZ Kids will produce and distribute original graphic novels based on the all-new animated series VOLTRON FORCEÔ, set to debut on Nicktoons this summer. VOLTRON FORCE reignites the story of five brave space explorers who pilot mighty robot lions that combine to form Voltron, Defender of the Universe. Joining the team are three new cadets, who have the opportunity of a lifetime to fight alongside their heroes and unlock incredible new powers. Let's Voltron! The books will be available in Spring 2012.


Warner Home Video
Supernatural: The Anime Series will be released on July 26th for $54.97 on Blu-ray (2 discs) and $49.98 on DVD (3 discs)





Justice League Season 2 will be release on Blu-ray for the 1st time July 26th





10 episode the Smurfs: A Magical Adventure will be release on a disc 2 collection July 19th

Thundercats: The Original Series Season One, Part One will be released July 12th for $19.97

Event News

The Beguiling has organized Artists Help Japan: Toronto Fundraiser: Artists & DJs
At REVIVAL, 783 College Street, Toronto
...Sunday April 17th, 12 Noon to 12 Midnight
Free To Attend – All Ages

http://www.facebook.com/event.php?eid=208247572520178
http://artistshelpjapan.blogspot.com/

FEATURING LIVE ART BY:
Kei Acedera [Alice In Wonderland] - Kalman Andrasofszky [X-23] - Jason Bradshaw [Boredom Pays] - Bobby Chiu [Alice In Wonderland] - Svetlana Chmakova [Nightschool, Dramacon] - Julie Faulkner [Promises Press] - Ray Fawkes [Possessions] - Agnes Garbowska [Girl Comics, Marvel Comics] - Scott Hepburn [Star Wars] - Stuart Immonen [Fear Itself] - Dale Keown [Pitt] - Eric Kim [Oni Press] - Ken Lashley [Black Panther] - Alvin Lee [Street Fighter, Marvel Vs. Capcom] - Jeff Lemire [Sweet Tooth] - Francis Manapul [The Flash] - Kagan Mcleod [Infinite Kung-Fu] - Alex Milne [Transformers] - Joe Ng [Street Fighter] - Ramon Perez [Captain America] - Marcio Takara [The Incredibles] - Marcus To [Red Robin] - Eric Vedder [Darkstalkers] - Chip Zdarsky [Prison Funnies] - Jim Zub [Skullkickers] + More To Be Announced!

DJ SETS + MUSIC PROVIDED BY:
RIVIERA [PERFECTO,MYTH, KINETIKA NYC], LAZY RAY [NIGHTTRACKIN'], GERRENCE [NIGHTTRAKKIN'], ALVARO G [KINGS OF LATE NIGHT], ROLAND GONZALES [STUDIO+], CARLOVEGA [STUDIO+], JASON ULRICH [LAB.OUR UNION],SHINGO [HOT SAUCE], UNCLE MATTY & DUTTY MAUS [THE BEACS]

All proceeds from Artists Help Japan: Toronto will be donated to the Canadian Red Cross, specifically earmarked to aid in Japanese earthquake and tsunami relief. http://www.redcross.ca/

Upcoming New York Cares for Japan events

San Francisco's New People/Viz Cinema is having a benefit screening of Katsuhito Ishii's Taste of Tea on Sunday April 17th at 3:30pm

THE TASTE OF TEA is based in a rural town surrounded by the natural beauty of Tochigi, Japan, an area that was also heavily damaged by the recent earthquake. The film introduces audiences to the Harunos, a rather unconventional but happy and loving family. They live in a small town in the mountains, but that doesn't mean they don't have their own dramas, quirks and little problems.

As 8-year old Sachiko (Maya Banno) tries to get rid of a giant version of herself who seems to pop up everywhere, her older brother Hajime (Takahiro Sato), privately wrestles with his love-struck heart. Meanwhile, their mother Yoshiko (Satomi Tezuka) is working hard, coming out of retirement as an animator, as her husband and professional hypnotist Nobuo (Tomokazu Miura) watches on with slight apprehension. Even Nobuo's brother and successful manga artist Todoroki has his problems. And lastly there's Grandpa, the most bizarre and perhaps the most perceptive of all, who continues to search for a better way to live life to the full.





A TOMO Harlem for Japan benifit concert will be held
APRIL 19, 2011
AARON DAVIS HALL
6:30 PM
City College
133rd and Convent Avenue


Takashi Miike's 13 Assassins opens in the US on April 29th - locations and dates are listed here





2011 World Genre Film Festival calendar

San Franciso's NEW PEOPLE will welcome comic artist and pop culture provocateur Matthew Inman for a special talk presentation and autograph session beginning at 3:00pm on Saturday, April 16th. Inman is the creator of the celebrated website The Oatmeal. He will discuss his work and newest book, 5 Very Good Reasons to Punch a Dolphin in the Mouth (And Other Useful Guides), at the NEW PEOPLE event.

To attend the Matthew Inman event, individuals must reserve his book 5 Very Good Reasons to Punch a Dolphin in the Mouth (And Other Useful Guides), available for $15, ahead of time at www.newpeopleworld.com.












ARIST VILLAGE Vol. 4 + BAZAAR BIZZAREApril 16th – 17th
11:00am - 6:00pm each day; Admission is FREE

NEW PEOPLE and BAZAAR BIZARRE SF, San Francisco's favorite arts and craft show, continue a joint collaboration to create another all-floor vertical art village to celebrate the Japantown Cherry Blossom Festival! This curated shopping event will be part of a nationally renowned festival (Northern California Cherry Blossom) and gallery opening at NEW PEOPLE.

For more information, please explore:
http://www.bazaarbizarre.org/sanfrancisco/shows/artistvillage

99 Years of Love: Japanese Americans
99 Years of Love: Japanese Americans is an acclaimed 5-episode film telling the story of the struggles that Japanese Americans faced in a time of prejudice and racism, when they were torn between their country and their ancestor's homeland. The epic tale, written by Sugako Hashida, a well-known writer in Japan, spans a period of 99 years through the eyes of one family, beginning with the immigration of an Issei (first generation) father to America through his Nisei (second generation) son joining the 442nd infantry Regiment during WWII. The drama depicts the Issei and Nisei generations' spirit, strength and love.

Kusanagi plays both the young Hiramatsu Chokichi and his son, Ichiro. When the war breaks out the Japanese immigrants face racism and segregation. Ichiro pledges his allegiance to America and gets sent to Europe, his younger brother Jiro stays back with Ichiro's beloved Shinobu and tries to protect their parents' farm. Their two sisters Shizu and Sachie are sent back to Japan and have to experience the horrors of war, one in Hiroshima and the other in Okinawa. —DramaWiki

99 Years Of Love was produced to commemorate the 60th anniversary of TBS (Tokyo Broadcasting System) and aired in Japan for 5 consecutive nights in fall 2010. It was viewed by millions. It stars Tsuyoshi Kusanagi, a member of the Japanese pop group phenomenon SMAP, playing double roles as the Issei immigrant and his Nisei son. The film also features Yukie Nakama (Shinobi, G@me), Kenichi Matsuyama (Death Note, GANTZ), Kaoru Yachigusa, Kiichi Nakai and Pinko Izumi. This event is held and sponsored by JCCCNC (Japanese Cultural and Community Center of Northern California). For more info about JCCCNC, please go to www.jcccnc.org.

Showing at NEW PEOPLE:
(Suggested donation: $5.00 or more; Episodes are 2 hours each)
(Parts 1 to 5 begin screening at 10:30am every day (from April 16th – 20).
April 16th (Sat): Episode 1 "America" 10:30am-12:30pm
April 17th (Sun): Episode 2 "Generations" 10:30pm-12:30pm
April 18th (Mon): Episode 3 "Concentration Camp" 10:30am-12:30pm
April 19th (Tues): Episode 4 "The Japanese American 10:30am-12:30pm
Regiment"
April 20th (Wed): Episode 5 "Reunited" 10:30am-12:30pm

The site has been launched for the Los Angeles Pacific Film Festival


Tickets are on sale now for 4/28 NY premiere of HELLDRIVER at the Japan Society


Manga author Atsushi Suzumi (Venus Versus Virtus) will be a guest at Seattle's Sakura-con (April 22-24)

The anime adaptation of Supernatural will be screened at Anime Expo ahead of its July 26 DVD/Blu-ray release



*



Lorber Films and New York City's IFC Center announced the theatrical release of Koji Wakamatsu's Caterpillar and United Red Army.

Caterpillar adapts a banned short story by seminal genre writer Edogawa Rampo. Set during the Second Sino-Japanese War, Caterpillar tells the story of a village woman who is given the grueling task of looking after her quadruple-amputee husband, a decorated soldier tortured by memories of his war crimes. The Silver Bear award winning film opens open May 6.






Shot in a raw verite style, United Red Army explores the political unrest of 1960s Japan, when mass student uprisings coincided with the beginnings of the far-left United Red Army group. United Red Army opens May 27.







*



Wasabi Anime has worked with Florida's fan conventions to create the "Cowboy Bebop Florida Tour" featuring English language voice actors Beau Billingslea (aka "Jet Black,") Steve Blum (aka "Spike Spiegel,") Melissa Fahn (aka "Edward,") and Wendee Lee (aka "Faye Valentine").

Beau Billingslea will be signing autographs May 7-8, 2011 at Florida Super Comics, Games, Anime + More in Davie, Florida (Saturday) and Past, Present Future Comics & Games in West Palm Beach, Florida (Sunday.)
www.floridasupercomics.com
www.ppfcomics.com

Steve Blum will be signing autographs May 27-29, 2011 at The Florida Anime Experience in Kissimmee, Florida.
www.floridaanime.com

Melissa Fahn will be signing autographs July 3-6, 2011 at Florida Supercon in Miami, Florida.
www.floridasupercon.com

Wendee Lee will be signing autographs August 5-7, 2011 at Anime Festival Orlando in Orlando, Florida.
www.animefestivalorlando.com

A presentation about Osamu Tezuka's divide pursuit of a manga career and medical degree is being offered at the Machikaneyama Shugakukan at the Museum of Osaka







*



The notoriously violent Riki-Oh is getting a theatrical screening later in Minneapolis later this month

a full size Catbus is being set up at the Ghibli Museum






Pictures on Kaiju Big Battel's latest assult on New York





Peelander-Z and Anamanaguchi Bring Superhero and 8-Bit Fun to the Roxy

Industry Passings

Macross II producer Hiroshi Kakoi was a victim on Japan's March 11th earthquake.

President of Kodansha for 24 years and excitive producer of Akira Sawako Noma passed away on March 30th at age 67. Her son Yoshinobu Noma will succeeed her in her role at Kodansha

Moribi Murano passed away at age 69 on March 7th. Murano created the children's manga Howl! Bun Bun, directed Tezuka/Sanrio movie Unico: To The Magic Island and provided character design to the Dagger of Kamui movie.

Voice actor Kan Tokumaru passed away on March 6th at age 69. His work included the original Mobile Suit Gundam, Tekkeman/Technoman and Gaiking

Diana Wynne Jones, author of the novel on which Hayao Miyazki's Howl's Moving Castle was passed away on March 26 at age 76

NTV Chairperson and producer on many of Ghibli movies Seiichiro Ujiie passed away on March 28 at age 84.

Eriko Kishida, who wrotes the theme songs to anime Alps no Shojo Heidi and Anne of Green Gables passed away on April 7 at age 82.


On North American TV

Sacramento, San Francisco, Chicago and Boston will be getting Asian culture network Mnet on D1 digital tier by September

Marvel's Head of Television Jeph Loeb announced at WonderCon that Heroes' Adrian Pasdar nd Milo Ventimiglia will voice Iron Man and Wolverine respectively in the G4 airings of the Madhouse anime adaption of the Marvel comics.