Hey folks, Harry here...
Golly geewhilikers! Wow. Can't believe THE HOBBIT is at 48 frames per second & 3D. I mean, I can - cuz I know that James Cameron said it was happening - and James Cameron is always right & undebatable. Because it is in JC that we trust. But now that Peter Jackson has FaceBooked About it, with pictures and everything - we're at the beginning of the very real change in cinema.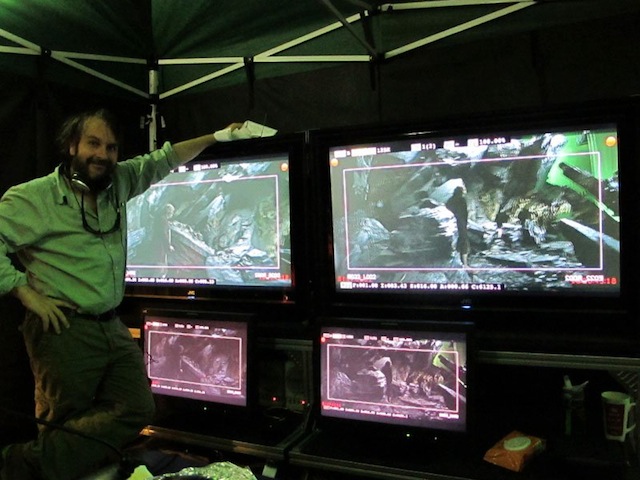 I find myself wildly curious to see what Roger Ebert is going to say about this - because Roger Ebert has been one of the most vocal proponents about upping the frame rate for cinema - for... well, since he first saw ShowScan decades ago - I've seen the tests - they're astonishing. The stuff of dreams. It's still 35mm, but you're seeing twice as much with every second. The blurring begins to evaporate entirely - and holy shit it is amazing. Peter and Andrew Lesnie are really laying groundwork with THE HOBBIT - and I can't even imagine how amazing this is going to look.
Gollum at 48 fps 3D - suddenly there'll be no more reasons for drugs ever - because this is gonna be real without the need for the poisons to ever touch a system. So what does this mean for us?
Well - there's no telling whether or not 48 fps will become any kind of standard based upon this film... but we all know that each of these HOBBIT features will gross over a Billion Dollars world wide... If it happens to go AVATAR nuts - we'll see alot of the big event films headed in this direction. Suddenly - I can imagine the need for something above Blu-Ray and the Television systems we currently have. I mean - if we end up at 60 fps or higher - the Internet will have to get a lot faster for Netflix.
We're in for something amazing in our theaters. Yet another reason to dream of THE HOBBIT - oh - and in Peter's post he mentions the impending possibility of new Production Diaries! CAN NOT WAIT!!!