Good afternoon from London. Still sunny here if you're interested. No? Ok fine.
Just got out of a presentation by Momentum about some of their big 2011 movies. First up was comedy-trailer-turned-into-actual-movie Hobo With a Shotgun, starring everyone's favourite replicant, Rutger Hauer. All we saw was the existing green band trailer, which was a bit of a let down, but I thoroughly recommend you check it out if you haven't already.
The PR people here were keen to stress the violence and gore, but I think it'll be an entertaining movie beyond that. Not much to go on yet though.
Red Hill is an Australian modern-day Western, which we also saw the trailer for. I tend to really enjoy Aussie movies anyway, and this looks like a corker for fans of the Western genre and films from down under. It stars Ryan Kwanten, Steve Bisley and Tom E Lewis.
The trailer for a Norwegian horror called 'Troll Hunter' came next - even the title fit a bit of applause from the audience. It's about a team of documentary film makers investigating some mysterious goings on at an isolation farm. Turns out it's trolls, who vary in size from human size to absolutely enormous, Godzilla scale monsters. It looks like a lot of fun.
Then the main part of the presentation, The Woman in Black and Insidious.
Director James Watkins was here on the panel to talk about The Woman in Black, which of course stars Hogwarts reprobate Daniel Radcliffe. We were also treated to the world premiere of the teaser trailer, though it was posted online about 5 minutes after the event finished.
It looks very spooky and potentially quite a fresh addition to the genre - being very English and old fashioned. One thing I didn't know is that Jane Goldman (Kick-Ass, X-Men: First Class) wrote the screenplay. Watkins said that when she sent it to him and he read it, he immediately wanted to make it. He claims it's definitely "very, very different" from the existing play, and the book, but that the movie remains "in the spirit" of both of those, while bigger "more epic, and yet still intimate".
He also paid tribute to Goldman's script, saying that she was the one who did all the heavy lifting on the project before he even got on board.
He says that the film is a "really pure form of horror", in which you "keep looking into the shadows and the blacks".
Watkins was also asked about why he picked Daniel Radcliffe for the lead role - and explained that it's partly because he's so committed to his work, but also that it was an interesting opportunity - because it was a chance to really re-invent the actor for the next stage in his career. Apparently Radcliffe really wanted to cut loose now that Potter is done, he's really happy to try to things now.
After wrapping on filming in December, they're now still editing the film, working on editing and effects at the moment - and they're expecting to finish by around June.
He finished by explaining the links with older Hammer films - and said that he wants this to be like one of the "classy, original ones, rather than the "later, naked vampire stuff".
So then came the Insidious panel. The film isn't out here yet, but I understand it is for you lucky people over in the States, so I won't spell too long on it. The director, James Wan, and the writer/actor Leigh Whannell were both on the panel today (they're the guys who did the first SAW).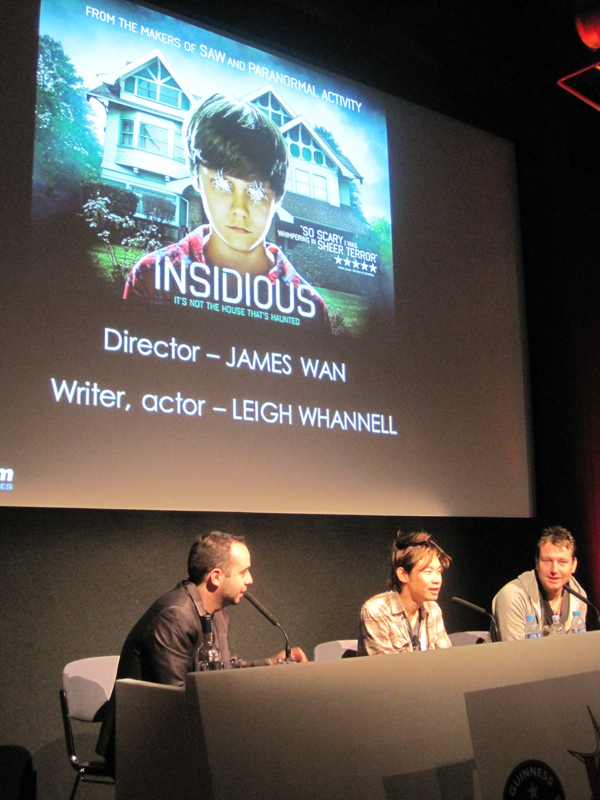 They explained how they came up with the idea - it was when they were struggling and broke after film school, and Blair Witch had just come out. They wanted to come up with a film they could shoot for $5,000 in their garage. After a slew of ideas that never got going, they came up with the conceit for Insidious. But then soon after they also thought of the idea of "two guys chained up in a toilet" - and that was the project they picked. Shrewd choice, it turns out.
James said that they wanted to do a really old fashioned scary movie, and he hopes that's what they've done with Insidious. I haven't seen it myself yet, but to be honest wasn't blown away with the trailer. The pair were asked, inevitably, whether Insidious will turn into a massive franchise, like Saw did, or whether it will stand alone. They pointed out that Saw was always meant to be a standalone film.
I'll have more from London soon - Mark Millar has promised to sit down properly with me for a long chat later on over a pint, so I'll bring you that for sure!