Merrick again...
A trailer for the cartoon series has now hit the net. This is the most animated Larry King's been in quite some time! Here's an embed...
Original article follows...
-----------------------------------------------------------------
Merrick here...
Keeping updates short and sweet while I battle severe internet connectivity issues. Upgraded to Time Warner "Extreme" - which is supposed to make my Internet go faster than the "Turbo" I already had - and it has dragged me to a complete, unworkable standstill.
Anyway...
Last week we learned that Arnold Schwarzenegger would parlay his "Governator" nickname/mythos into a franchise via a Stan Lee-shepherded comic book and an animated TV series (details HERE).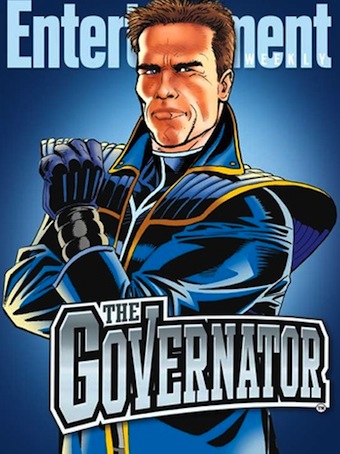 Schwarzenegger has now revealed that plans to exploit said character don't stop at comics and cartoons - looks like we'll be getting a movie as well.
"First will come (The Governator) comic books, then a (cartoon) TV series and after that we will develop the games and then a movie," Schwarzenegger told a packed room of international journalists at global TV market MipTV in Cannes. "Maybe then we'll be back in Cannes for that."'
[EDIT]
Schwarzenegger also confirmed he is returning to live action features, saying he will soon be "getting back in front of the camera."
More at Hollywood Reporter, HERE.
-- follow Merrick on Twitter ! ---