Merrick here...
...with two reports from AICN readers who wrote in to discuss media reports about location filming for the ALIEN-related Ridley Scott project PROMETHEUS.
First up, this message from James...
...haven't noticed this mentioned on the site and thought it was worth sending in.
It's been reported here in Scotland this morning that Ridley Scott is set to film the some of Alien prequel here. Because it's been reported in the Scottish versions of the newspapers The Daily Express and The Daily Star the story doesn't appear on their websites.
Here are the prominent quotes from the article.....
"ALIENS are to invade the Highlands - after secret plans were hatched to film a prequel to the sci-fiblockbuster trilogy in Scotland.
Location scouts for the long-awaited movie, with original Alien director Ridley Scott in charge, have already visited Inverness and Fort William."
"All cast members had to sign secrecy clauses and were made to read the script in Ridley Scott's Hollywood office. And when Kate Dickie, 39, needed to see the screenplay in Glasgow a security courier flew to Scotland and stood guard over her for two hours.
But the cat was let out of the bag when the film-makers asked about accommodation in Inverness and surrounding towns during August.
They are looking for rooms to sleep a cast and crew of at least 150 people.
While other mountainous parts of Europe have also been considered, the Scottish Highlands backdrop is favoured because it fits the new film's central theme of "grand mythology and universe" in which this original story takes place.
Mediacom, whose film travel and accommodation office is based at Pinewood Studios in Buckinghamshire, would confirm only that a "large feature film" was due to shoot in the Highlands from early August until September, then elsewhere in Europe in October and November."
We also received this note from William Wallace...
Thought you might be interested in some breaking news about Ridley Scott's Prometheus.
The Scottish Daily Express reported today that Inverness or Fort William in the Scottish Highlands will be the production base for an August and September shoot. According to the article, other mountainous parts of Europe had been considered but the Scottish Highlands best suited the film's theme of "grand mythology and the universe" (the relative proximity to Pinewood Studios in England where the rest of the film is shooting wouldn't have hurt either).
The dramatic and beautiful Highland landscape, familiar to anyone who has seen Braveheart or a Harry Potter film, may seem like a strange choice for an alien planet but let's not forget that Kubrick managed to make the Scottish island of Harris double for the surface of Jupiter in 2001: A Space Odyssey! My feeling is they're probably looking at filming somewhere like Rannoch Moor, which has a rather bleak and otherworldly aspect (I've attached a couple of photos).
This is just one more factor in what's shaping up to be one of the most fascinating of upcoming films. One thing's for certain,

Prometheus

is going to be a very different animal from the rest of the Alien franchise.
William also sent some photos of the locations being discussed. Magnificent. This setting really speaks to me (and not just because they appear to be filming an ALIEN movie there..)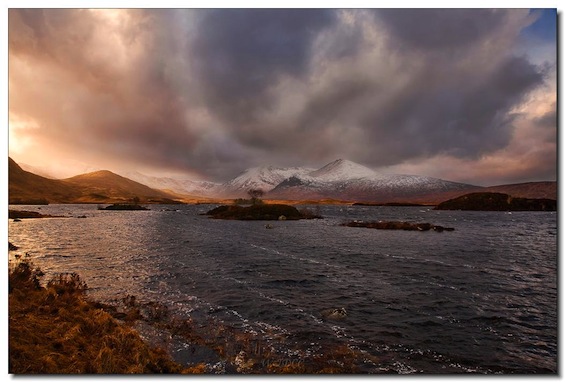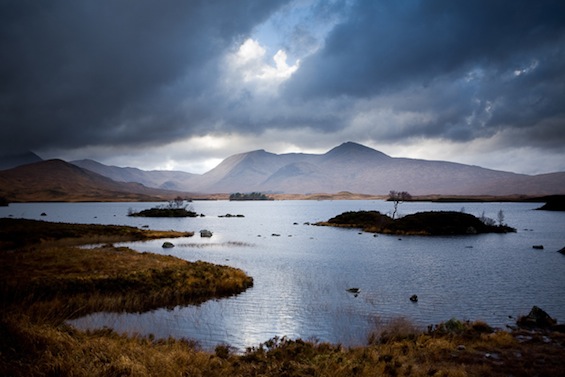 — follow Merrick on Twitter ! ---