Ahoy, squirts! Quint here with today's Behind the Scenes Pic!
Today's photo was supposed to be slightly more nerdy, but with the death of one of the hottest women to ever seduce an audience from the silver screen I felt a replacement was in order.
Jane Russell was famous for the controversy surrounding her bust, which was the big selling point of Howard Hughes' The Outlaw. The censor board held the film up for years before relenting to Hughes' pressure.
She wasn't very prolific, but she made a huge impact on film, appearing in films alongside such talents as Marilyn Monroe, Robert Mitchum, Vincent Price, Glenn Ford, Rod Taylor and William Smith.
My personal favorite underseen Jane Russell flick is 1970's DARKER THAN AMBER, which is also her last film role. The film's based on a John D. MacDonald novel and features a lunatic performance from the great William Smith.
The most known and widely regarded of her work, though, is her co-starring role of Dorothy Shaw in GENTLEMEN PREFER BLONDES. As iconic as Marilyn Monroe is in that picture it's a great tribute to Russell's talent that she held her own.
Today's pic comes from the making of a film called The French Line, which I have not seen. But it features Russell and the great director Lloyd Bacon, who came out of retirement to direct this picture. Bacon was known for musicals like 42nd Street, Footlight Parade, Wonder Bar and Gold Diggers of 1937, but he also directed some solid gangster pictures, like Brother Orchid.
Bacon is the guy on the right and it's hard to miss Jane Russell. I'm going to include one of the more beautiful glamour shots of her and a great photo of her and Monroe making their mark in front of the Chinese theater as well. Why not?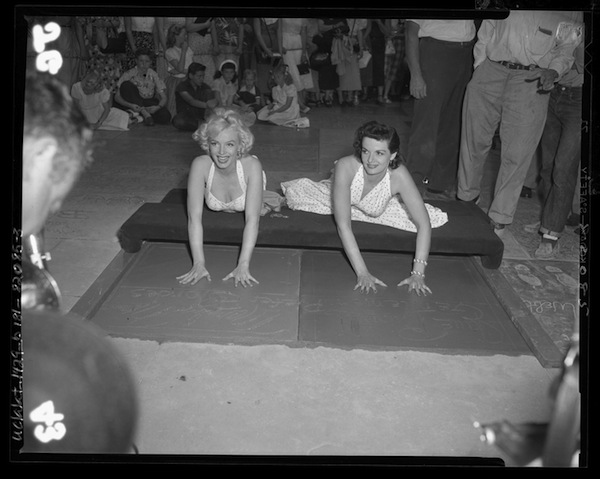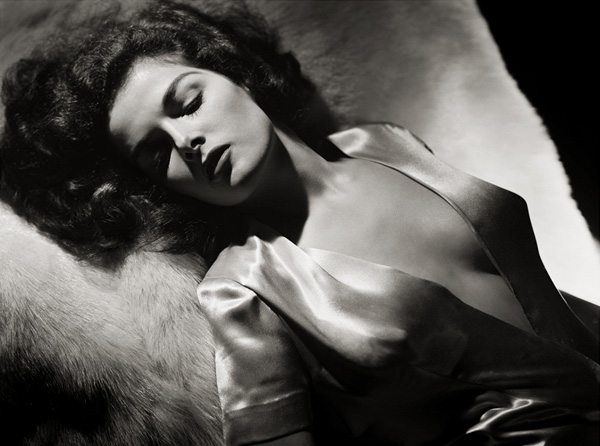 Thanks for the years of entertainment, Ms. Russell. My thoughts are with your friends, family and fans.
Tomorrow's Behind the Scenes Pic returns to our regularly scheduled nerd pic!
-Quint
quint@aintitcool.com
Follow Me On Twitter