Beaks here...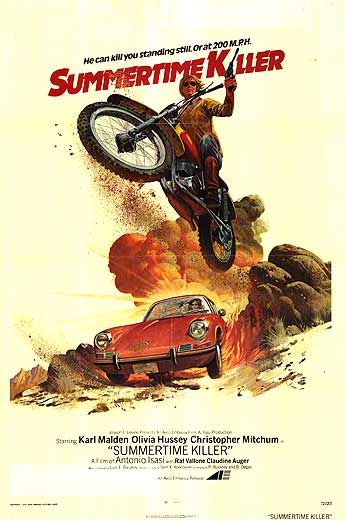 Back in March of 2007, Quentin Tarantino took over the New Beverly Cinema and ran a month's worth of grindhouse delights. THE MACK, THE CHINESE MACK, JOHNNY TOUGH, ROLLING THUNDER, BROTHERHOOD OF DEATH, THE MUTHERS, BARE KNUCKLES... two, maybe three rarely-screened movies a night for $7 a pop. It was a glorious time.
And now it's about to happen all over again.
As was announced last week, Tarantino is programming the entire month of March (and a little bit of April) at The New Beverly. In 2007, the centerpiece was a wild midnight screening of GRINDHOUSE on opening day (possibly the best time I've ever had in a movie theater). This time, the highlight will be a week-long run of KILL BILL: THE WHOLE BLOODY AFFAIR - the full version of Tarantino's revenge epic which fans have been waiting eight long years to see. That wait will finally end when the combined cut receives its U.S. premiere at The New Bev on March 27th.
But let's back up for a moment. The celluloid orgy kicks off on March 1st in appropriately idiosyncratic fashion with a double feature of the unrepentantly scuzzy CRACK HOUSE and the not-to-be-missed hickspolitation classic REDNECK MILLER. This is a one-night-only affair, so clear the fuck out of your schedule, knock back a six of Schlitz (provided you're not driving) and get there. From that point forward, Tarantino plans to scramble your brain with an eclectic mix of... well, I'll just list the titles and let you try to make sense of it.
March 1: CRACK HOUSE and REDNECK MILLER
March 2, 3: ESCAPE FROM ALCATRAZ and I ESCAPED FROM DEVIL'S ISLAND
March 5: SHAME OF THE JUNGLE (Midnight Only)
March 6, 7: ROAD GAMES and THE ANDERSON TAPES
March 8: Revenge Triple Feature with THE NO MERCY MAN, JOHNNY FIRECLOUD and SUMMERTIME KILLER.
March 9, 10: Rod Taylor Night featuring DARK OF THE SUN and HELL RIVER (neither of which are available on DVD)
March 11, 12: WHITE LIGHTNING and THE LAST AMERICAN HERO
March 12: STONE (Midnight)
March 13, 14: Paul Mazursky Night featuring BOB & CAROL & TED & ALICE and BLUME IN LOVE (Yay!)
March 15: GRINDHOUSE and MACHETE
March 16, 17: MAN FRIDAY and COOLEY HIGH
March 18, 19: DRIVE-IN and DAZED AND CONFUSED
March 22: Martial Arts Double Feature with THE HOT, THE COOL AND THE VICIOUS and FEARLESS FIGHTERS
March 25, 26: More Martial Arts! THE AVENGING EAGLE and DUEL OF THE IRON FIST
March 25: FRIDAY (Midnight)
March 26: THE FIGHTING FISTS OF SHANGHAI JOE
March 27 - April 2: KILL BILL: THE WHOLE BLOODY AFFAIR
April 1, 2: PULP FICTION (Midnight)
Christ almighty. And according to The New Bev's Phil Blankenship, there are films yet to be announced (which would explain why a few dates have been left open). I can't single out one pairing as being better than the others, but I would urge you to check out ROAD GAMES and THE ANDERSON TAPES if you've never seen them. I'm also a huge Mazursky fan, and would love to see younger viewers give his '70s films a shot; they're not nearly as dated as some suggest. And while I've never seen it, what's not to love about a movie called THE HOT, THE COOL AND THE VICIOUS?
Tickets haven't gone on sale yet, but I'm guessing that there won't be too many immediate sellouts. Given that THE WHOLE BLOODY AFFAIR will be playing for a full week, you should be covered if you don't buy your tickets right away. I've also been told that there probably won't be many special guests turning out for these screenings; the purpose of this series is to watch some cool fucking movies with a theater full of respectful film geeks. If you're down with that, I'll see you there for all of it.
For more info, check out The New Bev's website.
Update 2/25 at 3:26 PM: ESCAPE FROM ALCATRAZ and I ESCAPED FROM DEVIL'S ISLAND added above. Also, regarding KILL BILL: THE WHOLE BLOODY AFFAIR, Tarantino provided the copy stating that it is "The unrated combined version which has never been seen in the United States". "It would seem that it it not the Cannes cut that has played the Egyptian & the Alamo," I have been told. If/when I get further clarification, I'll let y'all know.