Merrick here...
Over the past month or so we've mentioned Titan Books' SUCKER PUNCH: THE ART OF THE FILM by Zack Snyder. That book is hitting shelves this week, so we wanted to give you a more pointed heads up about it. Before we go any further, you should know that all images on this page are EMBIGGENABLE!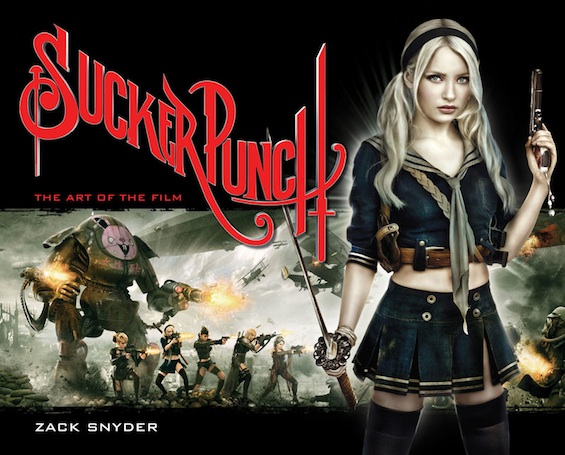 As I've mentioned on this site before, I have tremendously mixed feelings about Zack Snyder films - I find him to be a tremendously capable cinematic craftsman/technician, but still struggling somewhat as a storyteller. There is a distinct, and wholly important, difference between these two abilities. This said, I do hope he ultimately manages to become more well rounded and balance these qualities, as I can easily imagine him someday evolving into a formidable film maker of the very highest order. And so, it is with both tremendous fascination and a touch of trepidation that I approach SUCKER PUNCH, his newest cinematic blow-out, due in theaters March 25.
Most of us have seen the intense, aesthetically rich trailers by now...
...which suggest that, come what may, the movie will (at the very least) look pretty amazing. Snyder's SUCKER PUNCH: THE ART OF THE FILM book bears out this suspicion nicely. So much so that, no matter how the film itself turns out, this book stands on its own as an impressive, atmospheric, and almost overwhelming display of art and design.
Approximately 255 pages of painstakingly presented visual material from the movie is supported throughout by insight and contextualization from Snyder himself, offering a well-balanced mixture of design work (covering vehicles, characters, costumes, settings and environments, 3D models, etc.) and photography (a bit from Clay Enos, who brought us WATCHMEN: PORTRAITS) .
Below you'll find some page samples from SUCKER PUNCH: THE ART OF THE FILM.






Even if you're you're not on the SUCKER PUNCH bandwagon just yet, consider glancing through this book whenever you get a chance. As I said above, as a visual experience on its own merits this publication is pretty damn impressive - and one of the better film design books I've come across in quite a while. Depending on how well the movie actualizes the sum of these parts, we may well be in for one helluva visceral bludgeoning..at the very least.
You can find SUCKER PUNCH: THE ART OF THE FILM in stores now, or it's nicely priced on Amazon (HERE). A very limited edition of the same book - signed by Zack Snyder and including other special material (enumerated HERE) is still available for pre-order HERE.
— follow Merrick on Twitter ! —