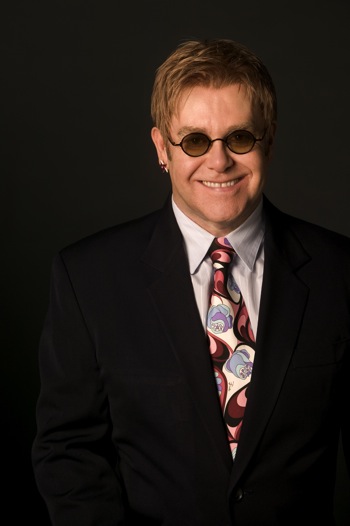 He's written over fifty Top 40 hits; sold out the biggest arenas in the world; performed for Queens, Princesses, Presidents and Prime Ministers; raised millions (if not billions) in the fight against AIDS; and won multiple awards.
And now Sir Elton John is seated in a room at the Beverly Hills Four Seasons, peering through blue-tinted sunglasses at a shlubby, balding, thirty-seven-year-old internet journalist. To paraphrase a lyric from one of his contemporaries, he looks very much like he would rather be anywhere else than here today.
I try to make a little small talk as I nervously place my iPhone onto the desk where Billboard's third most successful recording artist of all time sits. He'd been discussing BLAZING SADDLES with a Disney publicist as I entered, so I ask if he's a fan of the movie. Suddenly, I feel like Flounder inquiring "You guys playing cards?" in ANIMAL HOUSE. Of course he's a fan. He barely bothers to mutter "Yes." Defeated, I click record on the iPhone. The beep briefly drowns out the shrieks of "Leap to your death from the nearest window!" echoing in my head. There's no graceful segue from this. Might as well just start firing off questions, and let the gentleman go about promoting his movie.
Fifteen minutes later, we're laughing and getting on like... well, pop music icon and shlubby internet journalist, but at least we're laughing!
Like anyone who's had access to a radio over the last forty years, I'm well acquainted with the music of Elton John. He was one of the few artists who crossed over from bona fide rock-and-roll stations to soft rock formats: the former could spin "Saturday's Alright for Fighting" without shame, while the latter could indulge in the balladry of "Your Song" or "Candle in the Wind"; interestingly, both played "Rocket Man (I Think It's Going to Be a Long Long Time)" - which to me reinforces why it's one of the ten greatest pop songs ever recorded. In terms of quality and prolificness, his output in the 1970s is rivaled only by Stevie Wonder and Bruce Springsteen. And his longtime collaboration with lyricist Bernie Taupin invites comparisons to the great composer/librettist duos of the twentieth century.
As John notes in the below interview, his career became even more multifaceted in 1993 when Tim Rice convinced him to write original songs for the looming blockbuster that was Disney's THE LION KING. Once that movie took the popular culture by storm, John was suddenly in demand for animated films and musicals. This reinvigorated him creatively, ultimately setting the stage for GNOMEO AND JULIET, an animated retelling of Shakespeare's romantic tragedy featuring contentious garden decorations and a mixture of old and new music from John (thus ensuring your children will be humming "Rocket Man" along with you on your way out of the theater).
Initial awkwardness aside (which I've surely, hopefully overstated), this was a great interview. Though many questions went unasked (primarily about his friendship/collaboration with John Lennon and underrated 2001 throwback album SONGS FROM THE WEST COAST), I was grateful to gain a little insight into John's creative process. His music has been a constant in my life. When the doldrums set in, I know temporary assuagement is a click away in "Levon", "My Father's Gun" or "Someone Saved My Life Tonight".
Here's fifteen minutes with Elton John...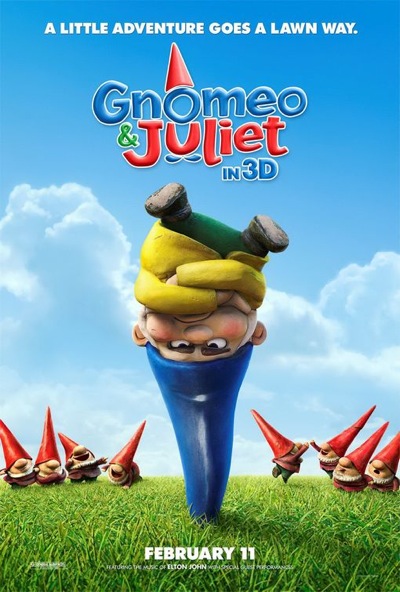 Mr. Beaks: Coming down Santa Monica Boulevard, before I turned onto Doheny, I passed The Troubadour. That was a rather important venue for you early in your career.
Elton John: It was forty years ago last August.
Beaks: You've done so many different things in your career since. Do you feel like there's been any kind of design to getting where you are now?
John: It's been an amazing ride. I've been very lucky. I think when I had that success in the first five years of my career, I had the knowledge that it wouldn't last. I knew that you couldn't have a record coming in number one all the time. I knew that there would be someone else to be the big cheese. I knew that my career would settle down and find its own niche - and it did. I think the biggest thing that happened to me in my career was in 1993, when THE LION KING came around. Up to that point, I was making records and touring and doing videos - which I don't really like doing, but I did. They were fun in those days, but I don't do them anymore. But when THE LION KING happened, when Tim Rice phoned me and said, "Listen, Disney said you won't do this, but I'm asking you." Because I knew Tim, and I'd already written some songs with him, I said, "God, I'd love to do that. That would be fantastic." If I hadn't said yes to that, or he hadn't phoned me, I wouldn't be doing [GNOMEO AND JULIET] probably. Who knows what would've happened?
But because I did that, which is one of the greatest animated movies of all time, and probably the second-biggest earner of a franchise in the history of show business... I mean, I knew it was good when I saw it, but I didn't know that there would be a musical or become this juggernaut. But it opened the door to do film scoring, which I did for THE MUSE. I did THE ROAD TO EL DORADO. I did [GNOMEO AND JULIET]. I've done four Broadway musicals. THE LION KING opened another door for me, which at that time was very necessary because it gave me something else to do. You can't just carry on - well, you can - making records and just doing the same thing. I'm a bit more creative than that. I'd done a film score earlier in my career for FRIENDS (the 1971 film directed by Lewis Gilbert), and I've always loved movies. The marriage of music and movies appeals to me greatly because what of you've got in front of you; if you're doing a movie score, you're writing something to a visual thing. It's a challenge, and I love that kind of challenge. It's very different from what I normally do. It's mathematical. You're writing, for instance, one minute and three seconds worth of music; I don't have that restriction for when I'm doing my own songs. For example, on GNOMEO, I wrote four songs with Bernie, and they used two. The two they left were great songs, but you have to leave ego behind. I'm used to that now, with BILLY ELLIOT and other musicals. Some songs don't make it.
But my career has just unfolded in front of me. Of course, I have other things to do: I collect photography and I have the AIDS foundation and I have other interests. But it's been quite a remarkable ride. I was at The Troubadour last Thursday to see a British band called Plan B. He's amazing. I'm such a fan of his. I hadn't been back there in a while, and I just thought, "God, they haven't done anything to this place in forty years." And it's kind of nice that they haven't. It's a great atmosphere. I had a blast. But it took me back. And I said to Ben [Drew], who is Plan B, "You know what? This is a little magical place. And if you play well, you never know what can happen." Yeah, it's still there. And I think about it a lot. But I've always loved being a fan, too. I've always wanted to listen to new music. I've wanted to see new movies. I've wanted to be involved involved in the new. I've not wanted to dwell in the past particularly. I mean, I dwell in the past when I go onstage and play my hits, and I'm very thankful for them. But I'm a very forward thinking person.
Beaks: I like that this film is something of a gateway drug to your older music for kids. Some of the songs have been rearranged, and some of them we only hear bits and pieces. How did you decide which songs to use?
John: It actually wasn't my idea. Bernie and I were asked to write new songs for [GNOMEO AND JULIET]. I wanted to write all new songs. But in the end, Dick Cook, who was the head of Disney at that time, told us to go away and make the movie we wanted to do, because within Disney Animation they couldn't get it together. They said, "You guys won't mess it up. You go and make the British movie that you wanted to do. But I want an Elton John soundtrack. I want the old catalogue in it." Luckily enough, one of my best friends is James Newton Howard. He's one of the best scorers there are in this town, and he was in my band! So he knew. And I said, "James, you've got a job!"
And James has done a great job. Even though there are certain scenes, like "Saturday Night's Alright for Fighting" with the lawnmowers and "Bennie and the Jets" with the computer... they're very funny. He's arranged some of the songs and the melodies so beautifully that it doesn't become overbearing. I'm very grateful for that, because otherwise it would be an Elton John Movie. I don't think it is. It's GNOMEO AND JULIET with my music. But, hey, if it gets my music out to another audience, then that's fantastic. But I'm kind of lucky about that. Every five years, new kids come along and watch THE LION KING, so they kind of know who I am. God knows what THE LION KING has done for me. It really has been a pivotal cornerstone in my life.
Beaks: You talk about writing to images. Your music has always been cinematic without being put to images. But watching this movie, I wondered if you'd now consider using some of your classic albums to tell a story. Like maybe doing a western to TUMBLEWEED CONNECTION.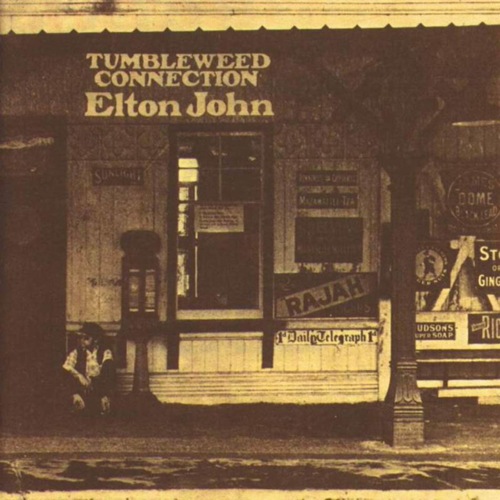 John: (Pause) I do a song from MADMAN ACROSS THE WATER onstage. I did a tour with my old percussion guy Ray Cooper; I did it before Christmas, and I'm going back to do some more dates soon. But we do "Indian Sunset" from MADMAN ACROSS THE WATER. Nobody knows that song, especially in Europe. It's an obscure album track, but it gets a standing ovation every night. And I said to Ray, "That's a movie in a six-minute song."
Bernie's lyrics on TUMBLEWEED are so of a kind of Americana, aren't they? It's amazing to think that an eighteen-year-old British boy could write those lyrics. I thoroughly agree with you. Someone just said, "Your music has been used in different guises in films." Like "Amoreena" was used in DOG DAY AFTERNOON. And obviously "Tiny Dancer" in ALMOST FAMOUS. Also "My Father's Gun" in ELIZABETHTOWN.
Beaks: That's one of my favorite songs.
John: Well, Cameron's a fan. Cameron's a music man, so he knows. But when I saw DOG DAY AFTERNOON, I didn't even know "Amoreena" was in the film. I just went to see it, and thought, "Oh, my god!" And that's the only piece of music in the film!
So I know what you're saying, and, yes, there are so many things you could do. But I'm so busy doing new things that I can't seem to resurrect the old things. There's such a wealth of material that we have. But I'd rather be creative and do new stuff. And when I'm dead and gone, maybe people can resurrect it and do that.
Beaks: (Laughing) Well, it's just a thought.
John: It's a great idea. And don't think we haven't thought about it. It would be wonderful to do that. Watching something like TRUE GRIT: I think you could hear a couple of [TUMBLEWEED CONNECTION] songs in that. It's like, "Hm, that would've been nice."
Beaks: Do you have any particular favorite uses of your music in films?
John: I think "Amoreena" is a nice one. And also "Tiny Dancer." I hadn't been doing that song for a long time, and then Cameron singlehandedly resurrected that song and made it popular everywhere in the world. [ALMOST FAMOUS] wasn't a big box office success, but that scene got played so many times on television and YouTube and whatever that it really helped.
Beaks: You talked a bit about the difference between writing music for theater or film and recording an album. Do they require you to use different songwriting muscles?
John: When you're writing an album, you have a blank canvas. When you're writing something like GNOMEO AND JULIET, you know the scene and characters you're writing for. If you have a musical... to write a musical is far easier because you have a beginning and an end. Usually, the way I write a musical is having all the songs to start with. I write from the beginning, finish at the end - and obviously some get chopped up, and some move around. But you have a beginning and an end, and characters and scenes and emotions to play with.
When I get a lyric from Bernie for THE UNION [John's terrific new LP recorded with Leon Russell], I can just go carte blanche with it. You are restricted in a way in what you write, but in a way it's very helpful; you know exactly what you're writing for. I love it. When you're a kid and you read Charles Dickens... it's so descriptive, the characters. You imagine what they look like. And when you actually saw them in a movie or on TV, you went "Oh, yeah, that's exactly how I saw it." When you're writing for the stage or a movie, and you're writing for a character, and the song really works, you think, "Yes, I've nailed it!" It really gives you a head start. When you're doing an album, the hardest thing to do is put it in sequence. You just have a mixture of songs. But when you're doing a movie or especially a musical, you know what you've got; you know the beginning and the end. You've got a really good starting block. That's a huge help. It's a different way of writing, and I love it.
Beaks: You've said that songs and melodies come very quickly to you, and that if you don't get the song figured out in fairly short order you discard it and move on. Does that apply as well to writing for movies or musicals, or do you perhaps try to hold on to a tricky melody a little while longer.
John: It's exactly the same. The lyricist is never in the room. Bernie has never been in the room. Tim Rice has never been in the room. Lee Hall has never been in the room. And it's that same enjoyment creating something to someone's great lyrics, and then playing it for them and see their face and them saying, "Yes, that's great!" I've never lost that thrill. That's why I like to write that way. Even now after writing with Taupin for forty-four years, when I get him in the room and I play him something like "When Love is Dying" off of THE UNION, he goes, "Oh, that's exactly what I wanted!" It's still thrilling for me. It never gets old. I think that's a huge plus in my career. I've been a team player, and I've been someone who doesn't collaborate. I mean, I collaborate, but I don't. It's two people with separate canvases trying to make the same thing come into one canvas. It's brilliant. I love it.
Beaks: Has there ever been a time when Bernie or Tim said, "Hm, I really didn't expect you to take it there. I didn't expect that melody"?
John: Bernie, to his credit, has never, ever said that he didn't like anything. There must've been times where he thought, "Mm, that wasn't what I thought it was going to be." But when I take something and hit it out of the ballpark, like "Your Song". When I did that very early on in my career... it never fails to excite you. People say, "Oh, that's even better than what I thought it was going to be!" Or little things like "American Triangle" off SONGS FROM THE WEST COAST. Things you know you have to write a special melody because it's a special lyric... that's the excitement I have for songwriting. I've never lost it. And I don't write every day, so I'm not getting old and fed up with it. Every new lyric is a new story and a new adventure.
Beaks: (Getting a polite heave-ho from the publicist) I had a follow up, but I guess that's it!
John: (Laughing) The vultures fly in!
GNOMEO AND JULIET hits theaters February 11, 2011. THE UNION is currently available at the retailer of your choice. I hope this interview compels you to check out TUMBLEWEED CONNECTION or SONGS FROM THE WEST COAST. And maybe next time I'll get his thoughts on Biz Markie's sparkling rendition of "Bennie and the Jets".
Faithfully submitted,