Ahoy, squirts! Quint here with today's Behind the Scenes Pic!
I'm a sucker for creator meeting his/her creation pictures and I have a few of them. There's a fun one of Bob Kane shaking hands with Michael Keaton in his batsuit, for instance, that'll find a place one of these days. But this on in particular stood out to me.
Naked Lunch is feature today, the great David Cronenberg flick starring Peter Weller that is as much about William S. Burroughs as it is about any book he wrote. In that respect (and many others) it would be a fantastic double feature with Fear and Loathing in Las Vegas.
It could be because the material of Naked Lunch is so biographical, it could be because the picture involves a man meeting a giant piece of rubber, but whatever it is this shot of William S. Burroughs meeting a Mugwump made my day and I hope it makes yours, too.
Hope you guys enjoy it!.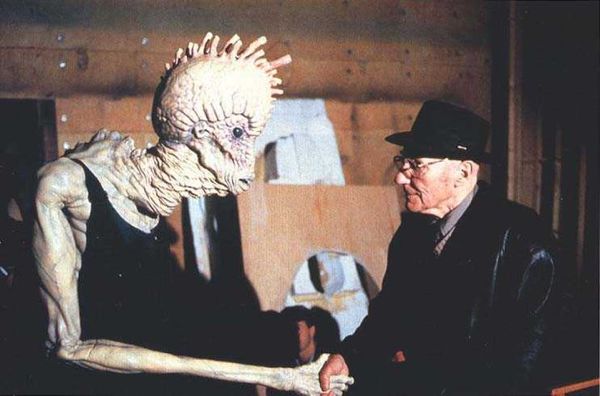 Tomorrow's behind the scenes pic features one of the most fun space horror flicks ever… and shows us a crew member that would later on direct one of the best sci-fi films of all time!
-Quint
quint@aintitcool.com
Follow Me On Twitter