Logo by Kristian Horn
---
Greetings, all.
Ambush Bug
here with another AICN HORROR: ZOMBIES & SHARKS column. Why ZOMBIES & SHARKS? Well, those are the two things that I've had the most nightmares about. It's the reason I rarely swim in the ocean. It's the reason I have an escape plan from my apartment just in case of a zombie apocalypse. Now if you've ever had those fears or fears like them, inspired mainly by nights upon nights of watching films of the frightening kind, this is the place for you. Look for AICN HORROR: ZOMBIES & SHARKS every Friday for the foreseeable future, horror hounds, where we'll be covering horror in all forms; retro, indie, mainstream, old and new.
Don't get used to this, but this week, we've got a double dose of AICN HORROR. I'm going to post my exorcism column tomorrow, but I got a chance to see a couple of other films that don't really fit into that category and figured what the hell, I'll do another column for you germs and germettes featuring a couple of brand spankin' new films that you are definitely going to want to check out.
CORRECTION from last week's column.
Looks like SCREAM OF THE BANSHEE is going to be getting a theatrical release later in the year. Great news for my friend Steven C. Miller (the director), but bad news for us because we have to wait a bit longer to see his film. After Dark is releasing the rest of their
After Dark Originals
tomorrow (follow the link for showing details and if it'll be coming to a theater near you). I'm reviewing two of After Dark's films below.
So dig into these horror treats, fresh off the grill. And be sure to check back tomorrow for more AICN HORROR as we announce the winners of our AMERICAN GRINDHOUSE CONTEST and cover some exorcism and possession films right in time for THE RITE to hit theaters.
Today on AICN HORROR
(Click title to go directly to the feature)
HUSK (2011) plus an interview
with the director Brett Simmons!
VICTIM (2011)
PROWL (2011)
Zeek of the Week: BEVERLY LANE (2011)
plus an interview with the director Joshua Hull!
---
HUSK (2011)
Part of the
After Dark Originals
Horror Series 2011 due in theaters tomorrow!
Directed by Brett SimmonsWritten by Brett SimmonsStarring Wes Chatham, C.J. Thomason, Devon Graye, Tammin SursokReviewed by
Ambush Bug
I'm a big fan of scarecrow horror dating back to when I saw DARK NIGHT OF THE SCARECROW as a kid when it was broadcast on TV. But I also know there've been some pretty shitty scarecrow films out there and when I heard that HUSK was going to have some killer scarecrows in it, I plodded forward with a skeptical wrinkle to my brow.
Had there been a camera been on me while I watched this film (and the voice in my fillings often says there always is), you would have seen my wrinkled brow smoothen as I realized that HUSK is probably one of the best straight up horror films I've seen in quite a while. The writing is pretty fantastic. The concepts are original and scary. And the cast of annoying youngsters…well…actually they weren't that annoying. I found myself rooting for these kids to make it out of this cornfield alive and that's saying something with the cliché being that the kids in these films are always annoying.
But I'm getting ahead of myself. How many times have you heard of this when describing a horror film: five kids set out for a summer trip to a cabin…? Yeah, I know, when I read that, I rolled my eyes too. But writer/director Brett Simmons plays with a whole lot of clichés here and has put together a quite unconventional film that zigs and zags unexpectedly from start to finish. And Simmons doesn't waste time with lengthy exposition. The film starts. Kids drive into a murder of crows and crash their car into a cornfield. Creatively horrific shit happens and doesn't stop happening until the final second of the film.
I don't want to ruin a moment of HUSK for anyone. It is filled with grisly gore and genuine scares. HUSK also features a cast of actors who are likable and Simmons has created a horror so intense that you will find yourself doing the impossible…rooting for the kids to survive. If there is one criticism it has to do with the climax of the film where the kids try to take out the threat themselves rather than just get the hell out of the cornfield. I know if I had to face the grisly horrors of HUSK, I would leave first and plan on destroying the threat forever from far far away from any cornfield.
A couple of times a year, I drive from Chicago to my home state of Ohio. On that drive there are miles and miles of cornfields. I now have to thank the twisted mind of Brett Simmons for making that ride truly terrifying with his little film HUSK. It's a horror film that flips every convention, is filled with creative horrors, and thrills right up until the final frame.
HUSK is part of the
After Dark Originals
Horror Fest 2011. It'll be playing limited for a while then released on DVD. I don't care how you see it, just see HUSK. It ranks right up there with DARK NIGHT OF THE SCARECROW as one of the best scarecrow horror films. I can't wait to see what Brett Simmons has in store next.
---
Ambush Bug has a few questions for
HUSK writer / director Brett Simmons!
I had a chance to talk with Brett Simmons about his new film HUSK. Here's what he had to say…
AMBUSH BUG (BUG): First and foremost, congratulations on a fantastic film. HUSK was a treat to experience. Can you tell me a little bit about your background and what lead up to the making of this film?
BRETT SIMMONS (BS): Awesome. I'm glad you enjoyed the movie. As far as background and lead up go, HUSK began as a short film. I was making short films, and really enjoying it, but also trying to strategize how to make a feature. So my solution was to try and make a horror short that felt more like a condensed feature, thereby hopefully suggesting a feature without blatantly pitching one. Plus, there's no way to be sure how people will respond, so I wanted to insure that I at least came out of it with a stand alone short, rather than a pitch trailer or something. That was in 2003. In 2005, the HUSK short film went to Sundance, which was amazing. There was immediate conversation about feature potential and expanding the story...which meant I had to actually follow through and expand it. That was a blast. After finishing the feature script, and sending it along with the short around town, I spent several years in and out of meetings and options, hoping HUSK would find a home. It was an emotional rollercoaster loaded with anxiety. So, I kept working on short films and other projects in the meantime to not go crazy, and then, finally, After Dark Films came along and proved to be the perfect fit. We clicked right away.
Oh, and the original short I referenced is going to be on the HUSK DVD as a Special Feature in March, which may help this all connect better.
BUG: I grew up in middle Ohio where cornfields like the one in HUSK are commonplace. I totally identify with the terrifying claustrophobia of wandering through a cornfield and not knowing where you're going. It seems like such a childhood terror, but you capture it well as if you may have experienced this fear before. Am I wrong in assuming this?
BS: Actually, to be honest, making the original short film was my first time in a cornfield. Yes, I was making a film totally centered around something I was completely guessing about. Purely my imagination, and completely terrifying. What ended up happening was, making the short and experiencing freaky cornfields inspired everything for the feature. Almost like the short was the dress rehearsal for the feature. I was able to come into the feature knowing how much I wanted to capture the claustrophobia and blindness of being in the middle of a tall and thick cornfield. It's scary how easily you can get lost in there. You get disoriented, cornstalks are poking your face, giving you paper cuts on your arms. And the bugs, oh the bugs. You hardly need scarecrows, really. But I'm glad you identified with those elements. I really wanted all of that to come across, hence keeping the camera IN the corn rather than above or outside.
BUG: What went into casting this film? You really seem to have found actors who are likable and not the typical fodder for the monster/killer to wipe out.
BS: We had great casting directors. They worked their butts off to get a lot of talented people in the room, and I'm really proud of the cast we put together. The main thing for me was, like you said with "typical fodder", I agree that horror movies typically cast "victims" more than "characters". Husk has a small cast, which means a small death count, which I already knew was going to raise alarms with the horror fans, so I wanted to focus on finding the actors that would make the smaller number of deaths matter a lot more. Death doesn't always mean something in these movies, and I wanted it to mean more than usual, which for me meant finding actors who were likable, but also had instincts to make their roles more than just typical. I love what the cast did.
BUG: Most films take their time and dole out the terror in conservative doses. HUSK doesn't do that at all. From I'd say one minute into the film, there's creepy shit going on right up until the end. Was this a conscious decision?
BS: Very, very conscious, yes. I wanted to use HUSK as a chance to try some fun and unexpected things. I'm a big fan of the genre, and over the years I accumulated a list of things I'd enjoy trying in a horror movie of my own. One of the things was, I didn't want to be conservative in the doses of scares and carnage. I loved the idea of escalating the stakes quickly and early, and not letting up. As an audience member, you get accustomed to the beats and pacing of horror movies, which is why it's so exciting when you see one that paces itself a little differently. That's what happened with the original short. There, I got to use the excuse of the time constraint to skip the setup and get straight into the tension: kids getting stranded on a road trip, but skipping the road trip. I loved getting to go into the story fast and hard, and wanted to find a way to do something similar in the feature.
BUG: There are firmly established rules in HUSK. What when into the creation of the rules the horror in HUSK has to follow?
BS: I think rules are crucial, especially in horror. They create suspense through expectation, and they establish a point of contact for the audience and the characters to share an understanding, which of course adds to the audience sharing the experience. So I thrive on rules. For starters here, the rules were established simply so that the story didn't just end right after everyone entered the cornfield. I needed to limit the scarecrows in an interesting way that drew out a compelling story. I love a good ghost story, and I wanted the characters to have much darker things to deal with than just killer scarecrows, so I tried exploring supernatural ideas. I shouldn't say more.
BUG: What were the influences for this film? I mention DARK NIGHT OF THE SCARECROW in my review. To me, that is the godfather of all scary scarecrow films. Have you seen the film?
BS: I have never seen DARK NIGHT OF THE SCARECROW! I need to. It's going in my cue. You're not the only person to mention it, and I'd love to see it...after I've had a break from scarecrows. Truth is, there aren't any scarecrow movies on the lists of influences for "Husk". If anything, Husk is a response to those movies because none of them have done what I considered to be something truly scary. First, cornfields are already scary, and so are simple plain scarecrows. Second, I always thought scarecrows in a cornfield should be like Velociraptors in the Raptor Pen. If you're in their turf, you're dead. Not because they're scary, but because they're lethal. Scarecrow movies I'd seen kind of missed the point, in my opinion, so I wanted to take a crack at it. Otherwise, story and structure wise, I was really influenced by NIGHT OF THE LIVING DEAD and John Carpenter's THE THING. I love the drama of being trapped in a single location, and what the extreme circumstances bring out of once ordinary people.
BUG: Not to be corny, but you really toss horror convention on its ear (god, I can't stop with the bad puns). HUSK seems to acknowledge those conventions and veer in the other direction. Care to comment on this?
BS: Yes, bad puns. Just kidding. I mentioned a little bit about this earlier. As a fan, I love the horror conventions. They are the language of the genre. So if anything, I wanted to embrace them long enough to do exactly like you said, toss them on their ear and do something unexpected. Horror movies had become increasingly predictable to me at the time I was writing "Husk", and I loved the challenge of playing with some unpredictable, unconventional choices. I didn't want to re-invent the wheel with "Husk"; more just spin it on a different axle.
BUG: I won't ruin it, but the ending of this film, it had me fiending for more. Was the cliffhanger ending intentional from the beginning? Is there a HUSK 2 planned? Maybe you can call it, HUSKIER...
BS: Or "HUSK 2: CROWS CONTROL". I'm such a geek about movies, the first thing I do whenever I finish an idea is play with how I'd write a sequel. I can't help myself. Part of it comes from loving inspired, pre-conceived sequels. But "Husk" is funny because, NO, the cliffhanger ending was not the original ending. You mentioned earlier about how likable the cast was. That was something I had to wrestle with as both writer/director on set. The cast brought a likability to the characters I couldn't have accounted for on paper, so as production rolled on, the original ending started to no longer feel right. It was a dark, bleak, and very conclusive ending. It was meant to leave you devastated. But that was on paper. On set, what was happening was different. Finally, I decided to change the ending to something I thought fit better. So it's funny because my sequel idea spun off of the original ending. When the ending changed, I thought the idea was lost. But instead...it's opened a door to approach the same idea in a much cooler way...
BUG: What was the biggest challenge you faced in making this film?
BS: Having a single location with tons of weather issues. Normally when it storms, you just alter the schedule and change location. We couldn't. Our location WAS our location: a house, a cornfield, and barn, all on one property. So that made for challenges since Iowa State decided to get tons of random rain storms the three weeks we were shooting. Also, shooting in cornfields is a gigantic challenge in and of itself. Thick cornfield with long cable, heavy equipment, and tons of crew members is really difficult. So then, combine that WITH rainstorms and you get a rainy muddy cornfield that you're stuck shooting in. A huge challenge, but we got the shots, and we made our movie.
BUG: What's next for you?
BS: You mean aside from "CROWS CONTROL"? I'm reading scripts and writing my own. There's one in particular I'm pretty excited about, continuing in the horror genre. Everyone asks if I want to stay in horror or move on. While I'd say I want to move on eventually, I got a couple more horror movies up my sleeve.
BUG: Congratulations on a fantastic film. HUSK is what scary films should be these days.
BS: Thanks! LOVE AICN! They have the reviews that matter.
BUG: Thanks for your time. HUSK will be released as part of the
After Dark Originals
Horror Fest on January 28th!
---
VICTIM (2011)
Directed by Matt Eskandari & Michael A. Pierce
Written by Michael Hultquist & Robert Martinez
Starring Stephen Weigand, Bob Bancroft, & Brendan Kelly
Reviewed by
Ambush Bug
Seems mad science is
in
again. THE HUMAN CENTIPEDE gets all the attention because of its distasteful experiment centerpiece, but really it's about how horrific science can be and has become in this modern age. VICTIM continues this trend as Dr. Volk (played mercilessly by Bob Bancroft) and his silent henchman Mr. George (Brendan Kelly) kidnap a young man from a bar and put him through a perilous gauntlet of treatments with unsettling results. Much like THE HUMAN CENTIPEDE, the terror comes from the fact that the horrors performed on screen could actually happen in real life given the right amount of equal parts expertise and madness. Unlike the blood sucking or brain munching undead that is all the rage today, this is a tale that could actually happen, and because of this it is scary as shit.
The success of VICTIM very much relies on the performances of the three main actors. It's one of those films that could actually be a play, in that for the most part, the story takes place in one location (a lab/cell in the basement of a mansion). The three main characters, though, carry the movie. Mr. George is menacing, but all actor Brendan Kelly (who starred in actioneers CON AIR and THE ROCK) has to do is stand and look tough. He does this well. The young man (never named but played by first time actor Stephen Weigand) has a much more challenging job and though he isn't very convincing towards the beginning of the film when he tries to play it tough against his captors' muscle, the actor really shows some talent toward the end as his role requires a range a lot of actors wouldn't be able to pull off without careening into parody. But the most effective of the three roles here is Bob Bancroft's Dr. Volk. Bancroft had some practice on CHICAGO HOPE playing a doctor, but here he practices medicine to the extreme (he was also the first Willie on the TV show ALF before Max Wright took the role after the pilot). Volk is cold and calculating here. He's got this distant tone in his voice we all have experienced in the doctor's office and as the treatments he performs get more and more grueling, this tone never changes or wavers. Not until the end, when the camera pulls back and reveals the big picture only hinted at throughout the entire movie, does Volk show any emotion. If VICTIM has a linchpin, Bancroft's performance as Volk is that. This is a role that will make me take notice when I see Bancroft again on screen.
So you might be asking yourself, "Great, so the performances are pretty decent, but what the hell is VICTIM about?!??" I almost don't want to reveal what VICTIM is about, but I will hint that this is a revenge film first and foremost. The opening scenes of an innocent woman assaulted, raped, and killed by a man behind a camera indicate right off the bat that this is not a film for the squeamish. Directors Matt Eskandari & Michael A. Pierce show a lot of patience with the way they dole out the information here and in that lies the reason for VICTIM's effectiveness. Because some of the scenes are so horrific, I felt as if I were distracted from certain questions I should have been asking throughout VICTIM, but in the end, when all is revealed, it all made sense in a twisted way. The true victim in the film's title skips from one person to the next here, making one question one's own definition of the term. Because of that, VICTIM plays like a thinking man's SAW, but to even compare the two films in this way isn't entirely accurate. There are copious scenes of medical torture throughout, but the true terror lies in the psychological transformation the patient undergoes by the end of the film.
There are a few times in VICTIM where the scope is somewhat small. The constrictions of some of the scenes were probably due to the lower budget. Scenes that break away from the mansion, the lab, and the cell, are the least effective (especially scenes that are supposed to be the police station, but really look more like a cluttered desk shoved into a closet). This is a film that exists solely within the borders of Dr. Volk's mansion. Because of that, there's a claustrophobic feel at play, but it also highlights the limitations. A few of the really dramatic scenes, especially when the female police officer attempts to rescue the young man, fall short of greatness, but the scenes involving the treatments, the abduction scenes, and the way the ending all came together were all done effectively enough for me to pay attention to what Eskandari & Pierce have to offer next. Though VICTIM goes through a lot of the motions we've seen before in other torture horror endeavors, the limited arena in which the drama plays out makes it stand above others in its class.
It doesn't take a genius to figure out what the experiment is all about (hell, just watch the preview below), but I don't want to spoil it here. I will say that there are scenes in this film that made me squirm and twists that both shocked and surprised me. With today's advances in medicine, feats that were once thought impossible and nightmarish are almost too easily accomplished. VICTIM takes advantage of that fact and does so with torturous patience and medical (albeit warped) precision. VICTIM is in limited release and on IFC Midnight Pay Per View.
---
PROWL (2011)
Part of the
After Dark Originals
Horror Series 2011 due in theaters tomorrow!
Directed by Patrick Syversen
Written by Tim Tori
Starring Courtney Hope, Ruta Gedmintas, Bruce Payne, Saxon Trainor, Joshua Bowman
Reviewed by
Ambush Bug
PROWL is the second "kids on a roadtrip gone wrong" film I watched this week, but there's nothing wrong with it as long the "wrong" part of it is distinct and interesting. And for the most part PROWL is both. Though I'm as sick as you guys are of vampire stories (though I can never get enough of zombie films for some reason), I have to get behind the gritty and grimy vampires we rarely see. Instead of the twinkler vamps, in PROWL we get the 30 DAYS OF NIGHT/NEAR DARK sort. Things get scary. Things get bloody. This isn't a teen romance, but a story of a girl trying to escape her fate, but failing at every turn.
Told from the perspective of Amber (played by freckle-faced cutie Courtney Hope), PROWL tackles an age old conflict between a person with big dreams and a small town that seems bent on squashing them. Like Luke Skywalker gazing across the dunes of Tantooine, Amber dreams of leaving home, but can't seem to do it. When an opportunity arises for her to get an apartment in Chicago, she convinces a group of friends to drive her out of Farmfield, Nowhere and into her new life. Of course, as with any "kids on a road trip" flick, shit goes wrong.
When their car breaks down, Amber thinks she'll never get out of town, but they convince a trucker to cart them into Chicago. The film teeters on this moment where we must believe the kids are desperate enough to be locked in the back of a semi for 19 hours and director Patrik Syversen does a decent job of making the situation desperate enough to make this stupid decision believable. The kids are likable enough, which is crucial, because unlike HUSK (which dives right into the action), PROWL takes its time letting us get to know these kids and Amber's plight well before the vamps come. But once the truck backs into a dark warehouse and the door slides open, shit gets real really fast.
The initial meet between the kids and the vamps is about as tense as it comes. The acting is really good, for the most part, and there's a real sense of danger as these kids have no clue what they are getting into. For me, the highpoint of the film happens about 45 minutes in when all hell breaks loose and dire circumstances occur at a wickedly fast pace. After this mark, though, the movie kind of skids, as if the makers suddenly realized that there werestill quite a bit of movie minutes to fill. The scenes still have a lot of power, but lack the intensity of the initial encounter with the vamps. A couple of jarring edits and an ending that just kind of ends abruptly had me appreciating this film, but wishing it hadn't peaked so soon. Still, there are some great performances there by the kids and the trucker (played by Bruce Payne who some will remember from HIGHLANDER: ENDGAME and PASSENGER 57) and the scene where the kids first encounter the vampires make the film memorable to me. I also love the splatter and filth this film tosses on our heroines. PROWL is part of the
After Dark Originals
series which opens in theaters January 28th. I've seen two of these films now, and if the rest of the films are of this caliber, they have a great set of films here.
---
Directed by Joshua Hull
Written by Joshua Hull
Starring Jim O'Rear, Noah East, Raymond Kester, Donald A. Becker, James Copeland, & Mark A. Nash
Reviewed by
Ambush Bug
I don't know what happened back there, Andy. I must have been a combination of the clown voodoo and Susan's menopause fumes. It got me all messed up.
I'm interspersing some of the best lines in BEVERLY LANE with this interview because by far, its clever lines and deadpan deliveries are the best part of this zombie comedy. Watching BEVERLY LANE, one can tell there's a lot of passion put behind this film. Everything from THE OFFICE to SHAUN OF THE DEAD to SHAKES THE CLOWN to THE MIST is either homaged or referenced. Combining some of the coolest elements from each of these films takes some talent and it appears writer/director Joshua Hull has both.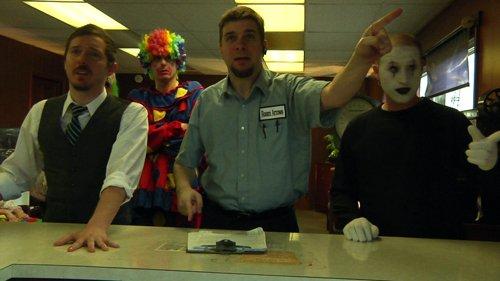 How do we know you don't have zombie mouth all over you?
Celebrating the retirement of their boss at a steel company, a staff gathers to pay tribute with punch, chips, a trio of clowns, a mime, one fourth of a barbershop quartet, and a magician. Anyone who has sat through one of these office socials knows how painfully boring they are as coworkers small talk uncomfortably and repeatedly check their watches to see how long they have to endure this torture. Hull captures the monotony of these office shindigs well, filling the office with a cast of fun eccentric characters (did I mention the mime?). The fun starts when they realize this office party coincides with the zombie apocalypse. As the zombies gather outside, the officemates try not to kill each other before the undead do.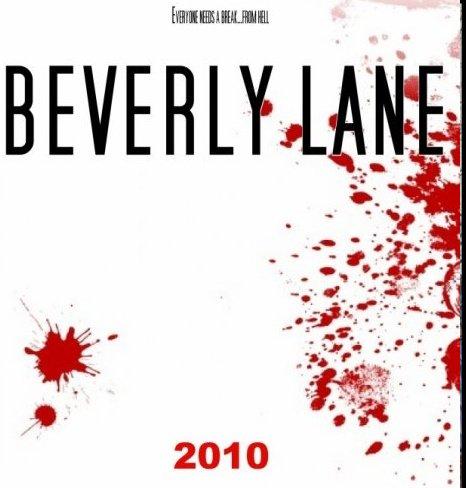 Janitor is going all Jack Bauer on your grandpa.
Don't get me wrong, this is an ultra low budgeter filmed at a single location with a cast of non actors, friends of the crew, and maybe a couple of amateur actors. Those who are less forgiving will not be able to give BEVERLY LANE a chance. I must admit some of the deliveries are amateurish, but as I said above this film has a fun spirit, keeps things darkly humorous throughout, and is actually a lot of fun to watch as long as you aren't expecting an Oscar winning film. The final battle set to music is golden with so much chaos going on with all of these characters who you've gotten to know for most of the film that you can't help but be invested. BEVERLY LANE has an indie spirit that totally makes up for its shortcomings and might be worth a look if you like low budget fun.
---
Bug talks with BEVERLY LANE
Director Joshua Hull!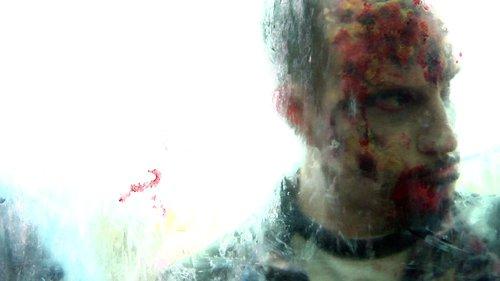 Bug here. I had a chance to chat with BEVERLY LANE director Joshua Hull this week about his zombie comedy and his plans for future projects. Here's what he had to say…
AMBUSH BUG (BUG): Obviously, BEVERLY LANE was shot on a tight budget. How did you get the movie funded and made?
JOSHUA HULL (JH): BEVERLY LANE is microbudget & it was all out of pocket between myself, Producer/DP/Editor Jim Dougherty & Producer/"mime" Matt Rich.
BUG: I cited in my review that BEVERLY LANE is a cross between THE OFFICE and SHAUN OF THE DEAD. But there are tons of other references in there, like THE MIST and SHAKES THE CLOWN. What else influenced you in making this film?
JH: Early on I kept saying THE OFFICE & that mainly came from the fact it was set in an office. As we went on in production I started saying "this is "IT'S ALWAYS SUNNY IN PHILADELPHIA with zombies!". I actually gave Jim the early seasons on DVD as a reference point for shots & style. RETURN OF THE LIVING DEAD is in there as well as tiny references scattered throughout the film to other zombie films. I love how you pointed out THE MIST! Marcia Gay Harden was crazy in that film & she had all these people following her because of these giant bugs outside! I always wanted to see someone like that in a zombie film but someone who took it to the next level. If she doesn't like you, she throws you outside with the zombies. No questions asked. Susan is THAT character.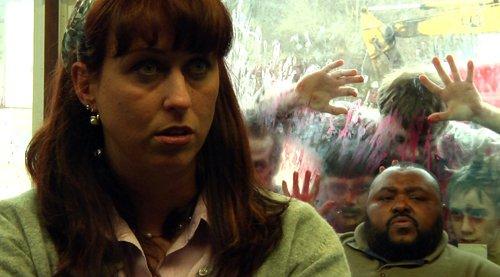 BUG: What was the biggest challenge in filming BEVERLY LANE?
JH: We only had 4 days to make the film & we had a very tight budget. BEVERLY LANE is my first film…well my, first anything. We were making a 71 page script in 4 days in one tiny location with an ensemble cast. It was rough & we were moving incredibly fast. We were having to do 20+ pages a day just to have any real shot of finishing. It was incredibly stressful but energizing at the same time because we were doing something unheard of.
BUG: How did you gather the actors? Even though they appear like non actors, most of them did a great job.
JH: Jim Dougherty had worked with a majority of them before so he suggested half of the cast & the other half I knew. Noah & I actually developed the idea together and we built it around him even though he had never acted. It was a fun mix of seasoned actors & first timers.
Jim O'Rear came onto the film about a month before filming. He heard about the project & ended up getting in contact with me about it. We had a few last minute drop outs that resulted in having to recast two weeks before and literally one day before filming. I loved working with everyone. They put up with a hectic schedule and first time director with very little complaints.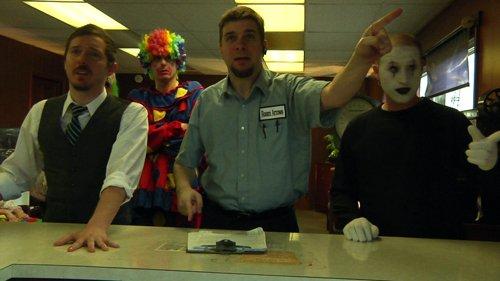 BUG: I noticed on your Facebook page that there are BEVERLY LANE action figures. Can you tell me more about that?
JH: Yes! James Copeland (who plays Ronnie in the film) made those as a prize for our premiere. That's his day job & I asked if he would be interested in making some to give away. They turned out incredible!! I know most of the cast has had James make a figure for them & it's something we may look into again down the road.
BUG: I hear you have a serial killer flick in the works. What's that about?
JH: I'm hard at work on my second film, a slasher/comedy called IDIOT GORE. I can sort of describe it as "Tropic Thunder meets Hack/Slash". It follows a failing reality show host/author who survived a slasher massacre in high school who gets a blast from the past & is unwillingly forced to confront the slasher he survived years before.
I just sent the script out to the cast Monday. Jim O'Rear will be playing the lead role best described as if Dr. Loomis, Kenny Powers & Aziz Ansari mutated into one person. A good majority of the BL cast will be returning in some variation as well with Shawn C. Phillips, Babette Bombshell, Kaylee Williams, Kitsie Duncan, Julie Anne & Ronald Short joining them.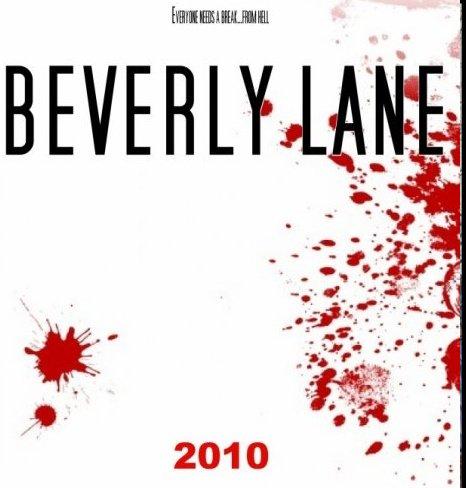 We are aiming for filming to start this September! It's going to be a good time. You can follow the project on Facebook as well.
BUG: What are you taking to this new project that you learned on BEVERLY LANE?
JH: My whole approach is different. Originally BL was a web series but we changed that a month away from production. That final month was a blur of rewriting, planning & panic. I went into BL excited but new to everything. Making a movie in 4 days changes you…hahaha. Everything with IDIOT GORE is being meticulously planned. BL didn't have a flow; most of that has to do with the insane shooting schedule & having to pick up scenes at different points in the day. This time, every scene will flow together.
Every shot will be planned. We will have storyboards. It's not me handing a DVD to Jim saying "Let's do it like this!"!! I know what we can do, I watch BL & love what were able to do in such a short time. Now I want to show everyone what we can do in 10-12 days. I'm excited!
BUG: Last chance: why should folks check out BEVERLY LANE and how can people pick up a copy of the movie?
JH: Every so often a "must see" movie comes along that impacts people. A KING'S SPEECH is a prime example. BEVERLY LANE is not that kind of movie. It's the kind of movie you go to forget about your day job or your bills & you just have fun. You let go. You cheer, you scratch your head, some might even cry. Of course once you leave you still have bills & your day job but at least you don't have zombies. Maybe BL will impact people. So I guess the only difference between us & A KING'S SPEECH (besides a million Academy Award nominations) is that BEVERLY LANE doesn't have a stutter.
BEVERLY LANE is about to hit the festival circuit but we are not currently selling the DVD, main reason being we are looking into distribution but will hopefully have some DVD's available in the coming months. The best place to find out about our plans is by following us on
Facebook
!
BUG: Thanks, Joshua, for taking the time to talk. Best of luck with BEVERLY LANE!
---
See you tomorrow for our regular column, ghouls!
Find more AICN HORROR including an archive of previous columns on AICN Horror's Facebook page!
Ambush Bug is Mark L. Miller, original @$$Hole / wordslinger / reviewer / co-editor of AICN Comics for over nine years. Support a Bug by checking out his comics (click on the names to purchase)!
MUSCLES & FIGHTS VOL.3 & MUSCLES & FRIGHTS VOL.1.
VINCENT PRICE PRESENTS: THE TINGLER #1 and #2(interview, interview, preview, & review).
VINCENT PRICE PRESENTS #20 WITCHFINDER GENERAL(preview, review)
NANNY & HANK miniseries: #1, #2, #3, & #4 (interview, interview, interview, preview, & review, review, in stores now!)
Zenescope's WONDERLAND ANNUAL 2010
THE DEATHSPORT GAMES miniseries: #1, #2, #3, & #4 (review, in stores now!)