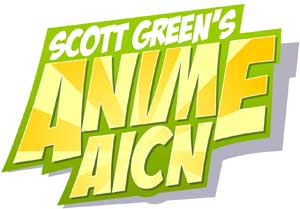 Logo handmade by Bannister
Column by Scott Green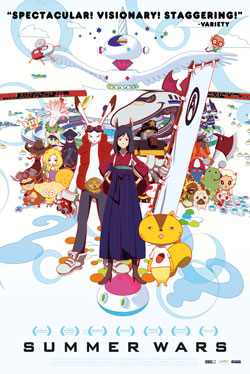 Anime Spotlight: R.O.D. The Complete Blu-Ray Box
R.O.D -READ OR DIE-
R.O.D -THE TV-
Released by Aniplex
Product site

Aniplex has put together an impressive, pricey Blu-ray collection of two well regarded anime from the early half of the last decade.

While the plots of the 2001 Read or Die OVA and 2003 R.O.D - The TV complement each other, the two represent a real dichotomy in how the anime can appeal to its audience. As such, while both are largely successful, they aren't necessarily both to be the liking of all viewers.

Read or Die is a fantastically entertaining three episode anime action meets James Bond spectacle. As its ceaselessly charming super powered bibliomaniac British Library Special Operations Division field operative is flung from one set piece to the next, the svelte, dynamic, and explosive OVA offers one of anime's most fun 90 minutes. In this roller coaster, that unlikely, but credible heroine holds her own against action heroes of any medium, and as such, it's the kind of anime that can be as appealing to people who don't watch much anime as it is to those who identify themselves as anime fans.

Unlike the OVA, the 26 episode flawed, but far from meritless R.O.D the TV spin-off series is anime for anime fans. Where Read or Die was action driven, R.O.D the TV is character driven. However, while those characters do evolve, the way in which the anime series is character driven has more to do with an for otaku desire to indulge in character traits than it does developing those characters. As such, its showcasing mindedness has a focus and pacing that aren't the sort for watchers with little patience for anime.

Since the SRP of the set is $199.98, that split represents an issue with the value proposition. When ROD - The TV hit the US, more people were more willing to sit down with anime. At that point, the whole set would have been more recommendable. Now, I wish Read or Die and ROD - The TV were released separately. I'd push the OVA on anyone with an interest in action spectacles, but at this point, the TV series is a for-anime-die-hards only proposition.

Read or Die has had a multi-media life in the expected venues. It started as a series of light novels by anime writer Hideyuki Kurata (Akitaro Daichi's devastation Now and Then, Here and There, the wonderful, overlooked Brigadoon: Marin & Melan, and adaptations of Excel Saga and Kannagi). That was turned into a Ultra Jump (home of Biomega, Battle Angel Alita: Last Order, Dogs) manga by Shutaro Yamada (and Ran Ayanaga for the spin-off). And, it became an anime from a team (director Koji Masunari, character designer Masashi Ishihama) that would work with Kurata again on Kamichu!! - a TV series about a Shinto goddess growing up in the 1980's, and, more recently, the anime movie Welcome to the Space Show.

Of note, if far from unheard of, the franchise is marked by consistent characters, but inconsistent events. It's largely the same cast throughout, but the events or way in which definitive events are connected aren't faithfully repeated from one version to the next.

The 2001 OVA opens with Hiraga Gennai, a sort of 18th century Japanese Benjamin Franklin, attacking the American capitol as the vanguard of a cabal of cloned I-Jin (or Great Men, Read or Die and ROD - The TV aren't consistent in their handling of the term). Set to Taku Iwasaki's Bond evoking score, the Secret Service attempt to secret the President out. As the samurai catches up, asking for the location of the library, the President wets himself (the POTUS pissing himself is a reoccurring gag in Read or Die). Then, using a back mounted lightning machine, Hiraga Gennai Independence Days the White House.

Across the world, in Japan, quiet, polite bibliomaniac substitute teacher Yomiko Readman wakes up in a pile of books. Moving through a Hoarders worthy entrapment of reading material, past notes imploring her to clean up!, eat! don't spend all the stashed money! and lock the door!, she staggers out and towards Jinbocho - a Tokyo neighborhood known for its publishing houses and book vendors. In a literature-stupor, she begins filling her luggage with the results of her book buying binge. A hidden elevator takes her to a vendor of more exotic volumes (run by a cat-stroking older man, only the back of whom is shown), where she finds herself elbowing a mysterious woman for a rare German edition.

Upon hitting the street, absorbed in the book, she's the only one in the pedestrian crowd who doesn't notice the oncoming swarm of bees. As chaos erupts, she's attack by another I-Jin - 19th century French entomologist Jean Henri Fabre. Yomiko is then put on the definitive by an assault from a giant grasshopper. But, with mousey, politely expressed displeasure at having her book snatched, Yomiko begins taking strewn paper and using it to crack concrete, bind the oversized locust, strangle the entomologist and otherwise take names.

British Library Special Operations Division head Joseph "Joker" Carpenter, arrives on scene to collect the book, as well as his agent, Yomiko Readman aka "The Paper." On behalf of Mr Gentleman, an aged looking fellow who gets around with the use of Victorian super-tech, "The Paper," Emma Peel-ish femme fatale with phasing powers Nancy "Ms. Deep" Makuhari and hulking Nordic American soldier Drake Anderson are deployed to thwart the book collecting plans of the I-Jin. This results in set pieces like The Paper and Ms Deep atop a giant paper plane dog fighting German human aviation pioneer Otto Lilienthal above the Statue of Liberty and the team, along with a stranded military submarine fighting Genjo Sanzo - complete with his Journey to the West gear, in a parted bit of the Indian Ocean. All of which builds to "Operation Exterminate the I-Jin's" desperate assault on a sort of mad-inventor super-monument.

Thanks to the power of association, mortal combat between a voracious reader and a cadre of geniuses is never coming to entirely come across as dumb action. But, still, Read or Die is basically just a battle. Of the story, it can be said that it's comprehendible. How a group of cloned historical figures came to be, why their causing problems, why it's the British Library taking up the task of neutralizing the global threat... it's all explained to a greater or, more often, lesser extent elsewhere.

So, Read or Die wakes up, pulls its head out of a book, walks out the door and kicks the world in the face. Plenty of anime have characters leap up to and run along utility lines or otherwise assert their own, marvelous logic onto the action. Few mix small details and titanic spectacle with the flair that Read or Die does. The design an animation offer a thoroughly expressed Yomiko, from the label on her coat to the particular way in which she picks that coat off the floor. Then, Read or Die doesn't just rest on the fact that it has big ideas, it sells those ideas. Yomiko's paper mastery sounds slightly stupid. And yet, the paper effect immediately proves new and exciting. White sheets filling the air, collecting in crashing waves, solid walls or massive object... it all leaves an impress. The series than sets this sort of action in locales made exciting by virtue of their dangerous implications, like the White House lawn, their exoticism, like the parted bit of the Indian Ocean or their genre allegiance, like the fantastically complex I-Jin secret fortress.

Especially over the last decade, few anime satisfy the urge to see the medium used for oversized, logic trampling fun as well as the Read or Die OVA. That it has a charming lead is perfect complement.
I expect that the Read or Die OVA will continue to hold up the way that Castle Of Cagliostro has. While I'm not saying that Koji Masunari's work approach Hayao Miyazaki and Yasuo Otsuka's masterpiece caper flick, the quality and spirit of Read or Die's action has a timeless quality.

Hideyuki Kurata spun off Read or Die into Read or Dream. The two are more bound by circumstances than real cross-overs. Dokusensha, the Chinese publisher standing as a rival to the British Library plays into Dream's back-story; Yomiko interacts with a character. And, that's about the extent of it.

Read or Dream focuses on the three "Paper Sisters," a non-biological heroic trio family consisting of bubbly blonde elder sister Michelle Cheung - with the power to make bows and arrows out of paper; tall, quiet, eventually if not explicitly identified to be to some extent autistic middle sister Maggie Mui - with the power to create animal-like "familiars" out of paper; and angry, young Anita King - with the power to create hard, protective or cutting planes from paper. Michelle and Maggie follow Yomiko suit in being bibliomaniacs, but, the odd one out ,Anita, hates the things.

Read or Dream stories generally stem from the trio's Hong Kong based less than lucrative work for their Paper Sisters Detective Agency. These stories were deliberately on a lower orbit than Read or Die's. Its crew was trying to balance keeping a roof over their heads and food in their bellies with Michelle and Maggie's extravagant book buying habits. With the kidnapping investigations and book McGuffin hunts, there was weight loss stories, flirtations with giving up detective work for standup comedy and the like.

ROD - the TV uses an ambiguous name, because while other incarnations of Read or Die and Read or Dream are almost separate entities, ROD bridges the two. It opens with the Paper Sisters being hired to mind huffy Japanese author Nenene Sumiregawa on her visit to Hong Kong. And, Nenene proves to be the confidant who left Yomiko the notes around her apparent, otherwise absent from the OVA (she's a significant player in the Read or Die novels and manga). As the Paper Sisters hang around Nenene, the history behind and the fallout from the Read or Die OVA begin casting shadows over the picture. It's not much of a spoiler to point out that while the opening credits are mostly Paper Sisters in action and Nenene going about her business, they also feature Yomiko tripping over a pedestrian barricade while walk/reading, Nenene walking past Joker, Drake gearing-up, and an interior shot of the British Library.

ROD - the TV kicks off with a head fake. It starts without an opening credits sequence (absence was assumed, at the time, to be because it wasn't ready for the first episode's airing, there's a placeholder ending). After a comedic meeting in which Michelle picks up Nenene from the airport, misspelling her name and blurting out her book preferences, a string of character establishing situation comedy sets up two impressively explosive action movie terrorism set pieces in the latter half of the episode.

When the intro sequence drops in the second episode, it's jazzy music, scenes of Anita leaping from a building, Michelle hanging from the top of a train and Maggie driving through explosions, intercut with Bond style silhouettes of slinky women. This is not untrue of how ROD - the TV is laid out. The plot is structured around nasty black-ops, dirty tricks and sanctioned mad science and makes its significant advances through infiltration missions. That's what ROD - The TV does. How it does it is another matter.

Before the main plot coalesces, occurring about the half way point, episodes skim their focus over the antics spilling out of the relationship between the troublesome Paper Sisters and the disgruntled, writer's block afflicted Nenene, Anita entering into normal society via school, where she develops a friendship with quiet young author-to-be foil /Read or Dream supporting cast member Hisami Hishishii, and the Paper Sisters side work on behalf of Dokusensha. This break down is truer to the spirit of ROD - the TV than the promised/sometimes delivered upon paper super-espionage.

Over the years since its production, it's taken a number of attempt to get through ROD - the TV. Multiple attempts were made because I like the characters, situation an animation well enough. And, multiple attempts were required because I generally couldn't get much further than the point at which ROD - the TV lays out its cards. It becomes event that though the series had the OVAs player and elements it would not be going for the same empowered flights of fancy. For to capture its subjects with the focus it was looking for, the characters had to have their wings clipped.

As magnetic as Yomiko is in Read or Die, the appeal of the OVA is bound up in her clinging from precarious positions, deflecting bullets with sheets of paper and going toe-to-toe against all manner of bizarre assaults. Alternatively, the stars of ROD - the TV really are the stars.. The anime is built around watching these characters be these characters; seeing Anita chug bottles of milk, move around like a monkey or bare palm a line drive. On one hand, this means solid, interesting character animation. Like the OVA, the work here holds up remarkably well. And, it means some eye catching character/costume design and redesign. On the other hand, while action certainly is featured, it also means plenty of working with the characters by showcasing them worrying or in states of non-active agitations.

There is an audience for sad girls in anime, and ROD - the TV successfully positions itself for that audience. If you prefer Cowboy Bebop to Clannad, though Read or Die can easily be perfectly to your likely, in ROD - TV, moments of being thrilled at the characters in action will be outnumbered by moments wishing that they'd get their act together.
Upcoming in North America

cerealgeek issue 8 is now available for pre-order



Issue eight continues the theme from the previous issue showcasing the many animated movies of the eighties; both series-based and studio-produced. The numerous five-part stories that featured in many cartoons of the eighties are addressed in this issue. The He-Man and She-Ra movie The Secret of The Sword receives an in-depth article, including never-before-seen development artwork. Akira, one of the biggest and most noteworthy pieces of anime, is covered. Learn how one of the most violent live action movies of the eighties RoboCop was turned into a Saturday morning cartoon. Other shows covered include BraveStarr, MASK, Teenage Mutant Ninja Turtles, The Real Ghostbusters, The Transformers, ThunderCats, and many more!


Section23

New releases include

KÄMPFER COMPLETE COLLECTION
Running Time: 300 min.
Age Rating: TV 14 (V, D)
Language: Japanese with English Subtitles
CAT: SF-KM100
UPC: 814131010414
Published by: Sentai Filmworks
Distributed by: Section23 Films
Street Date: 1/18/2011
Format: DVD
SRP: $49.98
SYNOPSIS: Waking up transformed into a beautiful girl might be the stuff of some guys' fantasies, but when the suddenly effeminatized Natsuru is informed by a stuffed tiger that he's now a Kämpfer, a mystical fighter who has to fight other Kämpfers in female form, his life becomes a living nightmare! Putting aside the obvious "plumbing" issues, Natusru's best childhood friend turns out to swing the other way and SHE has a crush on his new female body. Not complex enough? Natsuru's school has separate sections for boys and girls, so he and she are now double enrolled. The rumor-mill has it that he's dating herself. And there are other Kämpfers attending the school who want to take her out, and he's not sure which ones mean "on a date" and which ones mean "permanently." Oh, and did we mention that some Kämpfers use SWORDS and GUNS?! Hormones, fists and other body parts will fly as the daring, new gender-blender defender must become a contender or die in KÄMPFER! - The Complete Series!

April releases include
SPECIAL A COMPLETE COLLECTION
Published by: Sentai Filmworks
Distributed by: Section23 Films
Run Time: 600 min.
Street Date: 4/5/2011
Format: DVD
Language: Japanese with English Subtitles
SRP: $59.98

SYNOPSIS: Until she was six, Hikari was always the best at everything she did. Right up until the moment she challenged Kei to a wrestling match and HE won. Ever since that wretched day, Hikari's entire life has been structured around beating Kei at SOMETHING, but try as she might, she always seems to come up just short! Now, a decade later, he's the top student and athlete at their very exclusive high school and she's STILL second best at everything. Or is she? What Hikari's never noticed, even as she's dedicated her entire life to somehow one-upping Kei, is that he's actually in love with her! And that's only the beginning of the ridiculously convoluted web of relationships that ties the elite group of students who go by the name of the Special A together! Get ready for spring flings, split personalities and social (dys) functions galore as boy meets girl turns into boy beats girl in SPECIAL A - THE COMPLETE COLLECTION!!

NEEDLESS COLLECTION 2
Published by: Sentai Filmworks
Distributed by: Section23 Films
Run Time: 300 min.
Street Date: 4/12/2011
Format: DVD
Language: Japanese with English Subtitles
SRP: $59.98

SYNOPSIS: Adam Arklight and his band of super-hotties are ready to take over the world, but not if the macho, mutant hero Blade has anything to say about it. Still, it's tough when your opponents are ridiculously cute girls in really sexy school uniforms. But with this much at stake maybe even Blade can keep his mind on the job and his eyes on the prize. (Yeah, right.) If you're looking for most action-packed and wackiest comedy anime adventure this year, you just found what you need - Needless!

NEEDLESS COLLECTION 2 BLU-RAY EDITION
Published by: Sentai Filmworks
Distributed by: Section23 Films
Run Time: 300 min.
Street Date: 4/12/2011
Format: BD
Language: English & Japanese with English Subtitles
SRP: $69.98

Clannad: After Story
Published by: Sentai Filmworks
Distributed by: Section23 Films
Run Time: 625 min.
Street Date: 4/19/2011
Format: DVD
Language: English & Japanese with English Subtitles
SRP: $69.98

SYNOPSIS: A few months have passed since Tomoya declared his love to Nagisa. Now their relationship is entering a new phase, and neither is quite sure where it will take them. As their friends move on to lives of their own, Tomoya and Nagisa get ready to start a family of their own. But Nagisa's health has always been precarious, and an event that should bring nothing but joy delivers tragedy instead. Now Tomoya must learn to accept the bitter with the sweet and to understand that the most important thing is to hold onto love, no matter what. Don't miss the heartbreak and triumph of the masterful conclusion to one of the most beloved anime series ever in CLANNAD AFTER STORY!

Asylum Session
Published by: Sentai Filmworks
Distributed by: Section23 Films
Run Time: 65 min.
Street Date: 4/26/2011
Format: DVD
Language: Japanese with English Subtitles
SRP: $19.98

SYNOPSIS: In a world where civilization has run its course, where the mechanics of society have failed, a chosen few are still born with the ability to dream. Forced to run when her father blocks her visions of becoming an artist, Hiyoko finds herself drawn into a strange tent city set up in the ruins of an abandoned stadium, a place the residents call The Asylum. It is in this shadow community, were she meets other gifted youth, including the mysterious Akira, that she finds herself and her purpose. When profiteering officials and police plot to tear the Asylum down, destroying their last sanctuary, Hiyoko and the other refuges choose to fight back rather than flee. But rather than resort to weapons, their unexpected challenge is to create a street festival, using art and culture to win the hearts of the people: a festival they call the Asylum Session.

VIZ Media
Arina Tanemura's MISTRESS FORTUNE will be released on February 1st. The new single-volume story will be published under the company's Shojo Beat imprint, is rated 'T' for Teens, and will carry an MSRP of $9.99 U.S. / $12.99 CAN.

Fourteen-year-old Kisaki Tachibana has psychic powers. She works for PSI, a secret government agency that fights aliens. She's in love with her partner Giniro, but PSI won't allow operatives to get involved. Just when Kisaki thinks she may be getting closer to Giniro, she finds out she's going to be transferred to California!


The prose Haikasoru label has released Tow Ubukata's Mardock Scramble.


Why me? It was to be the last thought a young prostitute, Rune-Balot, would ever have...as a human anyway. Taken in by a devious gambler named Shell, she became a slave to his cruel desires and would have been killed by his hand if not for the self-aware All-Purpose Tool (and little yellow mouse) known as Oeufcoque. Now a cyborg, Balot is not only nigh-invulnerable, but has the ability to disrupt electrical systems of all sorts. But even these powers may not be enough for Balot to deal with Shell, who offloads his memories to remain above the law, the immense assassin Dimsdale-Boiled, or the neon-noir streets of Mardock City itself.






Cool Figures News

Kotobukiya has announced the details for upcoming comic bishojo heroine imports

DC COMICS BISHOUJO COLLECTION SUPERGIRL BISHOUJO STATUE

Based on the current "New Earth" version of the character and costume and inspired by Superman/Batman #8 "Supergirl from Krypton," Kara arrives on the scene literally floating in the clouds! Dressed in her super cute two piece blue, red, and gold outfit consisting of a very short skirt and midriff-baring top along with knee-length boots, the young Kryptonian looks better than ever. Supergirl flies on top of a small cloud formation, twisting to look behind her (and in the process showing off her long legs and just a peek at her crimson panties). She's even joined by her faithful kitty companion Streaky the Supercat! Kara's beautiful flowing blonde hair is further accented by translucent material, and perfectly frames her adorable Bishoujo-styled smiling face.

Constructed of high-quality pvc plastic and standing nearly 10 inches tall (in the ultimate 1/7 scale) as she floats on her exclusive base, Supergirl was sculpted by Masahiro "Gill Gill" Takahashi.

srp $59.99
Available in JUNE


TM & © DC Comics.


MARVEL BISHOUJO COLLECTION INVISIBLE WOMAN BISHOUJO STATUE
Based on an original character reinterpretation by illustrator Shunya Yamashita.

To highlight her cool powers a mix of clearvc has been used on Sue's legs, hands, and hair, while the force field shards around here are a contrasting pale blue.

Invisible Woman stands just over 9 inches tall (in the current Marvel Bishoujo 1/7th scale) on an amazing georama base depicting the hand of the gigantic green monster from the cover of Fantastic Four #1, "The Mole Man's Monster!"

srp $59.99
Available in JULY


Marvel, Invisible Woman: TM & © 2010 Marvel Entertainment, LLC and its subsidiaries.
Licensed by Marvel Characters B.V. www.marvel.com. All rights reserved.



Digital Distribution News

Funimation has informed Anime News Network that the Fractale Production Committee — the Japanese copyright holders of the Fractale television anime series — has forced the company to halt its simulcast of Fractale after only one episode. According to Funimation representatives, the committee requested that Funimation eliminates unauthorized videos of the anime on the Internet — including streaming sites, file-sharing networks, and file servers — before its simulcast will be allowed to continue. As a result, there will not be a simulcast of the second Fractale episode tomorrow, and the rest of the series' simulcast is on indefinite hold.

The series still streaming in France.



*



Sentai Filmworks announced its acquisition of INFINITE STRATOS, the latest anime series from 8-Bit (Durarara!!, Macross Frontier).


10 years ago, the development of the revolutionary Infinite Stratos powered exoskeleton changed the world's balance of power overnight… but unfortunately, while the distribution of IS systems to every nation on Earth HAS ushered in a new era of peace, the fact that only women have thus far been able to pilot the Stratos systems has sent the relationship between the XX and XY-chromosomed halves of the human race into a spiraling tailspin! So when 15 year old Ichika Orimura is suddenly discovered to be the first male with the ability to control an IS, whatever plans he might have had for his own future are tossed out the window even as he's thrown to the wolves and enrolled at the otherwise entirely female Infinite Stratos Academy by order of the Japanese government! It's one Boy Vs. all the Girls, and the question isn't who'll come out on top… it's who will survive the educational experience in INFINITE STRATOS!


The Anime Network will be simul-streaming the series.

Episodes 1 through 3 will premiere on Sunday, January 23, at 8:30 PM (CST).
Each new episode will simulcast on Sunday night



*



Viz has explanded its VIZ MANGA APP iOS offering

The VIZ MANGA APP is available for free through the iTunes Store and all manga volumes are available for purchase and download in the U.S. and Canada within the application for $4.99 (U.S. / CAN) per volume.

CAPTIVE HEARTS, Vol. 1 • Rated 'T' for Teens • Available January 25th
Carefree Megumi Kuroishi was living a life of luxury until the day a girl named Suzuka Kogami walked into his life. All of a sudden, Megumi finds himself kneeling at Suzuka's feet and prostrating himself like a servant! What Megumi doesn't know (until that very moment anyway) is that his family is cursed to follow the orders of the Kogami family.

CLAYMORE, Vol. 1 • Rated 'T+' for Older Teens • Available Now!
In a world where monsters called Yoma prey on humans and live among them in disguise, humanity's only hope is a new breed of warrior known as Claymores. Half human, half monster, these silver-eyed slayers possess supernatural strength but are condemned to fight their savage impulses or lose their humanity completely.

D.GRAY-MAN, Vol. 1 • Rated 'T+' for Older Teens • Available Now!
Set in a fictional 19th century England, D.Gray-man is the story of Allen Walker, a 15-year-old boy who roams the earth in search of Innocence. Washed away to unknown parts of the world after The Great Flood, Innocence is the mysterious substance used to create weapons that obliterate demons known as akuma.

TORIKO, Vol. 1 • Rated 'T' for Teens • Available January 25th
In a savage world ruled by the pursuit of the most delicious foods, it's either eat or be eaten! While searching for the tastiest foods imaginable, Gourmet Hunter Toriko travels the world with his bottomless stomach, facing every beast in his way.

Additional new manga volumes available by the end of the month include:

BAKUMAN? Vol. 2
BLEACH Vol. 6
D. GRAY MAN, Vol. 2
DEATH NOTE Vol. 5
DRAGON BALL Vol. 9
NARUTO Vol. 10
ONE PIECE Vol. 10
OTOMEN Vol. 2
OURON HIGH SCHOOL HOST CLUB Vol. 2
RUROUNI KENSHIN Vol. 5
VAMPIRE KNIGHT Vol. 2




*



New Digital Manga boys-love titles to be offered on eManga.com include

Warning! Whispers of Love (Koi no Mimi Yori Chuiho) by Puku Okuyama
A Fallen Saint's Kiss (Ochiru Seija no Seppun) by You Higashino
An Even More Beautiful Lie (Mottomo Utsukushii Usono Koto) by Kei Kanai
Tonight's Take-Out Night! (Konya wa Take Out Night) by Akira Minazuki
A Liar in Love (Usotsuki wa Koi wo Suru) by Ueda Kiyo
Seven Days: Friday-Sunday by Rihito Takarai
Sky Link by Shiro Yamada
This Night's Everything (Kono Yo no Subete) by Akira Minazuki
Entangled Circumstances (Karamari Jijo) by Kikuko Kikuya
I Give to You (Kimi ni Ageru) by Maki Ebishi



*



FUNimation Entertainment announced that Media Factory has given the company the rights to the online simulcast of the new series "Freezing."

The first two episodes will be available at www.funimation.com/video starting Monday, January 24 at 9:30 a.m. CST. Each week a new episode will be added to the site in addition to third-party streaming partners and week after Japanese broadcast.

"Freezing" is a 12-episode produced by A.C.G.T and directed by Takashi Watanabe ("Ikki Tousen," "Slayers") and adapted from the manga series of the same name created by Lim Dall-Young and Kim Kwang-Hyun.


"Freezing" is a sci-fi action series set in a futuristic world. Earth has been invaded and is at war with aliens from another dimension called the Nova. Kazuya Aoi lost his sister in the fight and has enrolled in Genetics, a military academy. There, Pandoras and Limiters, genetically modified girls with super fighting skills, and their male partners who use special "freezing" powers to limit their opponent's mobility, are trained to fight against the Nova. Kazuya befriends Satellizer el Bridget, a powerful Pandora with a cold personality, and becomes her Limiter.


Awards and Recognition

Keiichi Hara's anime movie Colorful was recognized with the Best Animation Film Award at the 65th Annual Mainichi Film Awards. Eiichiro Hasumi's manga based The Last Message Umizaru recieved the TSUTAYA Film Fan Award



*



Nominees the 2011 Manga Taisho awards include


I am a Hero - Kengo Hanazawa
The Bride's Stories - Kaoru Mori
Omo ni Naitemasu - Akiko Higashimura
Kokkoku - Seita Horio
Sayonara mo Iwazu ni - Kentaro Ueno
Saru - Daisuke Igarashi
March comes in like a lion - Chika Umino
Un chocolatier de l'amour perdu - Setona Mizushiro
Shingeki no Kyojin - Hajime Isayama
Drifters - Kouta Hirano
Don't Cry Girl - Tomoko Yamashita
Hana no Zubora-Meshi - Masayuki Kusumi, Etsuko Mizusawa
Mashiro no Oto - Marimo Ragawa

Kaoru Mori's (Emma) silk road based The Bride's Stories and Kouta Hirano's time travelling historical warriors Drifters are licensed for North American release



*



Haikasoru released Japanese sci-fi prose Harmony by Project Itoh has been nominated for a Philip K. Dick Award


Anime x Games

NIS' sRPG Hyperdimension Neptunia is now available for pre-order.

The Premium Edition package contains Hyperdimension Neptunia'sRPG game box and disc for the PS3 along with a fully-illustrated hardcover art book. The collectible art book contains character information, concept art, and rough sketches of all the goddesses and characters. Both the game and art book will come packaged in a limited edition large collectible box.




The Business


Ghibli's Arrietty the Borrow opened on 205 French screen with a take of $1,406,549, placing it in fifth place at the box set. Season of the Witch opened at #1 with $2,749,30




*



It's still not available in North America, but Plus Licens has been able to score Sailor Moon for Nordic countries and Central and Eastern Europe.



*



Game publisher/media company Konami will be acquiring Hudson



*




Yutaka Yamamoto asesses anime and its global position


Worth Checking Out...

Insight
an extensive history of Lovecraft in Japan


Otaku-Verse Zero with Yuu Asakawa (voice actress, K-ON!!, Girl's Bravo) and Patrick Macias (Editor, Otaku USA magazine) demonstrates ComiPo!,

Media
a family sized sample of Durarara dub

Junko's Shamisen's is looking for more eyeballs to secure financing to produce a feature length version