Ahoy, squirts! Quint here with today's Behind the Scenes Pic!
In honor of the big Blu announcement yesterday I figured it'd be about time to run a nice Star Wars pic. And yes, I said Star Wars, which is what A New Hope was to me throughout my childhood.
While I think Empire is the more fulfilling movie there's something magical about Star Wars, that perfect series of notes that reaches deep into your soul and connects with you on a very basic level. From the outstanding visuals, to the fired up performances from all the leads to John Williams' amazing score… there's a reason this film penetrated popular culture.
Since I brought up score, Williams' score to the scene featured in today's BTS pic is one of my favorite pieces of music in all of Star Wars. The Throne Room celebratory music gets me every time and will always put a big smile on my face every single time it pops up on my iTunes.
And here's the image! Click to embiggen! Enjoy!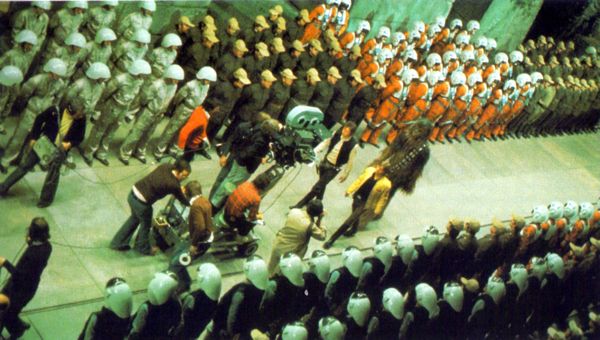 Tomorrow's pic honors the king, baby!
-Quint
quint@aintitcool.com
Follow Me On Twitter