Ahoy, squirts! Quint here with today's Behind the Scenes Pic!
Ah, thank the pop culture gods for Nick at Nite in the '80s. My natural inclination is that of a night owl (one of the reasons you see so many of these daily pics hitting late at night) and that was true even when I was a kid. I could get on a schedule, of course, but that doesn't mean I like it.
Nick at Nite was my gateway into late night viewings of classic TV. Bewitched, Mr. Ed, The Monkees and, yes, The Addams Family. The only old shows I watched on regular TV were Star Trek: The Original Series and Batman, I think.
Anyway, as a kid growing up reading Stephen King and loving the macabre the whole concept of a family friendly show surrounding a creepy (and kooky) family that delights in all the trappings of horror, but is still somehow a sweet family unit, was really appealing to me. I saw both Addams Family movies when they hit cinemas and loved them as well.
Sure, I dug Munsters, too, but there was a dark comedy edge to The Addams Family that I preferred.
So, today's pic is of a moment behind the scenes original TV show. We have John Astin as Gomez Addams, Ken Weatherwax as Pugsley Addams and Lisa Loring as Wednesday Addams as they stand next to a dapper Charles Addams, creator of the original comic strip and namesake of the creepiest, spookiest and all together kookiest family to be created for family entertainment! Enjoy!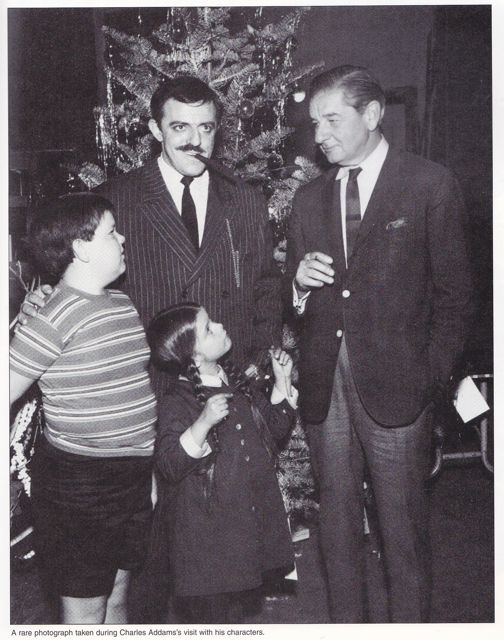 Tomorrow's pic is the last picture of the year, so I figured I'd honor the first BTS pic ever run in this column. See you then!
-Quint
quint@aintitcool.com
Follow Me On Twitter