Ahoy, squirts! Quint here with today's Behind the Scenes Pic!
On this Christmas Eve… um… Eve, I bring to you the first of three back to back Christmas themed (sorta) Behind the Scenes pics!
I'm trying desperately to get something good on A Christmas Story from a source who should have some amazing stuff, but in the event that doesn't happen we still have three timeless Christmas BTSs.
I grant you the below picture isn't exactly filled with Christmas cheer, but Die Hard is absolutely a Christmas film and long traditional yuletide viewing in my household. Besides being one of the greatest action movies of all time, Die Hard is also filled with so much Christmas imagery and joyfulness that it just felt right to begin the holidays in earnest with a picture of John McTiernan, Bruce Willis and Alan Rickman. Correct me if I'm wrong, but that looks like the "Shoot the glass" scene, yeah? God, what a fun set that must have been…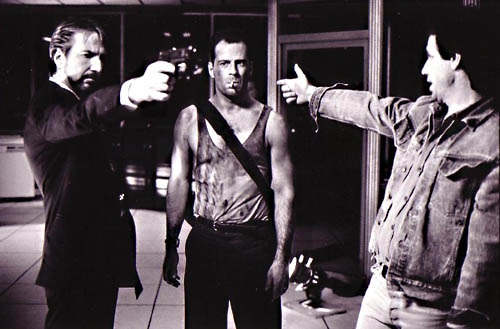 Tomorrow's pic is actually pics, plural… rare photos straight from the director from one of the most Christmasy movies ever. Oh, and I should also mention that tomorrow's BtSPotD comes with a contest to win an autographed Blu-Ray/DVD set, so come by tomorrow before putting the cookies out for Santa and check out the Christmas presents BtSPotD has for you!
-Quint
quint@aintitcool.com
Follow Me On Twitter