Ahoy, squirts! Quint here with today's Behind the Scenes Pic!
I intended to run this pic a couple of weekends ago when we were hit with that crazy string of actor deaths. I believe I replaced it with a Leslie Nielsen shot from Forbidden Planet… Anyway, it's another pic from Escape From New York. I know, I know, we just ran a great shot from that film and this one isn't as pretty, but it features one Mr. James Cameron hard at work putting paint on glass, doing an old fashioned matte painting for the New York skyline, so I couldn't resist.
The talent that dude has. I wish I could display half the creativity as that man… from drawing to painting to miniature building to directing to submarine piloting to just being a smart motherfucker, that dude is kind of freaky talented. And this is coming from someone who was lukewarm on Avatar.
So, I hope you enjoy this look at a young Jim Cameron… I have another one from the offices of Battle Beyond the Stars that I'll run sometime in the future, by the way. In the meantime, here's today's pic: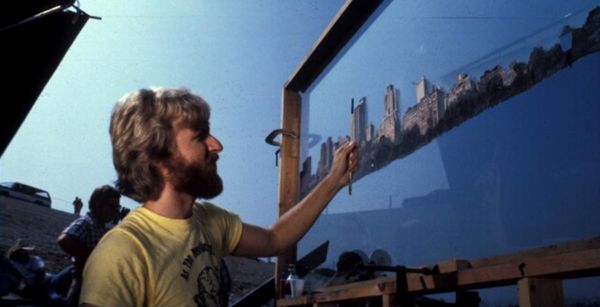 Tomorrow's pic gets us in the holiday spirit as we see a look behind the scenes of a movie about a man obsessed with a sled.
-Quint
quint@aintitcool.com
Follow Me On Twitter