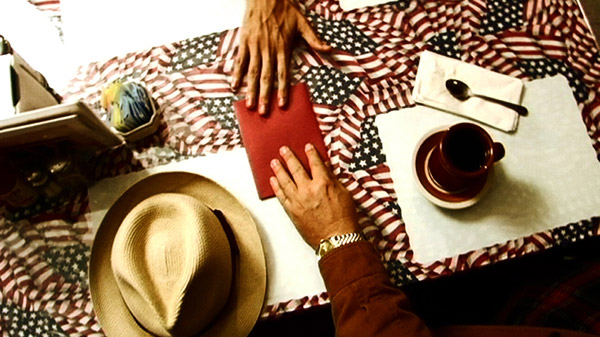 Hello. Elston Gunn here.

For the last few years we've seen a considerable rise in popularity and production of independent (and, more recently, studio based) web series. In fact, last year even saw the creation of the International Academy of Web Television as well as its own awards program -- the Streamy Awards.

A few weeks ago, the web series LOOKING FOR GRACE caught my attention and I was taken with the unique tone and pacing, mysterious plot and attention to detail captured by its creator and lead actor, Nathaniel Halpern, and his director Aaron Rabin. LOOKING FOR GRACE centers on the story of a young man who discovers his memories have been replaced by those of a mysterious woman named Grace and his search to find her. Working with a small crew and tight budget, the resourcefulness with which they tell their story will hopefully capture the attention of producers and financiers in the future. If you're looking for something to fill the void since THE WALKING DEAD wrapped up its season, check it out at www.lookingforgrace.com and see what you think. The final installment was posted last week.

Halpern and Rabin took time to answer questions for AICN.


[Elston Gunn]: When I watched the first episode I felt David Lynch was a major inspiration though you established your own tone. What kinds of artists and works influenced "Looking For Grace?"

[Nathaniel Halpern]: That's a tough one to answer. I didn't try to emulate anything in particular when creating the show, but I also recognize that nothing is made in a vacuum. I'm a fan of David Lynch and I've heard some people say LOOKING FOR GRACE reminds them of TWIN PEAKS, which I take as a terrific compliment. I imagine influences came from all over since I'm on an endless diet of books, comics, movies, and music. I know Aaron and I are both fans of anything that creates a strong mood and atmosphere. For instance, we both admire Terrence Malick's movies for that reason. I also remember watching the Talking Heads movie TRUE STORIES while I was writing and thought the Harold character should have a David Byrne feel to him.


[EG]: Was this story originally conceived as a web series or a film? What did you see as the practical and logistical advantages for going the web route?

[NH]: Right from the start the show was conceived as a web series. My friend Chris Palsho brought the concept of a web series to my attention in 2007 and it seemed interesting because how often does a new medium come along where you can get in on the ground floor? Sure, there were already people saying "you can't do this and this and you have to do that" but we ignored all of that and just set about creating something that we knew we'd want to see. The most exciting thing about going the web route is if you visit our site (www.lookingforgrace.com) you'll find that we aimed to make an entirely unique experience online where everything in addition to the 10 chapters of the show serves to enhance or build the world of LOOKING FOR GRACE and not in a gimmicky sort of way, but to really bring added value to the narrative.

[Aaron Rabin]: Another beauty of the web series medium is the ability to bypass all those studio barriers and distribute your work directly to a (potentially) massive audience. Of course, then the pressure comes full circle, and as a filmmaker, it's in your hands to create an experience unique enough to capture a viewer who can click away from your show at any moment. It's not like a movie theater, where the filmmaker is given the benefit of two hours. On the Internet, attention spans are at their lowest. But I think that's starting to change. Nate and I treated LOOKING FOR GRACE with the same amount of care and detail that we would a feature film, and I believe that as the medium grows, more will do the same. This can truly be the next staging ground for upcoming filmmakers.


[EG]: What kinds of ways did you stretch the budget? At what point were you able to lock in your sponsors?

[NH]: We still don't technically have a sponsor. When we were looking at our options in trying to get the show out there, we decided to have it hosted at blip.tv which is a great and creator friendly content site. As far as stretching the budget goes we definitely threw nickels around like manhole covers all along the way and had to find creative ways to get what we wanted. It certainly helps that Aaron is a wiz behind the camera. But we also didn't treat our limitations like limitations. We'd drive for hours looking for impressive locations that we could steal a shot or two in, which goes a long way in boosting the production value. At one point we spent a day climbing a mountain to get a shot and it didn't cost us anything but it turned out beautiful and the show was richer for it. Some locations worked out and some didn't... one comes to mind where we were in this rural desert area and we looked at each other and said "this is perfect!" and then we heard a woman in a nearby shack yell "I'VE GOT A GUN!" at which point we decided maybe it wasn't so perfect and made a run for it.

[AR]: There are different ways to stretch a budget, and one way is to make it appear as if you had far more resources than you actually had. I think Nate did a fantastic job of writing a series that felt entirely unique, while not requiring any special effects, stunts, or set pieces that would make the project feel like a low budget version of "what it could have been."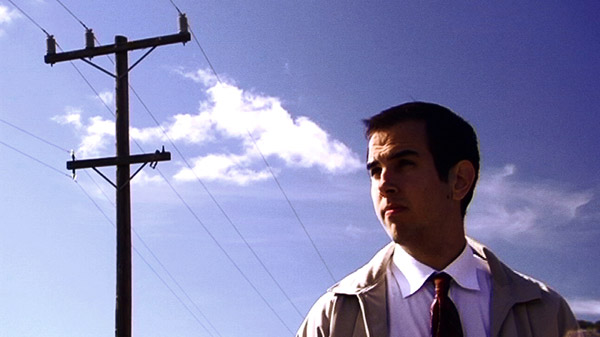 [EG]: Talk about your collaborative process. When the creator is also the lead, how much input is the director allowed?

[AR]: I remember when Nate approached me about directing the web series. He made a point to say this project should feel as close to me as it does to him. That meant a lot to me, because I could tell he was looking for a true collaboration. It was also strategic on his part, since he knew we'd both be spending a great deal of time on the show and wearing a lot of hats. Honestly, I don't believe I was ever limited in my input. The general rule was, if Nate or I didn't like something, we wouldn't do it. But I also believe in trying everything once, so there were very few ideas that were simply thrown away. Nate and I have a similar aesthetic and sense of humor. I served as a creative bounce board while he wrote the episodes, and he storyboarded the whole project as we visualized it together. So when we walked onto our first day of shooting, we shared a pretty unified vision of LOOKING FOR GRACE. Having Nate in front of the camera didn't compromise our vision, because while I was behind the camera, it wasn't difficult to tell what belonged in frame and what didn't – both in terms of performance and visual design.


[EG]: What was the casting process like for you guys?

[NH]: The casting process was an exercise in awkwardness. Since we were limited in resources we posted the casting call online and had potential actors meet us at a coffee shop to read a scene and talk about the project. It wasn't even an empty coffee shop, it was always crowded no matter what time we went. Why didn't we choose a different coffee shop? In hindsight, I don't know. I can only imagine what the actors thought coming in since the whole thing didn't seem very legitimate with just me and Aaron sitting there with a couple pages stapled together. So the majority of the cast was brought together that way. I saw Alex Sell, who plays Spangler, in a collection of one act plays and I knew right away he'd be great for the part and was eager to meet him afterward but he had already left so I had to track him down later. I also already knew Joey Kern, who plays Billy Radcliffe, and wrote the part for him because I was eager to work with him. Luckily, everyone was willing to donate their time and talents to the project and we're most certainly in debt to them for it.

[AR]: We also took care not to skew young. I think it's difficult to create any kind of original story or world when the cast is all 18 and impossibly attractive. Something I enjoyed was meeting all the actors who had just retired from decades at a 9 to 5 job, and were now returning to a passion that had been kept dormant for most of their lives.


[EG]: The score really stands out as well, particularly to help balance shifts in tone. Was Daniel Raimi involved with the process from the beginning?

[AR]: I'm so happy the music stood out for you. It was pretty clear from the start that such a stylized world would require a strong score. Daniel came on very early – just after we'd finished shooting Chapter 3. We worked closely with Daniel to create the right tone for our series – not an easy task, since it had to incorporate mystery, humor, and drama, without leaning too far in any one direction. After over a year of collaboration, Daniel had literally composed a library of work to draw from. I believe he has created a truly unique score, and a theme song that I still haven't gotten tired of. If you go to our site, you can listen to some of his isolated tracks. They're really quite remarkable.


[EG]: I loved the use of old home movies as Harold's "memories" and thought it added production value. Can you talk about that idea?

[NH]: Using the old 8mm footage as memories was established very early on in the project. While the footage is used to provoke different responses throughout, as a blanket approach we wanted the memory flashes to seem consistently alien and distinct while still maintaining a strong visual dialogue with the look and feel of what we shot. Luckily, I was able to dip into my own family's home movies, which I consider prized possessions. It was great because Aaron and I became versed in about six hours of family footage and were able to carve out the brief moments that we felt would give us what we needed. As a result, I probably have the most personal viewing experience of the show because not only did I create it, but I'm also very familiar with the lives and stories of my relatives who are glimpsed in those memory sequences.


[EG]: I don't want to give any of the story away because it's more fun the less you know going into it, but your making a kind of mystery do you have ways to keep track of every detail that you want to withhold or reveal to the audience?

[NH]: A lot of those plotted details were decided upon while I was writing the scripts but Aaron and I certainly had some spectacularly heated discussions while shooting and editing about nuances that most people probably won't even notice. But they meant everything to us at the time... and still do.


[EG]: Can you talk about the logistical problems and obstacles that occurred during production? What would you do differently?

[AR]: As with any production, there were the typical obstacles. Equipment malfunctions, actors dropping out, bad weather, locations falling through, etc. But those come with the territory. Honestly, our biggest obstacle as a low budget filmmaking team was keeping everyone's spirits high. For these small productions, people are donating their time, week after week, month after month – and for some of our crew, year after year. Sometimes it's difficult to see the forest for the trees. Luckily, Nate and I made sure to suffer enough so the rest of the crew could feel better about themselves. One afternoon, Nate and I sprinted downhill for almost two miles to reach a location and shoot a scene before the sun went down. We got off two shots and realized it was too dark. Then we had to walk back up the two miles, drive home two hours, turn around and do it all again the next weekend. But that's still one of my favorite days.


[EG]: What kinds of practical advice do you have for someone who is thinking about producing a web series?

[NH]: First, I'd say know it's going to take ten times longer than you expect it to (we spent a total of three years on LOOKING FOR GRACE). If someone is interested in creating a web series using a similar definition of the medium as we did, I would say once you've written something you're happy with, take an inventory of your surroundings and what's available to you and what's unique about where you are and how it could relate to what you've written. I'd also suggest catching yourself whenever you say "we can't do that" and then asking why not?

[AR]: Don't underestimate what you can accomplish on the weekends. Nate and I put together LOOKING FOR GRACE by shooting on the weekends and then editing on weeknights after we got off from our day jobs. This entire project was shot for 15k – and that included buying the camera. That's certainly a substantial amount of money, but nowhere near the level that most people assume is required to make a two-hour series. We've had a number of executives view this project and tell us, if we'd said this cost 500k or more, they wouldn't have been surprised. Every shot was lit with either high wattage practical bulbs or natural light, china balls, and a basic gel kit. We had one C-stand and a tripod. No dolly, no jib arm. You don't need large budgets to build production value, and you don't need fancy equipment to design complex shots. There are also talented actors, composers, producers out there who are just getting started and need quality projects under their belt. They are willing to go the extra mile. With cameras being what they are today, the resources are all available.


[EG]: What's next for you? Any plans to follow-up to this particular story, or there are other projects percolating?

[NH]: At the moment there are no definite plans to shoot more episodes for this particular storyline. I am interested in exploring some of the side characters more in depth, maybe as a comic? Meanwhile, I'm hard at work trying to build an audience for LOOKING FOR GRACE (if you like the show please become a fan on Facebook so we can keep you posted on new content). Outside of that, I'm trying to get a handful of other projects off the ground and I also have a weekly cartoon site that's been a fun ongoing project (www.nathanielhalpern.com)

[AR]: Right now, LOOKING FOR GRACE is the priority, but I'm always writing new material. There's a feature I've been working on for years that I would very much like to shoot next. I've also developed a new web series and treatments for a couple larger projects – were I ever to get a budget. (www.aaronrabin.com). In terms of continuing LOOKING FOR GRACE, I'm open to the idea. We'd just have to convince Nate to put that damn suit back on.